RIT prepares graduates for advanced degrees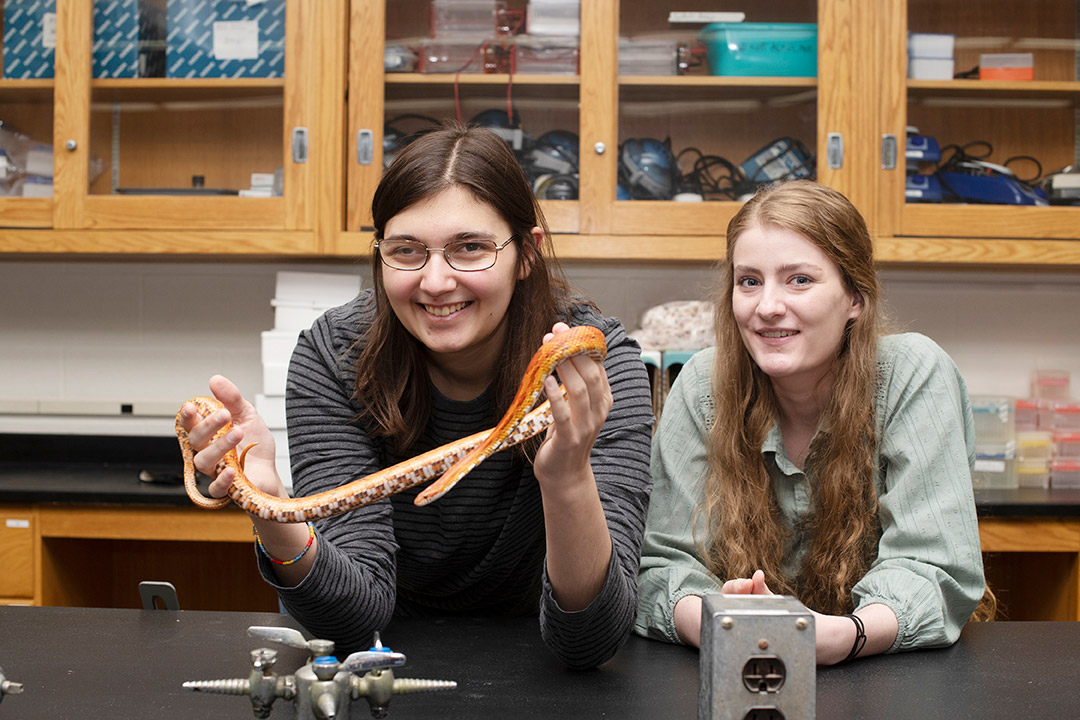 Graduating biology major Victoria Kwasinski started RIT four years ago with a burning question.
Read more about the Class of 2022
RIT's graduates shape the future and improve the world through creativity and innovation. Our graduates are leveraging the power of technology, the arts, and design for the greater good. See how they are doing it and what is next for them.
"I knew I wanted to be a veterinarian, so I pretty much walked into RIT the first day and went to Dr. Buckley's office and asked, 'What do I need to do? Tell me straight up,'" said Kwasinski, who lives in Fairport, N.Y., with a dog, two cats, three lizards, three tarantulas, and one axolotls (a fully aquatic salamander).
Guidance from RIT's pre-vet program adviser Larry Buckley, associate dean in the College of Science, helped Kwasinski shape her undergraduate experience to exceed the prerequisites vet school requires. That meant taking the right electives, such as animal nutrition and comparative animal physiology, gaining hands-on research experience, and accumulating hours working with a variety of animals.
Now, Kwasinski is graduating with her BS degree and an acceptance letter to Cornell University's College of Veterinary Medicine. She is one of many RIT students whose experiences as undergraduates helped them get into top graduate degree programs.
Kwasinski began working at Storybook Farm Animal Hospital in Victor, N.Y., when she was 14 years old. Today, she is the kennel manager and a vet assistant. Kwasinski grew up around veterinarian role models, many of them Cornell alumni, and she gravitates toward working with dogs and cats, and exotic "pocket pets"—lizards, rabbits, guinea pigs, hamsters, and birds.
While at RIT, Kwasinski had opportunities to broaden her understanding of different animal species. She especially enjoyed a zoology class that included an internship at the Seneca Park Zoo.
"That was amazing and gave me a lot of hours working with wild animals, which is hard to find," Kwasinski said.
She also completed a two-week immersive internship with the Genesee Valley Equine clinic, having had no prior knowledge of horses. The experience helped round out her application.
"All the research I did was helpful, too, because it is based on wild birds," Kwasinski said. "I do research with Dr. Susan Pagano since my second year on the effects of invasive fruit on migratory birds."
Kwasinski has found like-minded students in the pre-vet club. For the last two years, she and fellow senior Cassidy Johnston have led the club as co-presidents and offer guidance to younger students who express interest in a veterinary career.
"We're a small club helping students get involved in the veterinary field," Johnston said. "If they're looking for shadowing experiences or research opportunities, we let them know."
Johnston is a fourth-year biomedical sciences major from Arcade, N.Y., who grew up with a background in 4-H and horses. Johnston, who took a different path at RIT than Kwasinski, was also accepted to the Cornell University College of Veterinary Medicine.
Johnston came to RIT unclear if she wanted to be a medical doctor or a veterinarian. The biomedical sciences program in the College of Health Sciences and Technology offered the best option, she said.
"I think it was a really smart decision because the classes were rigorous, and I prepared myself for whatever way I wanted to go," Johnston said. "Anatomy and physiology was hard, but I learned a lot. It was human-based, but the basic cellular knowledge applies to animals."
She first considered a career in veterinary science when her horse Gunner became ill one summer before a 4-H competition at the New York State Fair. "I had to work closely with my vet to ensure my horse was healthy, and I thought, 'This is really cool. Why don't I become a vet?'"  
Johnston visited Cornell University as a senior in high school and came home with a pamphlet that read "Future Cornell vet." "It hung in my room forever, and I thought if apply to vet school, I'm definitely going to apply to Cornell," she said.
Johnston's 4-H experience gave her broad experience with different animal species. She gained additional exposure at a small animal practice in her hometown, where she observed surgeries and helped with appointments.
At RIT, Johnston conducted research on the timber rattle snake in Buckley's lab. Although "terrified of snakes," she took tissue samples from snake skins and extracted and analyzed DNA for conservation purposes.
Johnston would someday like to work with a mix of small and large animals. "I am interested in clinical pathology, but I'm also interested in surgery," she said.
Johnston and Kwasinski knew they needed stellar application packages to get into Cornell's four-year veterinary medicine program, which is one of the top in the nation. Their experiences at RIT made them competitive and successful.
"It's a lot harder to get into vet school than med school because there aren't as many veterinary schools as medical schools," Johnston said. "There aren't as many seats, but there are still many people who apply."
The pre-vet program isn't the only program available to help students continue their education.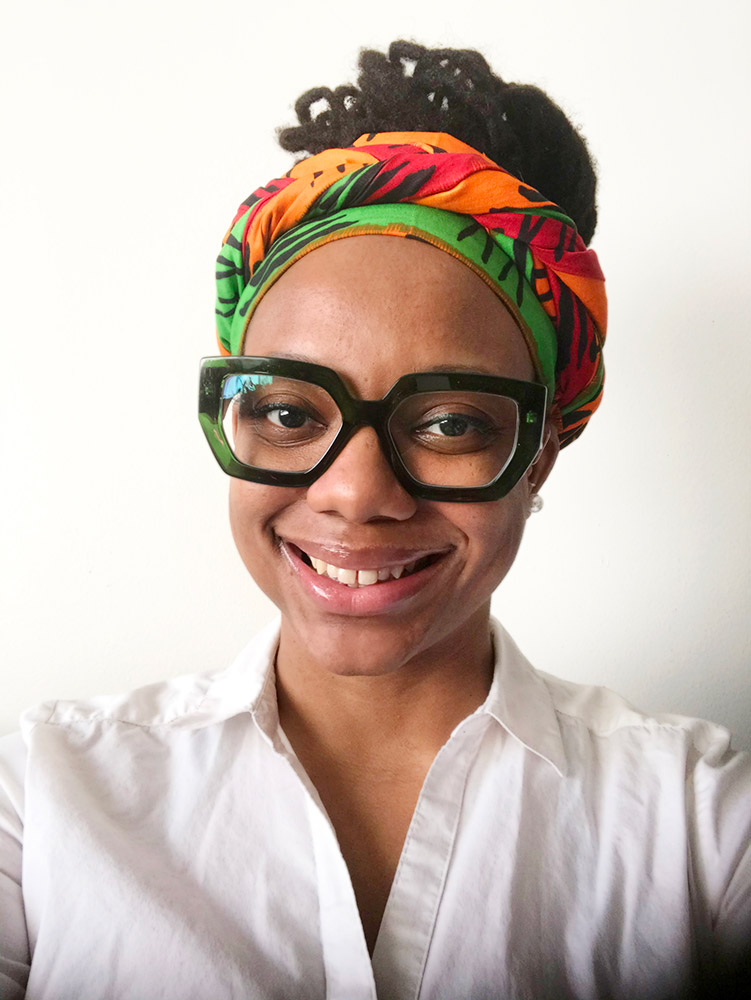 Mechelle Cureaux-Loggins is a scholar in the Rochester Bridges to the Doctorate program, which helps RIT/NTID master's students prepare and apply for doctoral programs in behavioral or biomedical sciences. The program, created in 2013, is in partnership with the University of Rochester and is funded by a $2.1 million grant from the National Institute for General Medical Science.
Cureaux-Loggins is finishing her MS in chemistry and looking forward to starting her Ph.D. in chemistry this fall at the University of Maryland at College Park.
Through the Bridges program, Cureaux-Loggins gained exposure to a community of deaf scientists and professionals, and to a variety of topics in classes at RIT and at the UR.
Her thesis research focuses on the different kinds of plastics in waterways and the effect environmental factors have on the structure of the plastics. Her work is part of a cross-disciplinary study at RIT on the transport, fate, and impact of microplastic pollution in Lake Ontario. Cureaux-Loggins worked with Professor Christy Tyler's team that presented at the State of Lake Ontario Conference, organized by the International Association of Great Lakes Research.
Cureaux-Loggins' goal is to work in a federal forensic science lab. The close proximity of her doctoral program to Washington, D.C., is important to her plans. It positions her to have multiple opportunities for personal growth and sharing with deaf students at Gallaudet University and also all over the world.
"I think I could be a role model for deaf students to see that they could have a future in STEM (science, technology, engineering, and mathematics), too. I want to show the younger generation that deaf people can be scientists."
Cureaux-Loggins was the first deaf student at her undergraduate alma mater, Loyola University. When she enrolled at RIT, she was among more than 500 cross-registered deaf students.
Through the Bridges program, she has met deaf professors and professionals from the Unites States and abroad. Learning about their experiences has helped her navigate academia as a deaf person, she said.
"Getting to meet role models and hear their stories has inspired me and helps me know I'm not alone," Cureaux-Loggins said. "If I ever have questions, I know there is a whole community of deaf scientists who are prepared to support me. And that is very different now than in previous generations."
RIT program gives graduate a clear path to career goal
Growing up in Kenya, Linda Ochieng always liked math class. She thought working with numbers would be something she would want to do for a career. Now, living in Rochester, N.Y., Ochieng is preparing to graduate with a BS in accounting from the Saunders College of Business and with a clear future goal: to stay at RIT to earn her master's degree and become a certified public accountant.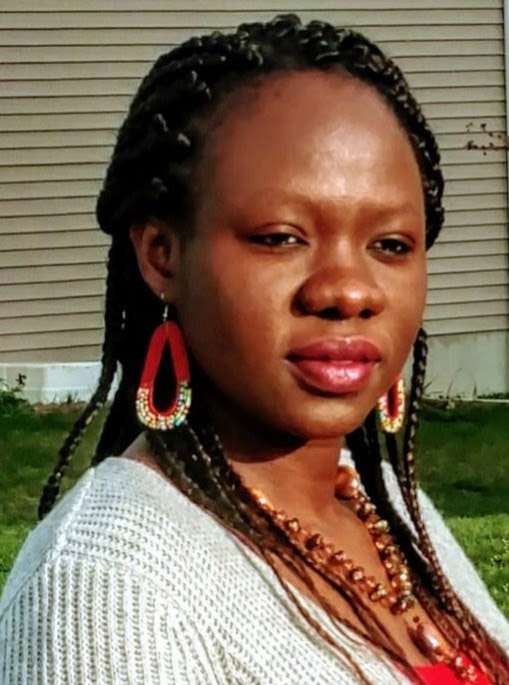 The BS/MS in accounting and analytics degree program has given Ochieng a solid career path and has led to an internship this summer at the Bonadio Group accounting firm. In the fall semester, she will start the graduate portion of the combined program. (The RIT Master Plan, which covers 50 percent of graduate tuition for eligible alumni, is another option for students to make continuing on at RIT affordable.)
For Ochieng, a mother of three children, earning her BS in accounting has required commitment and time management. Long-distance emotional support from her family in Kenya has also helped. Graduation day is especially meaningful to Ochieng; her mother flew to Rochester a month early to arrive well in time for the ceremony.
The Saunders College's programs and support system has helped Ochieng grow as a student and as a person, she said.
"The professors are very supportive and activities outside the program like networking programs helped me," Ochieng said. "When I came to RIT I was an introvert, through the networking programs I learned to talk to people and to get conversation going. That was not me before."
Topics