CET graduate Kamille Davis excels as a mentor on and off campus
Mechanical engineering technology student joins brothers as engineer at Precision Castparts Company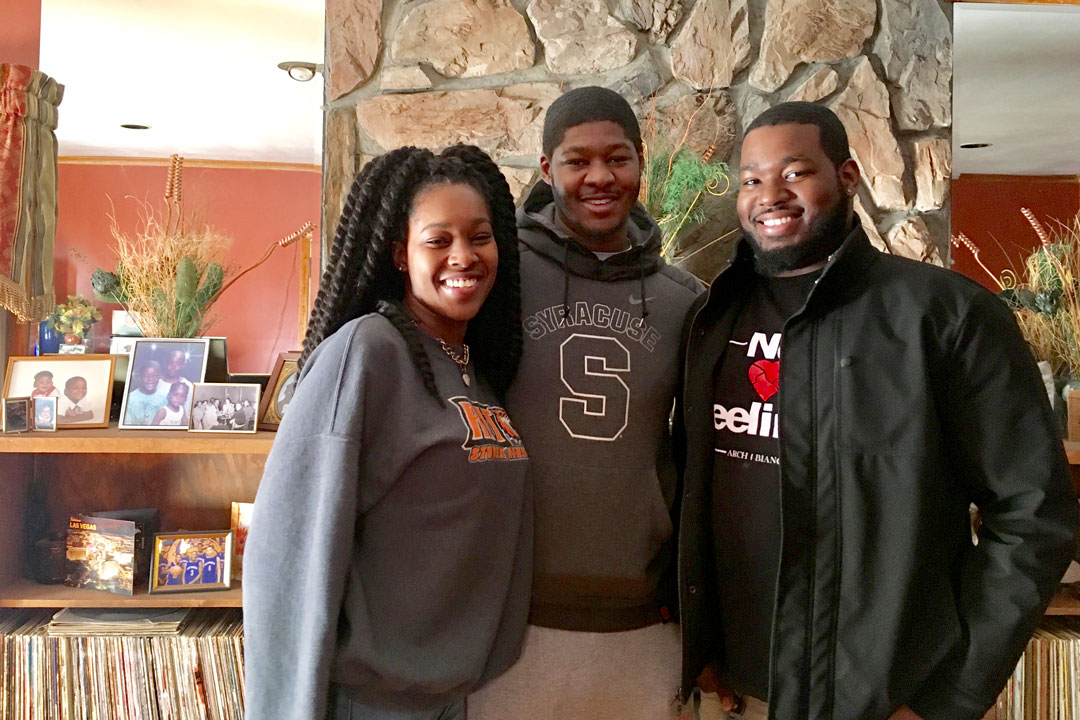 Kamille Davis may have followed her brothers to RIT, but she is a leader in her own right.
As the third in her family to graduate from the mechanical engineering technology program, Davis set her own pace early—excelling in classes, on the basketball court, in the laboratory, and in the community. The Syracuse native found RIT's College of Engineering Technology appealing as a place where fundamentals taught in classes come to life in labs.
"You are able to create what you are talking about, it really helps you make that connection—this is what the theory is, and this is what we are doing," said Davis, adding that it was the same with co-ops.
"There is really no way to be prepared for co-op, and I say that because that is the whole point," she said. "You are going to see what work is like. For my first co-op, I was really scared—what if I didn't learn enough? You have to have enough confidence that you have the learning to excel or take in the structure that you will get during the experience."
The experiences inspired her to support her MMET peers' learning. She'd lead recitation classes and labs as a teaching assistant for several years, earning acceptance not only as a woman, but as a one of the few African American women in the demanding STEM program.
"Being the youngest of three and having two older brothers, it wasn't as bad for me as other females coming into the program. I was already accustomed to the testosterone, let me put it that way," Davis said laughing. "I had times where people did not want to listen to me, didn't want to take my ideas—all because I was a girl. I had to tell myself, OK, who is really getting hurt by that? Because it is not me, I know what I can do."
With so few women in her engineering classes, Davis was determined to not let it become "a thing." She went into outreach programs and community service work with the same determination she did with classes. She wanted children to see that STEM careers are attainable.
"My mom made me very aware from a young age, that there would always be an eye on me and I had to present myself in a way that not only reflected well on me, but my family. She said, portray yourself professionally, and treat people well."
The advice served her well and her peers and faculty members saw her as an integral part of the department and its student organizations. Nykki Matthews, director of the Women in Technology (WIT) program, recalled meeting Davis in the college, headphones on, enjoying her music, and stopped her for a quick conversation that became a long-term connection. 
"Kamille became a huge contributor to the program these last three years, growing in her ability to lead others, and this sets her apart from her peers. She has an innate ability to create spaces that are inviting," said Matthews. "She is a winner because she is persistent with her goals, and she knows how to 'win' her audience—skills that will push her into new spaces. I am confident she will continue to make CET proud."
Davis would hold leadership positions in WIT, the RIT chapter of the National Society of Black Engineers and as a Multicultural Center for Academic Success (MCAS) Scholar.  She shared her experiences with peers during an MCAS presentation, "Black and Female in STEM"—about lessons learned in the classroom, during co-ops and from her close-knit family.
Remembering how focused her brothers were on setting career goals influenced her. After co-ops at GE Aviation, C & S Companies and Precision Castparts (PCC), Davis settled on PCC because of its versatility and collaborative atmosphere. It was an easy choice when they made a job offer, she said.
Davis will start her career there in July in its extensive training and orientation program to develop production engineers. She'll join her bothers Kenneth '13 and Kamron '17, both operations managers with the company.
Topics