Progress on track despite pandemic, Munson says
Student success, research, fundraising, and construction projects all advance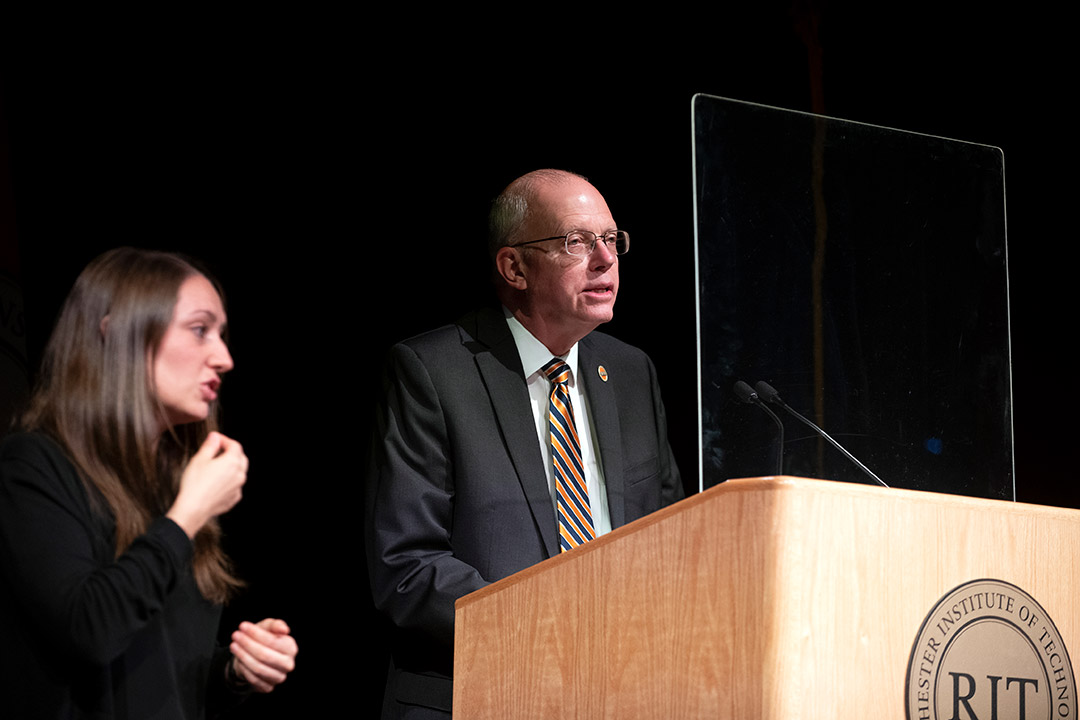 Rochester Institute of Technology's students, faculty, and staff are starting a new academic year during a continuing global pandemic.
But that's not stopping the momentum of student enrollment and success, research, fundraising, and building projects designed to make RIT even better.
That was just part of the message RIT President David Munson told the university community Friday at his annual President's Address in Ingle Auditorium.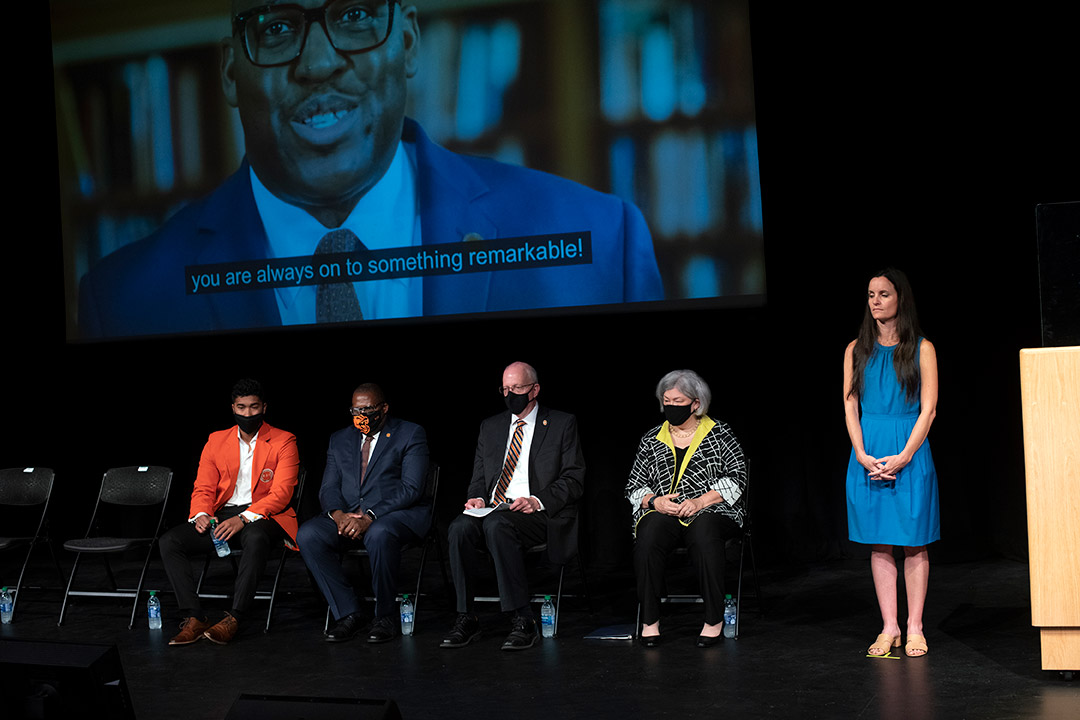 A. Sue Weisler
Munson began by thanking RIT staff and faculty for their work during the pandemic since March 2020, by keeping campus safe and for their flexibility and creativity in their instruction and research. And he thanked the student body for following the rules and persevering during the health crisis.
"You have my deepest appreciation and gratitude for all that RIT has accomplished," he said.
Munson said RIT is at a better place than last year, with more than 95 percent of students and 92 percent of faculty and staff fully vaccinated.
"RIT has proved to be one of the safest campuses in the nation throughout the pandemic, and we believe we can continue this trend. We are looking forward to what we believe will be a much more vibrant campus this fall. In fact, it already is!"
He reflected on some of the many successes of RIT's students and employees this past year:   
Munson said RIT's global campuses in China, Croatia, Dubai, and Kosovo are thriving, and another successful, productive year is expected for RIT.
For the second consecutive year, RIT is welcoming a record number of first-year undergraduate students, with 3,271 new students this year.
And the Action Plan for Race and Ethnicity will help advance RIT to becoming a more diverse, equitable, and inclusive university. "While we have a significant amount of work ahead of us to realize the plan, the university will be a better place because of it," he said.
Munson said RIT's Campaign for Greatness, a $1 billion blended campaign from corporations, government, and private donations, now stands at $807 million raised.
"The finish line is nearing, yet there's more to accomplish," he said. "We're continuing to raise money for student scholarships, we're elevating our research to even greater heights, and we are focused on attracting and retaining the best and brightest faculty."
The pandemic also hasn't stopped RIT from looking ahead and building the future. Construction projects recently completed, underway, or planned include:
Remarks were given from RIT Provost and Senior Vice President for Academic Affairs Ellen Granberg, Staff Council Chair Gina Reeder, Faculty Senate Chair Clyde Hull, Student Government President Lucas Randrianarivelo, and Vice President and Associate Provost for Diversity and Inclusion Keith Jenkins.
Munson concluded by thanking everyone "for doing your part to move this great university forward. I am honored and humbled to be working with such an exceptional group of talented faculty, staff, and students. This is an extraordinary time for RIT, and with our amazing community of creators and innovators, we are definitely on to something amazing."
Topics