College of Art and Design's renovation kicks into high gear
Transformative work redesigning spaces inside Gannett Hall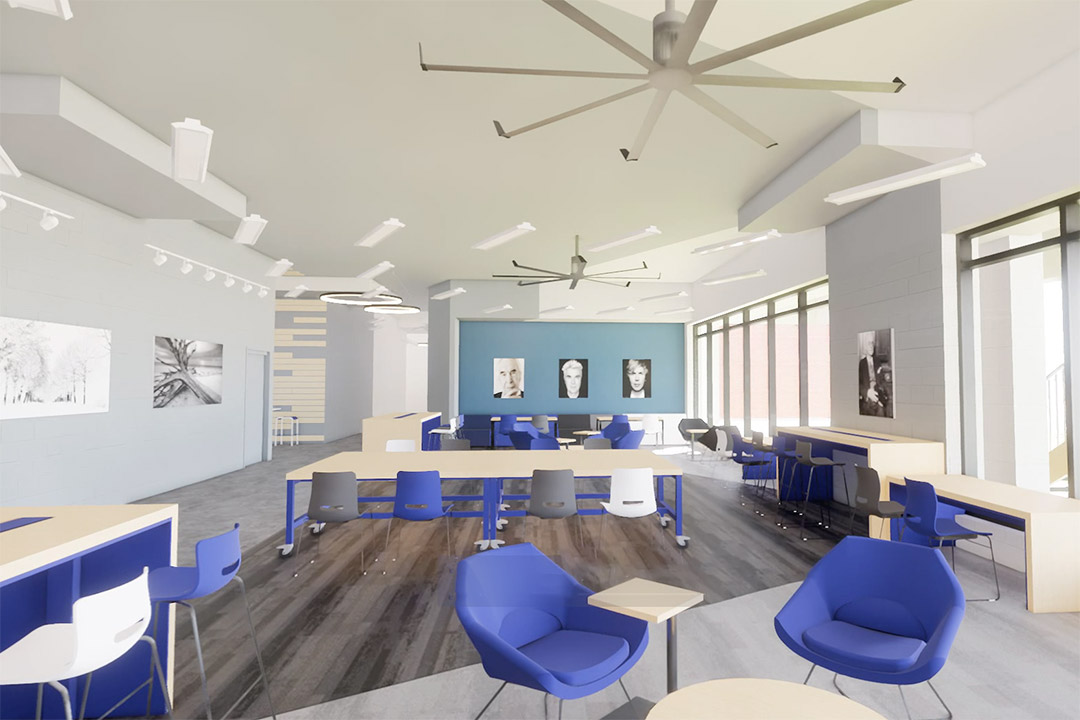 The renovation of RIT's College of Art and Design—including key areas within the internationally recognized School of Photographic Arts and Sciences (SPAS)—is moving at a brisk pace during the hot summer months, with a key focus inside Gannett Hall.
The project is part of a five-year masterplan that has already begun to renovate, rejuvenate, and transform spaces to meet the growing demands for a college that serves as the university's creative hub at the intersection of technology, art, and design.
The expansion and reconfiguration of SPAS facilities was made possible by a $3.5 million gift to the school in 2019 by Chance Wright '18 (advertising photography), '19 (MBA), and his mother, Pamela Mars Wright—the largest single gift ever made to the college.
The gift is part of Transforming RIT: The Campaign for Greatness, which is RIT's $1 billion fundraising effort, the largest in university history. This blended campaign seeks support from a variety of investors, including alumni and friends, government and corporate partners, and research foundations and agencies.
The transformative work inside Gannett Hall will include the addition of multiple collaborative student spaces and workspaces designed to create an even stronger connection between the college and MAGIC Spell Studios—RIT's world-class digital media research and production facility connected to the college.
"This connection is more than just a physical hallway connecting the two; it is a pathway connecting our dynamic photography program with the cutting-edge thinking and practice taking place inside MAGIC," said Todd Jokl, dean of the College of Art and Design.
Jokl pointed to virtual production (VP)—which blends filmmaking, computational photography, and real-time game engine rendering to produce in-camera visual effects similar to those seen in the groundbreaking work on Disney's The Mandalorian—as just one example of the growing learning opportunities for photography and other college students inside MAGIC Spell.
"VP is not just for movies, but also part of the future to areas like advertising photo and it also points to RIT's progressive view of how photography, imaging, and generated experiences are converging," he added.
Therese Mulligan, who recently stepped down as school director of SPAS, noted that the renovation "will do more than change the physical environment in which students learn and hone their skills … it will create new opportunities for students, faculty, and the school as a whole to create, collaborate, and explore photography's new frontier."
"The redesign of all these spaces was done with input from students, faculty, and staff," Mulligan added. "Our students were a major voice in discussing their needs, especially for the student lounge, which draws students not only from the photo school but throughout the university."
Some of the renovation plan's key areas include the expansion of RIT's photo equipment "cage"—stocked full of the latest gear for RIT students and without peer in other photo programs, Mulligan observed—and an open and inviting new lounge for students and teams to work, study, and collaborate.
Additional areas will include the "reimagining" of the Electronic Still Photography (ESP) lab into larger student and faculty workspaces. The newly redesigned space will include a lab not only for the processing of still images but a new area dedicated to "moving media" editing and presentation, Mulligan said.
A soundproof audio room for the capture of interviews also will be incorporated into the plans, along with a new space dedicated to the introduction of virtual reality (VR) and augmented reality (AR), college officials noted.
The project is expected to be completed by the fall.
Topics