Alumnus Chance Wright '18 makes $3.5 million gift to RIT photo school
Gift marks the largest single gift for the College of Art and Design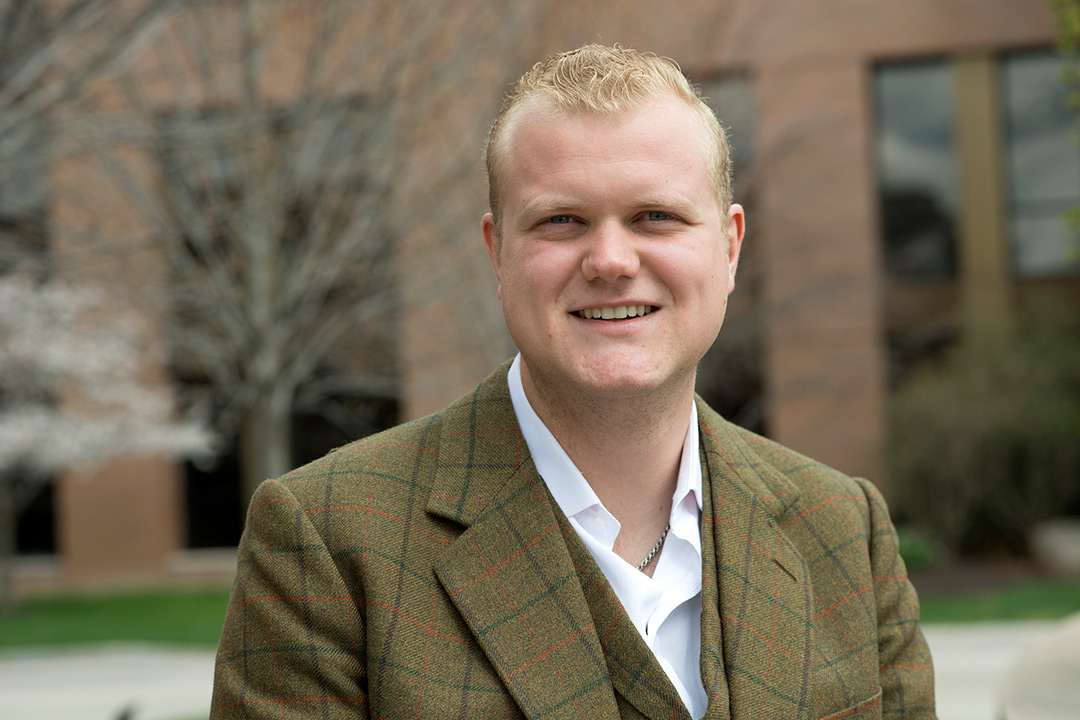 A 2018 advertising photography alumnus is making a $3.5 million gift to Rochester Institute of Technology's School of Photographic Arts and Sciences (SPAS), the largest single gift ever made to RIT's College of Art and Design.
The gift comes from Chance Wright and his mother, Pamela Mars Wright, whose late father was the co-president of Mars, Incorporated. Headquartered in McLean, Va., Mars is a family-owned business with more than a century of making some of the world's best-loved brands and offering services for people and pets.
"The School of Photographic Arts and Sciences is beyond thrilled and humbled by the generosity of this gift from alumnus Chance Wright and his family," said Therese Mulligan, school director of SPAS, which is nationally recognized for its degree programs. "It is a tribute to the school's faculty and staff who work so diligently every single day in support of our students and our one-of-a-kind learning community."
Mulligan added that "with Chance's gift, the school will renovate its spaces on the third floor of Gannett Hall, enabling us to reshape the physical environment in which students learn and hone their skills."
Wright, who also earned his MBA from RIT's Saunders College of Business this past weekend, said he "wanted to make a gift that would help the students directly and make the biggest impact" for the photo school, which made such an impression on him during a campus visit five years ago.
"The 'cage' was one of the main reasons I came to this school," said Wright, affectionately referring to Gannett Hall's third-floor equipment cage—an area bustling with activity and stocked full of the latest gear for RIT students in the photography programs. "Students here have the opportunity to work with equipment that sets the standard for the industry."
"While the facilities and the program are what brought me here, the faculty, my classmates and the school's rigor are what made RIT a truly special place for me to learn and grow," Wright added. "My mother always instilled in me the importance of an education and giving back, so I can't think of a better way to show my appreciation to the school's faculty and students."
Mulligan called Wright's gift transformational for the photography school.
"Simply put, this gift will transform one of RIT's flagship schools, with a legacy over 100 years in the making," Mulligan said. "It will help to re-introduce the photography school as one of the world's premier education and research centers in contemporary image creation. Concurrently, it will bring new generations of prospective students and professionals to view the school with unparalleled global respect."
RIT architects are currently working with school officials on details of the project, which is scheduled to begin in May 2020.
"I always enjoyed taking pictures growing up," Wright recalled. "I saw a lot of the world and photographed much of it at the same time. I fell in love with the process. I still prefer to shoot on film. My father is a blacksmith and I've really come to appreciate the physical processes."
While at RIT, his affinity for photography grew exponentially as he became inspired by faculty with credentials renowned throughout the photo industry.
"I received a first-rate education here at RIT, and I want to do all I can to help make the photo school even more appealing to current and future students," he said.
In addition to photography, Wright is actively involved in The Shore Foundation, a registered 501(c)(3) nonprofit which refurbishes and donates computers to those in need. Wright serves as vice president. Last December, the foundation attempted to claim the "Guinness Book of World Records" title for the most computers donated in 24 hours. (The effort's paperwork still is in process with Guinness officials).
Wright said he looks forward to seeing the impact of his gift to SPAS.
"I can't wait to see how this gift will help SPAS," he said. "It is meant for the students and faculty, providing them with the best tools for their education and to create amazing things."