The SHED takes shape at the center of campus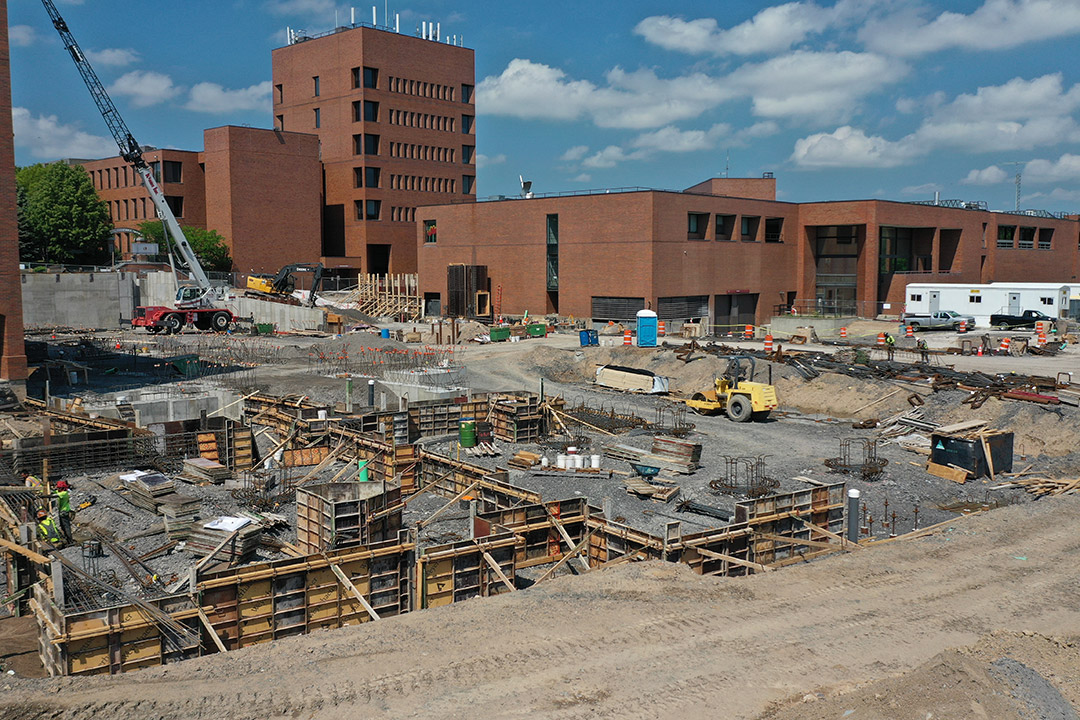 Construction on RIT's maker space and performing arts complex at the center of campus enters a new phase this summer, with finished architectural drawings, projects out to bid, and work beginning on the steel frame.
The newly named Student Hall for Exploration and Development (the SHED) is still on track to open in fall 2023, according to James Yarrington, university architect and director of Planning and Design Services, despite supply chain disruptions that delayed work on the structural frame until August.
"We are working closely with the construction manager Welliver and estimators in controlling the size of the cost of the building now as the economy ramps up after COVID," Yarrington said.
When complete, the SHED will cover more than 120,000 square feet of new construction independent of renovations in Wallace Library and Monroe Hall. The renovated spaces will exceed 83,000 gross square feet, bringing the total project to over 200,000 gross square feet of combined renovated and new spaces, Yarrington said. The overall footprint of the SHED will include natural spaces with a courtyard, and landscaped passaged under and through the building, and under the bridge.
The facility's makerspace and project team spaces will provide students new opportunities for collaboration. The building will house a performing arts component that includes individual rehearsal spaces, a large dance instruction studio, and a music rehearsal studio. A black-box/glass-box theater seating 180 can be reconfigured to allow for, or block, light into the space. And the facility will also add 1,500 classroom seats to the campus, with 22 standard-size flexible classrooms and five extra-large classrooms that can seat 150 students each.
The dance pavilion and theatre will extend well beyond the south wall of Wallace Library toward the bus loop. "I think when people come to campus this fall—our record-breaking fall freshman class and returning class, too—they will be shocked at how close the building is to the transit center on the south side," Yarrington said, noting the short and easy trip from the bus loop to the building in inclement weather.
The SHED was officially named this spring in a student competition won by Jonathan Dharmadi, a third-year new media design student from Elmhurst, N.Y. The competition was held at the request of RIT trustee and alumnus Austin McChord, whose record $50 million gift to RIT in 2017 helped fund the complex.