RIT grads told to 'enrich the world' with grace
More than 4,300 graduates honored for academic achievement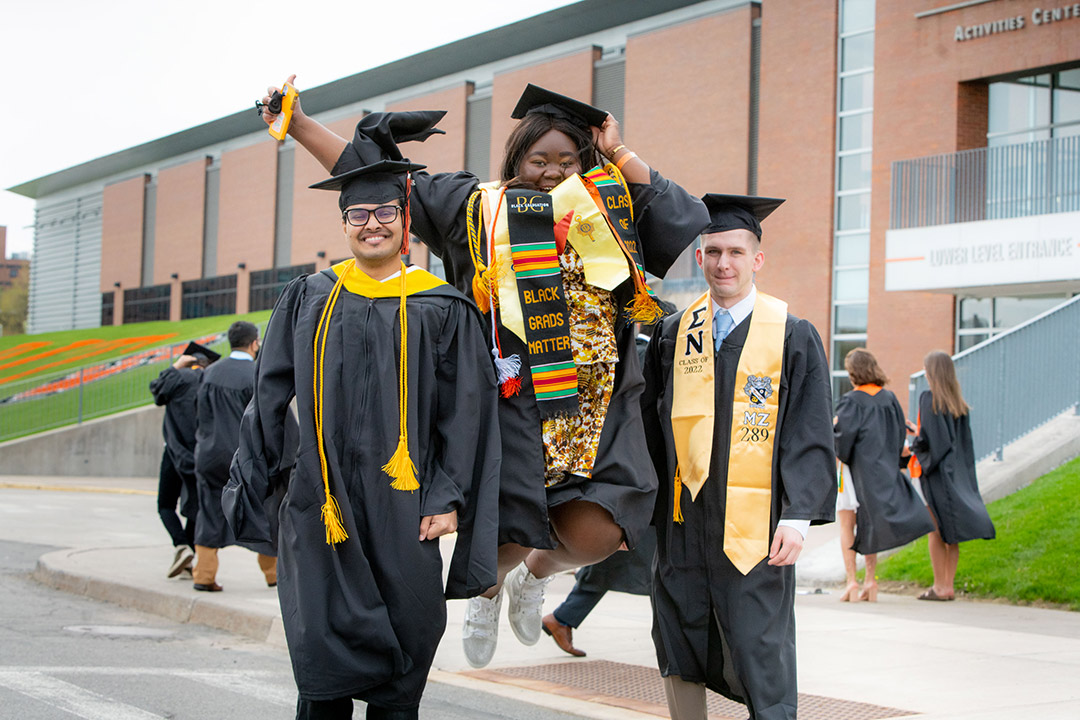 Each of the more than 4,300 graduates this year from Rochester Institute of Technology should be proud of their achievement, be excited about what is next in their lives, and remember—with grace—what it took to get to this milestone.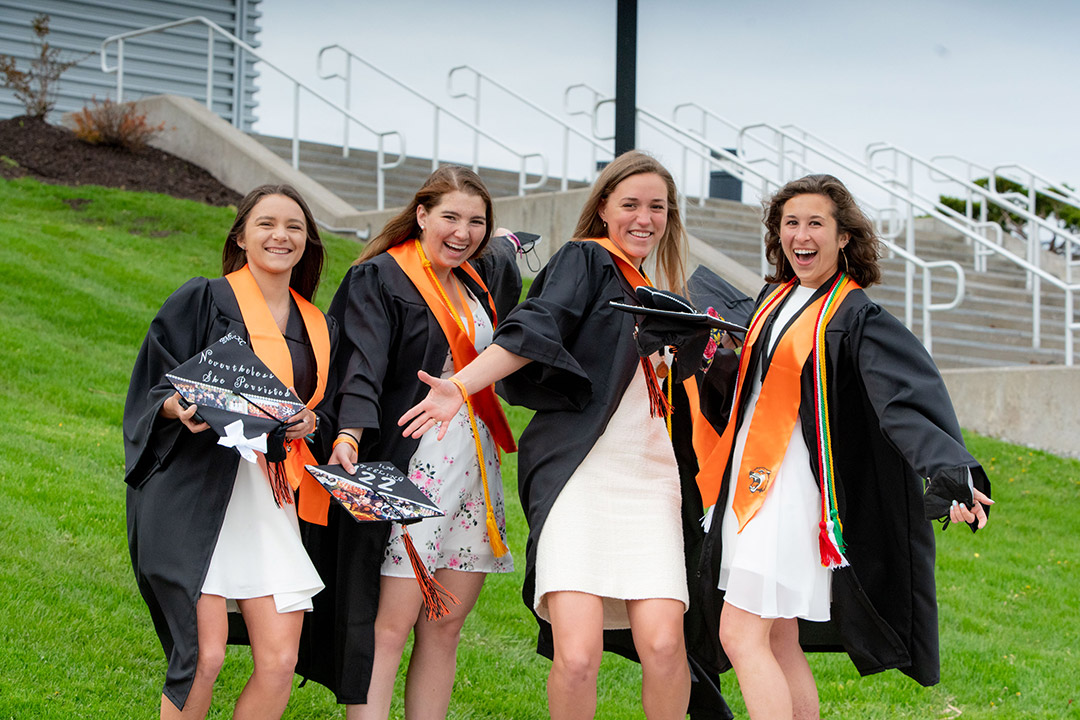 Scott Hamilton
"I encourage you to fully optimize the lessons you've learned here at RIT and catalyze that into standing as the leaders and creators of a better, brighter, more equitable future for us all," said keynote speaker Kimberly Bryant, founder of the nonprofit organization Black Girls CODE. "Remember that every experience, even the painful ones, can lead to ever greater freedom, both for you and those you choose to serve with the knowledge and skills you've acquired here."
That was just some of what graduates and their families, friends, faculty, staff, and trustees heard during RIT's 137th academic convocation held Friday morning in the Gordon Field House and Activities Center.
Wearing various cords, sashes, or medallions to signify sports, clubs, Student Government, the Honors Program, study abroad, fraternities and sororities, veterans, and more, the graduates nervously lined up prior to the procession to their seats, adjusting their robes and mortar boards and remembered their tassels hang on the right until the end of the ceremony. More than 50 doctorate degrees are also being conferred this weekend.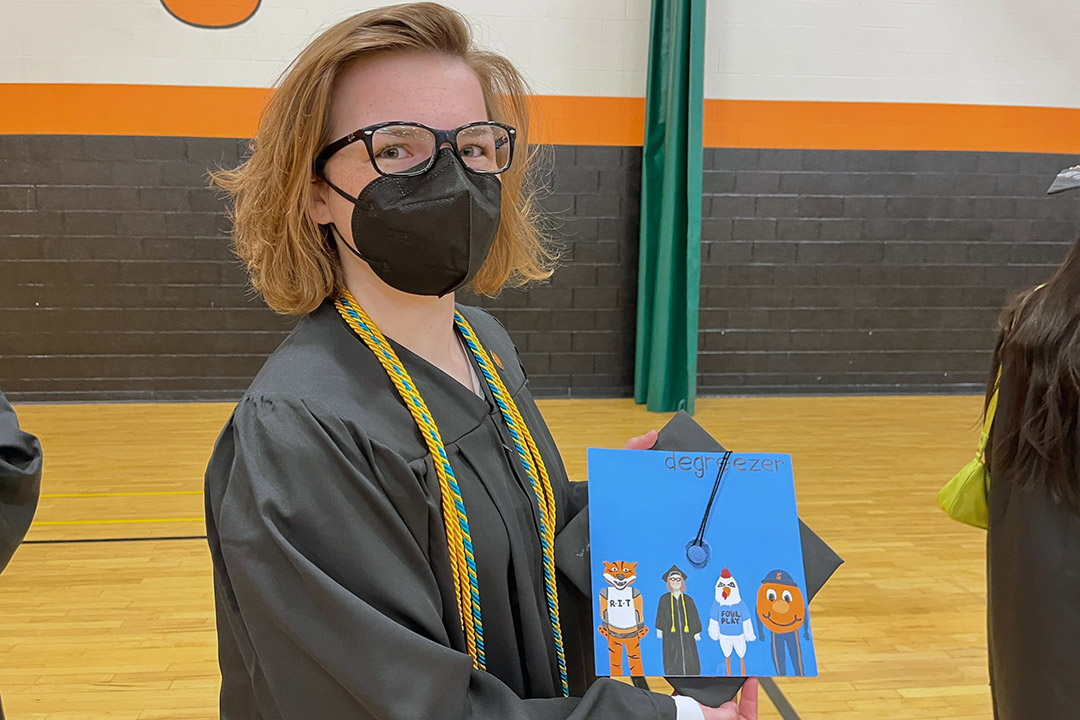 Scott Bureau
Danyell Monk, a film and animation major from Canajoharie, N.Y., customized her cap for the special occasion, painting a pun on an album from the band Weezer, with images of RIT mascot RITchie and herself. She was president of Fowl Play—an RIT student comedy troupe—and after graduation is going to Syracuse University to purse a master's degree in broadcast and digital journalism.
"This graduation is a big deal because for a lot of my college career I haven't been able to go home and see members of my family who are immunocompromised," Monk said. "My mom is here today, which is really special."
RIT President David Munson welcomed the graduates, their families and friends, faculty, staff, and trustees who were in attendance, and thanked the university family for its dedication to persevere during the COVID pandemic.
"What an honor it has been for me to serve as your president," he said. "Today, we have more than 4,300 students—at all degree levels—earning diplomas this spring. This includes our students at our campuses located in China, Croatia, Dubai, and Kosovo. We truly are a global university."
In his address, Munson reminded the graduates to serve a greater good in the world.
"The world needs more RIT Tigers," he said. "It is my hope that you wake up tomorrow not solely focused on how to earn a living, rather, that you go out and do your best to enrich the world. Indeed, RIT alumni — now 140,000 strong with you included — are emblematic of goodness."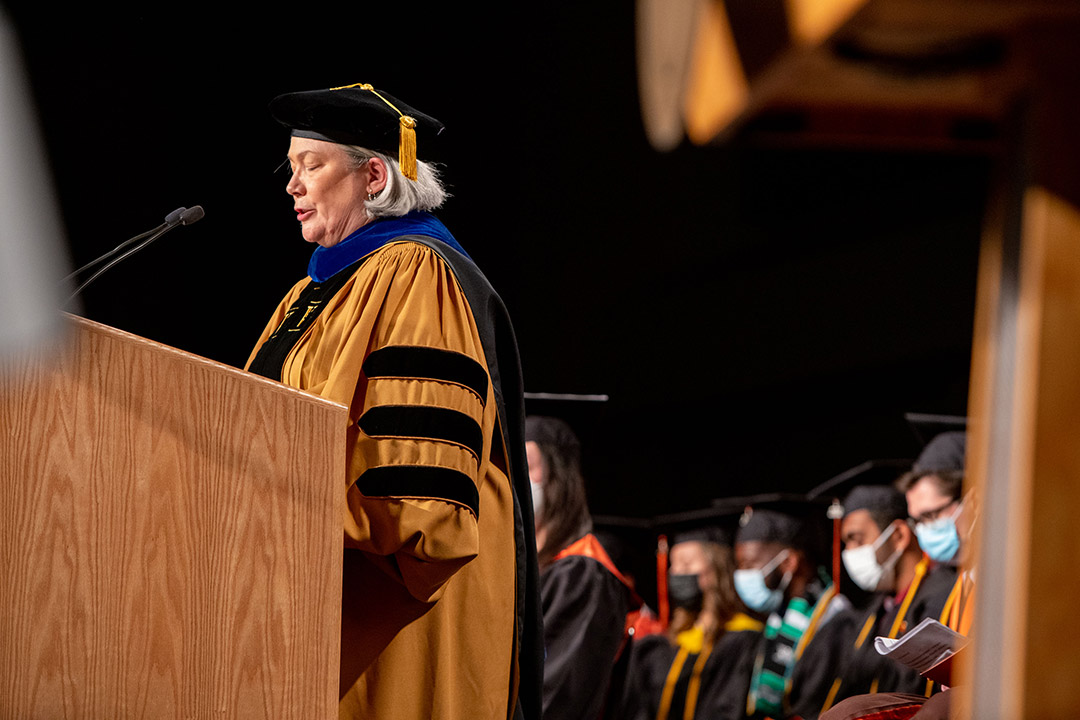 Scott Hamilton
RIT Provost and Senior Vice President for Academic Affairs Ellen Granberg, who served as emcee for the event, and Jeffrey Harris, chair of RIT's Board of Trustees, conferred four honorary doctorate degrees in humane letters, including one in absentia to Ukraine President Volodymyr Zelenskyy, who is bravely leading efforts against the Russian invasion of his country.
Sergey Lyshevski, professor of electrical and microelectronic engineering in the Kate Gleason College of Engineering, and Regina Kiperman-Kiselgof, assistant director of the Co-Op and Career Center at RIT's National Technical Institute for the Deaf, both with ties to Ukraine, spoke and signed respectively as Zelenskyy's award was presented to two current RIT students from Ukraine, Seva Ivanchenko, an electrical engineering major, and his sister Sofia Iziumtseva, a first-year student.
They said Zelenskyy demonstrates "remarkable bravery and outstanding leadership" and "stands as an example of consequential action on a global scale. The members of the RIT community stand in solidarity with President Zelenskyy and the Ukrainian people against tyranny and in support of peace. We are joined by more than two-dozen institutions of higher education across the nation in acknowledging the strength of Mr. Zelenskyy through the simultaneous conferral of honorary degrees."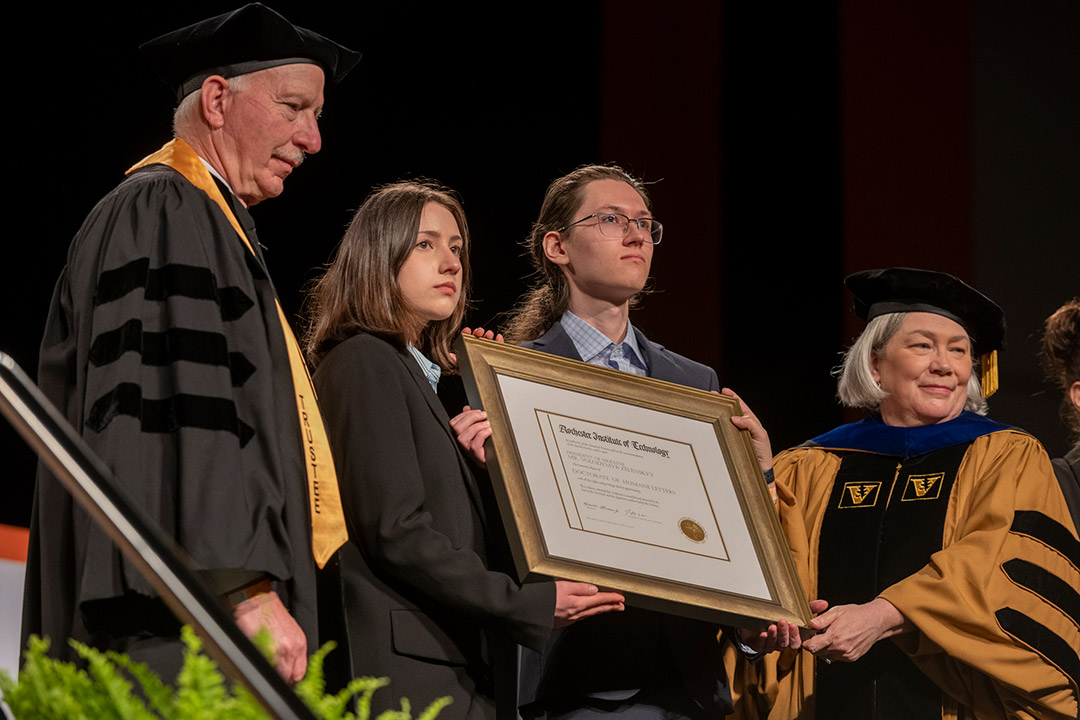 Elizabeth Lamark
The other honorary degree recipients were:
Bryant for her dedication to social change in technology fields. She helped Black Girls CODE grow from a grassroots initiative in 2011 to an international organization with 15 chapters across the United States and in South Africa. Black Girls CODE has reached more than 30,000 students and continues to thrive.
Josephine King Olsen, former director of the Peace Corps, for her lifelong commitment to volunteer service, engagement in leadership development, focus on community issues, advocacy of global social policy, and facilitation of international student and faculty exchanges. She was RIT's 2020 virtual commencement keynote speaker.
And G. Peter Jemison, a member of the Heron clan of the Seneca Nation of Indians, for his dedication to enhancing opportunities for Native American populations, including his help in forming Friends of Ganondagan. He was RIT's first Native American Minett Professor, serving during the 2007-2008 academic year, is also a renowned filmmaker, writer, and artist, and his paintings, videos, and mixed media works have been exhibited in solo and group exhibitions worldwide.
"The four remarkable individuals who have been selected to receive honorary degrees this year are the epitome of all that we stand for at RIT. It is an honor to recognize these extraordinary figures in this very special way," Munson said. "As a result of their creativity and innovation, commitment to social justice and equality, and selfless service to others, we hold them in high esteem and are proud to have them as part of the RIT family."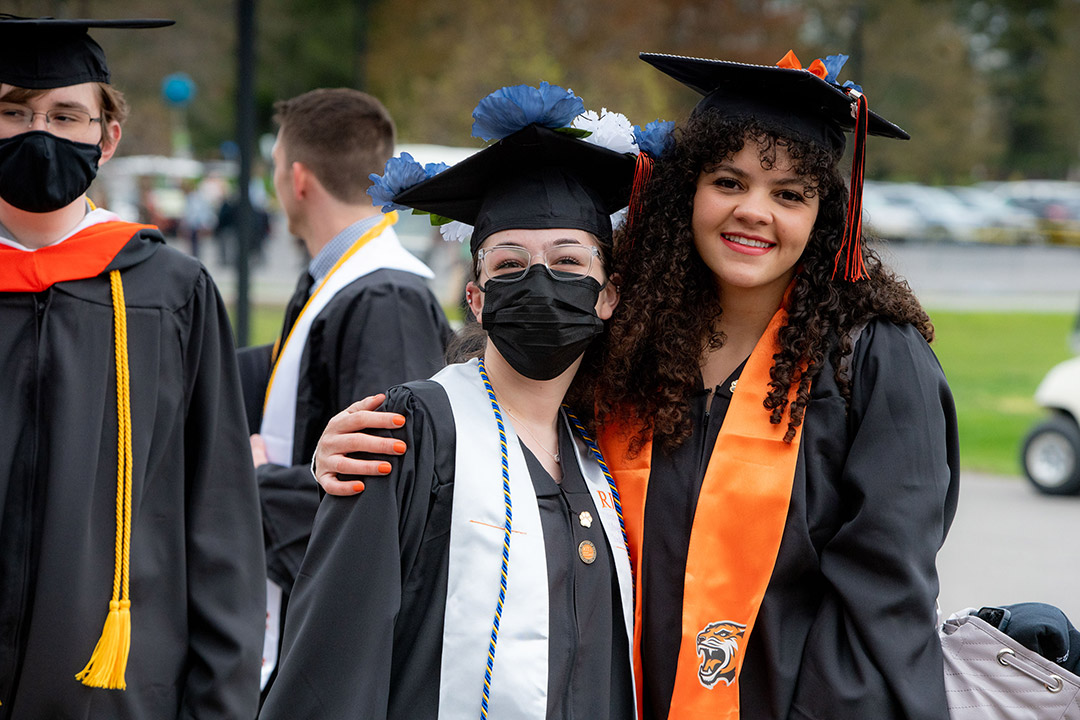 Scott Hamilton
This year's Outstanding Alumni Award recipients, Bal and Anita Dixit, were also honored for their ongoing support of RIT and career achievements.
In her keynote address, Bryant told the graduates that they should be prepared for many peaks and valleys in life, and it is important to remain graceful in both instances. She called grace "the lifeline which our best leaders grasp amid our valleys. When things fall apart, and believe me they will, it is grace that renders you a cleansing breath. It's what helps you push through and stand in the midst of adversity."
She talked about a recent career change and her contemplation of life on a spiritual retreat with friends in a Mexican forest.
"All the things I believed in and trusted quickly fell apart around me," she said. "I was courageously facing perhaps the most important battle of my life. I thought I was OK. Yet halfway through, as my fellow hikers and I followed our guide into a beautiful glen in the center of this sacred natural space, I found myself overcome with emotion. As I wailed in the middle of the forest, lying in a fetal position, I released waves of pain and sorrow that I didn't know existed within me. I cried. And I cried some more. And while my companions rallied to comfort me gently, I slowly gathered myself. At that moment, I understood for the first time so clearly that sometimes, things fall apart…for better things to fall into place."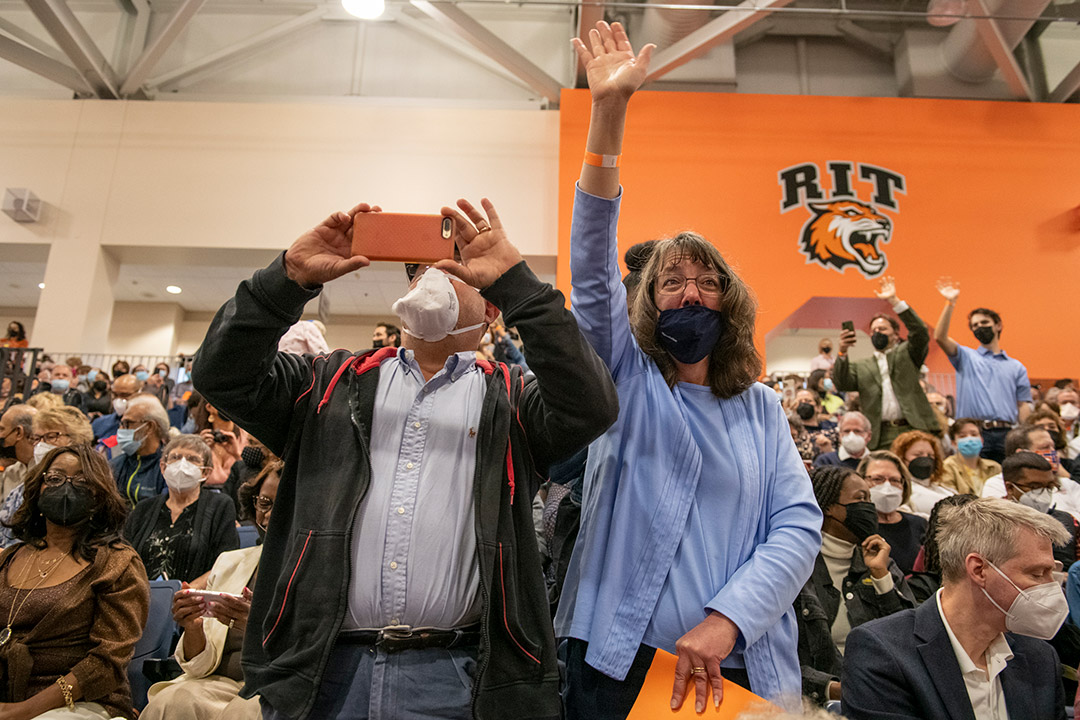 Elizabeth Lamark
Outgoing Student Government President Lucas Randrianarivelo also congratulated his fellow graduates as they begin new chapters in their lives.
"We are just getting started. We are at the bottom of the mountain looking up at all the goals, desires, and things we want to accomplish and do with our lives. Now we can start making the trek up the mountain," he said. "I hope you are ready, because the best times of our lives are actually still ahead of us."
Before commencement, Regine Thimothee, a web and mobile computing major from Bloomfield, N.J., thought about the ups and downs she experienced during her time at RIT. She switched majors after her first year and ultimately discovered her passion for mobile development. She's starting a job as an associate developer for ADP in her home state.
"At the end of the day, I don't regret anything I did here and I definitely learned a lot about myself," she said. "For any new students, I would say don't be afraid to explore new majors, and it sounds cliché, but don't feel bad about asking for help."