Remarks by 2022 Commencement keynote speaker Kimberly Bryant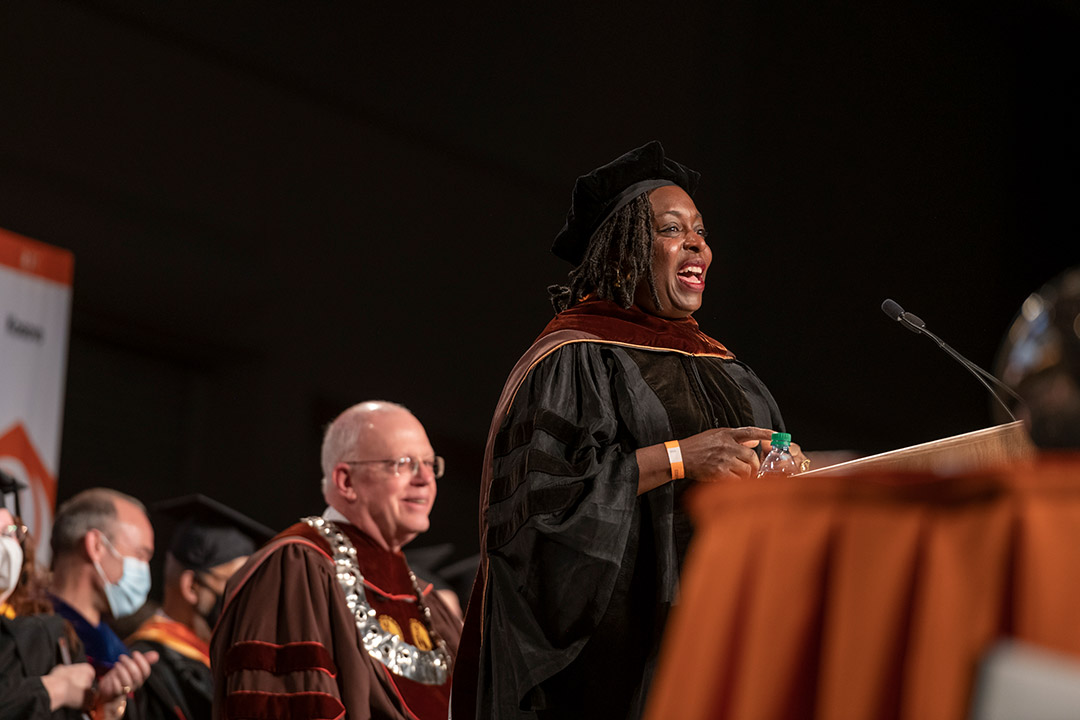 Kimberly Bryant, founder of the nonprofit organization Black Girls CODE, addressed the crowd at the Gordon Field House during RIT's annual commencement ceremony on May 6. The full text of her speech is below:
To President Munson, Provost Granberg, Mr. Harris and members of the Board of Trustees, faculty and staff of the University, families, friends, and honored guests, good morning! I am delighted to be here with you today and so very grateful to you for bestowing upon me this honorary doctorate degree. To my fellow honorary degree recipients, Dr. Peter Jemison, Dr. Jody Olsen, and President Volodymyr Zelensky, I stand in gratitude to share this moment with each of you and am humbled by the many achievements and sacrifices that each of you have made to uplift and serve your personal and global communities. I am deeply humbled by your very presence and the impactful work you each do to make our world a better place.
But most importantly today I honor each of you—the 2022 graduating class of the Rochester Institute of Technology! Congratulations graduates! You made it!
Now before we get started, I must come clean and admit the folks with whom my vibrations are most aligned with today: the legions of parents and guardians here today, waiting with bated breath for your graduates to cross this stage, and for the ink to dry on those final tuition/housing/book checks. FREEDOM is almost here! In fact, I'll be sitting in your place in approximately 18 days, when I also become the proud parent of a 2022 college graduate just 2000 miles south of here on this East Coast corridor. Whew! It's been a long journey for both me (and her). So to all the parents here today I share a special congratulations to you! WE MADE IT!
It's been more than 30 years since I sat right where you all sit today. And yet I can vividly remember the feeling of promise and the sheer hopefulness at ending one journey and embarking on a new brighter, and more fulfilled mission as I began my post-graduate career. I was consumed by both excitement and a healthy bit of cautious uncertainty about what may lay ahead. Today each of you will officially become--- A GRADUATE. And with the exception of those of you continuing your studies, most of you may be thinking -- possibly with some relief -- that your classroom days are far behind you. Don't get too excited about that. Rest assured, as you begin your postgraduate lives, you still have many lessons to learn. The pace of change today requires you to be lifelong learners, and as you enter the classroom of "the real world," I hope that you take these words from recently transitioned elder professor bell hooks to heart. In her book Teaching to Transgress she wrote:
"I entered the classroom with the conviction that it was crucial for me and every other student to be an active participant, not a passive consumer… [E]ducation [is] the practice of freedom...Education... connects the will to know with the will to become."
I hope that each of you heeds the words of Dr. hooks. Through your will to become, I encourage you to fully optimize the lessons you've learned here at RIT and catalyze that into standing as the leaders and creators of a better, brighter, more equitable future for us all. Remember that every experience, even the painful ones, can lead to ever greater freedom, both for you and those you choose to serve with the knowledge and skills you've acquired here. Indeed, you need look no further than to my fellow honorees as 'true icons" in these lessons of leadership.
Dr. Peter Jemison began his career as a very successful artist, curator, and educator in New York. He found himself called to become a "culture worker" or a bridge to his Native American community, coming back to the lands of his ancestors and honoring past, present, and future generations with his dedication to enhancing opportunities for Native American populations.
Dr. Jody Olsen has committed many years of volunteer and civic service to supporting communities in underserved countries, developing young leaders and students, and becoming a fierce advocate for civic engagement and the health and wellness of our global community.
Finally, Ukrainian President Zelensky is a perfect example of what many have termed 'consequential leadership.' He epitomizes the phrase "a crisis doesn't build character—it reveals it". President Zelensky's response as Ukraine's leader in the face of an unprovoked invasion of his country has galvanized support from much of the world to rise up and help during the subsequent humanitarian crisis. In standing fearlessly in the face of oppression and injustice- a modern-day David and Goliath scenario, he has refused to leave his people behind.
These three are powerful examples of living a life of purpose intertwined with a divine calling to "do well" by "doing good." They are ALL consequential leaders: less focused on their personal success and more on their impact on society. And while I don't compare my own journey and impact to the accomplishments of these leaders, I can humbly say in the colloquial sense —" I kinda relate".
When I ended my corporate career ten years ago and poured all of my life savings into funding a non-profit organization to teach little Black and brown girls from underrepresented communities how to code, I was driven by a calling, much like these leaders, to give back, to make a difference, to raise up my community, to shake up the system.
This commencement season, you are going to hear many epic leadership stories. The hero's journey is one that our society has idolized and idealized and we are constantly reminded of the traits that mark the 'hero's journey': Courage, Integrity, Influence, Respect, Resilience. And no doubt these leaders possess these traits and more in abundance. They are qualities necessary and important for driving change and motivating others. But today I want to talk to you about one often under-recognized trait that I believe sets apart exceptional leaders: GRACE. True heroes and leaders achieve extraordinary victories on the foundation of grace.
The dictionary defines grace as beauty and ease of movement, poise, elegance, forgiveness, or a blessing. I want to explore this concept of grace and its application for you as future leaders from a theological sense. Divine grace is a theological term present in many religions. It has been defined as the divine influence which operates in humans to regenerate and sanctify, to inspire virtuous impulses, and to impart strength to endure trial and resist temptation, and as an individual virtue or excellence of divine origin. Simply put, the practice of grace of which I'm speaking is what we often first encounter through adversity. It is the lifeline which our best leaders grasp amid our valleys. When things fall apart—and believe me they will – it is grace that renders you a cleansing breath. It's what helps you push through and stand  in the midst of adversity.
Just a few weeks ago I found myself on a spiritual hike through a forest in Mexico. This came during a leadership retreat after months of fighting to save the company I poured the last ten years of my life into. Weeks prior, just a few days before Christmas I found out that I would not be able to lead my company, effective almost immediately, and all the things I believed in and trusted quickly fell apart around me.
By the time I found myself in Mexico on this spiritual hike, I truly believed I had mustered up all of my warrior spirit. I was courageously facing perhaps the most important battle of my life. I thought I was OK. Yet halfway through, as my fellow hikers and I followed our guide into a beautiful glen in the center of this sacred natural space, I found myself overcome with emotion. As I wailed in the middle of the forest, lying in a fetal position, I released waves of pain and sorrow that I didn't know existed within me.
I cried. And I cried some more. And while my companions rallied to comfort me gently, I slowly gathered myself. At that moment, I understood for the first time so clearly that Sometimes things fall apart…for better things to fall into place. In this space of healing with my chosen community, a divine peace poured over me, a 'grace in that valley'. For others but most importantly for myself.
Now I don't know what valleys each of you may experience along your journeys. But rest assured, I know that as sure as the tide rises, they must also fall. So I want you to learn to give yourself 'grace in the valley.' To lean on your communities in your times of tribulation. And to create a safe space for others—when they need it the most, especially our leaders who often carry the weight of the world on their shoulders. Embrace your valleys in a spirit of both humility and triumph the same as you embrace your summits.  In fact the lessons you learn in your valleys are perhaps your most profound.
In the words of Pema Chodron: "Only to the extent that we expose ourselves over and over to annihilation can that which is indestructible be found in us."
I firmly believe that "what we learn in the valleys of our lives prepare us to take the hills and lift others up".
As I wrap up this commencement speech, I invite each of you – graduates, faculty and staff, parents and friends – to imagine a life of grace. What does it mean to give and receive grace, and who will you become along the way based on what you learn in the valleys and how you live on the hills. This is the best version of you, ready to take on the world. And the world is ready to receive you. Thank you so much for having me here today. Good luck and go in grace.