President David Munson's 2022 commencement address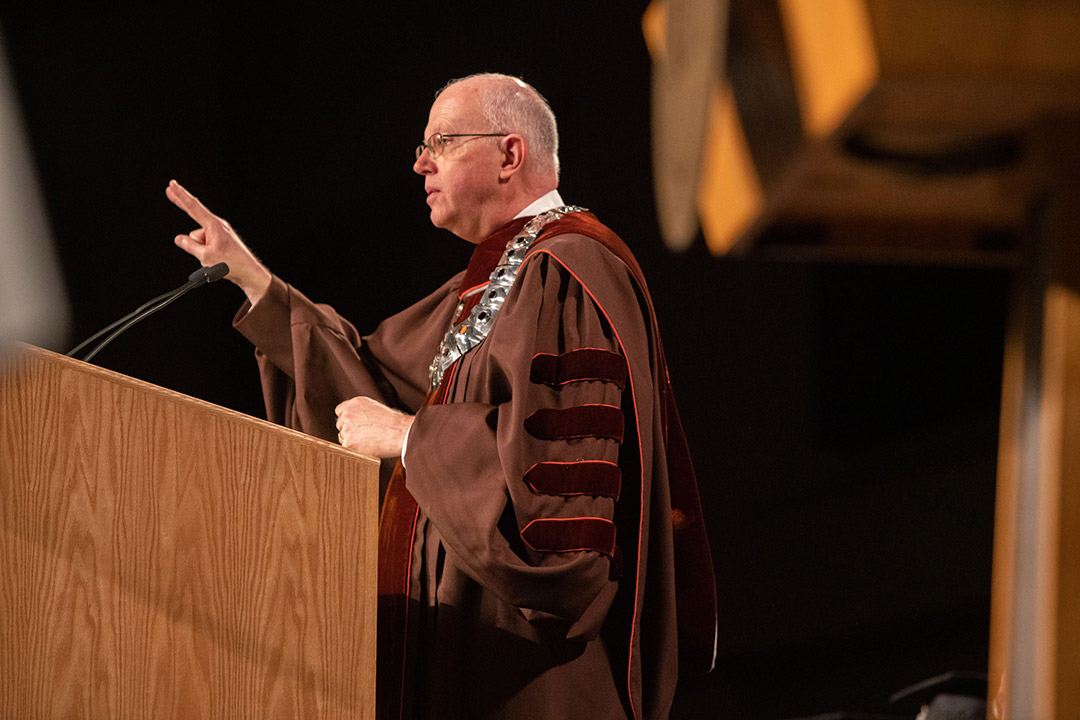 RIT President David Munson addressed the crowd at the Gordon Field House during RIT's annual commencement ceremony on May 6. The full text of his speech is below:
Good morning, Tigers!
It is my pleasure to welcome you — the Class of 2022 … families and friends … faculty and staff … and Trustees — to this special occasion. My warmest congratulations to our new graduates in their finest hour here at RIT.
Class of '22: Think back to your first-year orientation and kicking off your RIT adventure right here in this fieldhouse. You have worked incredibly hard to get to this moment. And now you are graduating!
What an honor it has been for me to serve as your president. I continue to be amazed and impressed by the talent and devotion of the RIT community. I would be remiss if I did not mention the pandemic, briefly. I want to thank our entire university family for its dedication to keeping fellow Tigers safe. We have navigated this together and persevered, thanks to your commitment and resiliency.
Today, we have more than 4,300 students — at all degree levels — earning diplomas this spring. This includes our students at our campuses located in China, Croatia, Dubai, and Kosovo. We are truly a global university.
This is an extraordinary time for RIT with our amazing community of creators and innovators. Many of you are blessed today to turn multiple job offers into your No. 1 choices. These range from brand-name companies to entrepreneurial start-up firms. Some of you will move on to seek advanced degrees either from RIT or other prominent universities. While others will go on to serve in the military or service organizations like the Peace Corps. We also have a trio of trailblazing students who came to RIT from our partner charter school — Rochester Prep High School — and who will be the first to graduate with RIT degrees. Each graduate in this audience has an amazing story behind their journey, culminating in this moment.
Let's talk about serving the greater good … because from my vantage point, the world needs more RIT Tigers! It is my hope, that you wake up tomorrow not solely focused on how to earn a living. Rather, that you go out and do your best to enrich the world. Indeed, RIT alumni — now 140,000 strong with you included — are emblematic of goodness.
In the RIT context, "innovation" is about leveraging our strengths in technology, the arts, and design — the core of our university — to produce graduates in every discipline capable of practicing transformative innovation that serves the greater good.
RIT prides itself in preparing our graduates to be citizens of the world. That means preparing you not only for jobs and careers, but also preparing you for life. Today's world needs people who know how to create and innovate, analyze and implement, collaborate and lead.
We represent creativity and innovation in all fields, with a strong culture of making. We make things that never existed before, whether those things are physical objects, digital media, new processes, or breakthrough concepts or ideas. And, we put those things into use. That's innovation. I am reminded of this each year when I see the exhibits created for the Imagine RIT: Creativity and Innovation Festival. And it was awesome to be back in person at Imagine RIT just two weeks ago.
While you continue on your amazing journey, let me assure you that RIT will continue to grow and become the best it can be. RIT has created an ecosystem that embraces and designs the future. You will see an acceleration of our trajectory.
When you return to campus as an alum, you will see changes … changes that should make you feel great pride … new facilities, new programs, new faculty and staff, and students who are as smart as ever. You literally have laid the foundation that enables this exciting future. You are part of RIT for Life.
As you move on to the next phase of your life, you will face new challenges and tackle new opportunities. I know you will continue to employ the abilities and skills you have developed here at RIT. I urge you to continue to rely on your RIT family for support whenever needed. We hope that, when you reflect on your time at RIT, your memories will be of favorite professors and staff, lasting friendships, and a feeling of joy and fulfillment. All of us at RIT—faculty, staff, and trustees—congratulate you and your families and wish you much continued success.
Please come back and visit us often! Whether it is for Brick City Homecoming, Imagine RIT, or a hockey game, we love it when you return to campus.
      You have my deepest admiration and gratitude for all that we are accomplishing as a university family. Thank you again, and congratulations!