RIT's Graduate Showcase celebrates scholarship April 7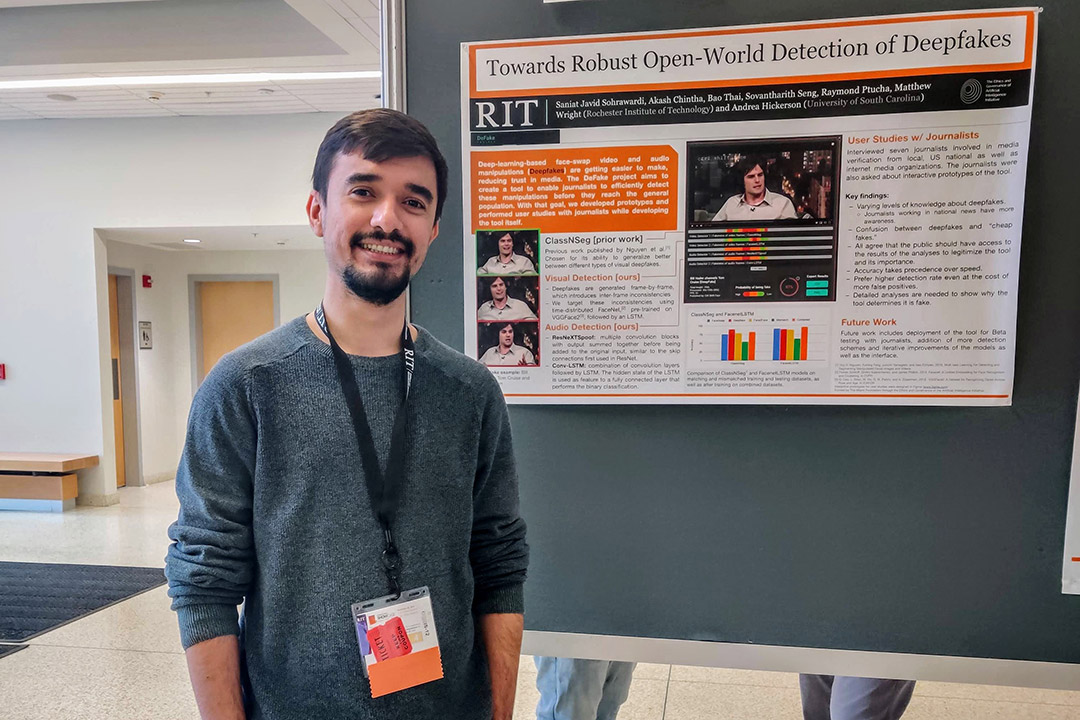 From robot waiters to river otters, RIT's Graduate Showcase will cover a wide variety of topics representing graduate scholarship from the university's Henrietta and global campuses.
The symposium, held April 7, will feature oral presentations in the morning and poster presentations, demonstrations, and visual exhibitions in the afternoon.
The showcase is the premier event of the 14th annual Graduate Education Week and Showcase: "Redefining Possibilities–Graduate Students on the Move," held April 4-8.
The hybrid format adopted this year makes the symposium accessible to students at RIT's global campuses. Said Mohammad Said Abdallah, a student at RIT Dubai, is eager to talk about his robot waiter, "Yosha," and share what he learned while working on his master's thesis in mechanical engineering.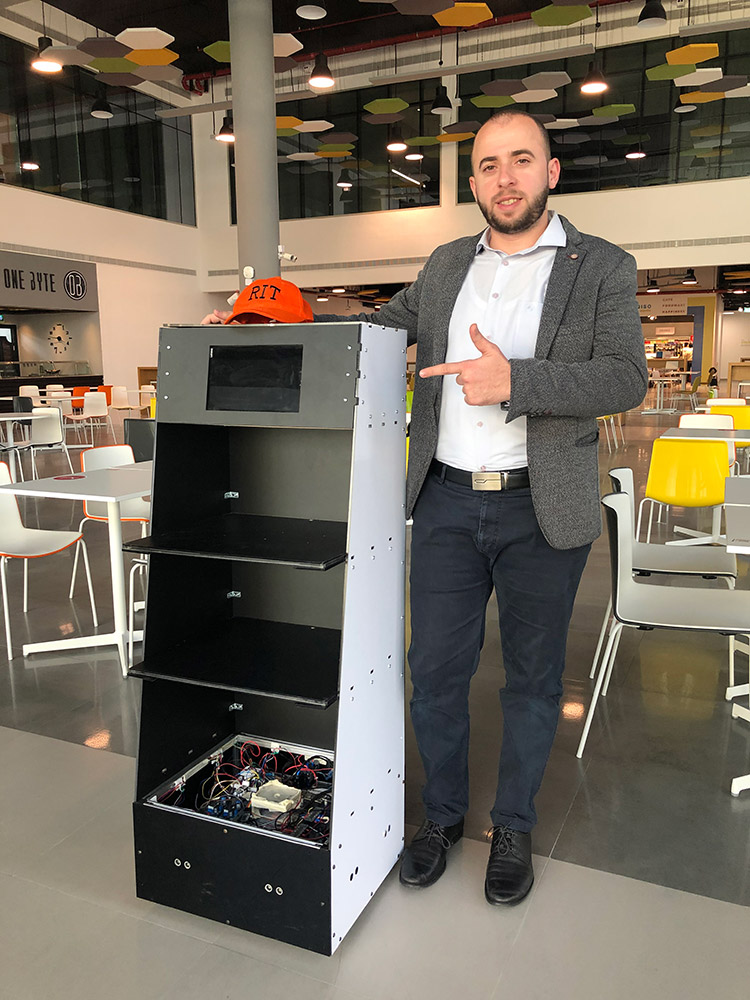 Said Abdallah, who is from Jenin City, Palestine, and now lives in Dubai in the United Arab Emirates, will present "The Autonomous Future Restaurant Waiter: Yosha."
Inspired by food delivery robots in Dubai, Said Abdallah built his own robot and personalized it with his toddler daughter's nickname.
His research had to account for floor conditions and slippage issues, and transporting food neatly to the correct table, without running into other robots or diners, or toppling over.
Symposiums like RIT's can encourage upcoming graduate students to pursue robotics and artificial intelligence fields, noted Said Abdallah. This is important, he said, "As one day, robots will live side-by-side with humans."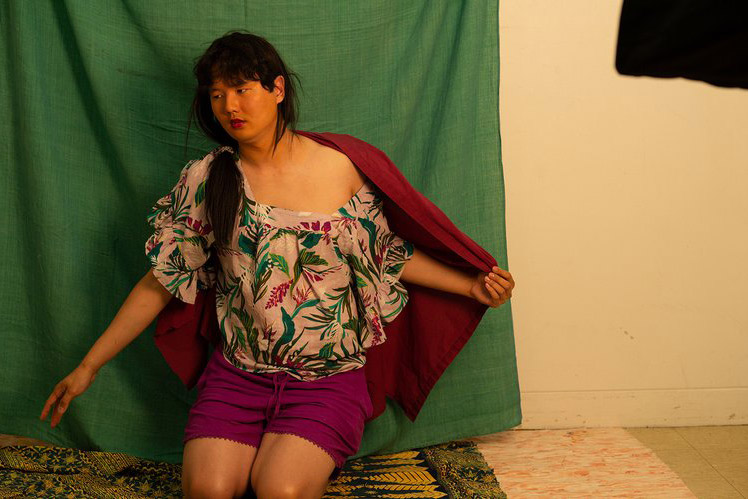 Chunbum Park
MFA student Chunbum Park used her thesis work in fine arts studio in the College of Art and Design to wrestle with the whitewashing of beauty standards in pop culture. Her scholarship on "Redefining the Northeast Asian Beauty against its Racialization towards Whiteness," examines the erasure of Northeast Asian traits in the rendering of anime and videogame. Artists give these characters European features, "such as a narrow pointy nose, colored iris and hair, double eyelids, and pale white or pink skin," which are "nonexistent or uncommon among Northeast Asians," Park said.
In her artwork, Park, who grew up in Nashville, Tenn., strives to balance contemporary influences with traditional beauty standards of Northeast Asia to empower diverse viewers.
"My art attempts to restore an authentic vision of Northeast Asian beauty that defies the possibilities of plastic surgery and Japanese anime," Park said.
Manipulated information is on the rise, and Saniat "John" Sohrawardi's doctoral research looks at journalists as gatekeepers and defenders of truth. He explores how journalists verify information when presented with convincing deepfake videos manipulated with deep learning. Sohrawardi, who was born in Odessa, Ukraine, and who now calls Dhaka, Bangladesh, home, is a Ph.D. student in computing and information sciences in the Golisano College of Computing and Information Sciences. His research "Dungeons & Deepfakes: A Role-play Study to Understand Journalists' Usage of AI-Based Video Verification Tools" evaluated the methods journalists use to identify and discredit deepfake videos that might otherwise be misconstrued as credible news.
Due to COVID-19, the study was adapted as an online game modeled after Dungeons and Dragons. Sohrawardi used the "scenario-based role-play format" to study the journalists' decisions when faced with difficult scenarios and questionable truth. Participants included nine journalists from CBS, NBC, and Buzzfeed News, among other news outlets.
"I love sharing at events like these, especially on campus, as it gives us a chance to show off our work and hopefully attract more students to work on the same issues," Sohrawardi said. "This is especially true for a topic like deepfakes, which may attract people from various majors."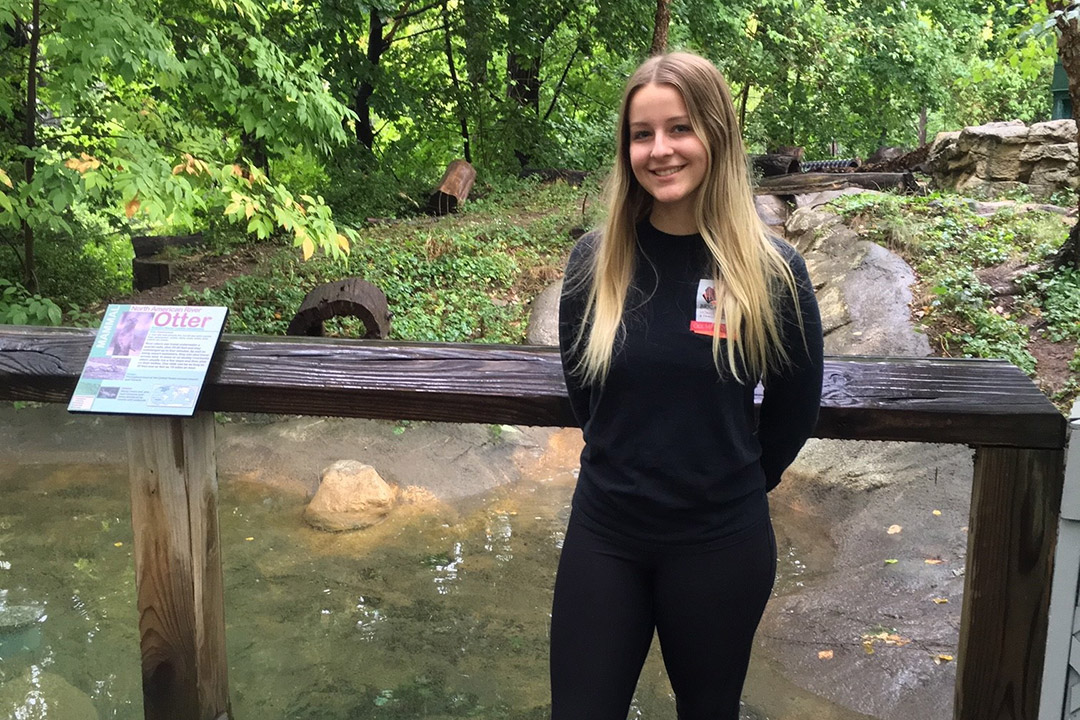 A river otter named Sailor at the Seneca Park Zoo played a central role in Jessica Wegman's experimental psychology MS thesis research. Wegman '20 (psychology), a Hilton, N.Y., resident, studied otter cognition and perception in the Comparative Cognition and Perception Lab, run by Professor Caroline DeLong in the College of Liberal Arts.
Wegman's research on "Novel Object Recognition Memory in North American River Otters (Lontra canadensis)" investigates, for the first time, the long-term memory and cognition of North American river otters. Her work, and other research from DeLong's lab, could someday lead to new enrichment practices for animals housed in zoos and aquariums, and improved conservation efforts for otters in the wild.
"This experience has taught me so much more about not only river otters, but about research with animals in general," Wegman said. "You really must understand an animal's natural behaviors in order to be able to properly study their cognitive abilities."
Wegman looks forward to the Graduate Showcase and seeing what other students present. "I find it so interesting to learn about all the different types of research going on, right on campus," she said. "It's a unique opportunity to hear about all kinds of disciplines outside of our own field that I look forward to each year."
Topics