RIT Graduate Education Week and Showcase kicks off April 4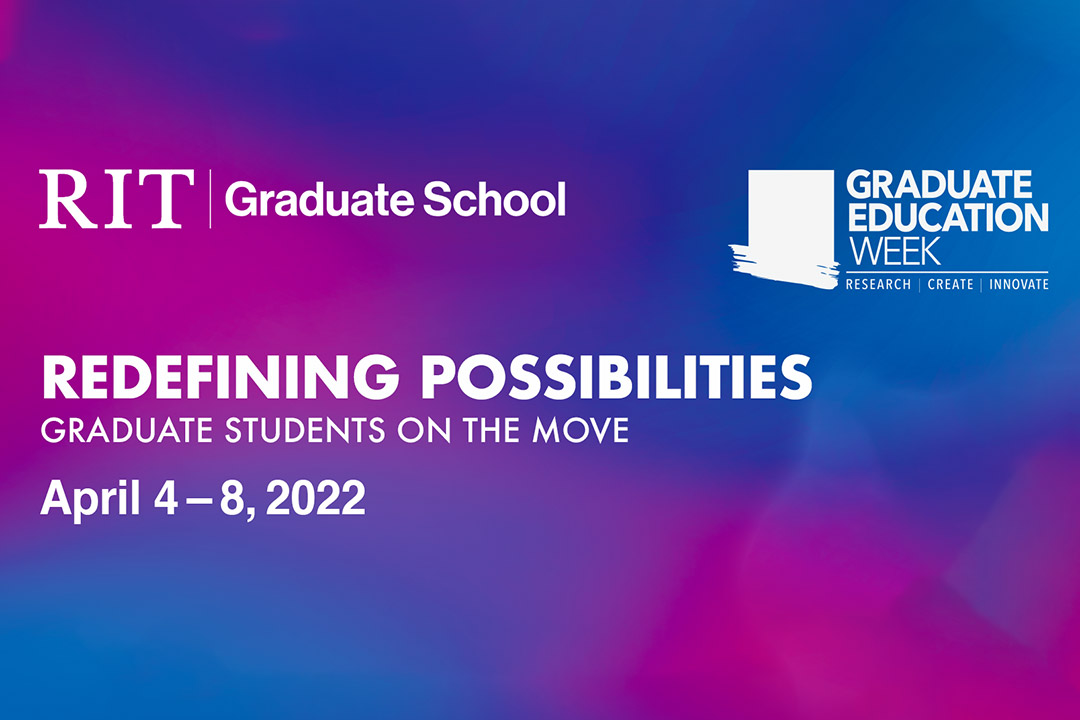 RIT will highlight graduate student scholarship during the 14th annual Graduate Education Week and Showcase, April 4–8. The theme of this year's symposium is "Redefining Possibilities–Graduate Students on the Move."
Graduate Showcase
From robot waiters to river otters, RIT's Graduate Showcase will cover a wide variety of topics representing graduate scholarship from the university's Henrietta and global campuses. The symposium, held April 7, will feature oral presentations in the morning and poster presentations, demonstrations, and visual exhibitions in the afternoon. Read more about the symposium.
"RIT's Graduate Education Week coincides this year with the National Graduate and Professional Student Appreciation Week, which highlights the importance of this event," said Twyla Cummings, RIT associate provost and dean of the Graduate School.
"The week is a special celebration of our graduate student community, their innovative and creative research, resilience during the past two years, and their bright futures ahead," Cummings said.
The RIT community is invited to attend the weeklong series of social and networking activities, professional development workshops, and the symposium. Registration is required. Events include:
Kick-off reception and resource fair, 5-6:30 p.m. April 4, University Gallery;
Study break virtual yoga, 7-7:45 p.m. April 5, via Zoom;
Graduate Showcase, April 7:

Top 10 oral thesis presentations, in person and streamed, during two sessions: 8:30–10 a.m., and 10:30 a.m.–noon; Sustainability Hall, room 1130; and
Poster, demonstrations, and visual exhibitions, 2-2:30 p.m. Sustainability Hall Galleria; and 

Keynote speaker Dr. Michael Mendoza, Commissioner of Public Health for Monroe County, presents "Population Health in Monroe County" 10 a.m. April 8, via Zoom.
For more information about the Graduate Education Week activities, go to Graduate Week and Showcase website.
Graduate Education Week and Showcase: "Redefining Possibilities–Graduate Students on the Move" is hosted by the RIT Graduate School with support from corporate sponsor BAE Systems; research sponsors Constellation, Bond, Schoeneck & King Attorneys, and Research at RIT;  innovation sponsors RIT College of Art and Design, Flower City Printing, RIT College of Health Sciences and Technology, NRGXP, RIT School of Individualized Study, Barclay Damon, Datto, RIT Golisano College of Computing and Information Sciences, RIT Division of Academic Affairs, Acute Kids Pediatric Urgent Care, RIT Kate Gleason College of Engineering, RIT Division of Diversity and Inclusion, RIT College of Engineering Technology, RIT Office of Graduate Admissions, and RIT College of Liberal Arts; and creativity sponsors Andrew Moore, professor and dean emeritus, RIT College of Science, Golisano Institute for Sustainability, National Technical Institute for the Deaf, the RIT Libraries, and RIT Global.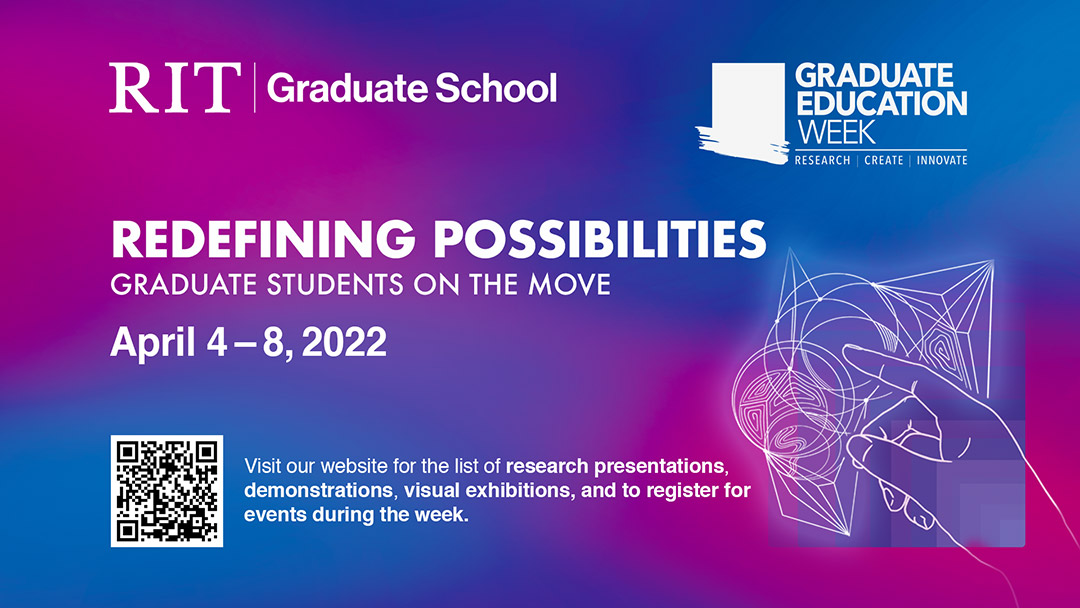 Mary Nguyen
Topics