April 15, 2021
by Shelly Meyer
RIT's updated communication master's degree offers students flexibility to graduate in one year
Program changes took effect in fall 2020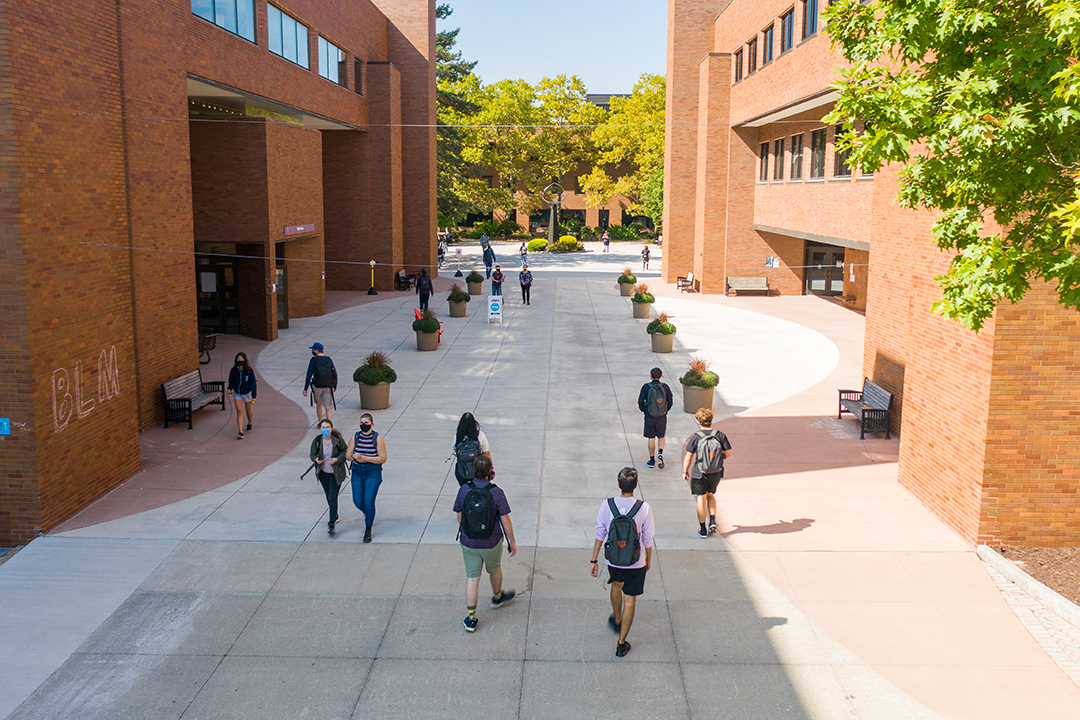 Last summer, RIT's School of Communication received approval from the New York State Education Department to update the Master of Science in communication degree. Since then, major changes have been implemented to ensure the program is more accessible, affordable, and competitive with benchmark schools.
Following a year-long data collection process that involved alumni and faculty interviews, a competitor analysis, employment trend research, and a comprehensive curriculum audit, the graduate curriculum committee made several major program updates.
They eliminated redundancies in the curriculum, updated a number of existing courses, and added five new courses. Not only will these changes refresh the program to account for industry changes, they will also allow students the option to finish the degree within one calendar year.
"We wanted to make it more affordable and feasible for students, especially non-traditional students, interested in getting a graduate degree," said Ammina Kothari, communication master's program director. "Half of our demographic is comprised of undergraduate students immediately moving on to a graduate degree, but many of our students actually work in industry and decide to come back to update their skills while working full time. Over time, we were seeing that the longer it takes for part-time students to finish the course load, the more difficult it is for them to finish their thesis and graduate."
The program updates strategically cater to both students who want to work in industry and students who want to pursue a Ph.D. This is reflected in the coursework and in the way the program itself is structured.
Communication elective courses, which can be skills based or theory and research based, are required.  Students are also required to take RIT courses outside the School of Communication.
"We strongly believe that our students need to have a professional core or outside expertise beyond just the communication program," said Kothari. "Many of our students tend to gravitate to Saunders College of Business for marketing experience, but we also have students taking classes in Golisano College of Computing and information Sciences, College of Art and Design, College of Health Sciences, and others."
RIT is uniquely positioned to offer a tech and design-focused communications education, said Kothari. In addition to providing access to other colleges across RIT's campus, updates to the communication MS course load reflect this. Newly developed courses include:
Social Media Analytics and Research, a look at analytics tools and how to use them to collect social media data to help inform marketing strategy or to study the phenomenon of communication through social media;
Digital Storytelling, a course designed for people interested in learning techniques for communicating across digital platforms;
Communication Design Principals, a data visualization course on how to use design principals to design effective visual communication;
Artificial Intelligence and Communication, a look at how AI tools like Alexa and Siri are changing and shaping communication;
Communication and Identity, a conceptual course on how we communicate our identity.
"Current and prospective students are excited about the changes," said Kelly Martin, director of the School of Communication. "The new courses are driving students to the program, as is the research our faculty is doing. Many of the courses we teach reflect the research expertise of our faculty, so they're not just teaching from a textbook, they're teaching from their own research projects and experience."
Program updates took effect in fall 2020. The first students graduating with the new degree will finish their studies this summer.
Updates to bachelor's degree in journalism take effect this fall
Also within the School of Communication, RIT's bachelor's degree in journalism was updated this year with the goal of focusing classwork on activism. Four courses were added to the curriculum, including:
Multiplatform Production and Publishing;
Communication for Social Change;
Opinion Media;
Community Journalism.
The program has also committed to partnering with journalists in the Rochester area. In addition to integrating projects with local media into the classroom, the program offers seminars, webinars, and panels featuring local media. All are free and open to the public. An October 2020 event, "Reporting While Black" featured journalists from Spectrum News, WXXI, Democrat and Chronicle, and 13 WHAM News. It attracted more than 200 attendees.