Student agency lends creative talents to help promote Imagine RIT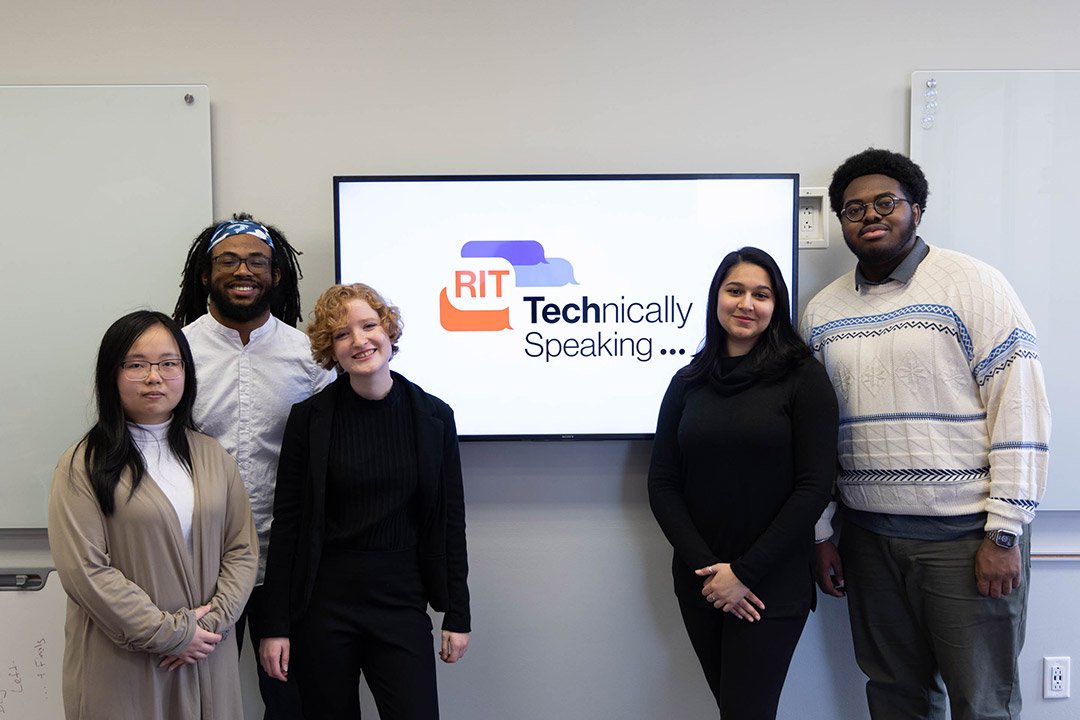 A new student agency called Technically Speaking is providing a valuable opportunity for RIT students to get first-hand experience in marketing and public relations. The group's first major client was RIT's Division of Marketing and Communications, and one of their projects was to capture the behind-the-scenes work of students getting ready for the university's signature festival, Imagine RIT.
To be part of the agency, students enroll in two consecutive courses offered within RIT's School of Communication, taught by senior lecturer Julie Napieralski. The course was originally conceptualized and co-developed by Napieralski and senior lecturer Kari Cameron.
"This is not like your regular classes where you sit through a lecture, you do your homework, and you're done. This is a chance for us to learn and grow with our team members," said student Mo Owolabi. "I'd also say we feel particularly accountable for everything because the future of this class depends on what we do now."
Owolabi, from Lagos, Nigeria, was interested in being part of the student agency because he was seeking more hands-on experience after his co-ops. Being part of Technically Speaking allowed him to get that experience while simultaneously earning course credit toward his degree, a story which aligned with Napieralski and Cameron's original intent when crafting the courses.
"We wanted to provide students with experiential learning opportunities that could give them first-hand knowledge and experience working in the field of marketing, advertising, and public relations before they graduate. We also hope it can inspire students to explore specialized areas of the marketing and communications field and, ultimately, help them determine a career path best suited for their skills, strengths, and interests," said Napieralski.
The inaugural Technically Speaking cohort is a small and mighty team of five students. They cycled through different roles for each project so they could all have varied experiences, but overall each student fell into the following roles that played to their personal strengths:
"I'm glad we all come from different academic backgrounds, as well as hometown backgrounds and general interest backgrounds. It gave us all a chance to really play into our strengths," said Sheth. "We all have different skill sets, strengths, and weaknesses, and it's really nice to collaborate. We all fit together like a nice big puzzle."
During the fall semester, the group's current, inaugural cohort had the unique opportunity to shape the group's organizational structure, mission, and the overall Technically Speaking brand. In the spring, the students shifted their focus to client work, particularly on capturing behind-the-scenes content for Imagine RIT exhibitors.
The students picked a few exhibits to cover—the RIT Beekeeping Club, RIT Baja, and the Concrete Canoe: Queen of Hearts exhibits—and worked together to capture photos, videos, and written promotional content to share ahead of the festival.
"Being behind the scenes gave us a first-hand understanding of how the whole process works," said Owolabi. "We're drawing on everything we've learned since the beginning of our journey at RIT, and seeing that in action is really cool."
Overall, the autonomy and leadership opportunities Technically Speaking offered each student gave them a sense of pride about all they've accomplished as a group. Sheth, from Boston, shared that providing an authentic student perspective in marketing materials was just one of many reasons she found the experience so special.
"We're all very grateful that we just happened to be the class that gets to do this for the first time at RIT. It took a lot of hard work and there were a lot of learning curves, but it was definitely a great experience knowing that we were the first ones to do this. It's a really big pride point for us as a group," said Sheth.
For those interested in learning more about Technically Speaking, the group will have their own exhibit at Imagine RIT on April 29. The group plans to display examples of their work as well as information about the group to help recruit students to enroll in the class and engage with clients.
Topics