Construction begins on RIT's new music performance theater
Building will serve as a landmark and gateway to the RIT campus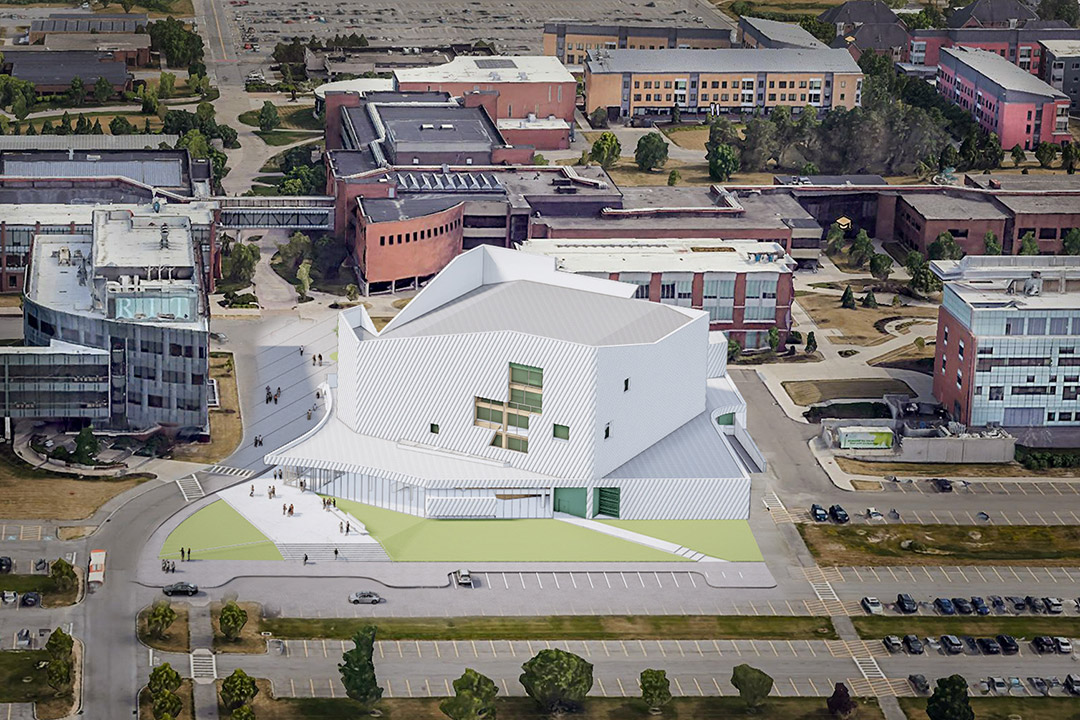 Construction is beginning on the first major theater project in the Rochester area in decades, with a 750-seat music performance theater primarily for musical theater productions at Rochester Institute of Technology.
Michael Maltzan Architecture
A groundbreaking ceremony is scheduled for 10 a.m. Wednesday at the site, which is next to the J Lot, just west of Institute Hall. The RIT Concert Band will perform, and remarks will be made by RIT President David Munson and others.
The new building, designed by renowned Los Angeles-based architect Michael Maltzan, is expected to be completed by Feb. 1, 2026.
The theater will be three-stories tall, with more than 40,000 square feet and truck access. It is expected to have two balconies and a large rehearsal hall, costume and scene shops, as well as a box office, an operations office, and an area for food service.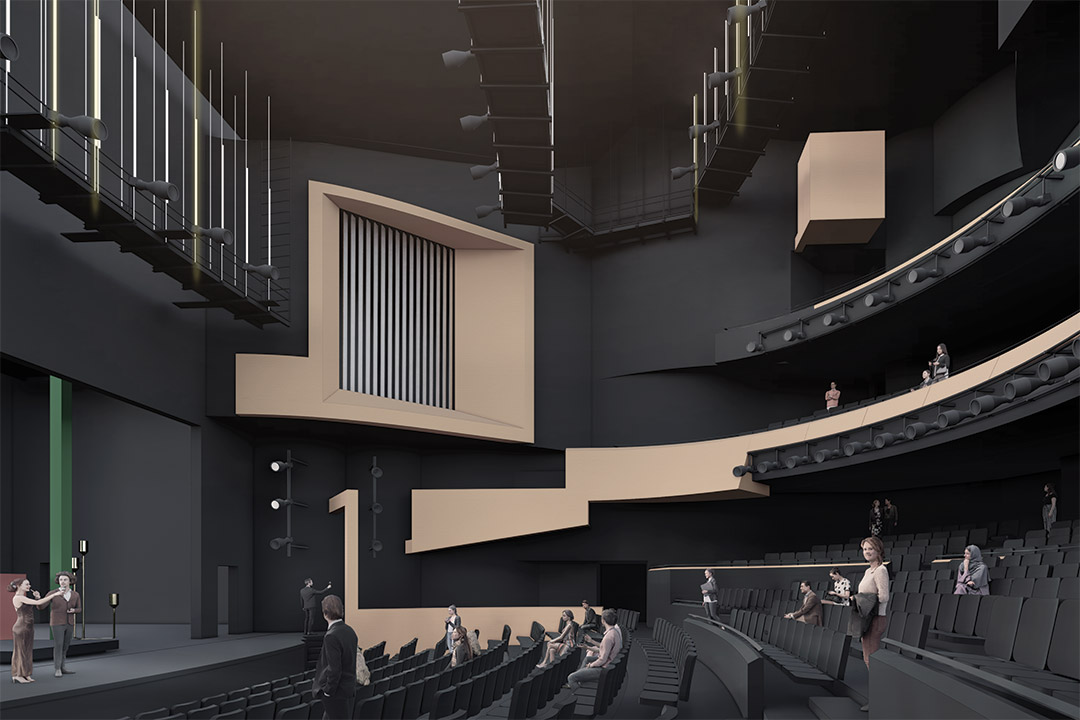 Michael Maltzan Architecture
And its centerpiece will be a restored antique theater pipe organ.
The theater is expected to cost $74.4 million, which has recently been approved by RIT's Board of Trustees and is part of RIT's approved capital bond project. Several naming opportunities are available as well.
The project, which was delayed for about two years due to supply chain and construction issues, is intended to provide more venues for the RIT community as well as options for community groups to hold concerts, talks, and other events.
Maltzan and his firm are known for work with museums, universities, and high-end residential facilities. His firm designed the transformative Sixth Street Viaduct renovation in Los Angeles, which unites the Boyle Heights community and the Arts District and downtown, and has received much acclaim since it opened in 2022.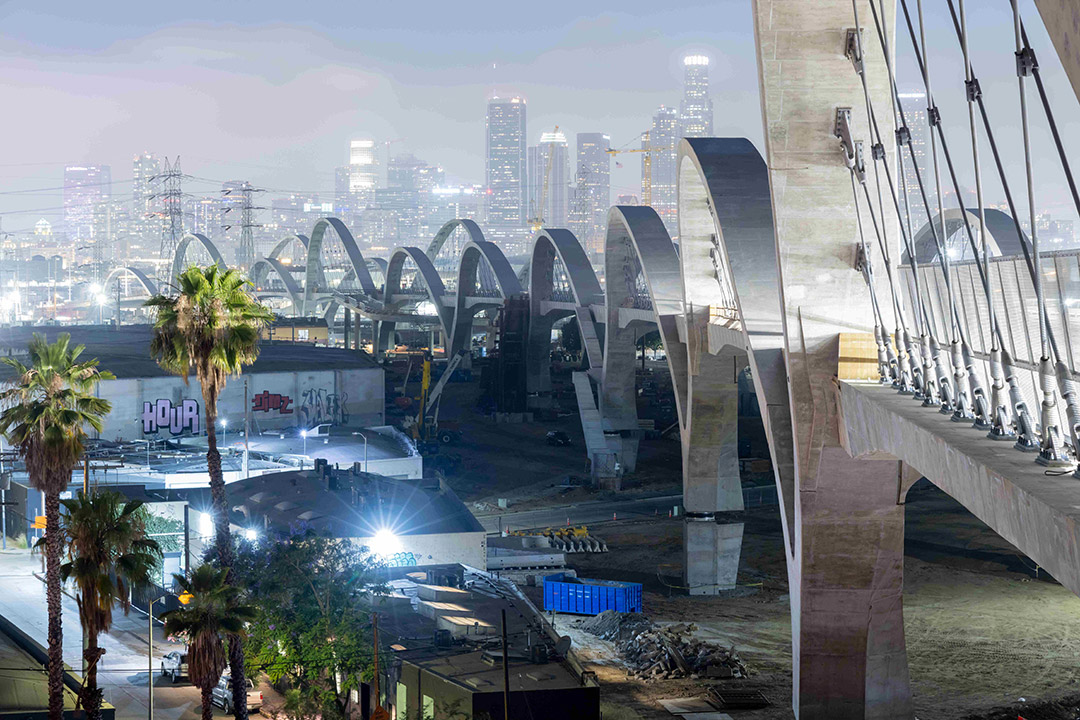 Michael Maltzan Architecture
"We are so pleased that construction is beginning on this important new building for RIT students and the community," Maltzan said. "The music performance theater will serve as a new gateway to the campus, and a destination supporting the extraordinary creativity that is fundamental to the culture at RIT, now, and as a part of the dynamic future of the institute."
So why is a world-class technical institution building a performing arts center?
Thousands of RIT students participate in performing arts, as RIT develops the leading performing arts program in the nation for non-majors, attracting talented and creative students who can continue their passions for music, dance, theater, and other performing arts.
The number of students involved in performing arts continues to grow with the inception of Performing Arts Scholarships five years ago. To date, some 1,800 students have been awarded the partial scholarships. That includes more than 500, or nearly one in six, of the 3,330 new students who joined RIT this semester.
"It is well established that mathematical talent and musical talent often go together," said Munson. "In addition, broadening the learning experience to include the arts can build competencies to engage creatively, critically, and confidently. Many college-bound students nationwide are forced to choose between studying a STEM discipline in science, technology, engineering, and math, versus one of the performing arts as their academic majors. The real world requires that you think in multiple dimensions."
Munson said he envisions "an education where engineers and scientists pursue performance, techies tackle the humanities, and artists learn to code. This is about fostering curiosity, discovery, innovation, and teamwork. This is about maximizing talent and living a whole life."
For decades, RIT's National Technical Institute for the Deaf has featured plays, dancing, even musicals done in spoken English as well as American Sign Language. Collaborations began to include RIT's College of Liberal Arts, and last year RIT opened a School of Performing Arts.
"This building will serve as central stage in the already flourishing performing arts ecosystem, the largest of our performance venues on campus," said Erica Haskell, director of RIT's School of Performing Arts. "We anticipate productions and concerts in the music performance theater will be infused with cutting-edge technologies enabled through cross-college interdisciplinary collaborations."
James Yarrington, RIT's university architect and director of Planning and Design Services, said the Rochester area has numerous theaters that can seat a couple hundred audience members, but there are few options for venues that seat between 500 and 1,500 people. By comparison, the Robert F. Panara Theatre in Lyndon Baines Johnson Hall has 440 seats.
The architect of record is SWBR, a local company that also were the architects of RIT's MAGIC Center.
Topics