RIT/NTID and School of Performing Arts present 2023-2024 theatrical season
Partnership will feature dance, theater, and musical performances throughout academic year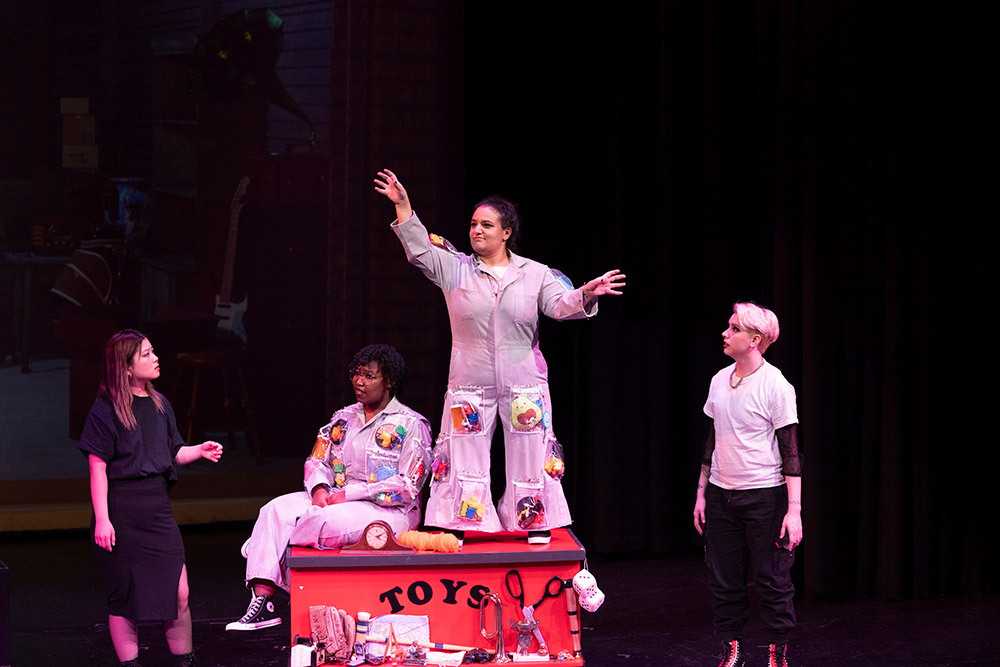 The 2023-2024 theatrical season featuring a partnership between Rochester Institute of Technology's School of Performing Arts and the Department of Performing Arts at the National Technical Institute for the Deaf will include a celebration of Deaf rap and hip hop, an adaptation of Hamlet, a multimedia dance production, and several immersive theatrical performances, among others. 
"This season builds on the strong relationship between RIT's School of Performing Arts and Performing Arts at the National Technical Institute for the Deaf. Our campus and the Rochester community benefit from the longstanding tradition of engaging Deaf theater and dance at NTID," said Erica Haskell, director of the School of Performing Arts. "The season is a collective display of our diversity, originality, innovation, as well as student, faculty, and staff creativity and excellence, which will be on display at several venues across the university, including in the Student Hall for Exploration and Development (SHED), opening this fall. We are beyond excited to bring the community these fantastic performances."
This season's productions are:
Thy Name is Woman, co-created by Jill Bradbury, Alexa Scott-Flaherty, and Andy Head. Nov. 9-12, Lyndon Baines Johnson Hall. Produced collaboratively by the School of Performing Arts and NTID Performing Arts, Thy Name is Woman is an immersive adaptation of Hamlet set in a modern context. This production explores the character of Shakespeare's Ophelia and uses multi-sensory experiences and non-linear performance to investigate her past, psychology, motivations, and desires, all while inviting audiences to create their own understandings of her life and her decisions. Thy Name is Woman will offer performances in American Sign Language, spoken English, and Protactile.
AstroDance II: Across The Universe, created, directed and choreographed by Thomas Warfield. Dec. 1-3. Sklarsky Glass Box Theater, SHED. This multimedia, experiential dance production explores basic concepts of astrophysics such as gravitational waves and the interactions between objects in space through a series of vignettes performed in dance, ASL, and music. This interactive and interdisciplinary performance combines ballet, modern dance, tap, hip-hop dance, aerial arts, astrophysics, and the technologies of motion capture, projection mapping, and gaming interactives.
Ada and the Engine, written by Lauren Gunderson and directed by Kelley Holley. April 5-7, 2024, Sklarsky Glass Box Theater, SHED. As the British Industrial Revolution dawns, young Ada Byron Lovelace, daughter of Lord Byron, sees the boundless creative potential in the "analytic engines" of her friend and soul mate Charles Babbage, inventor of the first mechanical computer. Ada envisions a new world, one she might not live to see, where art and information converge. Jane Austen meets Steve Jobs in this poignant pre-tech romance heralding the computer age.
"Immersive Theatre Project," created and directed by Ryan Underbakke. April 12-14, 2024, Sklarsky Glass Box Theater, SHED. The Immersive Theatre Project is a year-long creation culminating in a student-made production. Story enthusiasts and artists of all kinds, from actors to game designers to LARPers, will collaboratively develop a piece "in conversation with" the School of Performing Arts production of Ada and the Engine. Students will spend the fall semester devising storytelling concepts based on theatrical space, thematic structure, and performance. In the spring semester, these ideas will be transformed into a theatrical showing that connects back to Ada. Throughout the production, students will lead decision-making for marketing, rehearsals, design, and performances.
"Deaf Creators Play Festival," April 19-21, 2024. Robert F. Panara Theatre, Lyndon Baines Johnson Hall. The fourth Deaf Creators Play Festival will feature four one-act plays by diverse Deaf, hard-of-hearing, and DeafBlind creators. Other festival activities will include panels and workshops. Interested play creators can submit plays for consideration on the NTID Department of Performing Arts webpage.
Titus Andronicus, written by William Shakespeare, and adapted by Howie Seago, Lezlie Cross, and Christine Albright-Tufts. August 2024, Robert F. Panara Theatre, LBJ Hall. In collaboration with Play On Shakespeare, this production will feature some of the top Deaf actors in the country and is adapted as part of Oregon Shakespeare Festival's Play on! Initiative, which creates opportunities for artists who have historically been left out of Shakespeare performance in the United States. The adaptation explores themes of language, power, and community that will resonate with Deaf, hard-of-hearing, and hearing audiences.
Tickets for the productions (excluding Titus Andronicus – ticket details TBA) will be $5 for students, senior citizens, and children under age 12; $10 for RIT faculty/staff/alumni; and $12 for the public. Tickets can be purchased online, by phone at 585-475-4121, or on campus at RIT University Arenas, 200 Lomb Memorial Drive, Rochester N.Y. 14623. Tickets may also be purchased at the venue on performance days two hours before the show begins. 
Topics