March 25, 2022
by Rich Kiley
College of Art and Design celebrates alumnus Chance Wright's transformational gift
Dedication ceremony marks renovation of internationally recognized photo school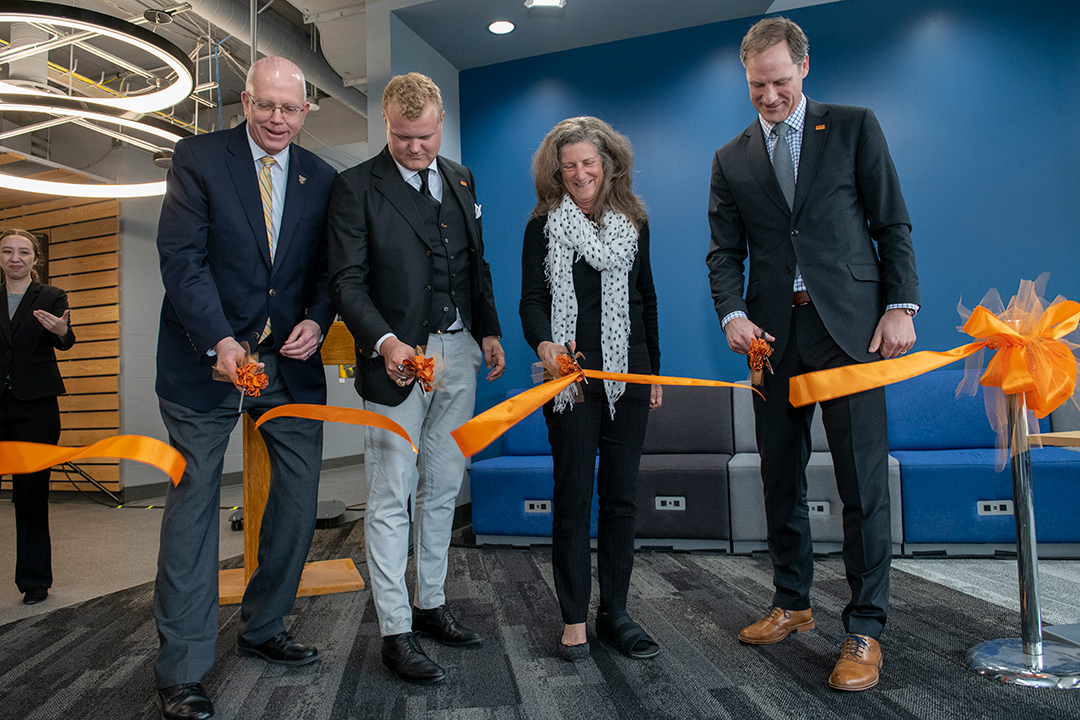 Rochester Institute of Technology's College of Art and Design hosted a dedication ceremony on Friday marking the recent completion of a "transformational" renovation of the School of Photographic Arts and Sciences (SPAS) and honoring the alumnus whose gift made it possible.
The event honored Chance Wright '18 (advertising photography), '19 (MBA) and his mother, Pamela Mars Wright, whose $3.5 million gift fueled the renovation and reconfiguration of the third floor of Gannett Hall. It marked the largest single gift ever made to the college.
The celebration, which took place inside the school's brand-new "Airport" Lounge, featured remarks by Wright, RIT President David Munson, College of Art and Design Dean Todd Jokl, and School of Photographic Arts and Sciences Director Christye Sisson.
"The new spaces are incredible," beamed Wright, whose recent additional $1.8 million gift to Saunders College of Business last year also is funding renovations to existing facilities and a building expansion there.
Both gifts are part of Transforming RIT: The Campaign for Greatness, a $1 billion university fundraising effort, the largest in university history. This blended campaign seeks support from a variety of investors, including alumni and friends, government and corporate partners, and research foundations and agencies. The campaign has raised $884 million to date.
"I think the university and the college did an incredible job complementing the look and feel of the MAGIC Center by integrating new technology and providing more opportunities to inspire student collaboration," Wright added.
Jokl called the "renovation to our core photography facilities transformative for both the school and the College of Art and Design."
"The renovations add to the longstanding, strong legacy of photography at RIT—a reputation that spans more than 100 years," he said. "In addition to further bolstering the capabilities of our photo program and access to the most cutting-edge resources for our students and faculty, Chance's generous and visionary gift has launched the college's campaign for renovations across Booth and Gannett halls."
The projects are part of a multiyear masterplan to renovate, rejuvenate, and transform spaces to meet the growing demands for a college that serves as RIT's creative hub at the intersection of technology, the arts, and design.
The work inside Gannett Hall included the addition of multiple collaborative student spaces and workspaces.
With the renovation's additional spaces dedicated to moving media, sound capture, and 4D processes, the college is meeting both the established and emerging curricular and industry-based needs of today's students, Sisson said.
"We couldn't be more thrilled with the final result; the students, faculty, and staff have been enjoying and taking advantage of the new spaces and using them for teaching and learning photography in new and exciting ways," Sisson said. "Our curriculum has always been equipment and facility-dependent, and this renovation serves both current industry standards and allows our students and faculty the room to explore future opportunities."
Part of the renovation included expansion of RIT's photo equipment "cage"—beloved by students and stocked with the latest gear for students and without peer in other photography programs—and the open and inviting new lounge for students and teams to work, study, and collaborate.
The new digital photo lab is a state-of-the art space designed for demonstration, group work, and critique. The moving media lab contains high-performance machines for rendering video and integrated CGI, as well as augmented reality and virtual-reality applications. In addition, the broadcast quality audio room is meeting the needs of programs needing to integrate sound into multimedia and still-imaging narratives.
Wright's time at RIT not only furthered his affinity for photography and creativity, it stoked his entrepreneurial spirit as well. He started The Shore Foundation—which refurbishes and donates computers to those in need—as a student. Coincidentally, on Friday, his venture capital firm Skull, Diamond and Heart (SDH) Capital focusing on companies in the food and agricultural markets, is opening new office space in Sibley Square above RIT City Art Space.
He's hopeful that the renovation of SPAS and the collaborative spirit it provides will similarly inspire a new generation of RIT students.
"I hope that the new facilities motivate someone to pick the photo school here at RIT because the programs, facilities, and faculty are top notch," Wright said. "I want the facilities to do the same thing for students that they did for me when I visited campus years ago."
Jokl agreed. "These new spaces create the most cutting-edge and functional capabilities for our programs," he said. "Launching an initiative as ambitious as this takes vision and we are grateful for Chance's generosity and leadership in initiating this vision."
Topics