June 13, 2022
by Rich Kiley
Marla Schweppe, former 3D digital design program chair, retires after nearly three decades at RIT
Uniquely specialized program impactful inside classroom and beyond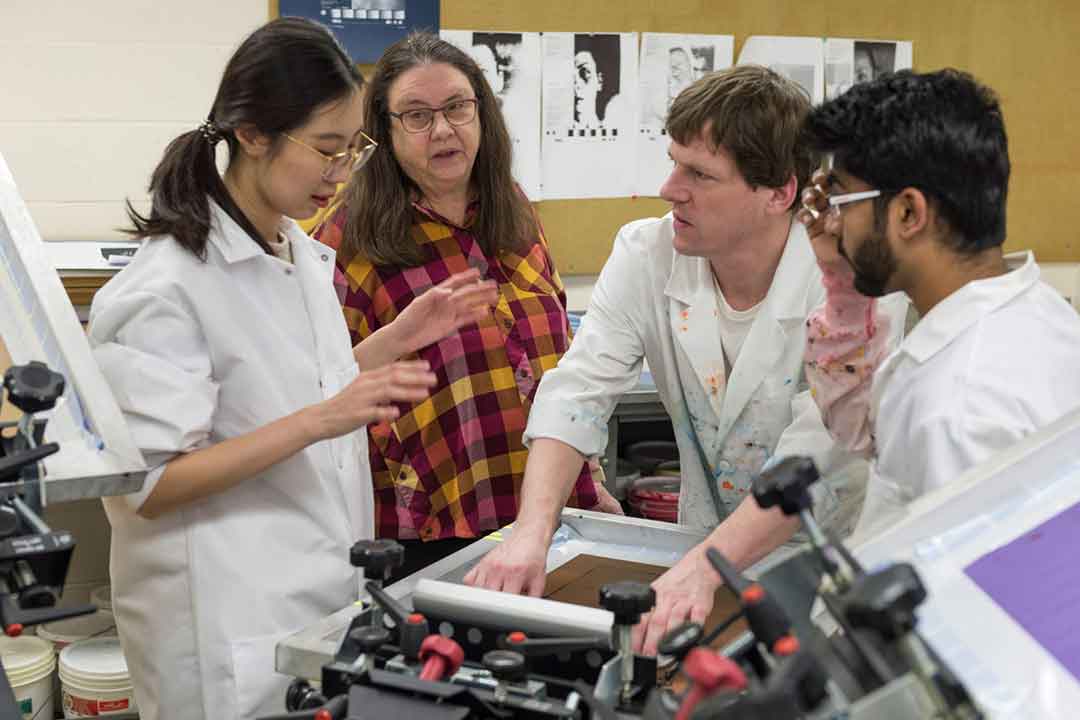 It was not uncommon for students of former 3D digital design program chair Marla Schweppe, who retired in December after nearly 29 years at RIT's College of Art and Design, to have to research and learn how to model hair, steam, or water. After all, game engines became more and more powerful, so they needed to include more and more detail.
When it came to software being used to animate cloth in a very sophisticated way, her students needed to know something about fabric—how different fabrics move, what kind of fabric is appropriate for certain types of garments, along with the history of costumes, according to Schweppe, who early in her career designed for theater, dance, TV, and movies in New York City and elsewhere.
"To use software that creates trees, our students need to know if a certain tree grows in a particular climate," she observed. "How do animals move? That's why they take anatomical figure drawing and have to abstract that to wildlife."
For "live design" and productions, Schweppe's students researched and learned how to use infrared cameras to track dancers and integrate their images into projections, including how to use facial tracking software for game engines or 3D software, virtual reality, and augmented reality systems.
Her students' work spanned computers and video games, virtual reality, medical and scientific simulations, data visualization, and more. Their powerful displays of cascading colors and images were often seen at city festivals, including the Rochester Fringe Festival.
Since graduating its first four students in 2011, the 3D digital design program—one of the first of its kind in the country—flourished under her tutelage.
Throughout her career, Schweppe strived to make sure that her 3D digital design program, though uniquely specialized, united an inquisitive and dynamic educational community in which research, creativity, critical thinking, cross-disciplinary study, and social responsibility were explored, cultivated, and promoted to make a positive impact—both in the study areas and, ultimately, on the society in which we live.
What are you most proud of when looking back at your nearly three decades at RIT?
My successes at RIT occurred in three areas: curriculum development and implementation; integrating computer graphics into live performance; and service to both RIT and my profession. In my first contract in 1993, one of the requirements was to build the graduate program in computer animation. I added new courses in that program and went on to add similar courses at the undergraduate level, including stop motion, hand drawn, and computer animation courses—more than 40 new courses in total. When Bob Keogh and Jim VerHague were retiring, they asked if I would be interested in moving to computer graphics design and adding 3D computer graphics courses. I took that opportunity as I was interested in exploring applications of 3D graphics software other than animation like mixed reality, scientific visualization, and more. From there I went on to develop the BFA in 3D digital design for students who were interested in using 3D for games and other applications.
I worked in the New York theater for a decade when I was younger, so integrating digital graphics into live performance was an enjoyable part of my experience at RIT. I started by using projection mapping in the 1990s. Since then, in collaboration with Joe Geigel in computer science, Thomas Warfield at NTID, and others, I have created work using motion capture, facial tracking, live performances on virtual stages, animation moving across five iPads, augmented reality theater where the performers and audience members wore AR headsets and, most recently, live performance through Zoom on digital sets.
Lastly, I was on Faculty Senate, University Council, and many committees during my tenure at RIT. That experience helped me meet many wonderful faculty in other colleges on campus. For my profession, I was the Art Gallery chair for SIGGRAPH '99 (the Association for Computer Graphics and Interactive Techniques) conference. We had over 1,000 submissions from around the world and the final exhibit included more than 100 works, including still images, installations, sculpture, and animation.
What were some of the most effective ways you connected with your students?
Most of the courses that I taught over the years were studio courses. In most of those classes, I checked in with every student every week on their progress. I enjoyed working with the students one-on-one. Many students over the years worked on grants or performances with me, often with students from other departments. I still stay in touch with many of the students that I've had over the years and will host a gathering of alumni in Seattle in the near future.
I also set up a Rochester SIGGRAPH Chapter and RITGraph, a student chapter of SIGGRAPH, which the students now run. I encouraged students to volunteer at the conferences and many did and still do.
What are your post-RIT plans?
I moved to Seattle to be near family and became a grandmother, so spending time with family is a big part of my post-RIT activities. I've been working with physical materials while outfitting my new computer. I have some digital projects lined up, but I'm moving at a much slower pace. I walk 2-4 miles a day with my cute little dog named Rochester—otherwise known as Rocky, Rocket Dog, Rock Star, or any of a long list of other names.
Topics