Professor immersed in grant from Epic Games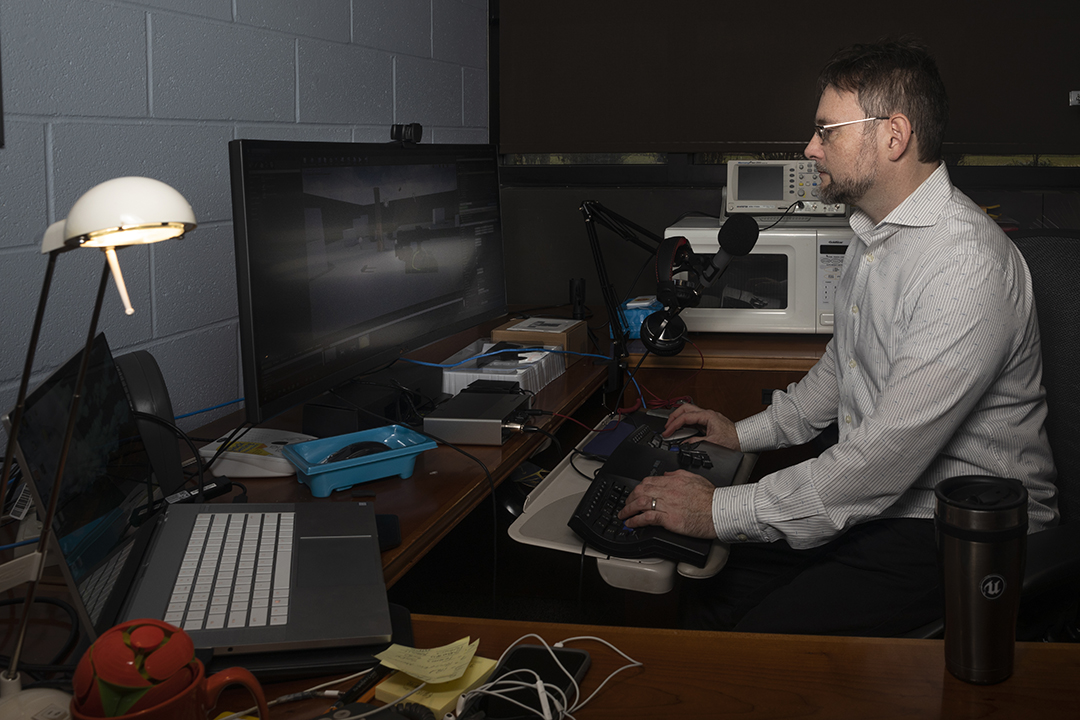 After noticing endless opportunities for collaboration and curriculum improvement through software developed by a world-leading video game company, it was game on for Shaun Foster.
Foster, RIT 3D Digital Design's undergraduate program director, applied for and later received a $160,000 MegaGrant from Epic Games, creators of Unreal Engine, Fortnite and other popular titles. With funding from the Epic MegaGrants program, Foster is developing dynamic virtual content to educate RIT faculty and students on the multidisciplinary possibilities of Unreal Engine. The game engine holds advanced technologies of real-time graphics and interactive tools that are, Foster said, creating a "multi-field convergence" he wants RIT to capitalize on.
"It's super exciting to do work that is going to help my students and colleagues, and also give back to the amazing Unreal community," said Foster, an associate professor in RIT's School of Design. "I'm also hoping it will help increase the level of knowledge students have before they even come to RIT so they can go deeper and faster when they get here."
Working with teams of students and faculty from different areas, Foster is exploring Unreal Engine and its advanced workflows and ability to provide real-time feedback. He is also producing a free 16-week online course to help enhance users' key skills with the technology while offering a view of the many fields it can benefit.
"It's building this base of knowledge that will then trickle and serve all of these possible collaborations," Foster said. "... It's going to be a good on-ramp for the multidisciplinary application of the core Unreal Engine software for people who are interested in things like interior design, industrial design and this emerging field called virtual production — which is mixing pre-visualization, filmmaking and visual effects all into one."
Foster said the ways Unreal Engine can be leveraged across RIT abound. There are practical uses in areas related to virtual and augmented reality, product, architectural and data visualization, the medical field and much more, he said. For example, the rendering and product visualizations of designers and architects can be executed in a highly efficient manner. 
"It's just accelerating everything," Foster said.
Foster's research is making its way to the 3D Digital Design curriculum as well.
As part of the grant funding, Foster launched a course called Cinematography and Pre-visualization this semester. The 3D Digital Design students in the class are combining new virtual production elements with existing film and game language conventions.
"Students at RIT will be able to learn from professors doing mixed reality and virtual production and motion capture," Foster said. "That's where our program is going. Our program is going to be an amazing facilitator for cross-disciplinary activities."
Additionally, Foster is guiding a multidisciplinary group of students in an exploration of Unreal Engine.
He and nine students from various programs — 3D Digital Design, Graphic Design, Industrial Design and Game Design and Development — are working to connect Unreal Engine with multiple other technologies: geographic information system (GIS) tools from Esri, building product visualization and editing right inside a VR environment. It's a time-saving workflow that can be shared with future users. 
"For students right now, one of the biggest slowing-down points is the rendering in 3D digital design," Foster said. "You would make visual design choices and then you would have to wait minutes or longer to see some feedback. All of the Unreal workflows give instant feedback. You immediately know what your visual impact is. It allows you to ideate faster."
Foster is also providing technical support for Craig Foster, assistant professor of Medical Illustration, and his students as they build an interactive VR project using Unreal.
The technology's diverse application is inspiring Shaun Foster to engage groups in all corners of RIT and the surrounding community. He plans to share the wide relevance of his research during presentations to faculty and students in partnership with the RIT MAGIC Center. 
"The idea is we have a ton of amazing professors doing research that, given the strength of the technology Epic is helping provide, could be significantly accelerated," Foster said. "Accelerated by the videos I'm doing, accelerated by the nature of the technology."
About Shaun Foster
Foster has nearly 20 years of experience in 3D graphics and interactive education design. He has worked on multiple award-winning projects in national and regional TV, advertising and interactive education. Foster has published works on the connection of design to next-generation technology and speaks at top conferences in the field.