Reignited artist series brings new sculptures and artist engagement to RIT campus
Outdoor sculpture initiative part of School of Art's Anna Ballarian Visiting Artist Series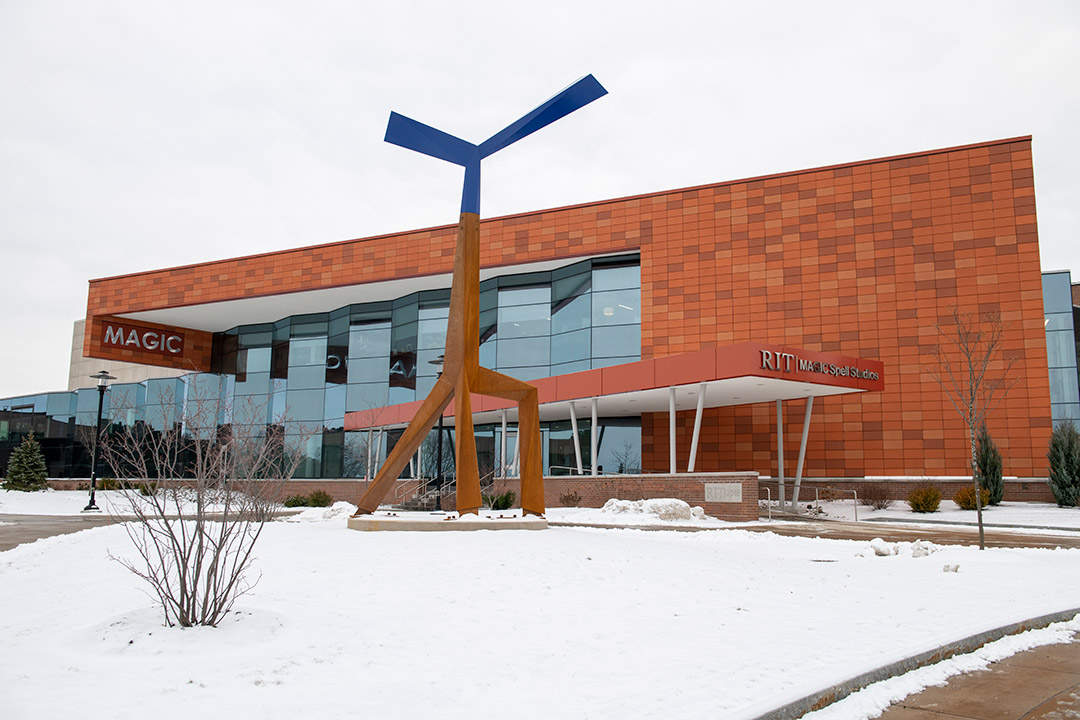 Two outdoor sculptures are adorning RIT's campus this academic year, with more on the way.
Works by artists Joshua Enck and Letha Wilson have revived an outdoor sculpture initiative that is part of the School of Art's Anna Ballarian Visiting Artist Series. The sculptures, beginning a multi-year rotation, are prominently positioned on the north lawn of Booth and Gannett halls and the MAGIC Center.
"The series brought visiting artists previously, but we wanted to add outdoor sculpture as a component to provide more visibility of the program to the public, to ignite more interdisciplinary engagement with College of Art and Design (CAD) programs and students, and to take advantage of our unique location on campus," said John Aäsp, the college's gallery director.
"Sculpture isn't a necessary component, just an additional one, which expands the series from artist visits to exhibitions, projects, and outdoor sculpture," he noted.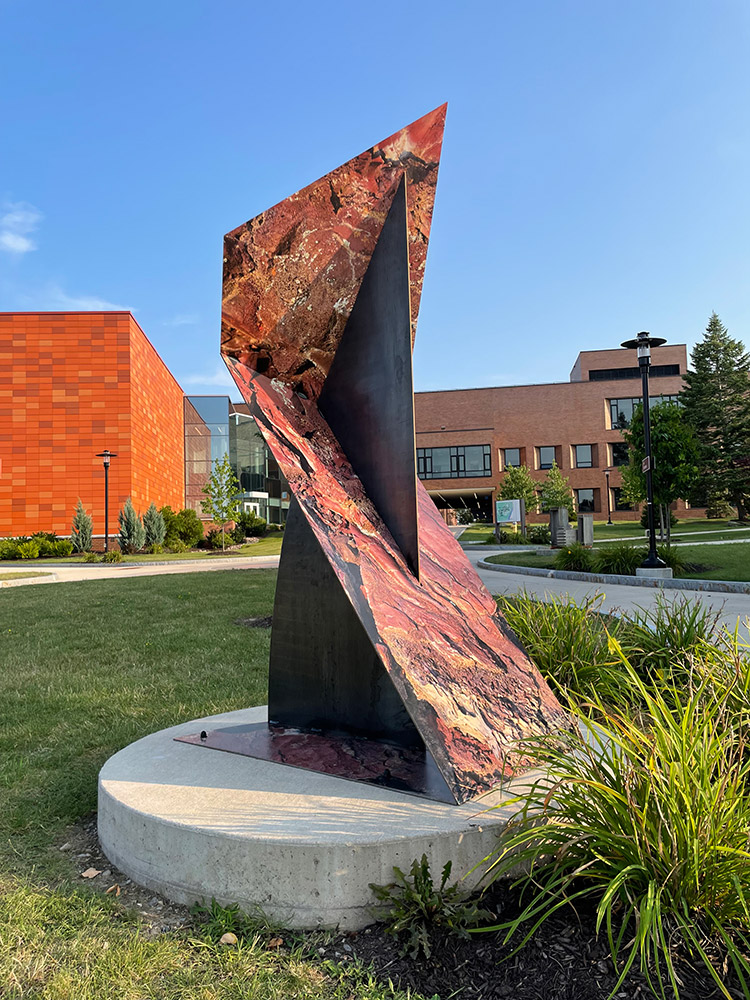 John Aasp
Installed last fall, the inaugural sculpture, Craters of the Moon Foldback, features a unique combination of sculptural steel and photography, created by Wilson. A contemporary artist renowned for "breaking the rules" of photography, Wilson is known for often transforming her photographs into objects that bend and curve out of walls and become three-dimensional sculpture.
Artsy, a leading online marketplace for contemporary art, recently included Wilson in a group of female artists who are "pushing sculpture forward." Her sculpture for RIT consists of UV photographs printed on steel. Wilson is scheduled to deliver an artist talk at 5 p.m. Thursday, Feb. 10, inside Booth Hall's Bevier Gallery. Her talk is free and open to the public. A face mask is required. An exhibition of some of her work will be on display in Bevier Gallery through March 12.
The second sculpture, installed in January, is called Ossicone by Joshua Enck, whose background in architecture and furniture design inform his contemporary abstract sculptures—often made from raw and painted steel. Ossicone stands 22 feet tall and is visible from multiple vantage points as it sits on a constructed base near Wilson's sculpture.
A Fulbright scholar who currently lives and works in Rochester, Enck's work, like Wilson's, has appeared in numerous exhibitions.
Earlier this week, the College of Art and Design issued a call seeking proposals for two additional sculpture sites. The deadline is April 1, 2022.
According to Aäsp, the outdoor sculptures will rotate periodically, approximately every two to three years. "This gives the sculptures some time to exist and be seen, but allows for gradual change to the overall installation," he said. "It also adds a new dimension to our ongoing exhibitions programming across multiple galleries both on and off campus." 
In fall 2022, the artist series is scheduled to bring Lauren Kalman to the RIT campus for both a visit and a gallery exhibition of her work. Kalman, a visual artist based in Detroit, works with contemporary craft, sculpture, video, photography, and performance. Her work has been featured in numerous museum exhibitions and residencies worldwide. 
Visiting artists and projects are selected by the Anna Ballarian Visiting Artist Committee, which includes faculty from RIT's Schools of Art (SOA) and American Crafts (SAC), working in conjunction with Todd Jokl, dean of the College of Art and Design, and Aäsp.
Elizabeth Kronfield, school director of SOA and SAC; Facilities Management Services, Campus Aesthetics Committee; Kat Bassney, director of advancement for CAD and the College of Liberal Arts in University Advancement; and CAD Facilities and Operations also have played integral roles in the series initiative.
Anna Ballarian (1910-2010) was born in Rochester, N.Y., and was an alumna of RIT's School for American Crafts. A lifelong artist and educator, she retired as a professor at San Jose State University in 1977, leaving behind a legacy of creativity and a passion for developing communities of artists and educators.
For more information, go to the Anna Ballarian Visiting Artist Series website.
Topics