Business Exploration Provides Business Exposure to First-Year Students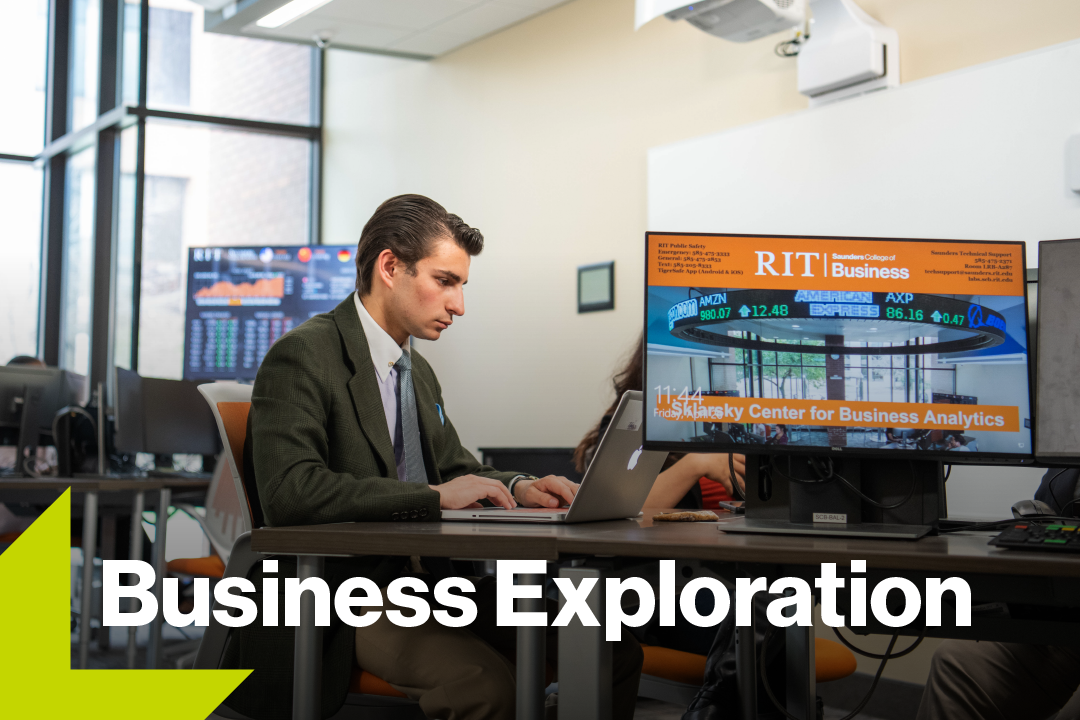 Know you want a business degree but are uncertain of which major to pursue? The business exploration program at Saunders College of Business is your opportunity to spend up to a year and a half taking fundamental business courses and meeting with faculty, staff, and career advisors before selecting from one of the college's seven, nationally-ranked, business majors. Advisors guide students throughout the program, assisting with course selection and in declaring a major, without losing time toward graduation. 
Classroom resources available for teachers and advisors!
Why Study Business Exploration at RIT?
For students who are interested in business but unsure of which major bests meets their goals.
Take up to a year and half to explore RIT's seven business majors without losing time toward graduation.
Students in the program participate in a two-course, two-semester sequence, called The Freshman Experience: Biz 1+2. Students in the cohort create business plans from concept to commercialization while being exposed to a variety of different disciplines. This unique experience helps students channel towards their choice of major—or to pursue a double major.
Attend an open house and learn more about Saunders College of Business at RIT!
Students learn in small classes with faculty experts who bring their thought leadership and research into the classroom. Further opportunities to put theory into practice is through paid cooperative (co-op) education positions and internships. RIT is known for its co-op program as the university has built relationships with thousands of companies and organizations across industries. Last year, more than 4,500 students participated in co-op and internship positions with more than 3,400 hiring organizations, from large Fortune 500 companies and industry leaders, to small start-ups and world-class not-for-profits.
Get started and learn more about Saunders programs!
With a 95% outcomes rating, Saunders is proven to equip students with the skills they need to succeed anywhere in the business world. Saunders is ranked among the top five for Best Undergraduate Business Programs in New York State by Poets&Quants, 2023. 
Hear what alumni have to say about their experience.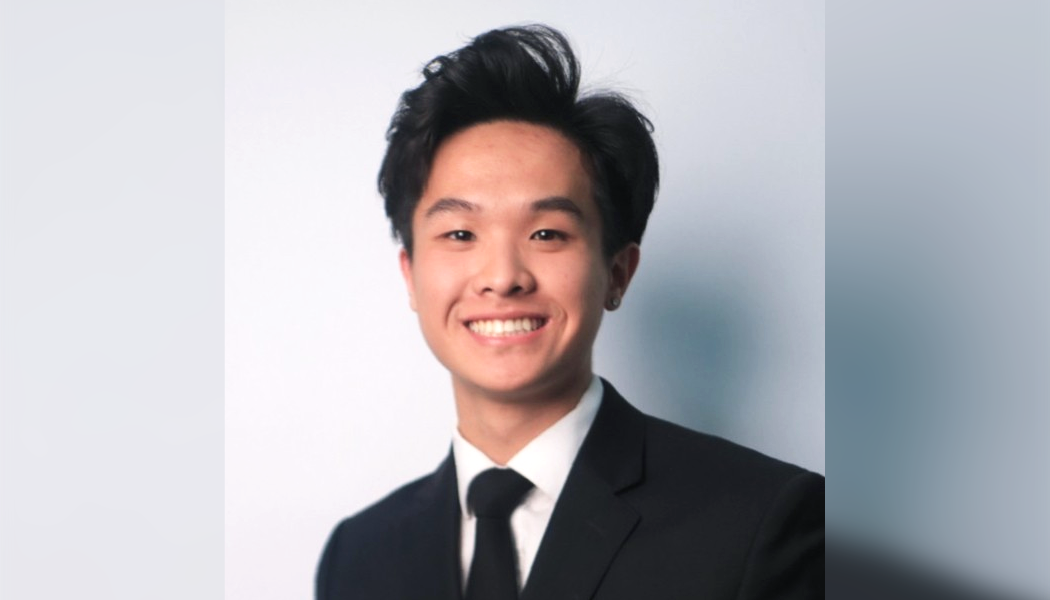 "The finance program at Saunders College of Business provided me with a well-rounded education combining theoretical knowledge and practical application. The coursework has helped me develop a strong finance and accounting principles foundation while exposing me to technologies and analytical tools, specifically Excel, SQL, Tableau, and Python." - Wilson Huang '23 (finance), Cisco, San Jose, California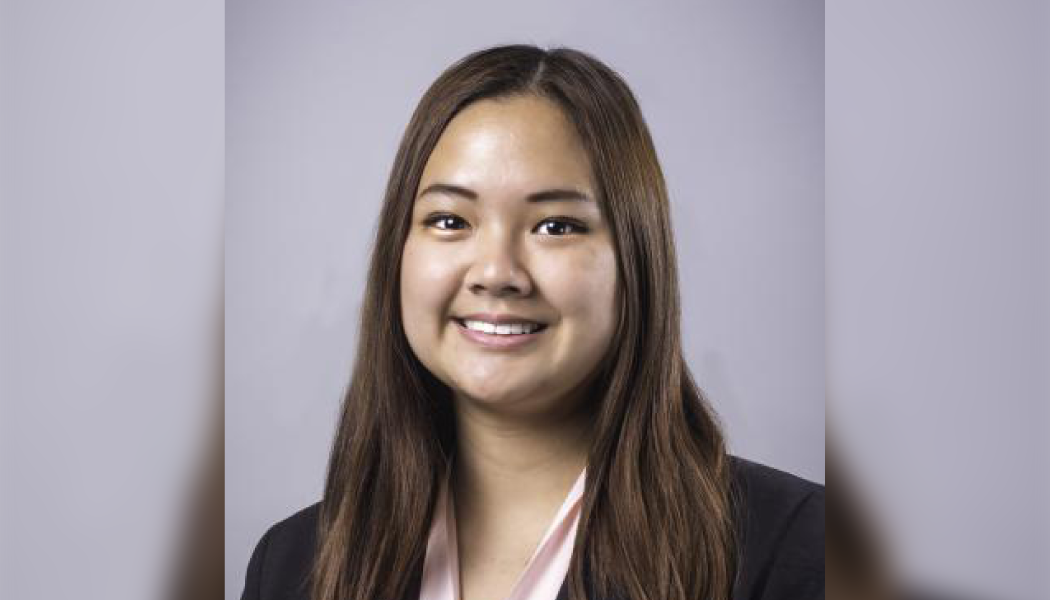 "Saunders provides hands-on experiences that allow students to challenge themselves in order to solve business problems in the real world. Through my courses at Saunders, I have been able to apply a lot of what I learn in classes and assignments to my co-op." - Paphawarintr (Mind) Tienpasertkij '21 (accounting), Deloitte, New York, NY
"Saunders has taught me always to stay curious and excited to learn. Whether through opportunities that have been presented to me throughout my time in the college or the exciting people I have been able to meet while being on campus, the opportunities that arise to try new things cease to slow down! Saunders has taught me to take risks, never feel uncomfortable trying new things, and put myself in a situation that may be new to me. After I graduate, I'm excited to continue my interest in learning from those around me and taking advantage of all the opportunities I have to try new things in the workplace and life." - Amelia Sykes, '20 (marketing), greyhealth group, New York, NY
Discover more featured alumni profiles and videos on undergraduate success at Saunders.  
Saunders College of Business
With a 95% career outcomes rate, Saunders provides students with a comprehensive understanding of business while utilizing RIT's vast resources in technology. The core curriculum provides business students with the knowledge they need to succeed in their field, and courses reflect the latest trends and business needs. Electives and minors can additionally be chosen from any of RIT's nine colleges to tailor degrees toward career goals.
With a growing global network of more than 25,000 Saunders College alumni and 136,000 RIT alumni, students can make connections almost anywhere and are encouraged to meet with devoted alumni, dedicated professors, and driven peers. Students can study abroad at any of RIT's four Global Campuses, additional global student exchange partnerships are available, and there are over 100 study abroad locations on every continent. 
RIT is also the home to one of the world's first and largest cooperative education programs, allowing students to do paid work and gain hands-on experience before they graduate. More than 4,500 students complete over 6,200 co-op assignments each year and more than 3,400 employers employ them throughout the U.S. and abroad. 
Saunders College of Business is ranked in the top five Best Undergraduate Business Programs in New York State by Poets&Quants, 2023. Additionally, ranking #53 nationally and #31 for career outcomes.
Apply today to become eligible for scholarships and join the Saunders community!
Topics