Multidisciplinary student team demonstrates astronaut training device at NASA's Johnson Space Center
Project supports astronauts re-adjust balance, perception and movement impacted through extended time in space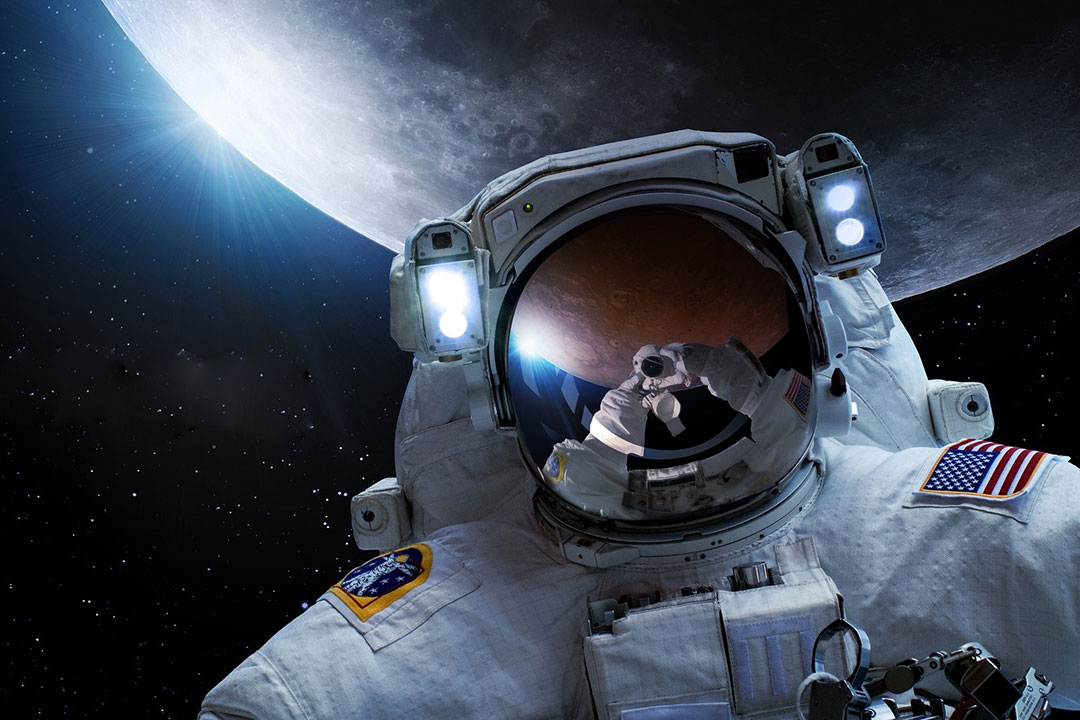 Students from engineering, game design, and 3D design will travel to NASA's Johnson Space Center in Houston April 3-5 to demonstrate PLANETS, a portable sensory device to help astronauts recover normal balance and movement on earth after an extended stay in space.
A device consisting of high-tech wearable sensors, balance board, and a challenging, but fun, virtual reality game, is being presented to staff and health specialists of the Astronaut Strength Conditioning Rehab (ASCR) Laboratory. The students' project could contribute to the personal health of today's astronauts, and also be among the different technologies NASA is exploring for space missions of the future.
RIT was selected as one of several collegiate teams to present its project to NASA as part of the Moon to Mars eXploration Habitat (X-Hab) Academic Innovation Challenge. Originally one of NASA's national programs, projects are funded to support collegiate teams developing advanced vehicle technologies and systems to crew mobility systems—solutions that could advance capabilities for space missions and habitats.
"NASA expressed interest in a portable design, different from the larger balance rig we originally built last year. The team ran with it, and they did a great job," said Kathleen Lamkin-Kennard, professor of mechanical engineering in RIT's Kate Gleason College of Engineering. She received the original NASA grant for the overall project in 2021. It also won honors in 2022 at the Imagine RIT Creativity and Innovation Festival. "NASA set out requirements for the team, and they've matched them every step of the way."
The selection and recognition is a culmination of two years of project work by undergraduates from RIT's engineering, computing, and art and design colleges that combined expertise from each area for the Gamification and Performance-Based Monitoring of Sensorimotor Training Activities project, based in the Multidisciplinary Senior Design Program.
Although astronauts are mobile while working at the International Space Station, zero gravity impacts the brain's and body's ability to recognize balance and perception similar to when they were on Earth. Proprioception, or more familiarly kinesthesia, is the sense one has of location, movement, and action of the body. Astronauts returning to Earth need to re-orient the different signals between mind and body.
Integrating gaming activities with sensor technology provides real-time biofeedback for balance training, assessment, and sensorimotor conditioning. Activities developed are designed to assist with maintenance of balance, hand-eye coordination, cognitive functions, and muscle tone. Knowledge gained from the platform could support NASA's knowledge base about the use of gamification for sensorimotor training activities.  
"We used technology NASA is familiar with and we'll provide them with documentation about how the equipment was built, what it can do and highlight areas they can build upon," said Jordan Cincotti, a fifth-year mechanical engineering major from East Aurora, N.Y., and team project leader. "We'll do a formal presentation for a group of experts that specialize in the training of astronauts."
Students have named the wearable sensors and balance board PLANETS—Portable Lightweight Accelerometer for Nominal Equilibrium Training. The virtual reality game is called "Starcheologist" and trains the astronaut users to move into balance positions and recalculates their balance score. Much of the mechanical sensors and 3D assets have been improved and integrated into the device. Two game levels created last year have gotten an upgrade with new 3D assets, 2D graphics, and improved functionality. The team has also created two new game levels, to include new sensory deprivation and improved latency features.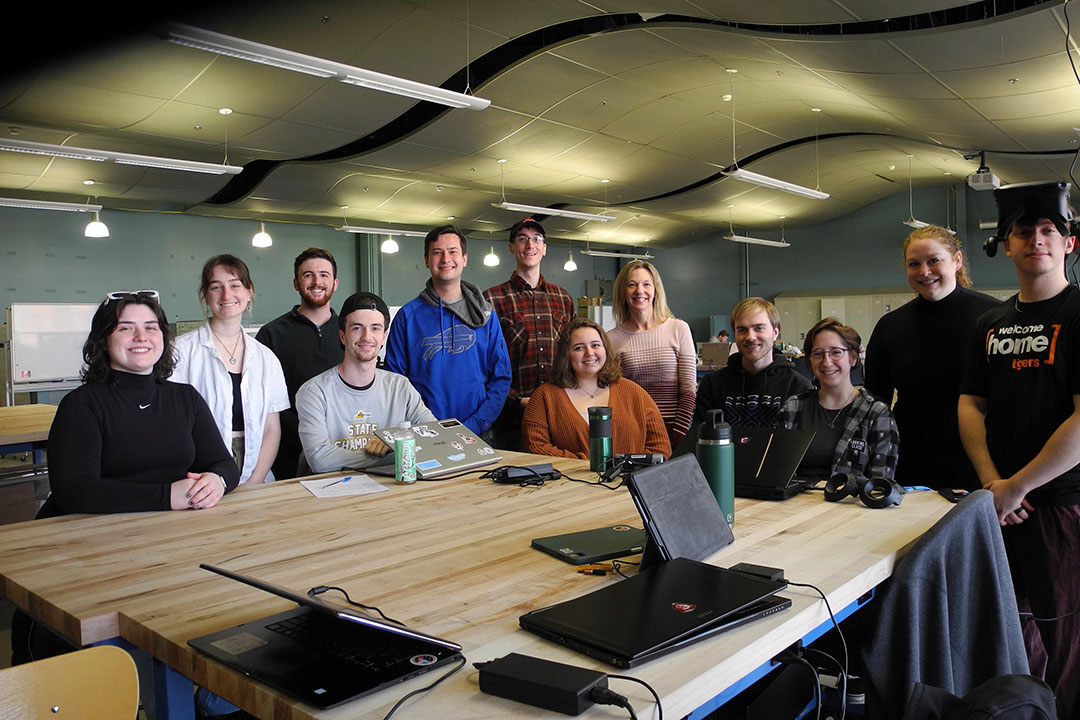 Provided photo
After the demonstration at the ASCR lab, NASA representatives organized tours of the ISS Countermeasures System, Space Vehicle Mockup Facility, and Human Exploration Research Analog programs.
Returning to RIT, the students will prepare for both this year's Imagine RIT and graduation. The project would launch new options for astronauts but also career opportunities for the students.
"Before coming to this project, I had a deep-rooted interest in interplanetary exploration and understanding different habitats on planets," said Angela Hudak, a fifth-year computer engineering student from High Bridge, N.J. "With this project under my belt, it will look good for potential positions at places I'd like to work, including NASA."
Follow the team at Johnson Space Center through the students' Instagram account: @mission_cRITical_2023.
Team members are: From the Kate Gleason College of Engineering: Jordan Cincotti and Andrew Klotz (mechanical engineering), Nicholas Doherty and Nathaniel Fisher (biomedical engineering), Corey Sheridan and Angela Hudak (computer engineering); from the Golisano College of Computing and Information Sciences: Noah Flanders, Deen Grey, Chayanne Quezada, and Daniel Joseph (game design and development); from the College of Art and Design: Paige Manley and Paige Contorno (3D digital design).
"It's a big team that represents an exciting collaboration between engineering and design, but this is a large scope of work and NASA is super excited to host us," said Jennifer Indovina '06, '07 (electrical engineering, MBA) and project team guide.
Topics