Rochester Rising: RIT is helping make Rochester a next-generation technology hub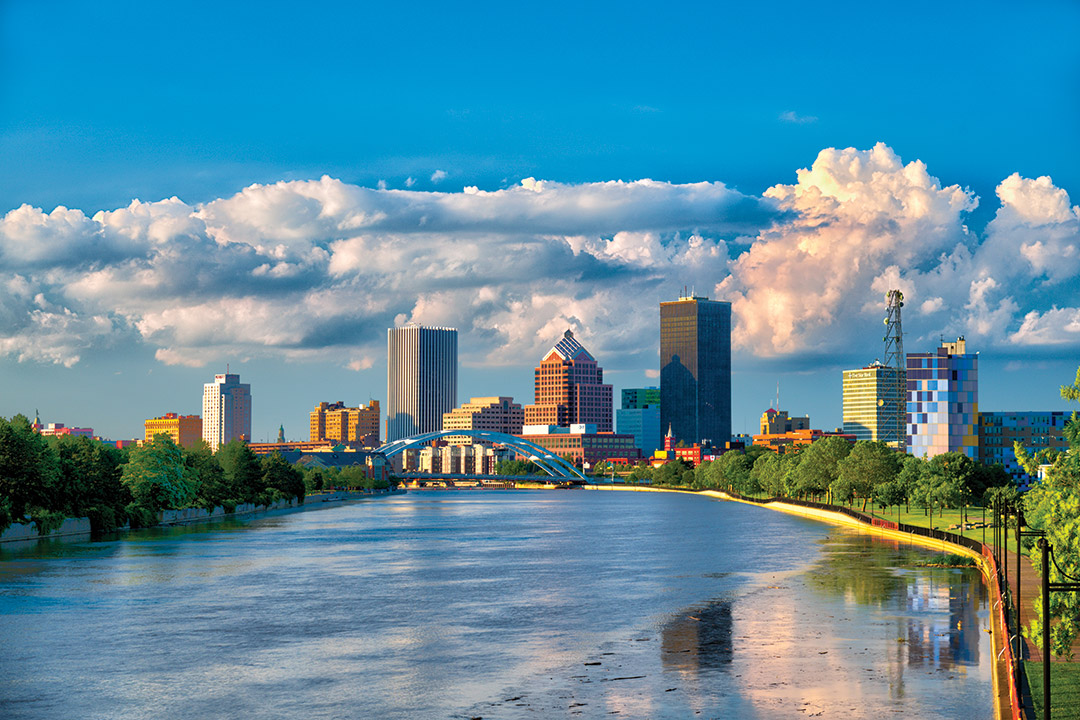 Why Rochester?
No. 1 Northeast city to live in after coronavirus pandemic; 15th best city in the U.S.
Business Insider
7th brainiest large metro.
Lumosity
13th best place to live for quality of life.
U.S. News & World Report
6th most affordable city to buy a home.
Forbes
Move over, Silicon Valley. Rochester, N.Y., can be the next great American technology hub.
That's according to an MIT economics expert, who ranked Rochester as the No. 1 city with potential to be a national economic driver.
One of the main factors in this ranking is that Rochester is a college town, with 19 colleges and universities in the region. While many graduates do find jobs around the world, they also have attractive options in the Flower City.
"Rochester has a large and highly educated workforce, a fantastic university base, and a high quality of life, making it an ideal candidate to become a next-generation technology hub," said Jon Gruber, professor of economics at MIT. Gruber is co-author of Jump-Starting America: How Breakthrough Science Can Revive Economic Growth and the American Dream.
Several generations ago, Rochester got its first taste of being a technology hub. At the time, it was a three-workplace town. Kodak, Xerox, and Bausch & Lomb helped shape the city and its skyline.
Today, Rochester has an entirely new economy.
Ninety-seven percent of the region's workforce is now working at smaller companies with fewer than 100 employees. There are actually 30,000 more people working in Rochester today than when the Big Three were in their heyday.
"It shows that Rochester is really diversifying—and the innovation is still here," said Matt Hurlbutt, president and CEO at Greater Rochester Enterprise (GRE). "I like to say, we're a place where smart people live and smart businesses grow."
According to Hurlbutt, those fast-growing Rochester businesses can be found in six key industry sectors:
Advanced manufacturing;
Energy innovation;
Food and beverage manufacturing and agriculture;
Life sciences;
Optics, photonics, and imaging;
Software and IT.
RIT is helping drive innovation in each of these sectors.
For example, a Philadelphia-based cybersecurity firm was inspired to open a Rochester office in 2019 because of the new talent coming out of RIT's computing security programs. At high-tech RIT labs, researchers are working with a local corporation to revolutionize plastic recycling and the whole flexible packaging industry.
RIT graduates and collaborators are also playing key roles at one the region's largest employers, where they are helping preserve Rochester's legacy as an imaging leader.
Even during the pandemic, Rochester is growing. In 2020, GRE managed 34 business expansion projects that account for new capital investments of $554 million, helped retain more than 1,500 jobs, and created 2,150 new ones.
That's positive news for the nearly 30 percent of RIT students who complete at least one co-op locally. It's also good for the more than 39,000 alumni who still call Rochester home.
Local talent
Hiring managers at the cybersecurity consulting firm Security Risk Advisors (SRA) noticed a trend—a lot of their best new employees were coming from colleges in Rochester.
As a result, when the Philadelphia-based company decided to expand its operation in 2019, Rochester was the perfect place to set up shop.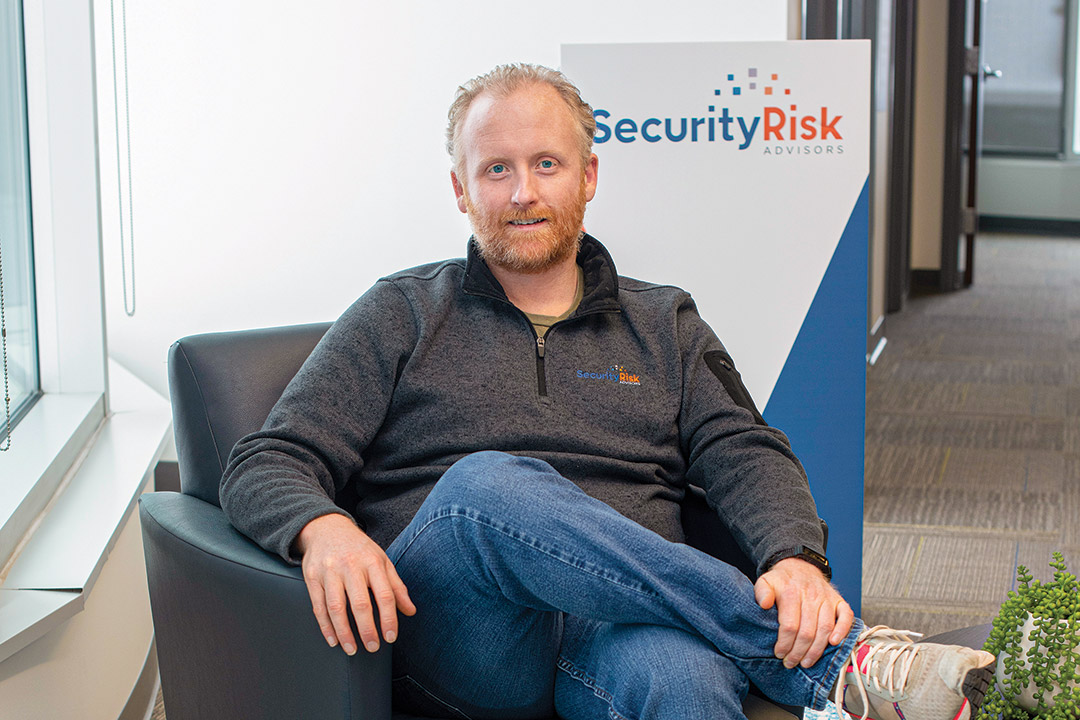 A. Sue Weisler
"I knew we could provide challenging technical work with exciting clients, creating an opportunity for top performing students to stay here in Rochester," said Mike Pinch '06 (MBA), '12 MS (computing security), director at SRA.
Pinch knows Rochester well. Three generations of his family have worked at Kodak, and his parents even met there.
"Technology is in the DNA of this town," said Pinch. "Rochester has been breeding engineers and technologists for years, and as a result, we now have this rich ecosystem of tech startups."
Pinch has helped develop the Security Risk Advisors Rochester office, which collaborates with other tech companies in the region.
The company provides cybersecurity expertise to many Fortune and Global 1,000 companies, helping with penetration testing, governance compliance, 24/7 cybersecurity monitoring, as well as engineering solutions.
More than 20 of the company's employees are RIT graduates. SRA also hires co-op students. In fact, after attending its first RIT career fair, Pinch said that SRA managers were quite surprised.
"RIT put our Human Resources department to the test," said Pinch. "At a normal career fair, we get two or three perfect candidates to sort through. At RIT, we had dozens."
The company is also excited to work with RIT through the new Global Cybersecurity Institute (GCI), which opened on campus in 2020. The high-tech building is helping RIT expand cybersecurity training, education, and research.
After learning about RIT's Cybersecurity Bootcamp program, a 15-week cybersecurity workforce training course offered through the GCI, Security Risk Advisors saw an opportunity. The company has offered $25,000 in scholarships for underrepresented professionals looking to enter the cyber workforce through the program.
"We're excited to work together to build a more diverse cybersecurity community that can help strengthen the industry," said Pinch. "The GCI is a wonderland for computing security nerds like me, and it's a real bonus to have it here in Rochester."
Breaking research boundaries
American Packaging Corp. is another Rochester employer that's utilizing high-tech facilities at RIT.
Over the past 10 years, the company has donated millions to help create two packaging centers on RIT's campus. Together, they have turned these laboratories into a testing ground for new ideas and solutions in sustainable packaging.
"We get great suggestions and input from experts working at American Packaging," said Daniel Johnson, chair of RIT's Department of Packaging Science. "This helps keep our research really relevant and our lessons up-to-date with the latest industry trends."
As a manufacturing staple in the region for more than 100 years, American Packaging creates flexible packaging for a wide variety of food, pharmaceutical, and industrial products. The company even established one of its Flexographic Printing and Laminating Centers of Excellence in Rochester.
Recently, American Packaging began working with RIT researchers to develop a pre-screening capability that they can use to conduct early assessments of packaging innovations.
Jeff Travis, Manager of Innovation and Sustainability for American Packaging, explained that before using a newly developed recyclable plastic packaging material, the Association of Plastic Recyclers (APR) requires that it is certified by a testing laboratory.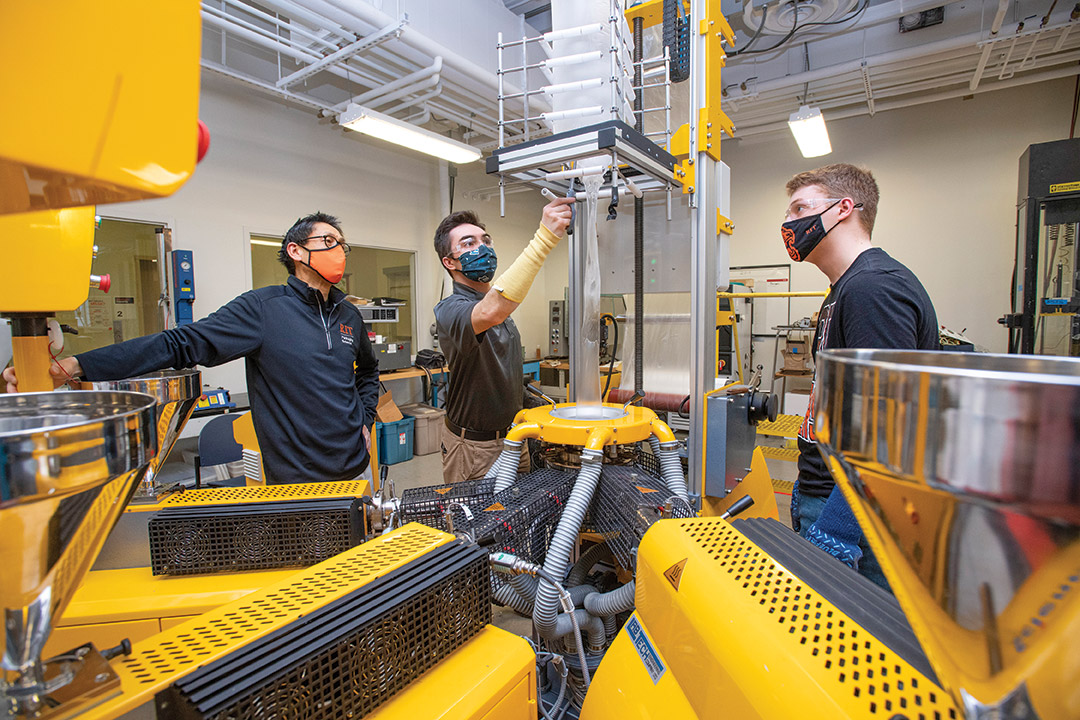 A. Sue Weisler
"However, it costs roughly $14,000 every time you submit materials to be certified—and these labs are busy because there are currently only three that exist," said Travis. "We thought that with the equipment and expertise at RIT, we could develop a way to get an early read on whether to go forward with an investment. This can really push the envelope of innovation."
To develop this capability, RIT packaging science Professor Changfeng Ge is conducting a comprehensive laboratory scale assessment of polyethylene film, which is typically used for food packaging. Ge and his research students are evaluating the compatibility of the film coated with barrier resin, with film reclamation systems that source post-consumer film from store drop-off bins and curbside collection.
The team prototypes recycled film and tests its performance compared to the original. Using special machines in RIT's labs, they conduct migration studies and measure how the packaging acts as a barrier to oxygen and water vapor.
In the end, they hope to develop an accelerated method — based on APR protocol—to determine if a plastic material is recyclable.
"If we can successfully do this, it could be a major shift that impacts the way all flexible packaging companies develop new recyclable materials," said Ge.
Problem-solving community
Imaging science researchers at RIT also understand the major impact that their work can make on an industry. 
The Digital Imaging and Remote Sensing Image Generation (DIRSIG) modeling software, which was developed at RIT decades ago, is used by hundreds of organizations across the country to test image system designs.
In Rochester, L3Harris Technologies continues to leverage the DIRSIG technology to quantify and visualize performance of its imaging systems.
"Companies like L3Harris rely on DIRSIG to save time and money," said Joseph Sirianni, associate director of the Digital Imaging and Remote Sensing (DIRS) Laboratory at RIT. "They come to us for training and continually work with our researchers to develop new capabilities and upgrades for DIRSIG."
L3Harris is one of the largest employers in the region, and much of its business comes from government contracts. In Rochester, many RIT alumni work for the company's Communications Systems and Space and Airborne Systems segments. More than 60 alumni work in the area of remote sensing alone.
DIRSIG plays an important role at L3Harris when scientists begin developing remote sensing systems for drones, satellites, and airborne capabilities mounted to aircrafts. The modeling software essentially allows designers to create physics-based simulations of what an imaging system can do—and all in advance of the system ever physically being built. For example, the simulations show how a system detects different atmospheric or lighting conditions.
"With RIT's help, we enable our end customers to better understand the impact of system specifications on the performance our imaging system sensors will have — and how that will translate to capturing a better image," said Stacey Casella '08 MS (color science), general manager of geospatial integrated solutions at L3Harris. "We have a lot of back-and-forth with RIT; working together to leverage existing capabilities and build out future technology road maps."
Derek Walvoord '02 (imaging science), '08 Ph.D. (imaging science), an image scientist at L3Harris, is also working with RIT researchers to explore how DIRSIG simulations can be used to train artificial intelligence-based imaging algorithms. The group is also collaborating with the University of Puerto Rico in Mayagüez to determine how deep learning can be used to assist scene generation processes alongside DIRSIG.
According to Greater Rochester Enterprise leaders, the region has the perfect ingredients to make so many collaborations like these happen.
"We're the right size city, with growing key industries, and a highly skilled workforce coming from great universities," said Hurlbutt.
Topics