Retrograde wins Ovation: RIT Performing Arts Showcase
Classic rock band's performance of 'Deep Cut' wins $500 top prize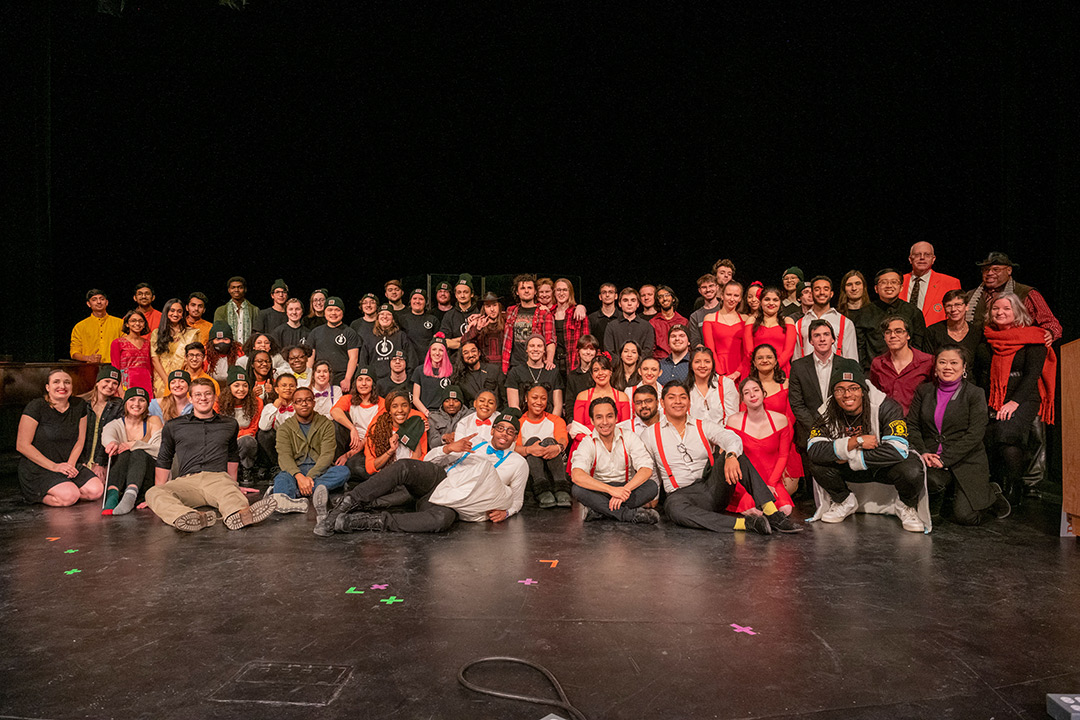 Retrograde, a classical rock band formed about a year and a half ago with five Rochester Institute of Technology students, won best performance and a $500 prize in this year's Ovation: RIT Performing Arts Showcase, held Friday night in Ingle Auditorium.
The band's rendition of "Deep Cut" beat out 15 other performances in dance, vocals, variety, and instrumental music in the sixth annual student performing arts challenge.
"We feel really honored to win. There was a lot of talent on the stage, a lot of good players," said Retrograde co-founder Zach Adams, a guitarist and third-year advertising photography student from Detroit.
Photo gallery
Click the main photo to see more images of the winners from each category.
The other Retrograde band members are Skye Carlin (drums), a fifth-year mechanical engineering technology major from Philadelphia; Quinn Freidenburg (singer), a third-year photojournalism student from Oakland, Calif.; Liam Lynch (guitar), a third-year electrical engineering major from Whitney Point, N.Y.; and Chloe Erickson (bass), a fifth-year mechanical engineering major from Kailua, Hawaii.
Winners were first announced in each of the five performance categories, which came with a $300 prize.
Adams said he didn't think his band had won once they heard the winner announced in their category. Then Retrograde was announced as the overall winner.
"We thought it was over," he said. "It's pretty cool."
Adams said band members will use their prize toward recording a new single. "Deep Cut," written by Carlin, has already been recorded and is available on Spotify.
RIT President David Munson, who emceed Ovation with his wife, Nancy, remarked how the event is becoming larger each year.
"As we grow the size of our performing arts program at RIT, we are also growing this event," he said. "It is becoming now more of a showcase of some of our highly talented students rather than just a competition. I want to sincerely thank everyone who applied for the showcase this year. We received many, many wonderful auditions."
Nancy Munson was wowed by almost every performance and remarked at the variety of majors the students had. Four of the 12 members in The Latin Rhythm Dance Club are Ph.D. students.
"This is even more impressive when you see the loads these students are carrying," she said. "It makes it even more special."
At the end of the final performance, David Munson said, "What you've seen is the tip of the iceberg, and I hope it's been enjoyable. These are always hard choices, and I'm glad the judges make the decisions and not Nancy and me."
As the judges deliberated, last year's Ovation winner, jazz band Midnight Waves, entertained the audience.
Then the performers, 74 students in all, assembled on stage for the announcement of the winners.
"This has been so much fun," Nancy Munson said. "And I know this sounds cliché, but I truly mean this: You are all winners, every single one of you. So keep doing what you're doing because you're all fabulous. It's so hard to pick winners when you have all this talent on the stage. We're really, really proud of you guys. So congratulations to all of you!"
The winners of each category were:
One of the judges, Erica Haskell, inaugural director of RIT's School of Performing Arts, said the judges were awed by the "stellar talent" they witnessed.
"The level of commitment of our students and the amount of practice they put in to it was impressive," she said. "And so was the diversity, from Indian Carnatic music, step dancing, a classical cello and piano piece, heartland rock, rap, experimental jazz, modern and Latin American dance, and video game music, among others."
More students involved in performing arts are currently enrolled at RIT than ever before. This year's class includes a record 482 new students who received Performing Arts Scholarships. That brings the total number of students who received the scholarships to 1,357 in the four years they have been awarded.
President Munson has pushed to recruit more students involved in the performing arts because they tend to be more creative, innovative, and complex thinkers, traits that are desirable with prospective employers. Munson wants RIT to be the leading school in the country for performing arts for non-majors.
Topics