RIT breaks ground for new music performance theater
Venue includes a 750-seat, 40,000-square-foot theater with two balconies and a large rehearsal hall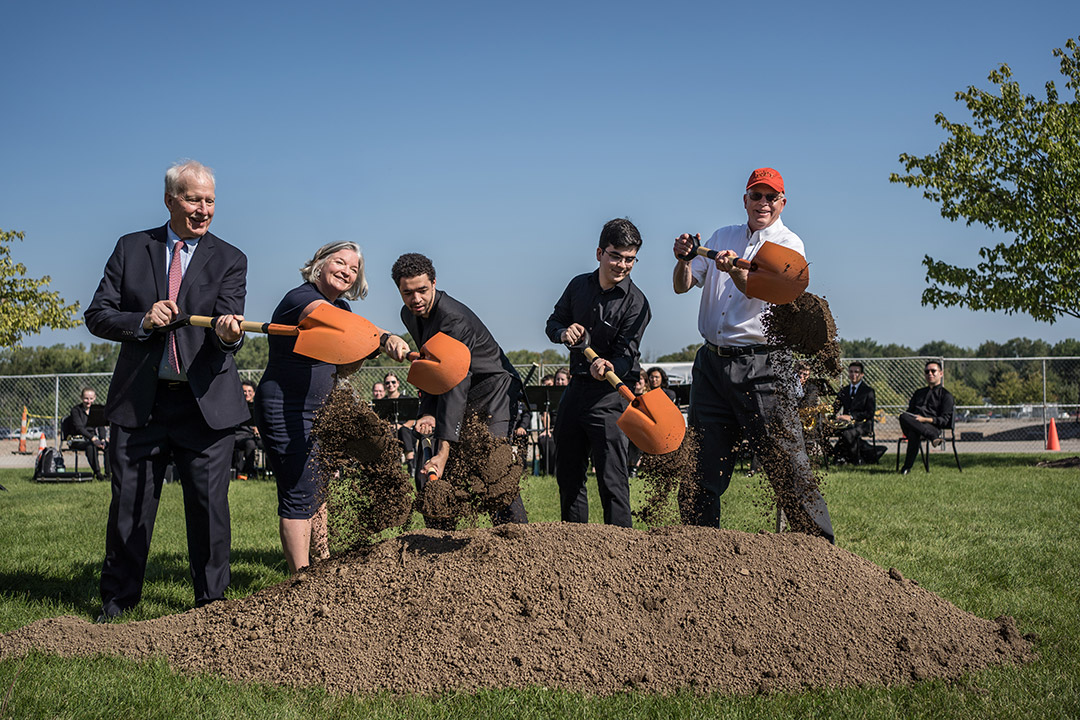 In order to accommodate a surge in students engaged in performing arts, an official groundbreaking was held today for Rochester Institute of Technology's new music performance theater, the first major theater project in the Rochester area in decades.
The three-story, 40,000-square-foot building will consist of a 750-seat theater primarily to be used for musical theater productions. The theater will have two balconies and a historic pipe organ as its centerpiece. The estimated completion date is 2025, and like other venues on campus, it will be available for public use.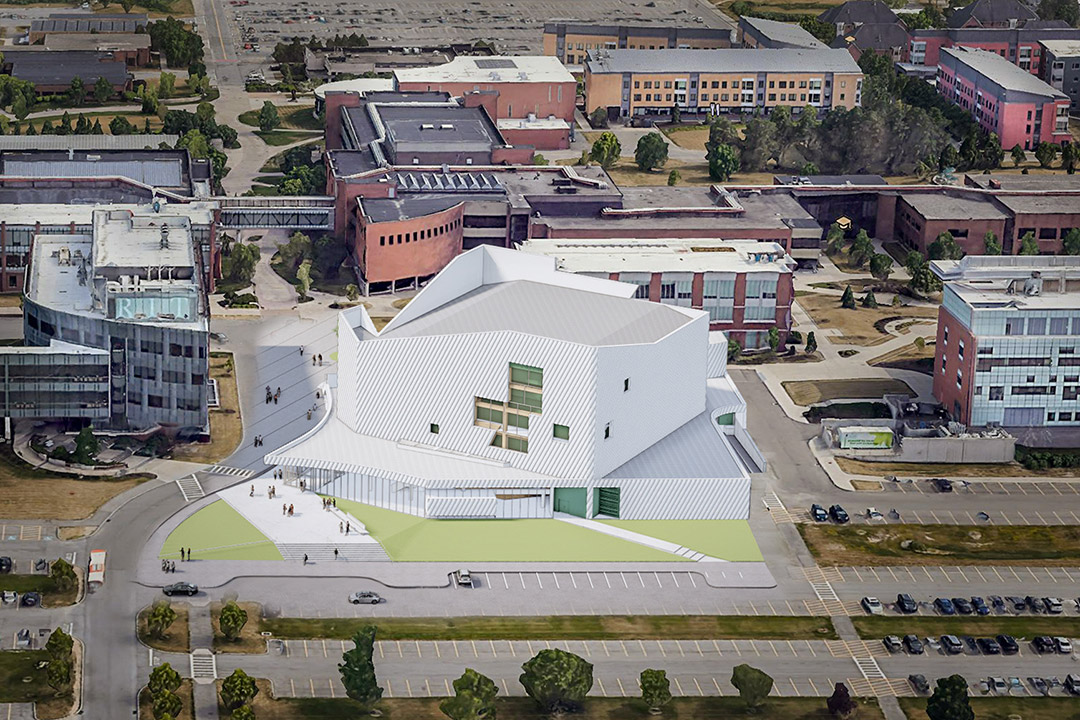 Michael Maltzan Architecture
In 2019, RIT established a bold vision to become the leading performing arts program in the nation for non-majors. More than 1,800 students have received partial performing arts scholarships since then.
"Nearly one in six of the more than 3,300 first-year and transfer undergraduates this fall earned the coveted scholarship," said RIT President David Munson. "The students, who submitted audition videos, were selected for the scholarships because they excel in instrumental or vocal music, musical theater, acting, dancing, set design, and even aerial arts."
Munson said it is well established that mathematical talent and musical talent often go together.
"Broadening the learning experience to include the arts can build competencies to engage creatively, critically, and confidently. Many college-bound students nationwide are forced to choose between studying a STEM discipline versus one of the performing arts as their academic majors. The real world requires that you think in multiple dimensions," he said. "We envision an education where engineers and scientists pursue performance, techies tackle the humanities, and artists learn to code. This is about fostering curiosity, discovery, innovation, and teamwork. This is about maximizing talent and living a whole life."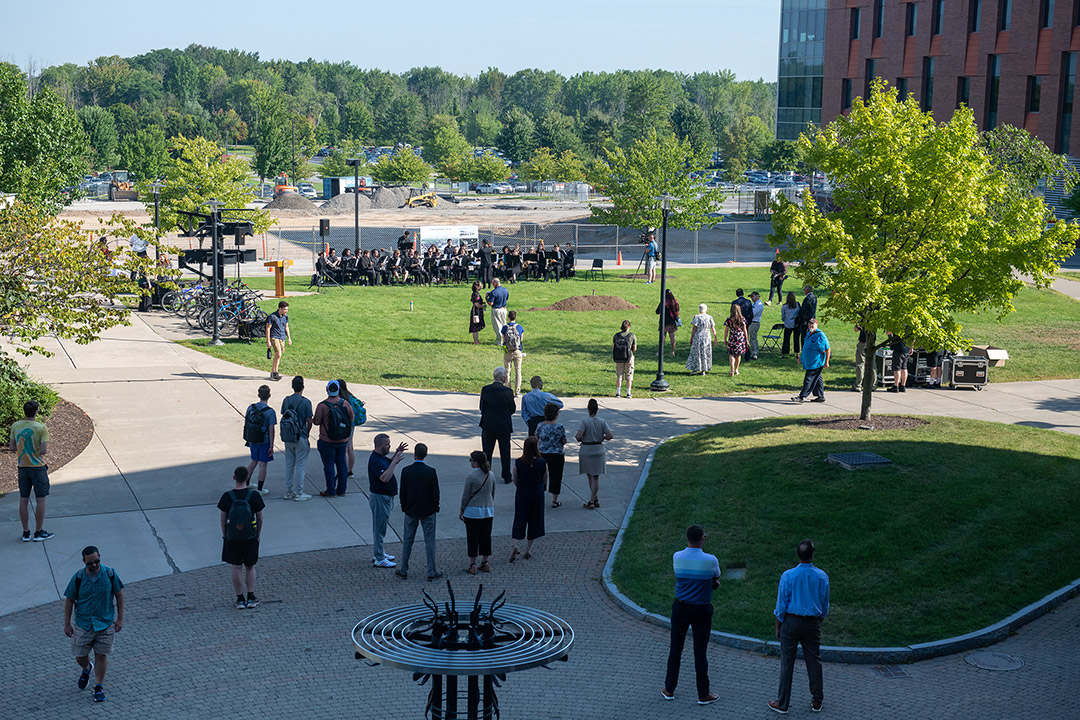 Carlos Ortiz/RIT
Albie Snyder, a second-year cybersecurity major from Bethlehem, N.Y., said he came to RIT because of the academics, as well as opportunities to continue playing percussion. He's in the RIT Pep Band and RIT Concert Band, which performed Sousa marches and the themes from Star Wars, Jurassic Park, and E.T. at the groundbreaking ceremony.
"RIT provides us the extraordinary opportunity to pursue our degrees while maintaining and fostering our love of the performing arts with the full support of the university," Snyder said. "This building is a very large testament to that ideal."
Erica Haskell, director of RIT's School of Performing Arts, called the groundbreaking an inspirational milestone for RIT's growing population of performing arts students.
"They combine their rigorous majors, many in STEM fields, with the collaborative creativity of performing arts, on stage and behind the curtain," she said.
Haskell said RIT is building a performing arts ecosystem that includes small and large venues, more than 40 performing arts clubs, large and small ensembles, numerous dance troupes, and numerous theatrical productions each year, including collaboration between RIT's National Technical Institute for the Deaf and College of Liberal Arts.
"Our community of performing artists will continue to thrive as we cultivate diverse opportunities for our students," Haskell said. "This building will serve as central stage in the already flourishing performing arts ecosystem, the largest of our performance venues on campus. We anticipate productions and concerts in the music performance theater will be infused with cutting-edge technologies enabled through cross-college interdisciplinary collaborations."
James Yarrington, RIT's university architect and director of Planning and Design Services, said the Rochester area has numerous theaters that can seat a couple hundred audience members, but there are few options for venues that seat between 500 and 1,500 people. By comparison, the Robert F. Panara Theatre in Lyndon Baines Johnson Hall has 440 seats.
Funding for the theater, $74 million, was recently approved by RIT's Board of Trustees and is part of RIT's approved capital bond project and was part of strategic financial planning for several projects years ago. Several naming opportunities are available as well.
A second phase of the theater, which is funding dependent, will more than double the size of the building, with an expanded lobby, a 1,500-seat orchestra hall, and a stage big enough to accommodate a large philharmonic orchestra, major events, and lectures.
The music performance theater is just the latest venue available to students in the near future.
Finishing touches are being made on the largest construction project at RIT since the campus was built in 1968 with the Student Hall for Exploration and Development, or SHED. It has the Sklarsky Glass Box Theater, practice rooms, makerspaces, a dance studio and a music instruction studio.
"By now, it should be evident that performing arts is complementing our tech activities at RIT," Munson said. "I'm already envisioning 2025. We can't wait to see you all again when we open and dedicate this magnificent venue."
The new building was designed by renowned Los Angeles-based architect Michael Maltzan and the architect of record is SWBR, a local company that also were the architects of RIT's MAGIC Center.
Topics