RIT to create a School of Performing Arts
Collaborative effort will infuse technology with performing arts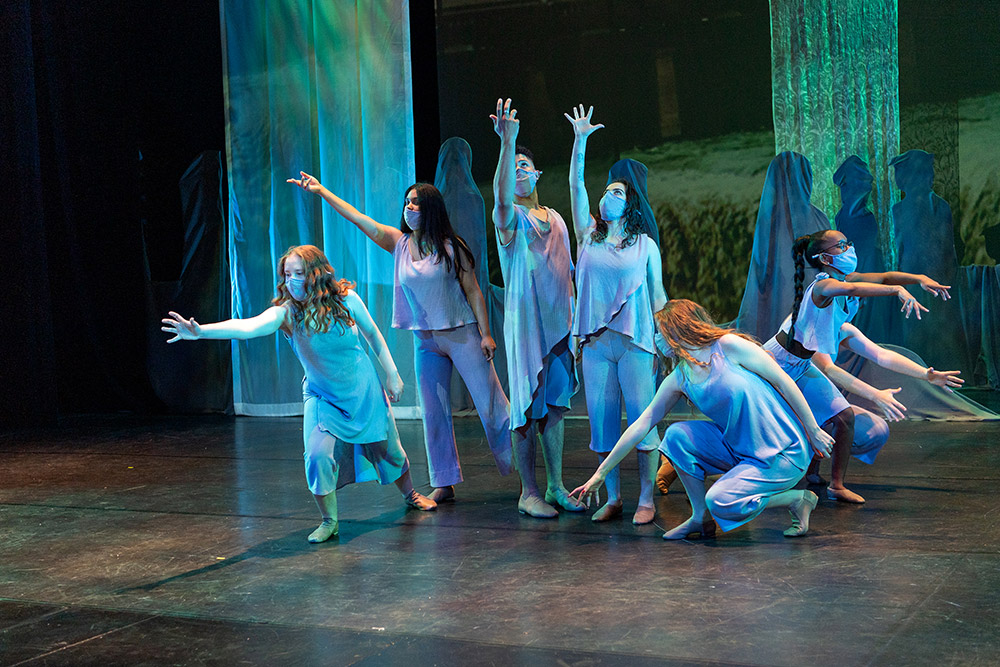 Rochester Institute of Technology—one of the top universities in the nation working at the intersection of technology, the arts, and design—is creating a School of Performing Arts to offer additional creative opportunities for thousands of students who wish to pursue their passions in performance while majoring in a range of other fields.
The new school will be housed within RIT's College of Liberal Arts beginning July 1, and a national search is underway for a director. In addition to the faculty and staff already involved in performing arts at RIT, new hires will join the effort as the university expands its dynamic and multidimensional "performing arts ecosystem."
Anna Stenport, dean of RIT's College of Liberal Arts, said RIT's School of Performing Arts will offer distinct and unique opportunities, focusing on advancing the talents of STEM-strong students who may not be majoring in the arts.
RIT aims to offer the leading performing arts program in the nation for non-majors.
"We will provide students integrated, accessible, and diverse experiences where music, theater, and dance incorporate technologies to create stunning works of expression. These could include AR/VR performances of Shakespearian tragedies, to motion-capture dance choreography, to animated scenes that accompany a philharmonic orchestra piece," said Stenport. "Performance and music are now fully integrated with technology, from composition and audio-engineering to electronic theater sets and immersive environments. 'Stages' come in all shapes and forms these days. The use of technology to enhance, expand, and continue developing performing arts is critical … The connections are endless."
Stenport said RIT has been steadily building up performing arts throughout the university. Three years ago, RIT began offering partial scholarships for students interested in continuing music, dance, theater, technical production, and even circus arts. To date, more than 950 Performing Arts Scholars have enrolled at RIT, with an additional 450 expected in the fall semester.
The university also is investing in facilities with some $200 million in additional buildings under design and construction. The Student Hall for Exploration and Development (the SHED), opening in 2023, will include a large black-box theater, a dance instruction and performance studio, a musical rehearsal studio, and numerous individual practice rooms. A 750-seat performing arts theater for musical theater productions will debut in early 2024, with a 1,500-seat orchestra hall to be added later.
RIT will leverage unique diversity strengths in the new school. RIT is home to the National Technical Institute for the Deaf, which has its own highly regarded performing arts department and offers several annual theater and dance productions, as well as set and costume design, and lighting and sound opportunities for students.
Stenport said the new school is expected to develop and offer innovative, respected, and sought-after degree programs and professional education integrating NTID's strong history of excellence in the performing arts, especially in theater and dance.
RIT currently offers minors in music performance, music and technology, and theatre arts. Future academic ventures may include enhanced emphasis on dance, musical theater, entertainment management, interactive media, audio engineering, augmented and virtual reality, gaming, and theater technology. Two immersions, music and theatre arts, already are in place. Both involve history, theory, and practice.
RIT President David Munson said it is well established that mathematical talent and musical talent often go hand-in-hand. In addition, broadening the learning experience to include the arts can build competencies to engage creatively, critically, and confidently.
"Many college-bound students nationwide are forced to choose between studying a STEM discipline in science, technology, engineering, and math, versus one of the performing arts as their academic majors," Munson said. "The real world requires that you think in multiple dimensions. We are seeking students who wish to wholeheartedly pursue both STEM and the performing arts, using all parts of the brain and their entire range of social, emotional, and intellectual skills. Our students need not choose between their passion for the arts and their desire to pursue a different career field; they're provided the opportunity to chase both interests simultaneously."
He expects thousands of RIT students from all disciplines to be involved in performing arts within just a few years, and he said RIT now is working to develop a similar program in the studio arts.
"More broadly, we envision an education where engineers and scientists pursue performance, techies tackle the humanities, and artists learn to code," Munson said. "This is about fostering curiosity, discovery, innovation, and teamwork. This is about maximizing talent, living a whole life, and not hiding your light under a bushel basket."
Topics