Professor Luvon Sheppard's influence touches all creative corners of RIT, Rochester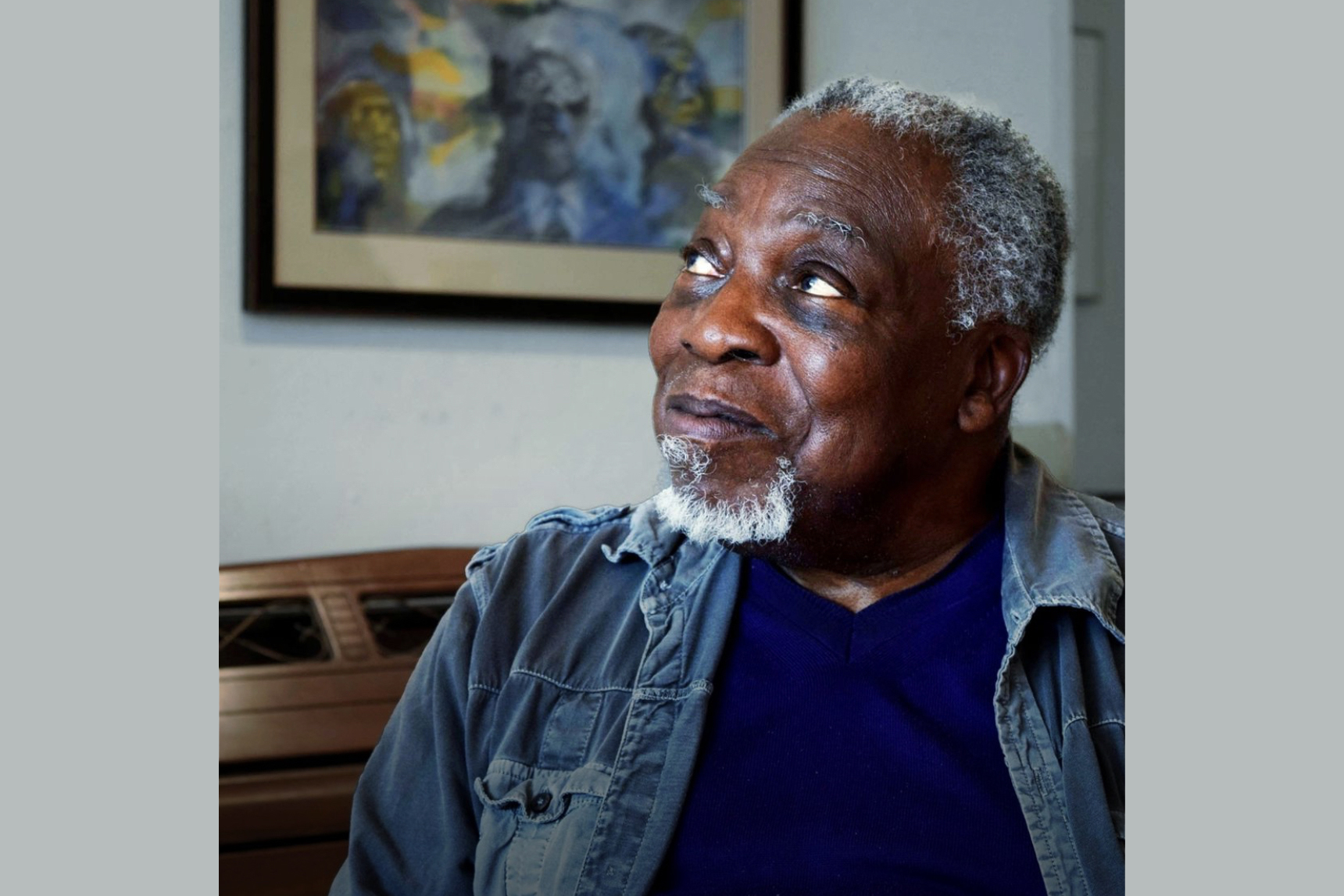 It's Saturday at Joy Gallery, which means the downtown Rochester space is humming with engaging conversation and art. The environment is welcoming and warm — also hallmark attributes of the facilitator of these instructive gatherings. 
Luvon Sheppard, professor in RIT's School of Art, owns and runs his studio out of Joy Gallery, located at 498 1/2 West Main St. On weekends, he invites people from different educational and cultural backgrounds to participate in open drawing and painting sessions. Many are former students, others are connections he's forged during five-plus decades of being a leading voice in Rochester's arts community.
"Everyone I talk to says, 'Oh, yeah, last Saturday was so inspiring.' That's the word they use," said Gretchen Ettlie '03 (Graphic Design), '04 MST (Visual Arts-All Grades), '21 MFA (Fine Arts Studio).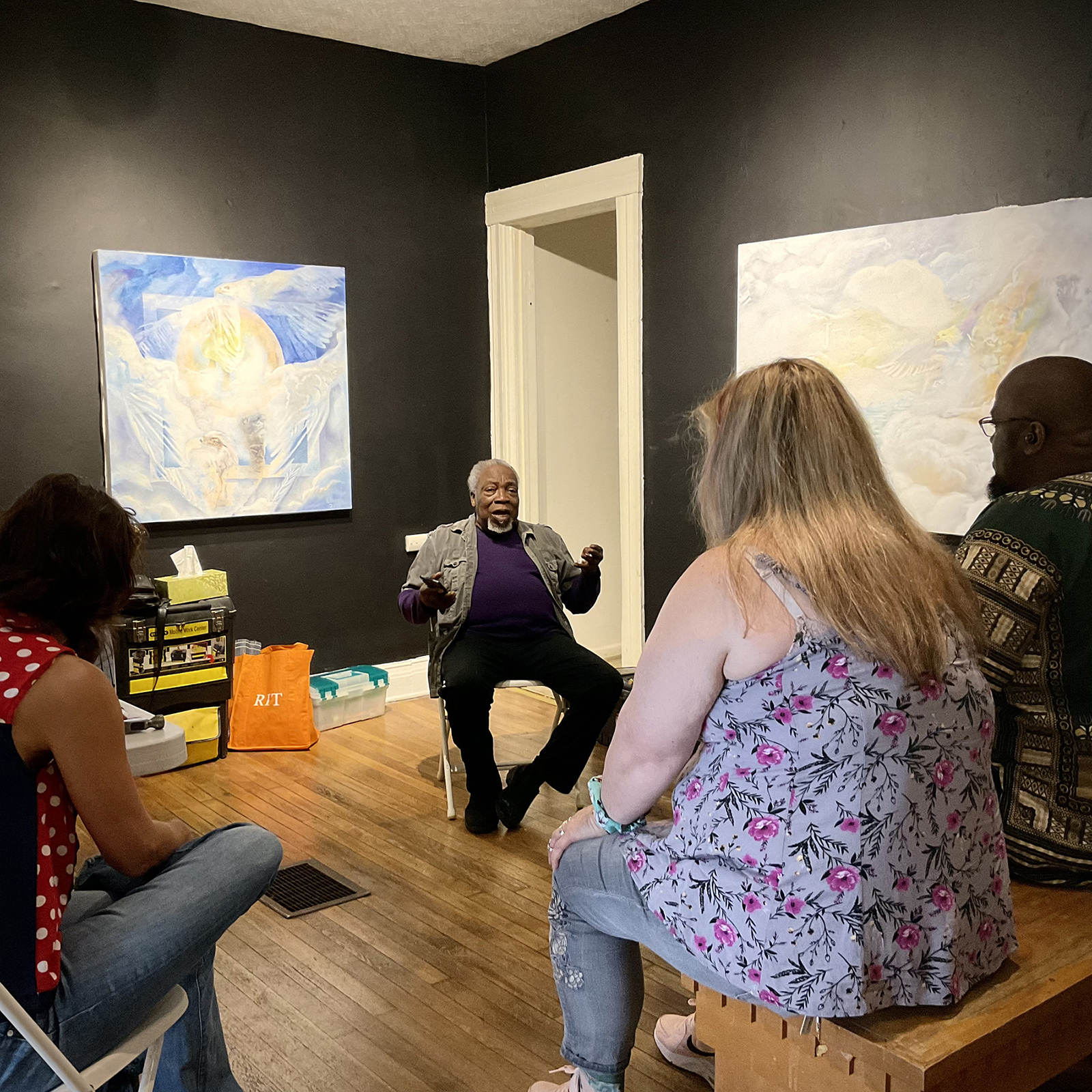 Nik Delgado '21
Ettlie is among the countless artists profoundly impacted by Sheppard and his innate ability to build relationships that promote creative growth. She began attending the Saturday sessions at Joy Gallery in June.
"He's nurturing that community," she said. "Things are very natural. Sometimes we do art, sometimes we just talk. You always walk away inspired and with more knowledge. Everyone there supports each other."
Sheppard has spent nearly 50 years teaching in RIT's College of Art and Design. He is universally beloved as a kind spirit that extends beyond RIT and to every artistic corner of Rochester. 
RIT City Art Space is celebrating Sheppard's lifelong commitment to art, education and community collaboration with a solo exhibition, "Jubilee," from Nov. 5 to Dec. 19. A gallery talk with Sheppard is scheduled for 6 p.m. Friday, Nov. 12, at the downtown venue.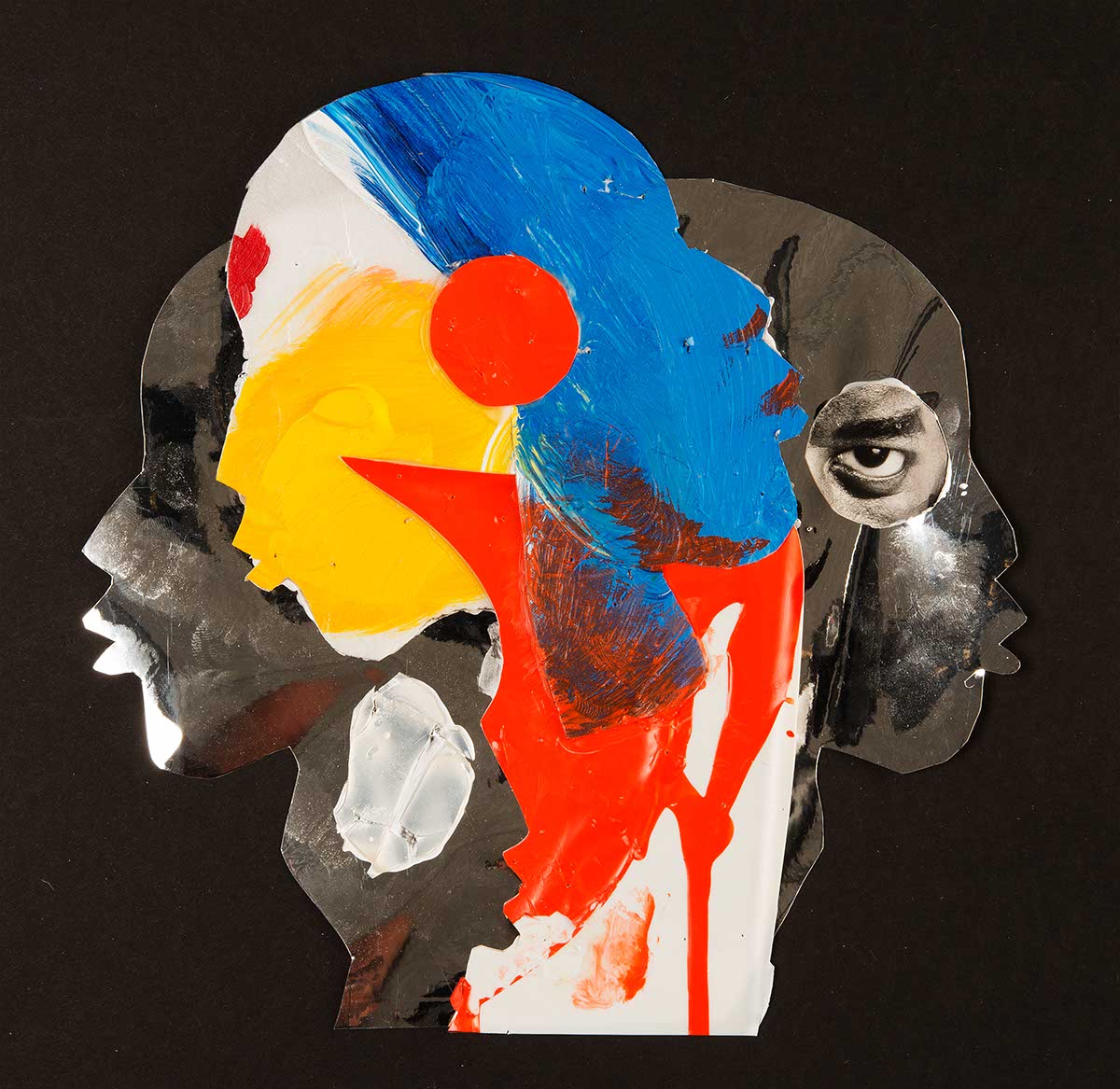 Photo by John Retallack, former RIT faculty
The show features his latest collage work, a collection of his signature watercolor paintings and plein air paintings. While not a retrospective, the exhibition celebrates Sheppard as a creative sage in the community.
"I receive more than I give as far as academic stimulation or conceptual awareness goes," said Sheppard '69, an alumnus of RIT's inaugural class of the Visual Arts-All Grades MST program. "Because of the students at RIT I gleam a lot. I don't want to just teach illustrators, I don't want to just teach painters or designers. I want to teach everybody. I want to be involved with a full circle of visual people. I think it gives me a much better peripheral as far as growing myself."
Luvon Sheppard, the artist
Sheppard is a watercolor master. Many of his paintings reflect his own experiences in Rochester, his home since he was 5. Some of his well-known pieces are portraits of local Black icons, abolitionist Frederick Douglass, choreographer and dancer Garth Fagan and community activist Mildred Johnson among them.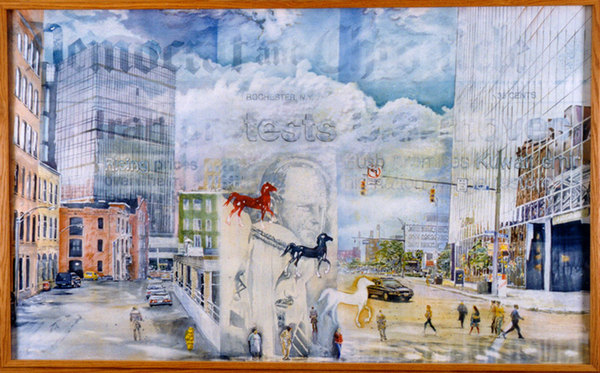 Courtesy of RIT Archives
His work is in permanent collections at the Memorial Art Gallery, the Museum of Fine Arts in Boston, Mass., the University of Seoul in South Korea and many other institutions. Sheppard, who also has a printmaking and graphic design background, has earned scores of awards and served on art committees and boards.
In 2006, he opened Joy Gallery with a realized vision for a space that encourages local talent and fosters community pride. 
"It's an awesome space," said Lauren Ramich, graduate director of the Visual Arts-All Grades MST program. "It's very community-based."
Joy Gallery frequently hosts exhibitions featuring RIT students and alumni, including the thesis show of Ying Chiun Lee '21 MFA (Glass) last spring. At the reception, Sheppard showcased additional creative talents, delivering a stirring piano and singing performance.
Tributes to Luvon Sheppard
As Luvon Sheppard's remarkable career as an artist, educator and community collaborator continues, a number of people paid tribute to his influence on their lives.
"That night left an imprint on me that's incredibly beautiful," said Karla Gutierrez, a second-year Production student. "He sang and played with a richness and soul that only brought me closer to the world I was experiencing that night. Himself as an artist, even in that brief period of time, was so impactful."
Joy Gallery is a living demonstration of Sheppard's career-spanning effort to promote local art. 
"Luvon is a driving force in that neighborhood," Ramich said. "He's kind of like the Godfather of art."
Luvon Sheppard, the educator
Sheppard still finds himself learning and growing. He credits that to a teaching philosophy rooted in shared energy and lessons.
"My personal growth is the thing I keep an eye on," said Sheppard, a chief medical clerk in the U.S. Army from 1962-65 before pursuing a career as an artist and educator. "I get that from giving to the students, but also receiving from the students. I'm at an age to retire, but I'm still excited."
Sheppard has left indelible mark on numerous artists who have benefitted from his mentorship.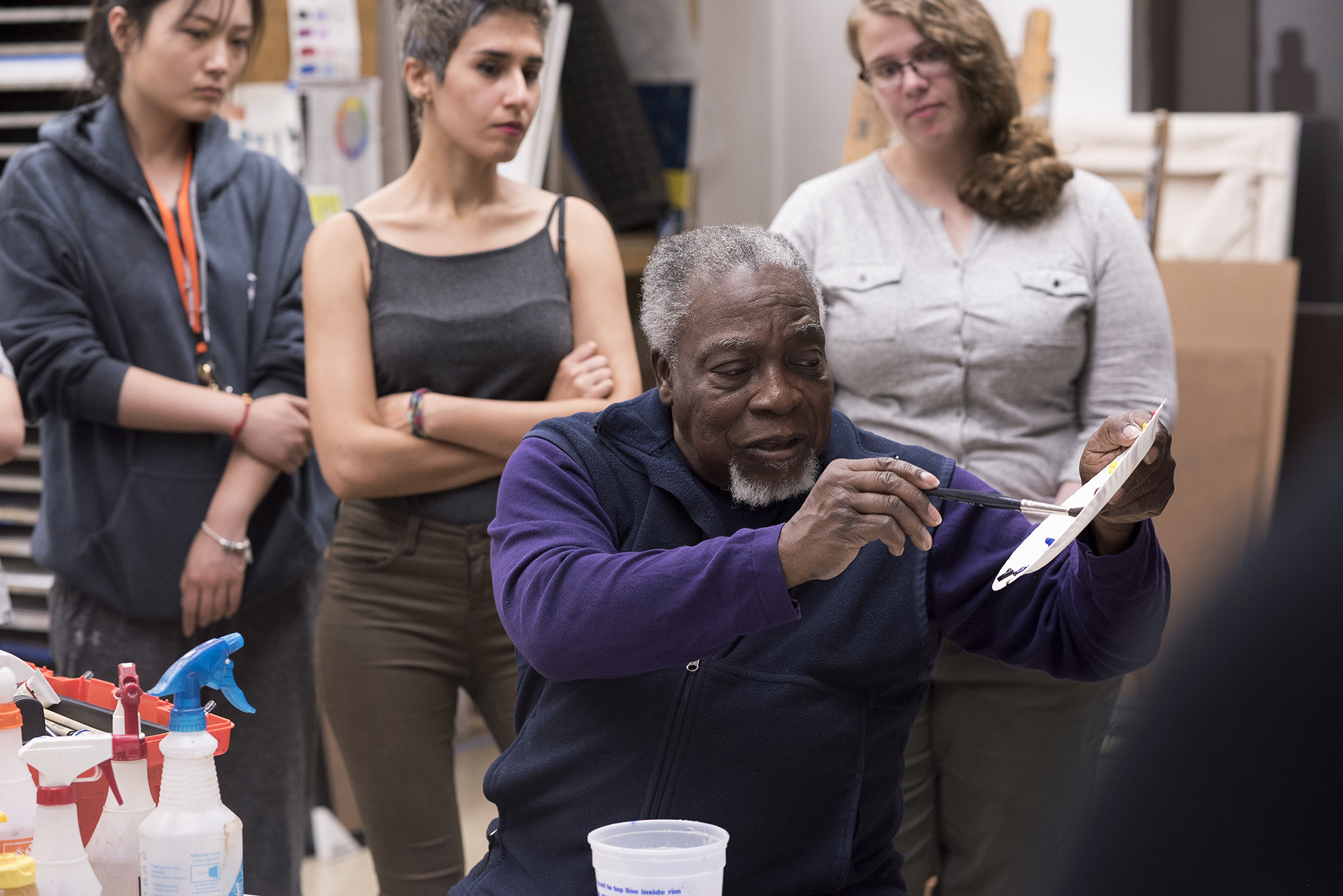 A. Sue Weisler
The history of the area's art scene is incomplete without Sheppard, the 1986 RIT Eisenhart Award for Outstanding Teaching recipient. His enduring legacy includes leading art and design classes since 1972 at RIT, SUNY Brockport, SUNY Geneseo and in the greater Rochester community. 
"I think every graduate student who takes his class will say to me at some point, 'He is so wonderful. I can talk to him about anything,'" Ramich said. "He nurtures and develops relationships. That's the unique thing about Luvon — when he's your professor, he's so much more."
"Luvon mentors all of us, each in the way we need it individually," Ettlie said.
Todd Stahl '02 MST (Visual Arts-All Grades), a local art teacher at Webster Thomas High School, was an undergraduate student of Sheppard's at SUNY Geneseo. 
Stahl recalled how Sheppard's focused approach would place him in a healthy physical and mental state for evening mixed media painting classes at Geneseo. 
"Luvon taught me to take risks, which at that point was something I had not been pushed to do very much," Stahl said. "He started me on a road to trusting my gut with decision-making and image-creation."
Those lessons haven't stopped — a measure of Sheppard's timeless influence.
"Luvon is one in a million," Stahl said. "He has continued to inspire me with his insightfulness, caring demeanor, deep listening and open heart — along with his continued artistic focus on making art that tells meaningful stories. I hope to have even half of the impact on my students and fellow humans as he continues to have."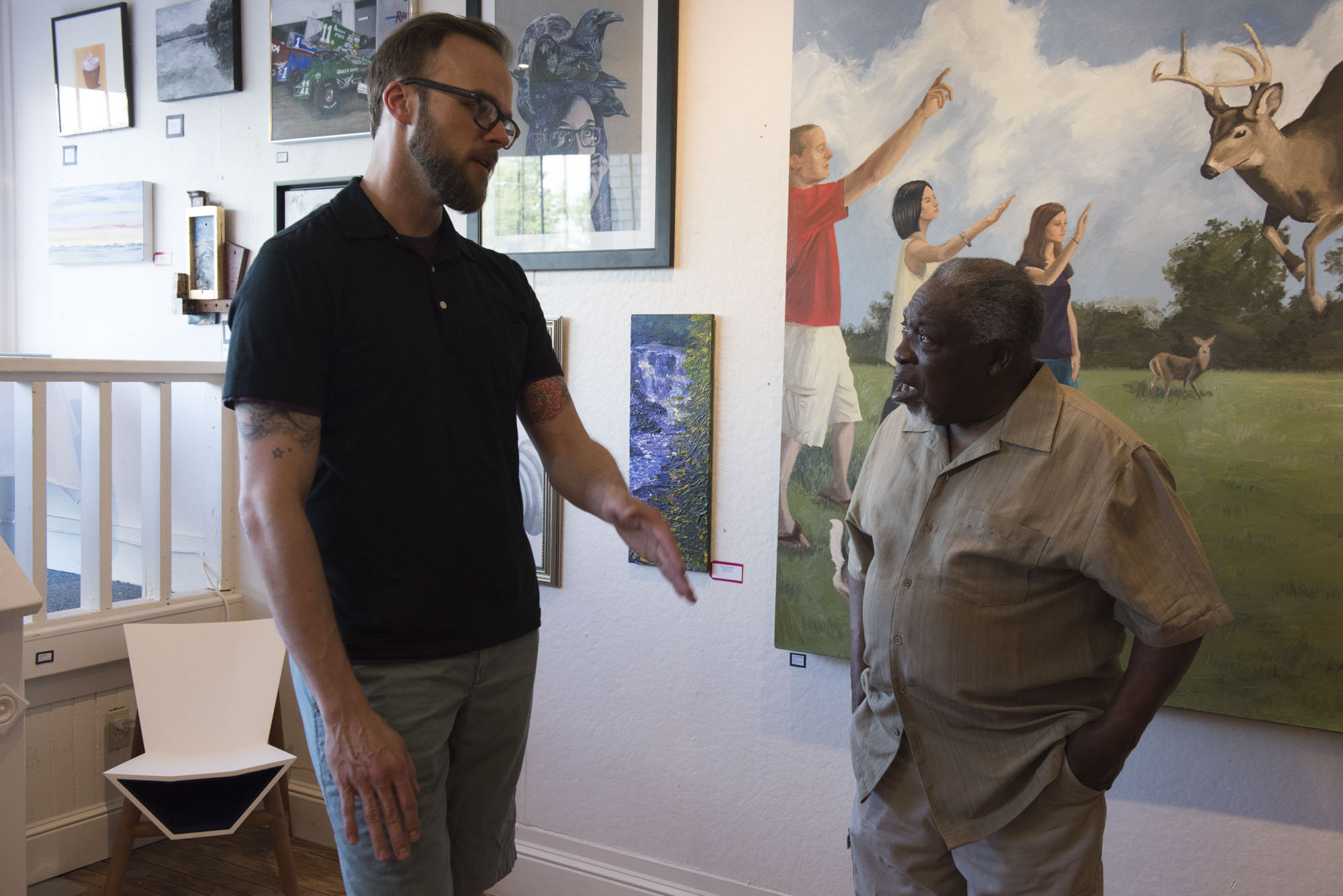 Kaitlyn Dolan '18 Photojournalism Option (Photographic and Imaging Arts BFA)
Ettlie met Sheppard when she began in RIT's Fine Arts Studio MFA program a few years ago. She took his watercolor class and he served on her thesis committee.
"His compassion touches everyone," Ettlie said. "He knows if he supports you to be who you need to be, you will make the art you need to make. He wasn't just an instructor who talked to me about my work from a technical and conceptual standpoint. He has been, and still is, a guide to me as a whole person."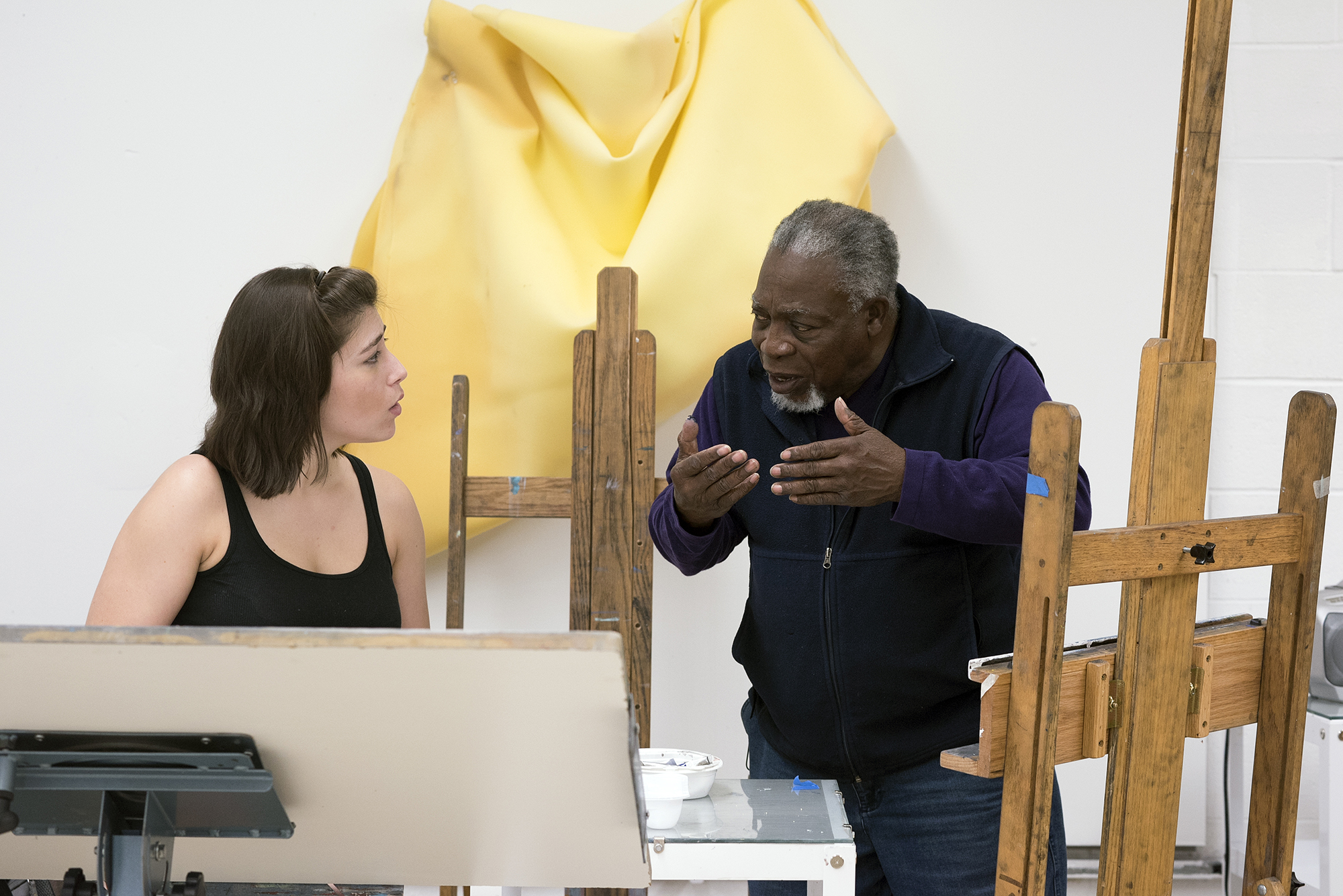 A. Sue Weisler
Bob Geroux '76 MST (Visual Arts-All Grades), a retired art educator who spent time in the Rochester City School District and at West Irondequoit High School, Elmira College, Finger Lakes Community College and Mansfield University, modeled his teaching style after Sheppard's. He has long admired Sheppard's cognitive empathy and belief that personal connection is a prerequisite to proper instruction. 
"He gets into your space and there is magic there," Geroux said. "When people talk about educators touching the future, that's not just empty words. If it wasn't for Shep, the thousands of kids that I worked with and had great success with, wouldn't have had me. And I'm just one of many people he influenced, and continues to influence."
Luvon Sheppard, the community collaborator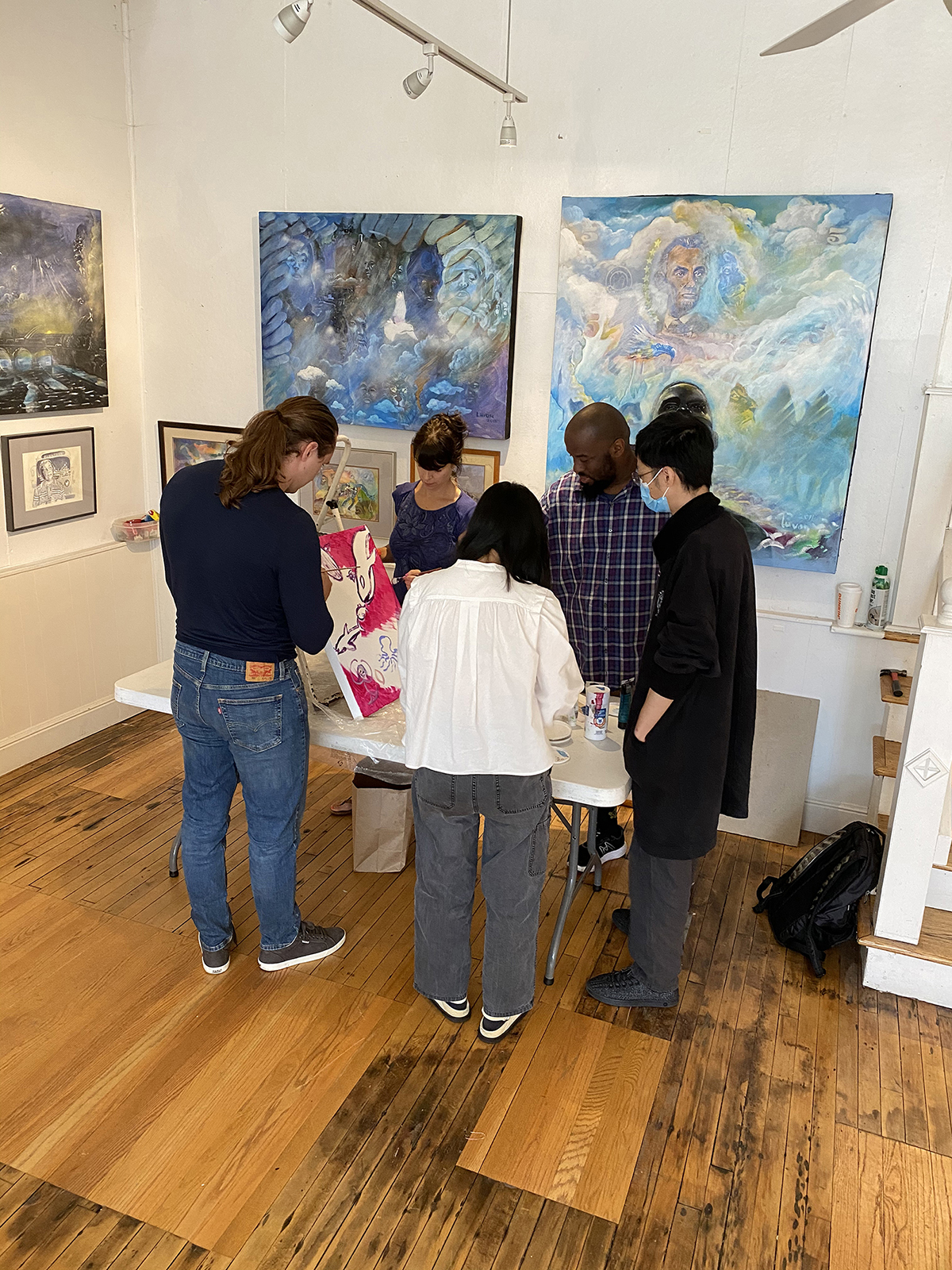 Nik Delgado '21
Sheppard has always been a vocal champion for RIT's off-campus art presence downtown. His advocacy was integral in the university maintaining the connection it has today with the City of Rochester through RIT City Art Space.
Until the 1990s, RIT's painting studios were situated inside the City Center building at 50 West Main St. The university's sale of the building forced the studios to migrate to the Henrietta campus, leaving RIT devoid of a tangible association with the city. 
In response, Sheppard, director of the School of Art at the time, and colleagues led a hearty push to regain a downtown presence. It resulted in the opening of Gallery r in 1999 on Park Avenue. 
The exhibition venue evolved and moved to College Avenue in 2012, and again to its current residence in Sibley Square in 2018 under the new name of RIT City Art Space. 
"City Art Space wouldn't exist today were it not for the vision and passion of art faculty like Luvon," said John Aäsp, gallery director for RIT's College of Art and Design. "They were the last to leave downtown Rochester during RIT's migration to the Henrietta campus, and they saw the connection between RIT and Rochester being left behind. It's thanks to them that Gallery r was born, and City Art Space has since become RIT's only off-campus, downtown venue that's free and open to the public, where community engagement flows through exhibitions, events and educational programming. That idea goes back years, and Luvon has been there, advocating for that idea since the beginning."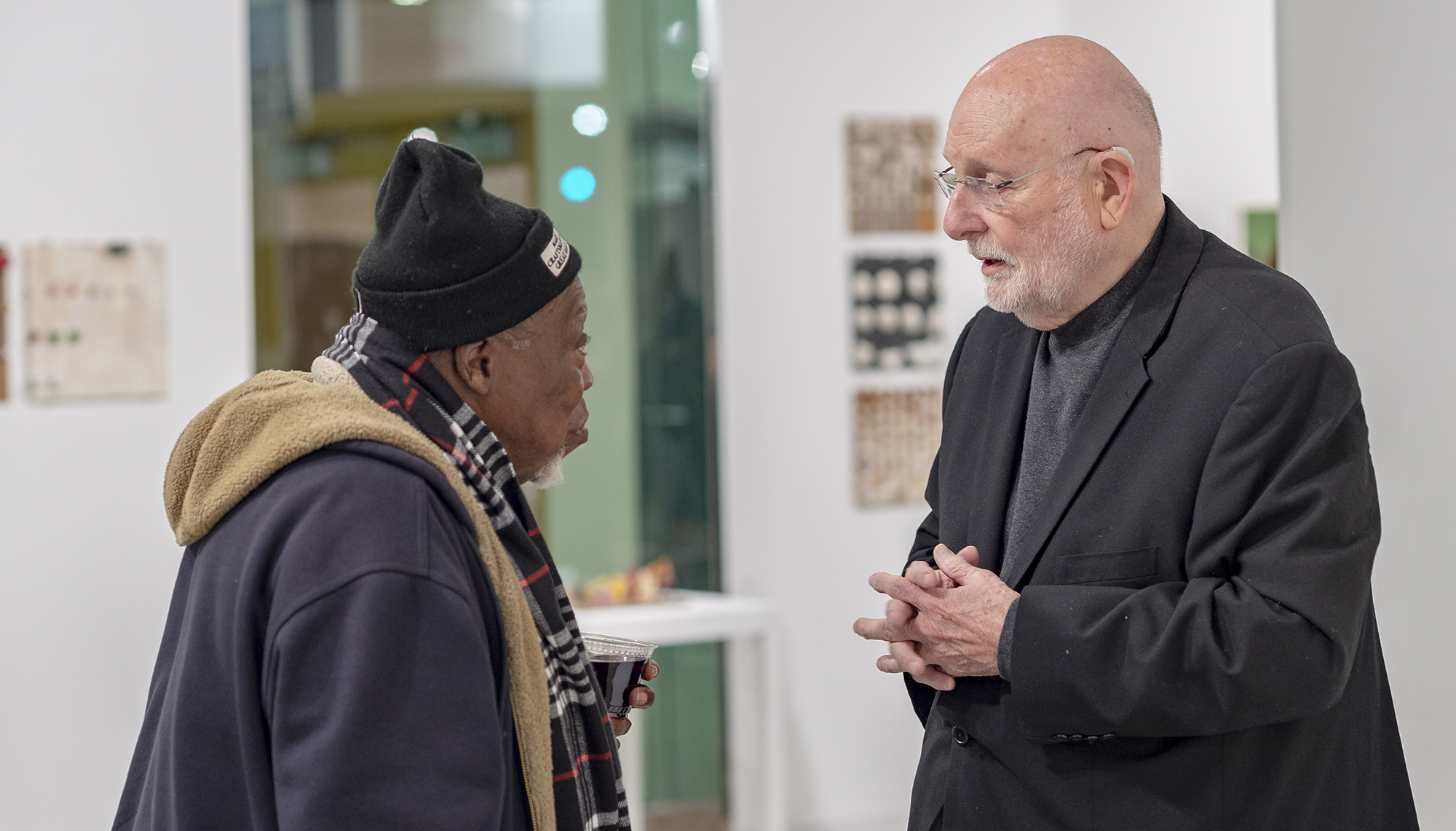 Elizabeth Lamark
Sheppard is also an advisory board member for Rochester Contemporary Art Center (RoCo), which has exhibited his work several times over the years. 
"Luvon has touched so many people in our community across at least three generations," said Bleu Cease, executive director/curator of RoCo. "I've witnessed Luvon's teaching and mentoring take on many forms. Luvon always seems to make time for others. Whenever I am around Luvon, art making is always happening nearby."
Today's Saturday art sessions at Joy Gallery are a small-scale reincarnation of an initiative Sheppard organized in the 1970s.
Sheppard's leadership role in the local arts community began as a young professional working as Memorial Art Gallery's coordinator of neighborhood affairs. In the role, Sheppard started the Allofus Workshop, a pioneering program on University Avenue in the city that offered community art classes in areas such as painting, drawing, ceramics, jewelry and printmaking. It began on the premise that "all of us" can break down racial, class and generational barriers with art.
Geroux was a regular Allofus attendee who later taught. The lively classes were an eclectic blend of area youth and emerging artists who went on to become widely known.
"I can't rave enough about what that idea was. It was like a mini-Bauhaus situation in Rochester," Geroux said in reference to the famous German art school that drove an art and design movement in the early 20th century.
The Allofus Workshop was stationed in Rochester's modern-day Neighborhood of the Arts (NOTA), inside a mixed-use building that housed studio spaces and a printing press. Ever the visionary, Sheppard set a foundation for the future of the neighborhood. Geroux said Sheppard was motivated by the same strategy — using art as an economic driver — that propelled NOTA's development years later. 
The emergence of Allofus, in the wake of the civil rights movement and widespread unrest, represented an inclusive community platform at a pivotal time, too. Geroux said Sheppard was able to connect with troubled youth in the area and brought them into art classes. 
"He created that out of nothing — a physical place for the arts to come into play," Geroux. "He made art accessible to a population that didn't have access. When he did Allofus, he had a vision for that whole part of the city, not just the workshop."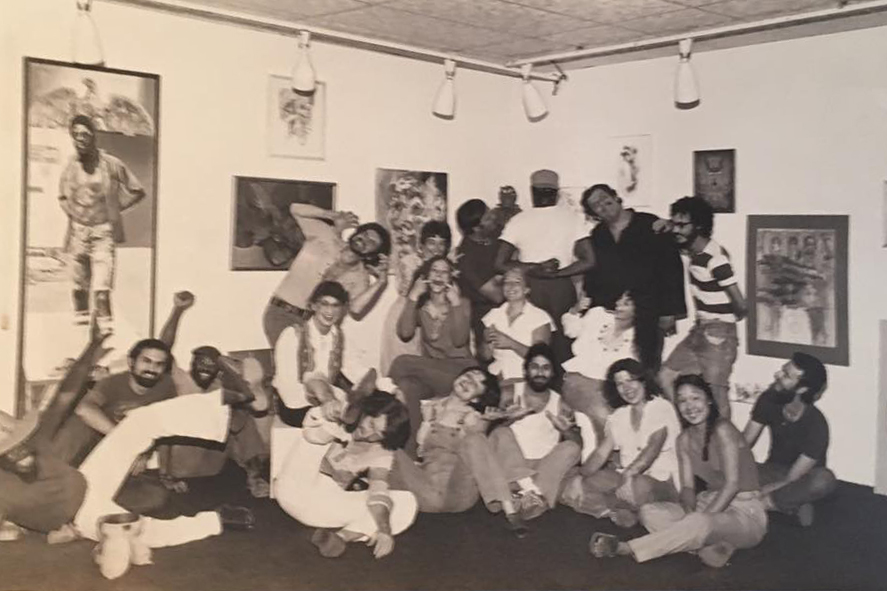 Courtesy of Bob Geroux
Geroux wore an ear-to-ear smile recounting the lives his longtime friend has touched, including his own. 
Around the time Sheppard started Allofus, he invited Geroux and his wife Carol to relocate to Rochester from New Paltz, putting them up in his home until they could get settled. Geroux was introduced by Sheppard to key figures in the city's art scene and began attending Allofus classes, sending him on a path to a fruitful career as an artist and educator. 
"If it wasn't for Luvon and that place to hone my craft and teaching skills, I would have never followed through on becoming a teacher," Geroux said. "He has the broadest shoulders of any person I have ever met. On his shoulders, so many of us were able to utilize the gift that he gave us."
The Allofus Workshop eventually disbanded and Sheppard transitioned to teaching full-time. But his work in the community — and quest to better himself and others — has never stopped. 
"I have students who I have been working with for more than 40 years," Sheppard said. "People who took watercolor from me, we still go out and do plein air painting. I taught them and they teach others. We still get together and teach each other." 
Topics