RIT transforms into XR playground for annual Frameless Symposium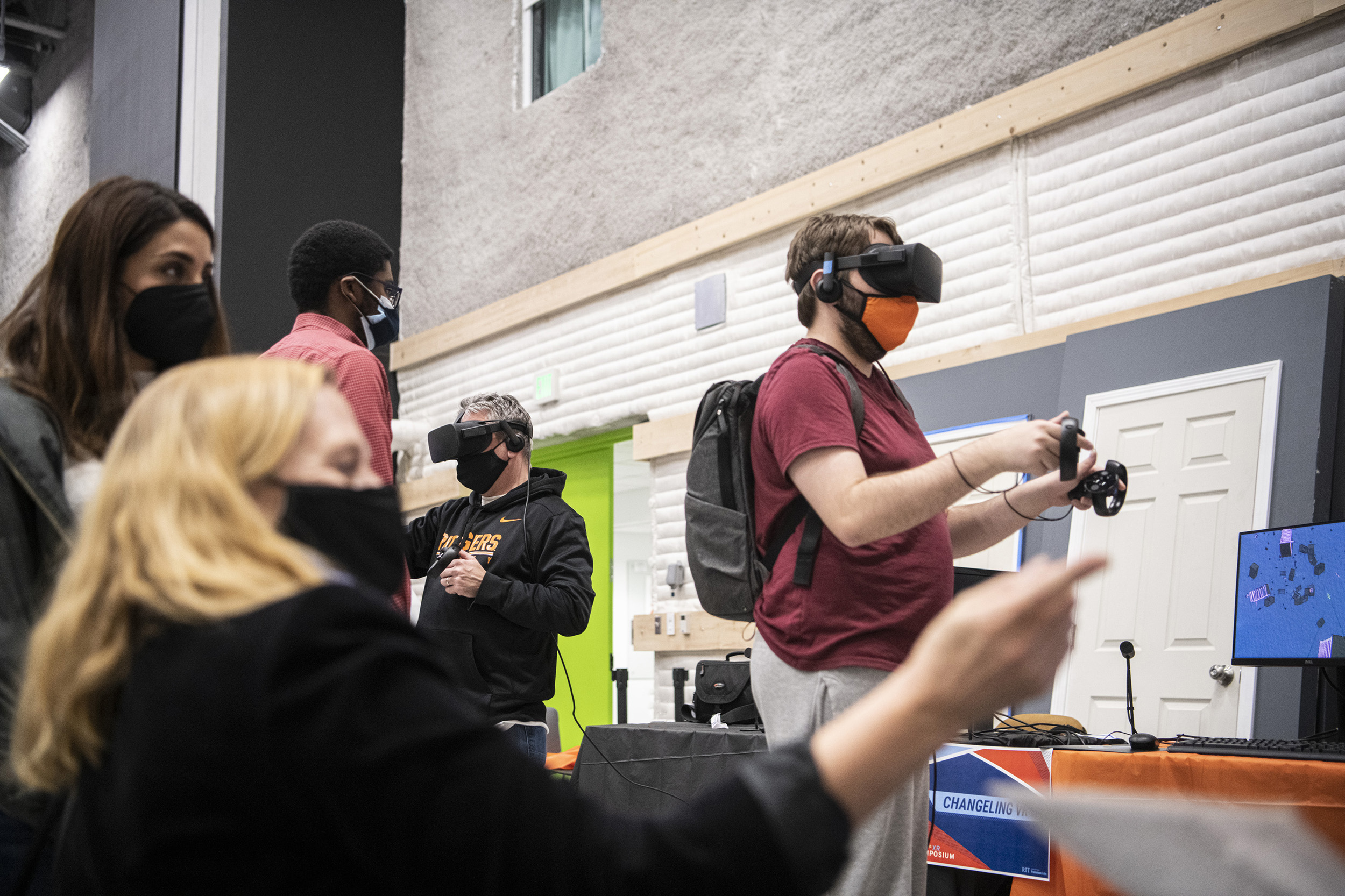 A talk on morphing a 3D map into an interactive one is followed by a presentation about a digital tool that provides medical students authentic empathy training. A project that virtually presents historicized versions of heritage sites is also discussed. There are conversations, demos and workshops about cultural preservation, music and theater, non-profit organizations and journalism.
The subject matter is wide-ranging, yet connected by a common thread. Melded together, the presentations showcase a vista of immersive experiences that are driving various fields. 
Guided by experts in virtual, augmented and mixed reality technologies, RIT's sixth annual Frameless Labs XR Symposium was held Nov. 18-19 in a hybrid format at MAGIC Spell Studios and online.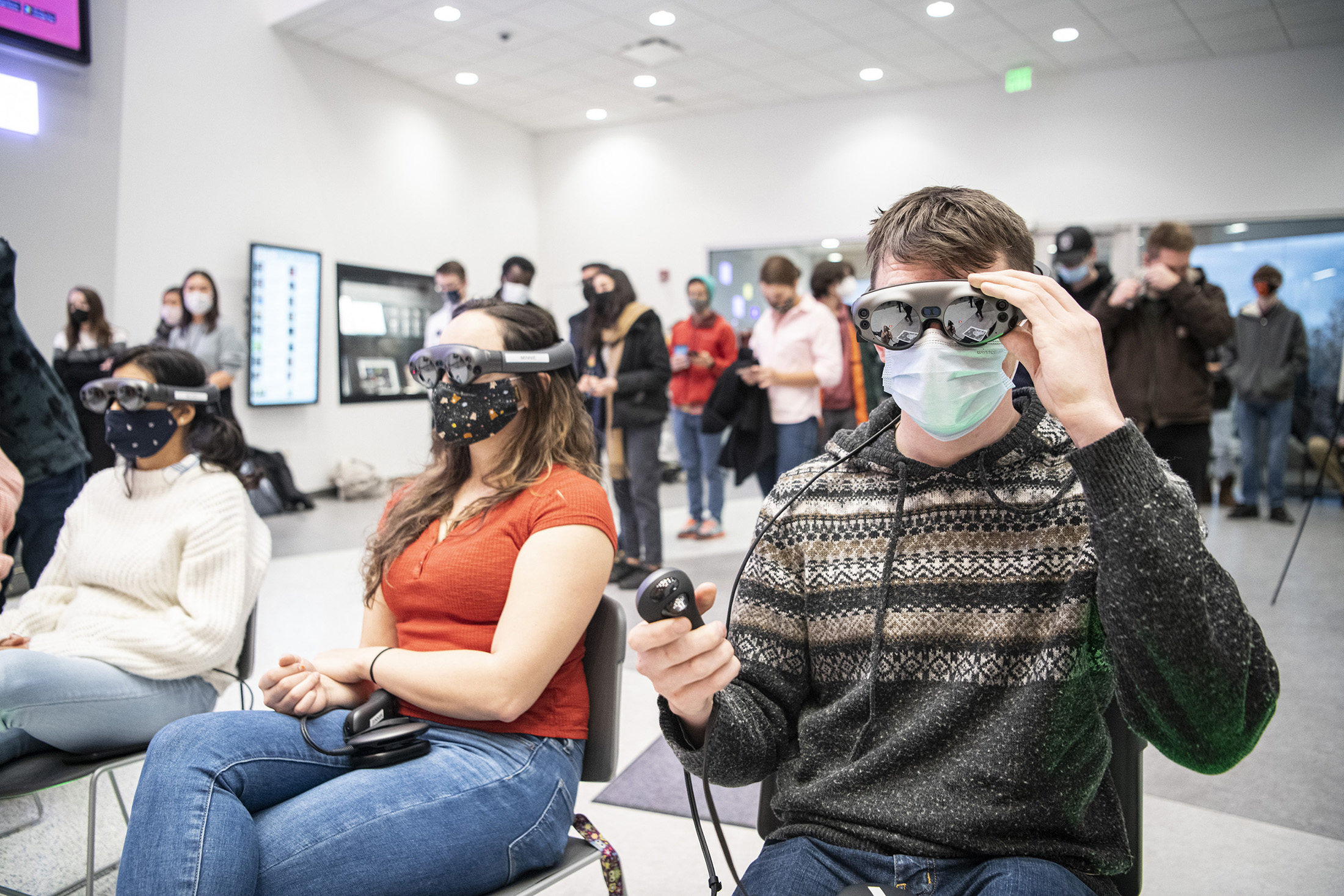 Jaiden Tripi '23
The symposium is an interdisciplinary gathering that combines technology-focused approaches with humanities-inspired theoretical inquiry, empirical research and artistic creation in extended reality (XR) — an umbrella term for VR, AR and MR. It is equal parts XR playground and classroom, broadcasting the core values of Frameless Labs, a research initiative housed in RIT's MAGIC Center that fosters a community of XR thought leaders.
"That's always been the goal of Frameless — it's an interdisciplinary endeavor. It's important to bring everybody together," said Susan Lakin, director of Frameless Labs and professor in RIT's College of Art and Design. "Extended reality is an expanding field that is growing exponentially across all industries, so it is important for us to build a career pipeline to the immersive economy with curriculum development and new research in the XR field."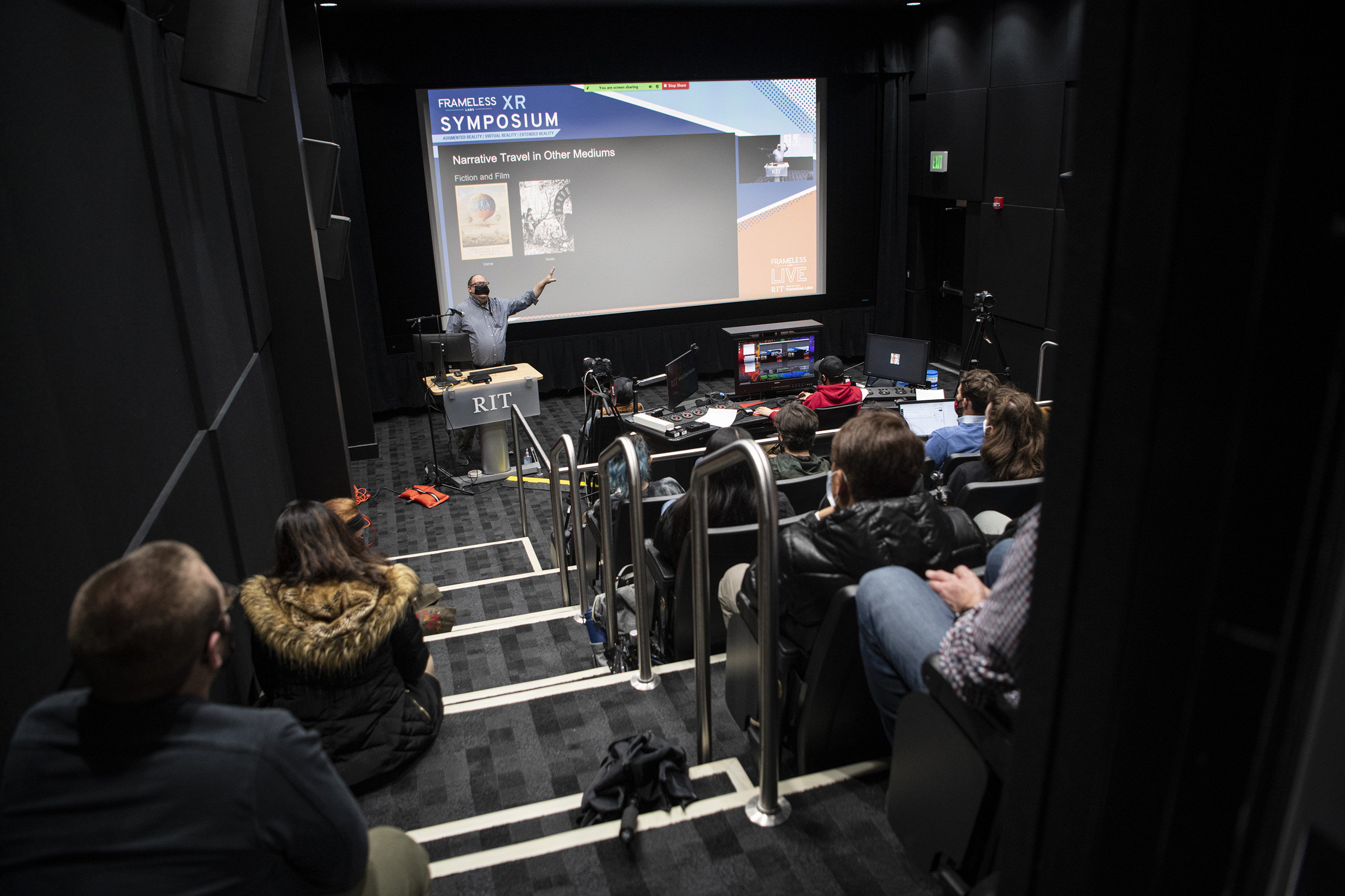 Jaiden Tripi '23
Researchers, scholars and artists from companies and universities around the country presented innovative XR research and projects to more than 300 registrants from six continents. RIT faculty and students from nearly every college were among the presenters. 
Isabelle Anderson '22 (New Media Design) was on the symposium's organizing committee and shared her experiences as a VR artist. 
She served on a panel with School of Film and Animation Assistant Professor Frank Deese and Lakin discussing their in-progress VR experience for Society for the Protection and Care of Children, a local nonprofit. Anderson's VR music video "Come on Back to Me" was also featured during the symposium's open demo session and a Mozilla Hubs virtual room she designed was deployed as a VR meet-up space after winning the symposium's student contest.  
"I just love hearing about all the different aspects of VR because I get so immersed in what I am working on, so I kind of forget there is all this other research going on," Anderson said. "(Frameless Labs) doesn't exist at a lot of other places. It's been incredible. I'm so thankful to share my work with such a vibrant community."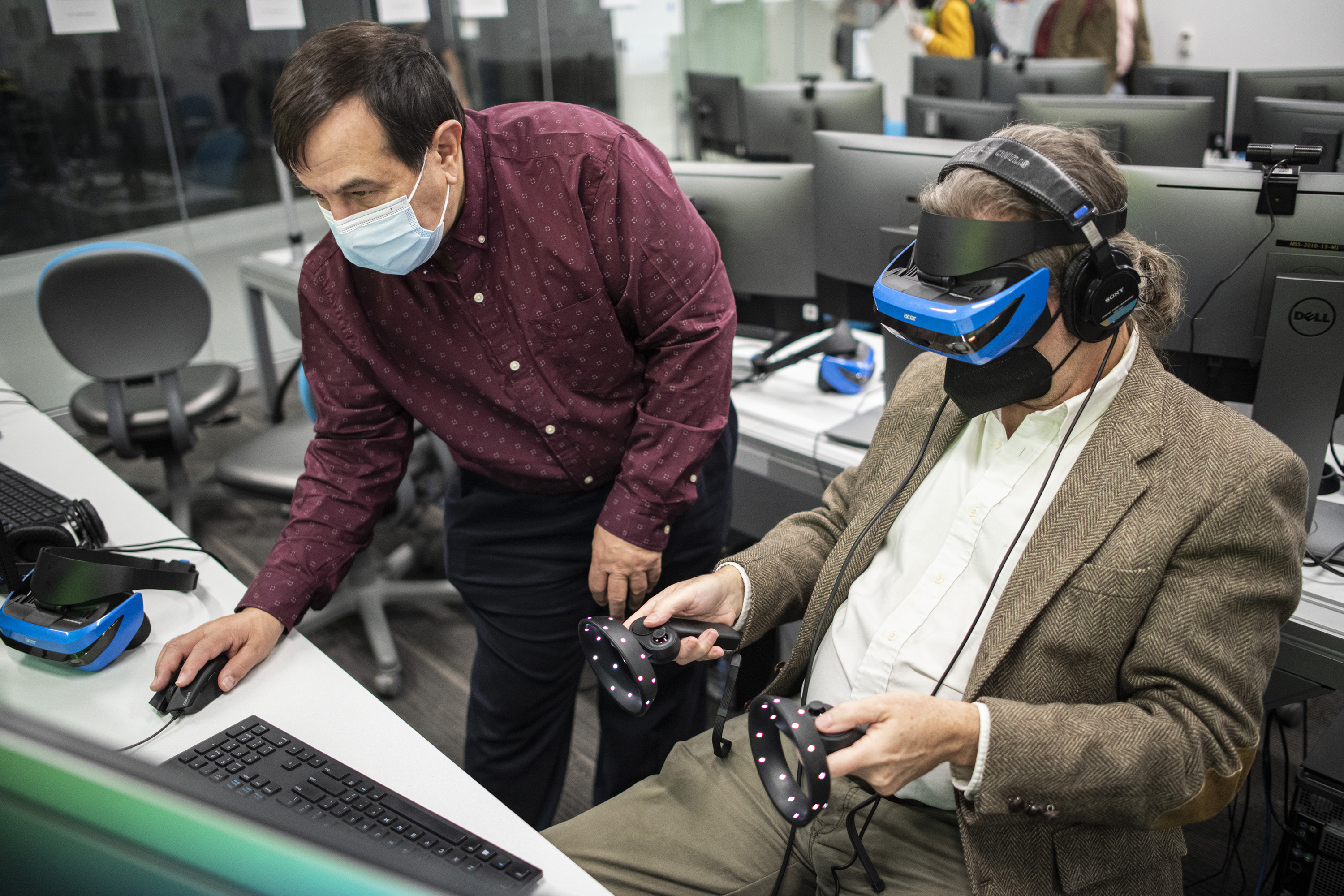 Jaiden Tripi '23
Anna Leung '22 (New Media Design) won the symposium raffle prize of an Oculus Quest 2 VR headset for her engagement on Twitter and in the Mozilla Hubs rooms designed by Anderson and Zachary Talis '21 (Applied Arts and Sciences), '23 MS (Human-Computer Interaction).
Brandon Patterson, technology engagement librarian in University of Utah's Spencer S. Eccles Health Sciences Library, made the trip to Rochester for the symposium. He said it activated a platform for instructive dialogue germane to his ongoing work. 
Patterson was introduced to RIT and Frameless Labs ahead of last year's virtual symposium while researching leaders in the XR space. He was interviewing institutions about their applications of immersive technologies in academic settings to inform his team's establishment of a dedicated classroom space for XR learning. 
Patterson presented his findings with colleague Tallie Cassucci.
"We had five best practices that we came up with, many of which RIT is doing so it's fun to see in person the facilities that kind of inspired a lot of other spaces around the country," said Patterson, who also demoed VR simulations for dental implants alongside Ben Engel, user experience developer at the University of Utah library. "Just being here, we're able to see products in person and we made some connections with other folks doing medical simulation work."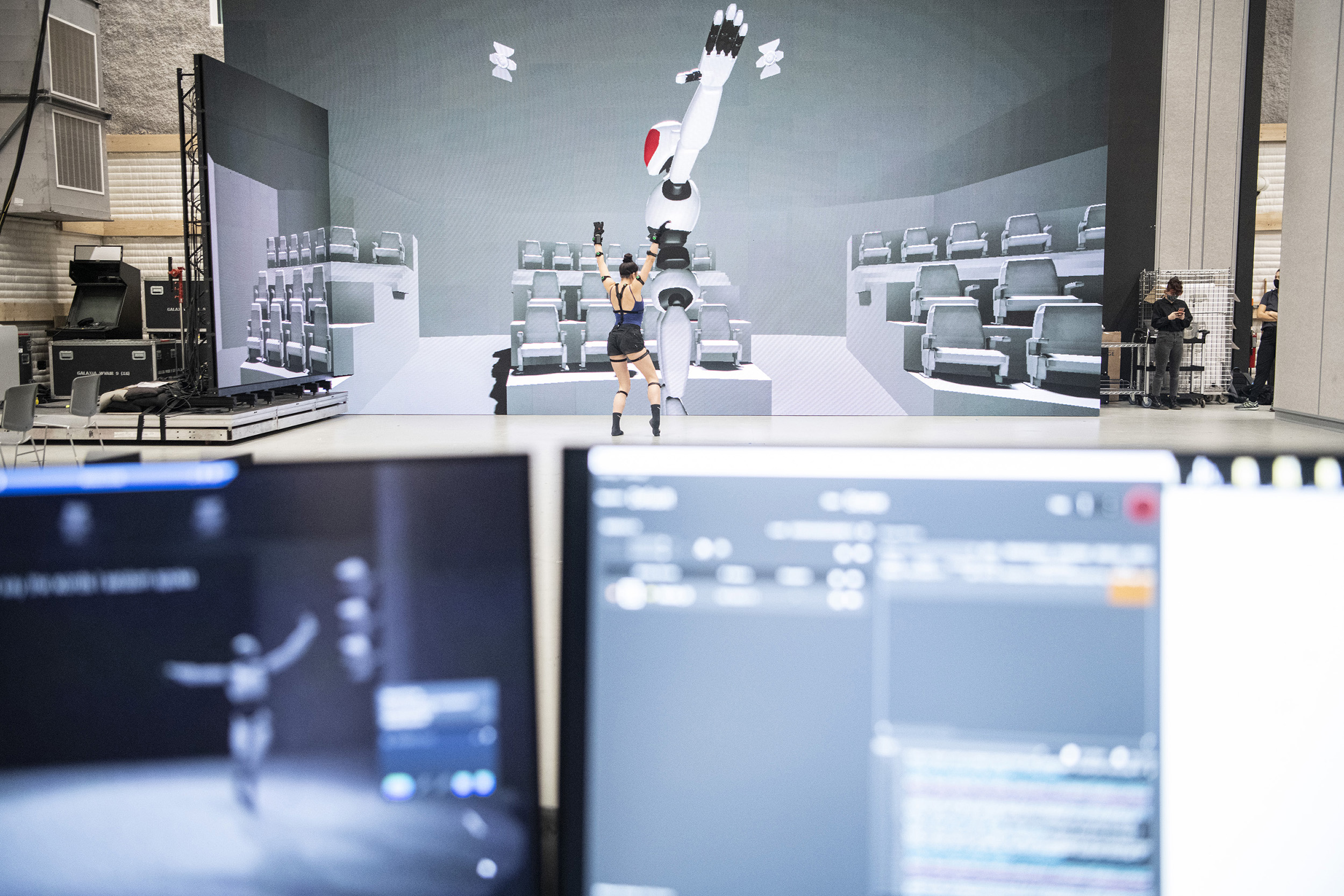 Jaiden Tripi '23
Additional symposium highlights included a pair of keynote panels featuring Meta (formerly Facebook) Reality Labs directors as well as the founder and alumni of University of Southern California's immersive journalism project, JOVRNALISM. 
Incorporating a virtual option with on-campus sessions added a layer of convenience for presenters and attendees who could not attend in person. Event streaming was executed by a team of MAGIC Center student employees under the direction of Amanda Hughes, technology manager and studio systems specialist. 
Each session led to thought-provoking discussion about XR technology's impact on fields such as health care, education, theater and much more.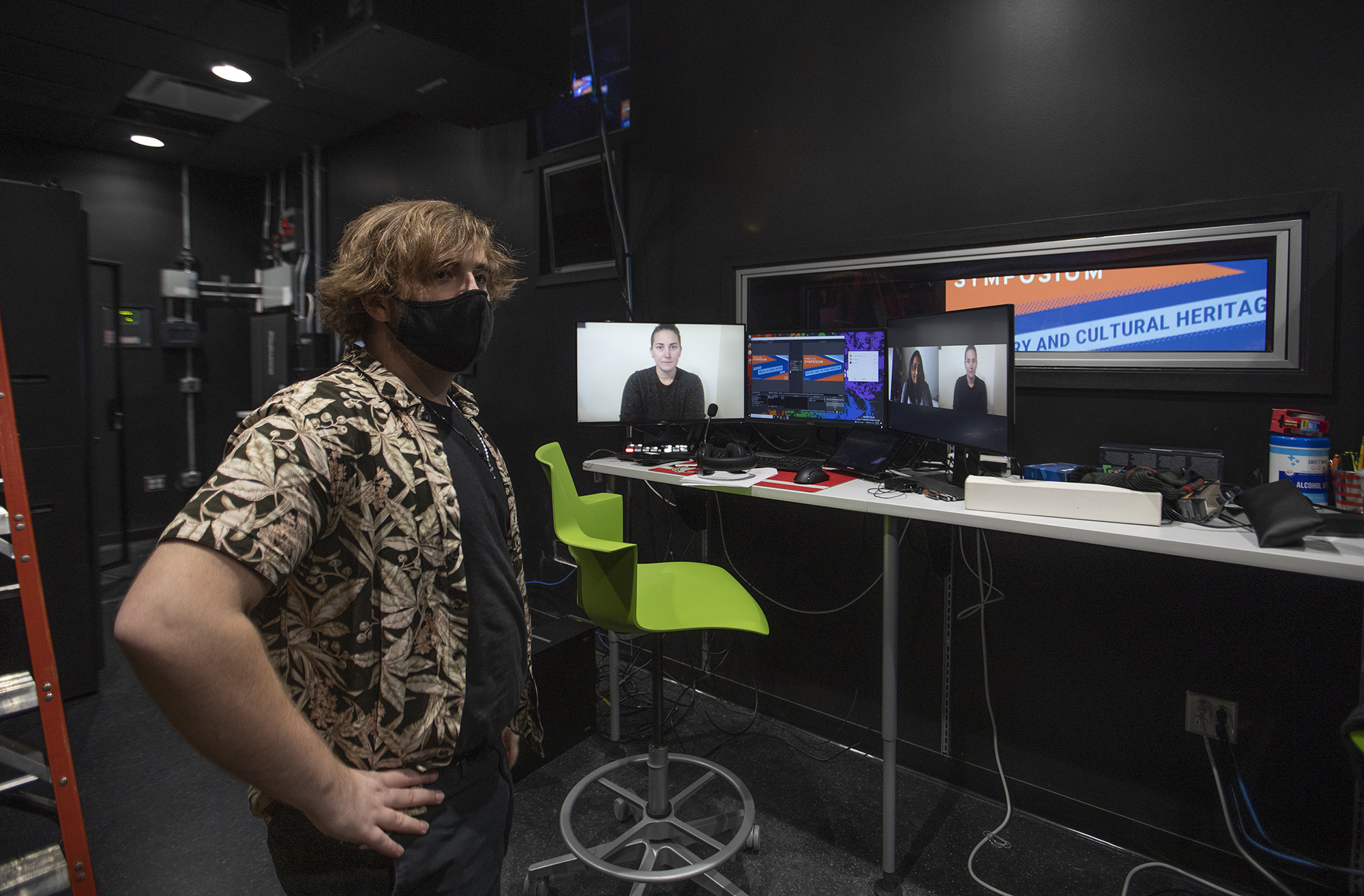 Sophie Proe '24
Since forming in 2016, Frameless Labs has made cross-disciplinary XR research at RIT more accessible than ever. It has also facilitated successful collaborations between RIT and other institutions, including University of Rochester.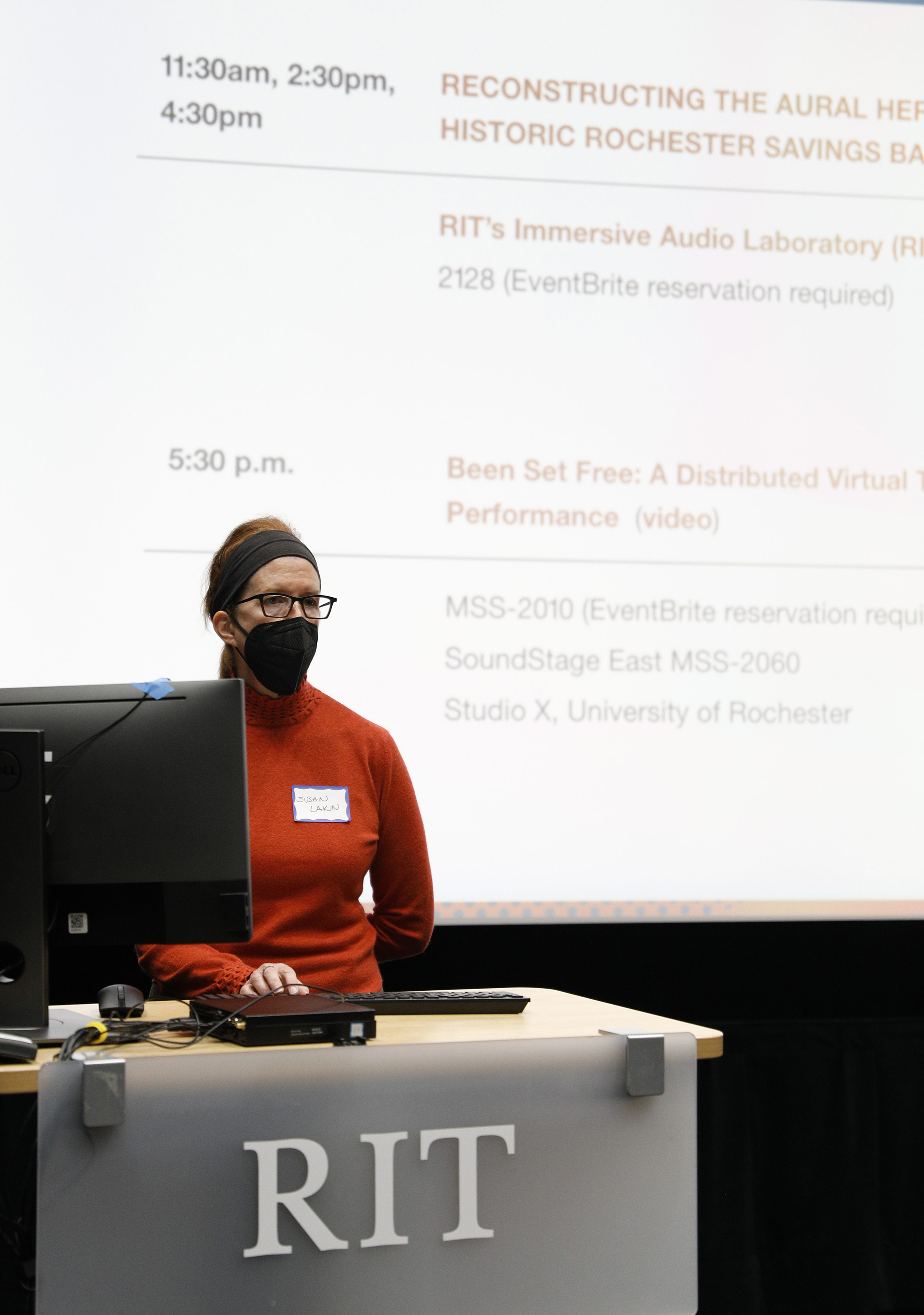 Jesse Wolfe '22
Staying on the cutting edge of XR research is paramount for Frameless Labs and its affiliated faculty and staff — who work in areas ranging from accessibility, manufacturing, XR systems and games to marketing, storytelling and UX design. Frameless Labs also emphasizes connecting students with companies interested in hiring XR skill sets. 
"Frameless has given us a venue to enable more of that cross-disciplinary engagement," Lakin said. "The growth of Frameless parallels industry innovation in the XR space."
This year's Frameless Labs XR Symposium was sponsored by Darkwind Media, DB Creations, Meta, Optic Sky and Vuzix. 
Frameless Labs' influence is touching the curriculum of several programs at RIT as well. RIT ranks No. 6 nationally on the 2021 AR/VR College Rankings from Animation Career Review.
Topics