May 4, 2021
by Nikita Fox
Students' varied backgrounds gives grad program distinctive identity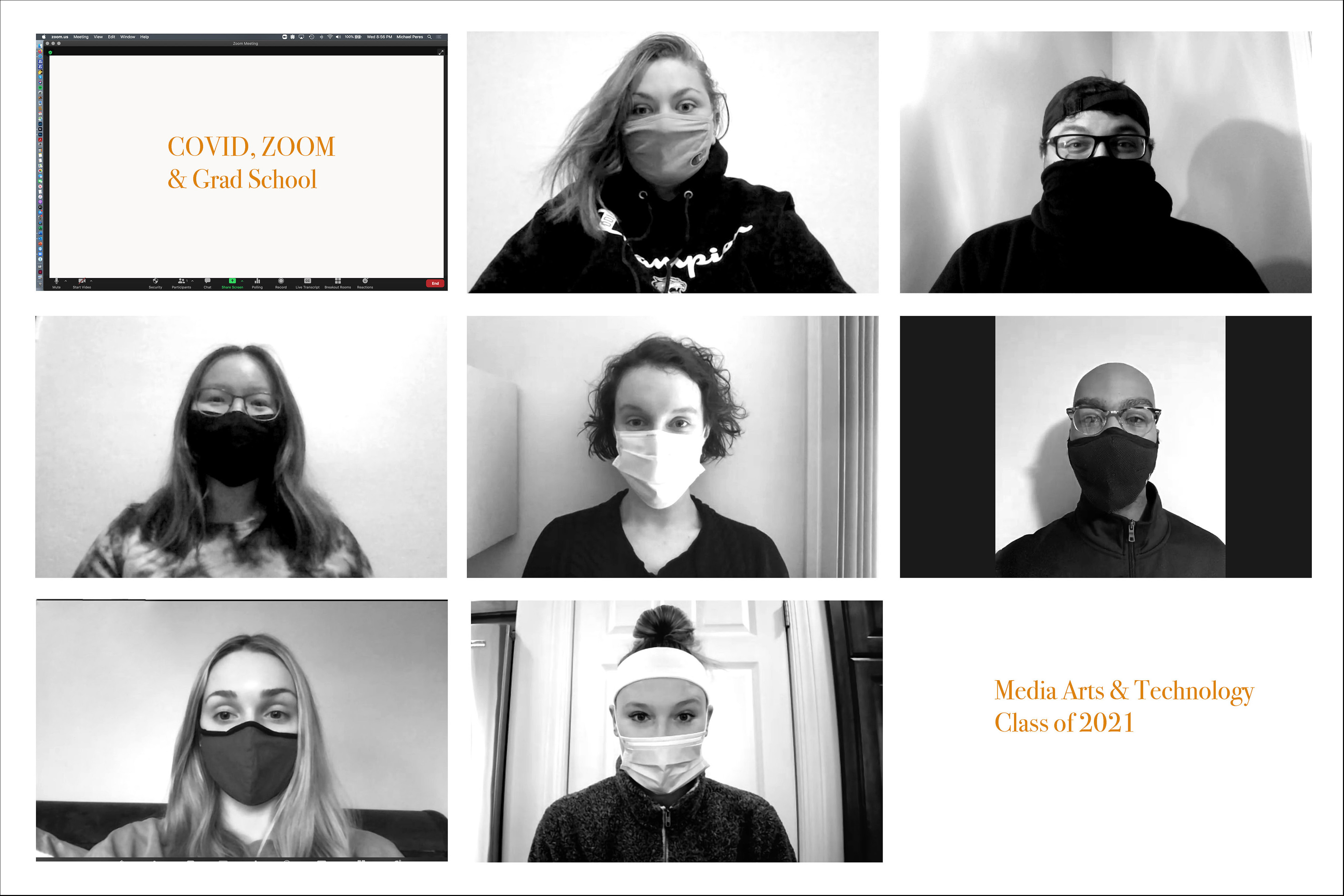 By Nikita Fox, graduate assistant in RIT's Media Arts and Technology program
When beginning a graduate program, many students would expect most of their peers in the program are from a similar background as theirs. 
If a student started an MFA degree program in photography, the expectation is students would have photography degrees or a general art background. But the Media Arts and Technology MS program — housed in RIT's School of Photographic Arts and Sciences — is unique and invites students with various backgrounds to join the program. This year's graduating class of seven does not have a single student with the same undergraduate experience as a classmate.  
There are similarities between a few of the students' future goals, such as a shared interest in pursuing a career in music, but each has a different undergraduate degree. Joshua Carter earned a degree in communications from St. John's University with a minor in business management, while Alexa Ralston has a degree in business management from Nazareth with a minor in entertainment and recording industry.  
Business management was also Giancarlo DiMascio's undergraduate degree, but he graduated from RIT. DiMascio has a heavy interest in sports (specifically golf) and previously worked for the Professional Golfers' Association before coming back to RIT for graduate school.  
Allie Bergemam has a similar background to DiMascio and Ralston, but instead of business management, her degree is in business marketing from Le Moyne College.  
Students also enter the program with applied art backgrounds. Amanda Dixon and Emilie Ravena both earned design undergraduate degrees, but different types. Dixon studied visual communication design at Nazareth College, with a minor in digital marketing design, while Ravena earned a BFA degree from RIT in new media design.  
Dixon focused on traditional graphic design while Emilie focused more on UX design. 
Lastly there is Nikita Fox, who has her undergraduate degree in photographic and imaging arts from RIT with a minor in imaging systems. She focused her time during her undergraduate studies in advertising photography as well as color management.
"When I initially started the Media Arts and Technology program, I didn't know what to expect," Dixon said. "I figured it might be like what I studied in my undergrad, visual communication design, but after talking with Professor Michael Peres, I learned that students in the program come from very different backgrounds
"I actually didn't know about this until I started the program. Attending grad school for me was a last-minute decision because of COVID-19. I am glad, however, that I was accepted and got to study with everyone in this intense program." 
Whether a student's background is in art, business or a STEM field, there is a place for them in the Media Arts and Technology program. It allows students to grow their skills and expand their knowledge into new endeavors. 
About the author
This feature was written by Nikita Fox, a 2020 RIT alumna who earned a BFA in Photographic and Imaging Arts. While finishing her undergraduate degree she knew that she wanted to pursue something more and started looking into master's programs at RIT. She chose the MS in Media Arts and Technology because it allowed for a deeper dive into business and media applications. Fox works as graduate assistant for the School of Photographic Arts and Sciences, Dining Services and is an undergraduate teaching assistant.
Topics