April 26, 2022
by Luke Auburn
First graduates from RIT's partner charter school poised to receive their RIT degrees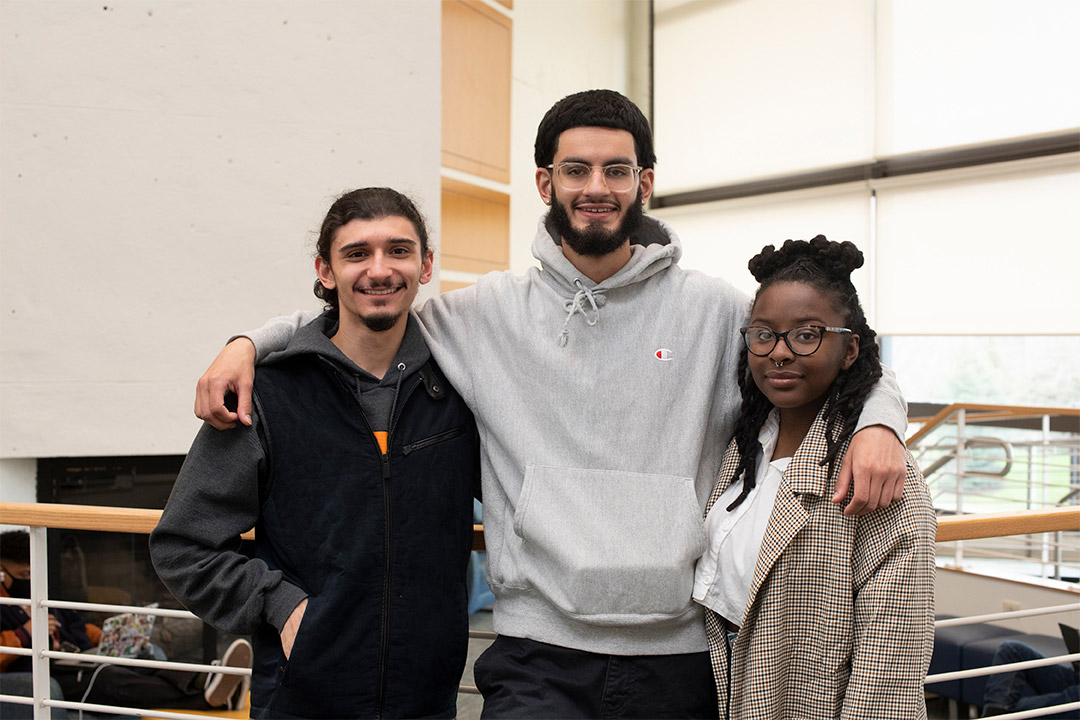 A trio of trailblazing students who came to RIT from the university's partner charter school will fulfill a long-term promise when they receive their college degrees at commencement this May.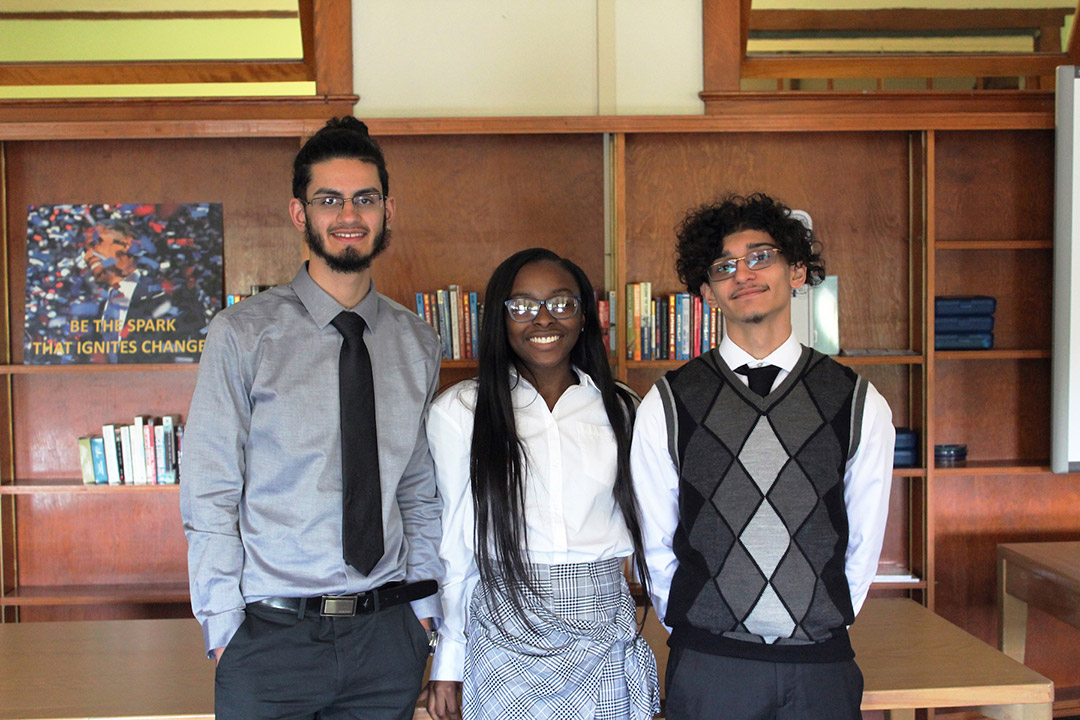 Victoria Bragg
Zaid Abdulsalam, Ismael Cortes Jr., and Justice Marbury were among the first students to enroll at Rochester Prep High School, launched in 2014 in collaboration with RIT with the mission that all students will graduate from high school, be accepted into, and graduate from college. They were the three students from the first graduating class in 2018 who chose RIT as their destination.
"RIT Trustee Ron Zarrella's 2013 donation to RIT to engage in a partnership with Rochester Prep High School was a measure of his confidence in both schools and in the power of their collaboration," said Kit Mayberry, senior advisor for student diversity outreach, enrollment, and retention. "That these three students are graduating this spring from RIT reflects just how well placed that confidence was."
Rochester Prep has grown significantly since its launch, when there were only 32 total students in the first graduating class. This year's graduating class is expected to be nearly 100 students.
Read more about the Class of 2022
RIT's graduates shape the future and improve the world through creativity and innovation. Our graduates are leveraging the power of technology, the arts, and design for the greater good. See how they are doing it and what is next for them.
The charter school's bond with RIT also has grown. Since the fall of 2018, 27 graduates have enrolled at RIT, and this year there were 36 applicants from the graduating class.
Abdulsalam, Cortes, and Marbury all became heavily engrained in the RIT community, excelling academically, assuming leadership roles in clubs and organizations, and getting involved in community service. And all three said they took pride knowing they were setting positive examples for their younger siblings.
"I'm grateful everything happened the way it did," said Abdulsalam. "My sister's coming to RIT in the fall and I'm able to help guide her as she comes from Rochester Prep as well. She's getting similar scholarships to those I received, so I kind of laid the path for her and am excited I could help her out in that way."
Zaid Abdulsalam
When Abdulsalam came to RIT as a Destler/Johnson Rochester City Scholar to study medical illustration, he was already somewhat familiar with the campus after he and his peers participated in the partnership's senior capstone project. He said the Division of Diversity and Inclusion Summer Experience program leading up to his freshman year further eased his transition and he was quickly able to get involved in several student clubs and organizations.
Abdulsalam would eventually serve as an eboard member for the ALANA (African, Latin, Asian, Native American) Artists Union and an active member of the Muslim Student Association, Latin American Student Association, and the Organization of African Students. He also joined the Men of Color, Honor, and Ambition (MOCHA) program, a one-year initiative to provide personal, academic, cultural, social, professional, and leadership to undergraduate males at RIT.
The coronavirus pandemic totally disrupted life as he knew it midway through his sophomore year, but the bonds he created with his friends and mentors are what ultimately got him through.
"It's easy to get consumed in your work, so you need to stay connected with people and not fall into a secluded, isolated state," said Abdulsalam. "For my medical classes, my friends and I were able to help each other a lot, going back and forth with different ideas about how to approach problems. Staying in communication really helped."
Now Abdulsalam is applying for jobs in science illustration, 3D modeling, and animation in locations ranging from San Francisco to Connecticut. But he said the connections he forged at RIT will serve him well wherever he goes.
Ismael Cortes Jr.
Being among the first students to graduate from his high school and the first from his family to go on to college initially put a lot of pressure on Cortes, who will earn his degree in management information systems.
"Before college, I knew a few people who went on to school, but never for the same type of major I had gone to," Cortes said. "Asking for class advice was kind of hard because they can't tell you how rigorous your course load will be or what classes you'll take. At first it was a little nerve-wracking, but now I feel like I've grown into the role where I can be a good role model for my brother and give him advice about school and give him the correct way to maintain his focus on what he wants to achieve and not let anything take him off that path."
Cortes quickly found his footing and in his freshman year started attending events held by the Next Generation of Accountants club to learn from guest speakers in his field. He would go on to become an active member of Unity House, serving as treasurer and community service chair. He also served as a peer mentor for students in the Higher Education Opportunity Program.
One of his favorite experiences during his college career was last summer participating in the Simone Center for Innovation and Entrepreneurship's Innovation Fellows Program. It is a full-time, applied experience where students work on scoping the business viability of a new product or start-up concept. He and his team worked with an entrepreneur to develop a business plan and prototype product for a telehealth organization to help people of color connect with mental health professionals with similar backgrounds. Cortes called it an enlightening experience.
He now plans to enter the workforce as an analyst for a few years before going back and pursuing his MBA, with the ultimate dream of becoming an entrepreneur and starting his own business.
Justice Marbury
Being a photojournalism student during the pandemic and during the height of the Black Lives Matter protests in the summer of 2020 was extremely difficult at times for Marbury. She was active on campus when the pandemic hit, serving as president of Unity House, serving as an HEOP peer mentor, regularly attending activities hosted by clubs such as the Black Awareness Coordinating Committee, and helping her friends in Alpha Phi Alpha Fraternity Inc. and La Unidad Latina, Lambda Upsilon Lambda Fraternity, Inc. with their community service. Much of that came to an abrupt halt in March 2020 and life became further disrupted that summer.
"I lived a street over from where Daniel Prude passed away," said Marbury. Prude, a Black man, died after police officers placed a mesh hood over his head and pinned him to the ground. "Being stuck in the house, with protests happening outside, talking about it in school, seeing the pictures, and being Black and getting constantly asked for your opinions was super overwhelming. I remember just sitting in my room crying and thinking I can't believe that is really happening."
Yet she prevailed through the difficult times and as restrictions from the pandemic have lifted, she has taken advantage of exciting new opportunities. In March, she was one of 10 students who spent spring break traveling throughout Croatia, Montenegro, and Bosnia and Herzegovina as part of the research in cultural settings course. She said the trip was transformative not only because it was her first time leaving the country, but also because it was taught by Assistant Professor Makini Beck from the School of Individualized Study, her first Black female professor.
"For me to have my first Black female professor taking me to a different country, that was a great experience," said Marbury. "And Dr. Phillippa Thiuri also went on the trip, so it was an amazing tag team of Black female professors. It was very empowering. I'm not even that interested in research, but they helped me think about photojournalism in a different way."
Marbury is currently weighing employment and fellowship options both locally and farther away from home in places like Chicago. She wants to work in photojournalism for several years and ultimately hopes to get into teaching.