March 22, 2022
by Luke Auburn
Division of Diversity and Inclusion launches new study abroad trip to Croatia
Spring break trip gives underrepresented students a chance to study the region's history and culture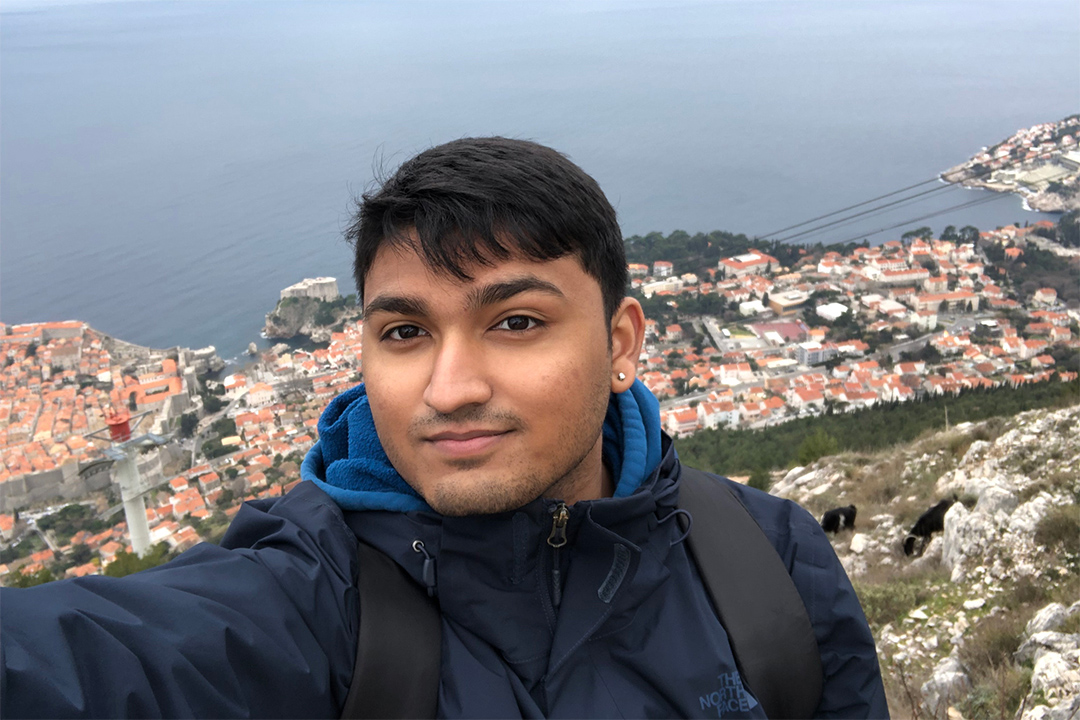 The coronavirus pandemic derailed Jude Seunarine's study abroad plans for more than two years, but the fourth-year mechanical engineering technology student from Branford, Conn., finally got his chance during spring break. Seunarine was one of 10 students who flew to Rochester Institute of Technology's campus in Dubrovnik and spent a week travelling the region and learning about its history and culture.
The study tour was organized by RIT's Division of Diversity and Inclusion and the Office of International Education and Global Programs to provide underrepresented students an opportunity to study abroad. The trip was part of the research in cultural settings course and featured excursions to several cities throughout Croatia, Montenegro, and Bosnia and Herzegovina.
Seunarine and several classmates were originally set to travel to RIT Dubai in March 2020 through the DDI program to study society and culture in the United Arab Emirates, but it was abruptly canceled two days before the flights were set to take off due to the pandemic's eruption. Organizers planned to offer the same trip this year, but conflict in the Middle East caused trip planners to pivot to RIT Croatia. For Seunarine, the trip was worth the wait.
"Traveling to different places has always been a part of who I am as a person," said Seunarine, who is part of the RIT Ronald E. McNair Post-Baccalaureate Achievement Program. "I love to brave different lands and experience the culture of the people native to the area. This trip was different for me because I traveled the farthest I have ever been, farther than anyone in my family has gone."
The students were led by Assistant Professor Makini Beck from the School of Individualized Study and Phillippa Thiuri, lecturer in Saunders College of Business and interim assistant vice president for access and success for DDI. Program Specialist Cecelia Hencke helped organize the study tour and called it an important way to help improve representation amongst those who pursue study abroad.
"Study abroad has not always been accessible to underrepresented students, and bridging this gap has been a priority for the RIT Education Abroad office," said Hencke. "Developing a specialized, faculty-led study abroad program such as DDI in Croatia helps provide additional support for the unique challenges diverse students may experience studying abroad.  It also helps to know that someone who looks like you can study abroad. This helps break down the real and perceived barriers and hopefully inspires more diverse students to pursue these opportunities."
Seunarine called the study tour an important opportunity to feed his curiosity and said he loved connecting with the RIT Croatia students and exploring the region's cuisine and culture.
"The pastries, seafood, and coffee there were delicious," said Seunarine. "I also enjoyed the scenic parts of the trip as I got to witness the majesty of the mountains, hills, and landscape of the country. Standing atop a mountain overlooking Dubrovnik was a sight to behold."
Organizers hope to make the DDI study abroad program an annual spring offering, and they may explore other destinations in the future.
Topics