RIT, NTID make history with Coca-Cola-sponsored film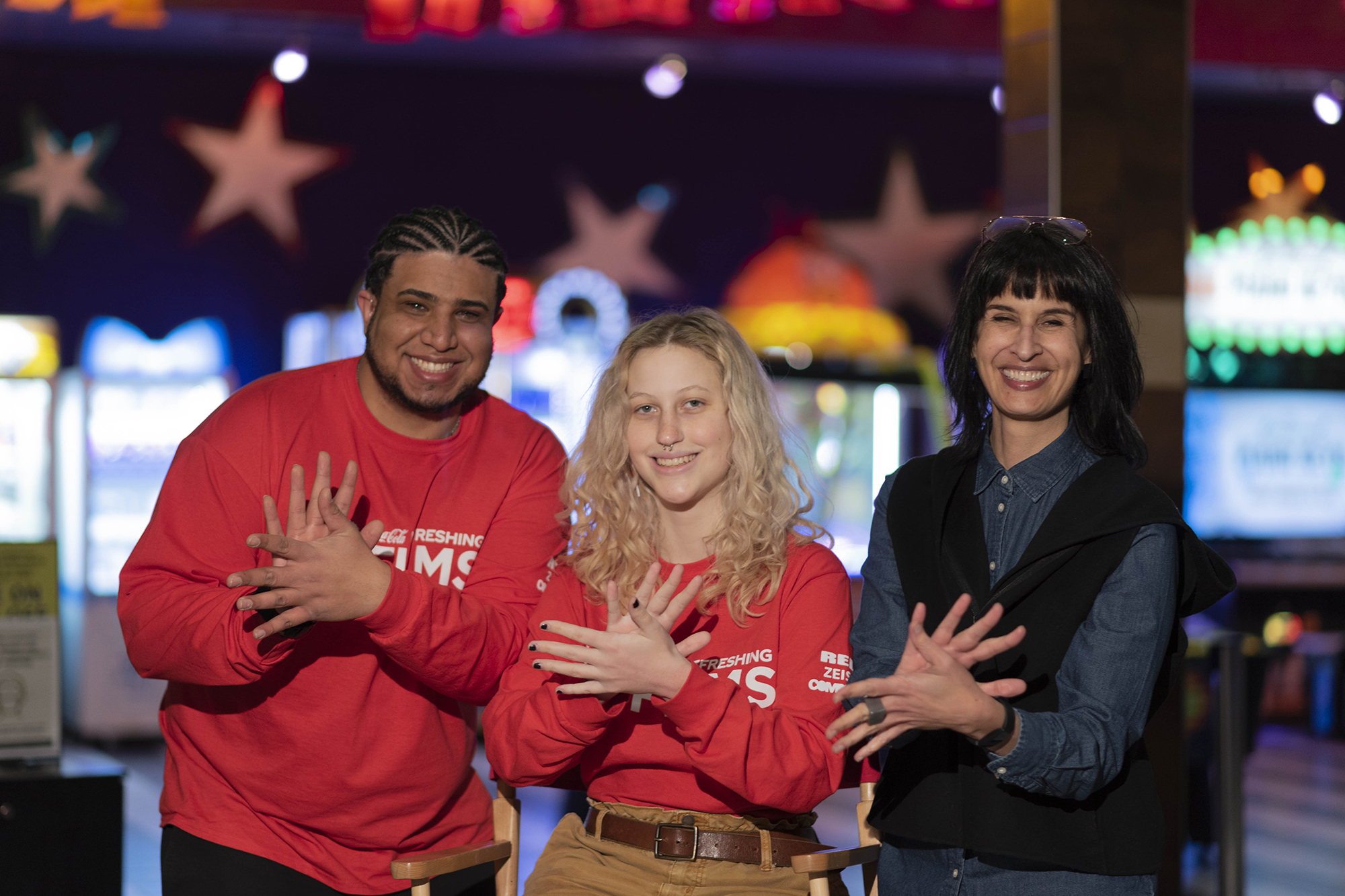 When she found out about the Coca-Cola Refreshing Films program, Anna McClanahan '24 Production Option (Film and Animation BFA) recalled the old "Share a Coke" campaign where popular names were placed on labels.
The prestigious program invites film students across the U.S. to submit a script for a 60-second commercial promoting the beverage. 
"I was thinking about being at RIT and knowing what it's like to be a hearing person who is learning ASL (American Sign Language)," she said. "I thought it would be cute trying to ask someone to see a movie using a Coke can."
As her idea drastically evolved, McClanahan remained resolute in pursuing an authentic story. 
Based on her experience at RIT — which includes performing in joint hearing/deaf and hard-of-hearing productions for the National Technical Institute for the Deaf (NTID)'s Department of Performing Arts — McClanahan put a thoughtful, cross-cultural spin on the classic campaign. To pen a genuine script with deaf and hard-of-hearing themes, she partnered with Film and Animation MFA student Gabriel Ponte-Fleary, who is Deaf. 
Their film, Say Cheese, is among four finalists selected from 41 universities. It is also the first-ever Coca-Cola Refreshing Films (CCRF) entry from RIT's School of Film and Animation.
McClanahan and Ponte-Fleary received an $18,000 production budget and access to high-end video equipment, courtesy of the program and its technical partners RED and ZEISS, to bring their 60-second spot to life for a final round of judging. The winning film, to be announced in April, will screen in movie theaters all over the country. 
"This has been a huge opportunity," said Ponte-Fleary, a Venezuela native who is also a 2018 Visual Media alumnus and videographer/designer for the Department of Access Services (DAS) in NTID. "To be able to bridge the two communities and make something beautiful from it is amazing."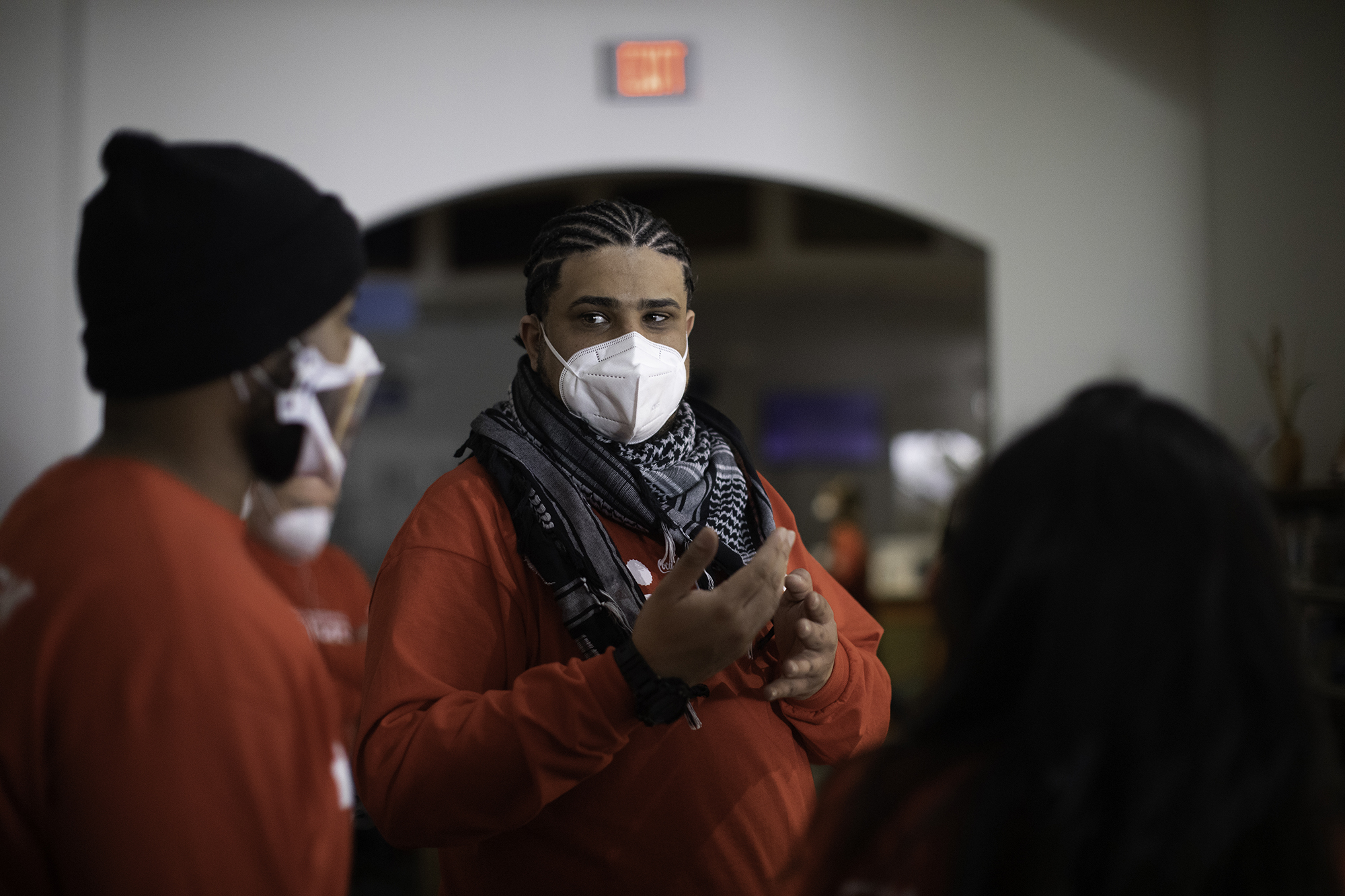 Aimee Finkelstein '24
RIT is home to NTID, the world's first and largest technological college for deaf and hard-of-hearing students.
McClanahan and Ponte-Fleary led a cast and crew that was a mix of hearing and deaf and hard of hearing during two overnight location film shoots in February at the Pittsford Community Library and Cinemark Tinseltown movie theater. They're now editing and preparing the film for professional color correction by CCRF partner Company 3.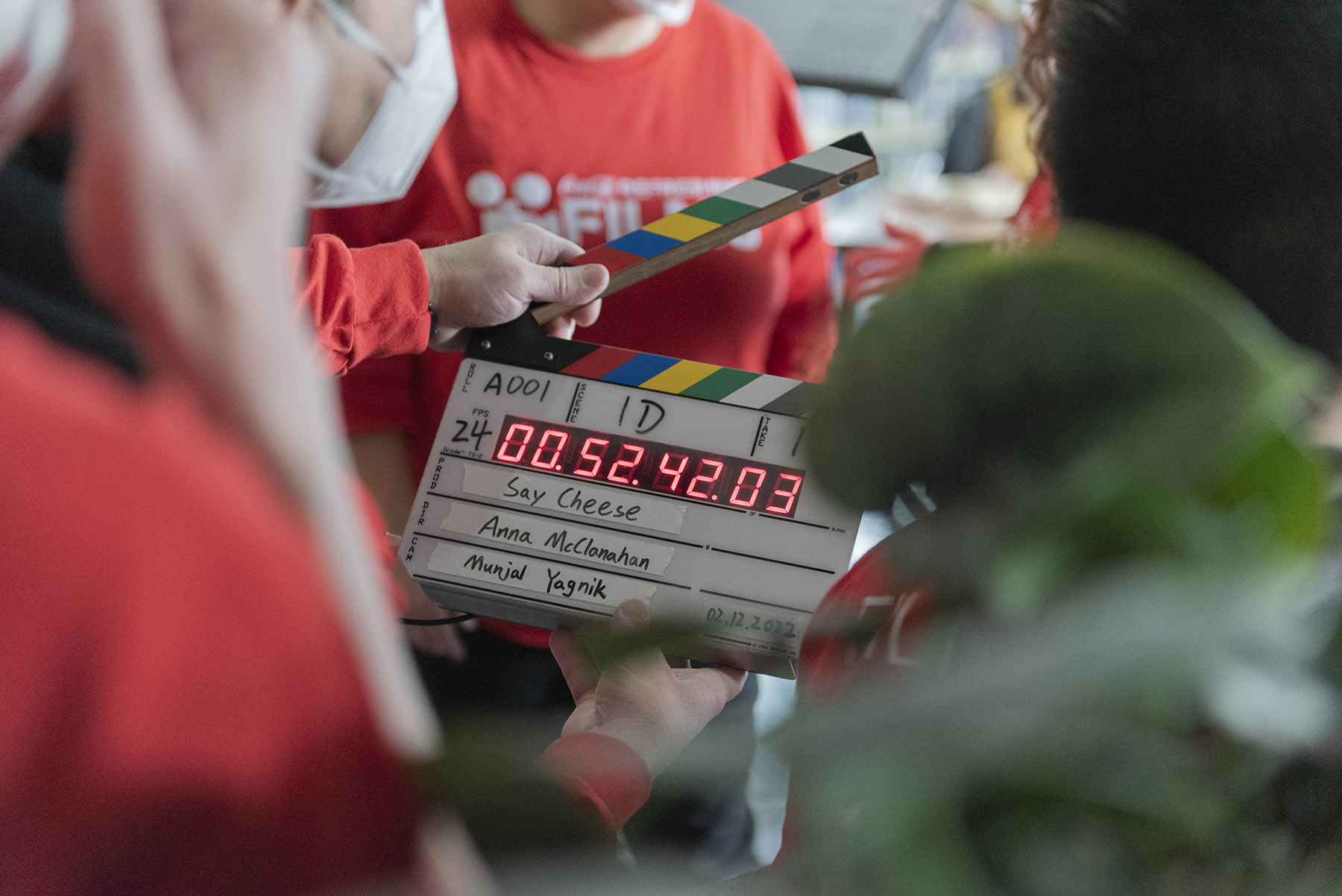 Kashif Ahmed Bin Arif
In addition to co-writing the script, McClanahan is the director and Ponte-Fleary is the producer.
Together, they are a trailblazing duo. 
Say Cheese is the competition's first finalist film featuring a deaf filmmaker since at least 2010 — and likely the only one in the program's 24-year history, according to CCRF Program Director Aviva Kleiner. 
The commercial is a flirtatious tale about Chris — a male, hearing college student — attempting to woo his crush, a female, Deaf classmate named Jessie.
An ASL beginner, Chris asks Jessie to the movies. But he clumsily signs a visually-similar sequence of words, instead asking her if she wants to go to the cheese. After a laugh, they end up in the theater, sharing Cokes and popcorn.
"It's about cross-cultural communication and the bridge found through love," said Shanti Thakur, school director of the School of Film and Animation.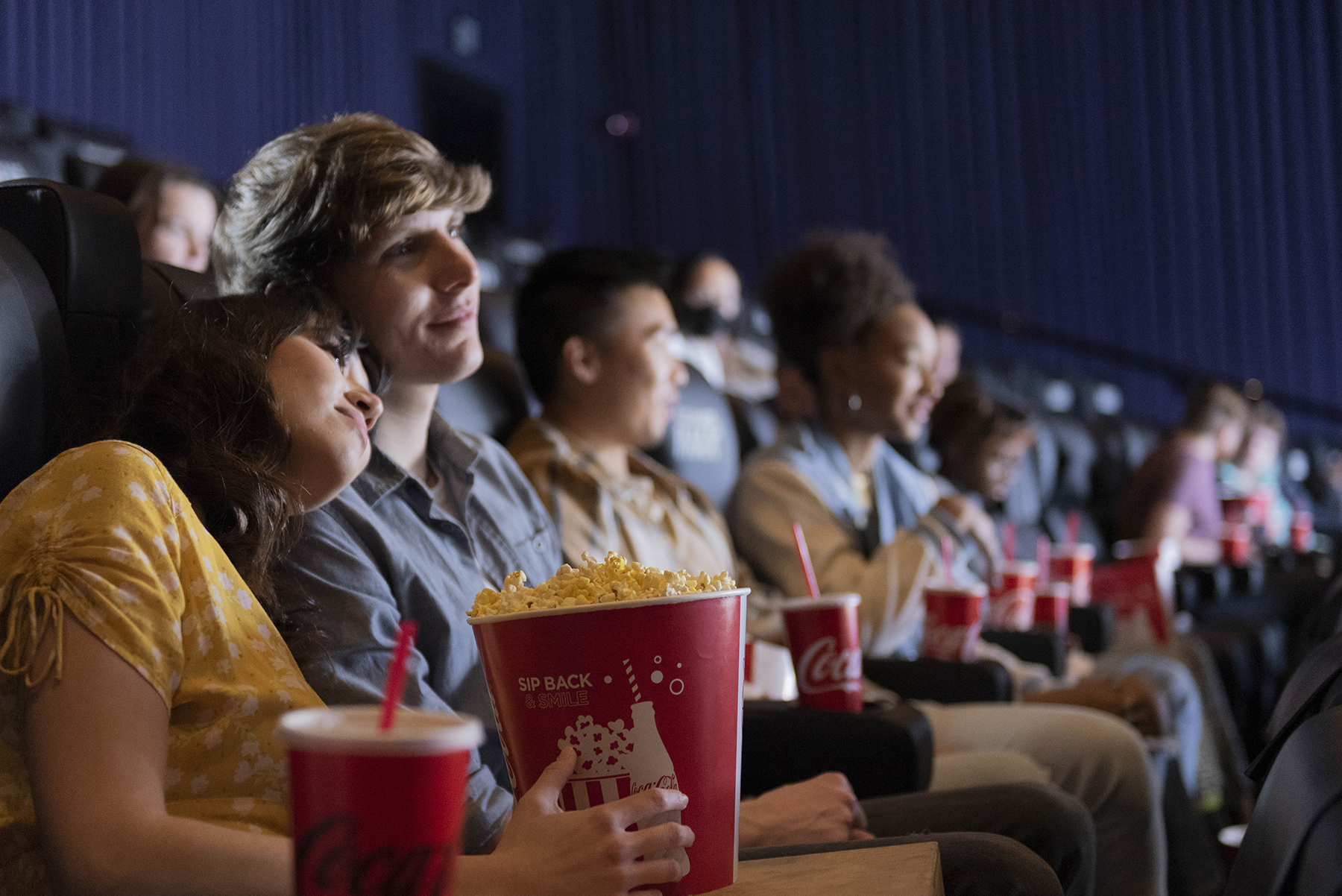 Kashif Ahmed Bin Arif
McClanahan said an inclusive writing process was imperative to making an authentic film.
"I know what it's like to watch a film written by a man who clearly has no idea what women are like," said McClanahan, from California. "That goes for a lot of communities that are excluded from the writers' room. They don't have a voice in something that is supposed to be representing them. So when I had the idea to make a film involving a deaf person, the first thing I needed to do was include someone who is deaf in the writers' room."
Say Cheese and the other three finalist commercials will be judged by a Red Ribbon panel made up of executives from Coca-Cola, Cinemark Theatres, AMC Theatres, studios and other industry professionals.
"(Say Cheese) is a story with a lot of heart," CCRF Program Manager Katie Pryor said. "It also touches on the magic of the movies and how that connects us all."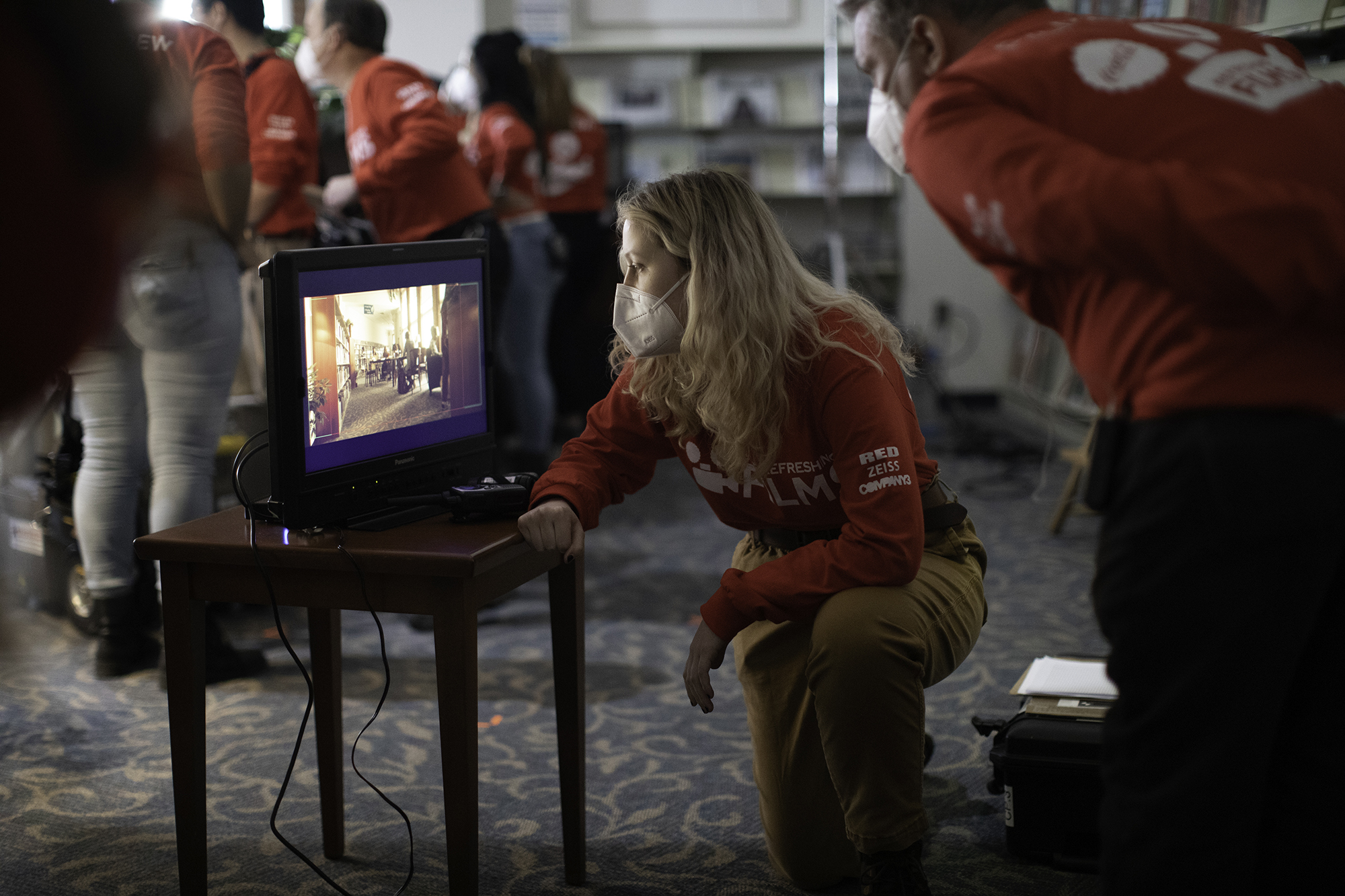 Aimee Finkelstein '24
The eclectic mix of skill sets, personalities and backgrounds harmoniously blended together on set to make history.
"It was so cool to see that all develop on set and get that exposure, to show our culture," Ponte-Fleary said. "I felt like it was a pioneer, opening the doors for opportunities for other deaf people in the future to be involved in other competitions."
All told, McClanahan and Ponte-Fleary enlisted an all-star assembly of dozens of Film and Animation and NTID students, faculty and alumni to help execute the project's logistics, production and editing. 
The expert faculty who provided guidance were Jack Beck (faculty supervisor), Don Casper (post supervisor) Luane Davis Haggerty (casting director) Frank Deese (script advisor), Dave Sluberski (sound advisor), Thakur (pre-production supervisor) and Munjal Yagnik (director of photography).
Victoria Pon '21 (Psychology), who played Jessie, was among the Deaf and hard-of-hearing cast and crew. Interpreters from NTID ensured effective communication across the entire team. 
Aimee Finkelstein '24
In-kind support for the project was provided by the School of Film and Animation, the College of Art and Design and NTID.
"Gabriel, or 'Gabo' as he is known, is an amazing student leader and dedicated staff member," said Gerry Buckley, NTID president and RIT vice president and dean. "He also is the staff advisor for Hands of Fire, and collaborated with another NTID alumnus, Kashif Bin Arif, to supply still photography for this project." 
Hiring a qualified production crew was streamlined by a support network already embedded in the School of Film and Animation. McClanahan said it's commonplace for students to enthusiastically assist with classmates' films.
"There was no shortage of people willing to help us out in any department," McClanahan said.
As Thakur stood on set, she couldn't help but feel grateful to be part of the RIT community. 
"Seeing the seamlessness of faculty and students working side by side, seeing hearing and deaf and hard-of-hearing students working side by side, that was how we're leading examples of how film productions can be nationwide," Thakur said. 
For the latest updates and behind the scenes of Say Cheese, follow the project on Instagram, and follow CCRF on Instagram for additional updates.