Multi-million dollar animation renovation fosters collaboration, community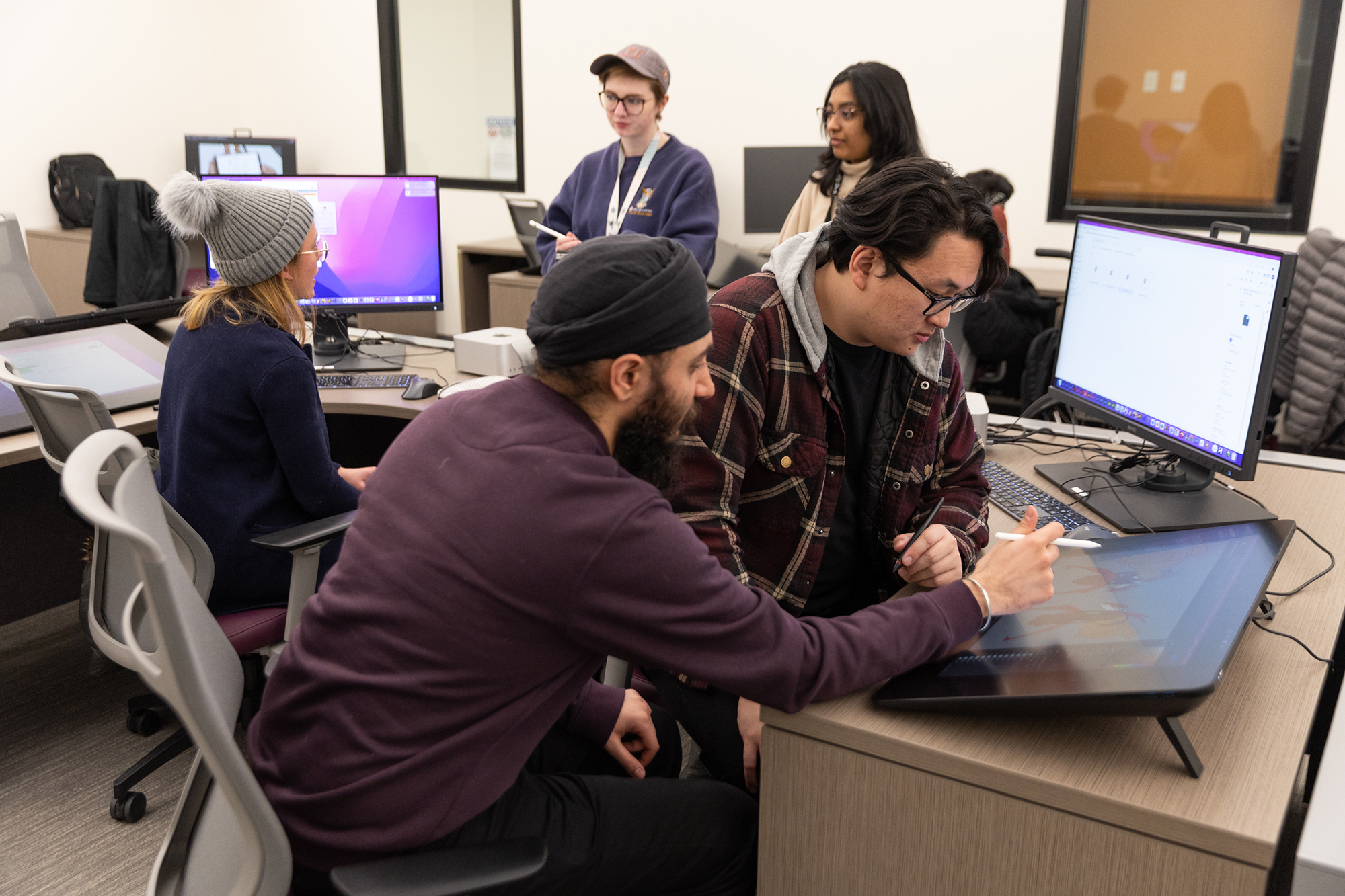 RIT's School of Film and Animation recently unveiled a reimagined animation facility outfitted with the latest technology, resources, and increased space.
The 10,000-square-foot renovation and expansion of the animation complex provides access to new 2D, 3D, and stop-motion classrooms with individual workstations and Cintiqs, an animation drawing studio, state-of-the-art undergraduate and graduate animation labs, a stable of large LED screens for pre-visualization of work, and more.
"This new space is an environment where you want to be creative — it's spacious, beautiful, and comfortable," said Shanti Thakur, director of the School of Film and Animation. "Most importantly, it invites School of Film and Animation students to collaborate, whether it's in an animation lab or kicking back on a comfy sofa to exchange ideas. We wanted to create a world within a world, where state-of-the-art facilities fuel imagination to produce ideas of the future."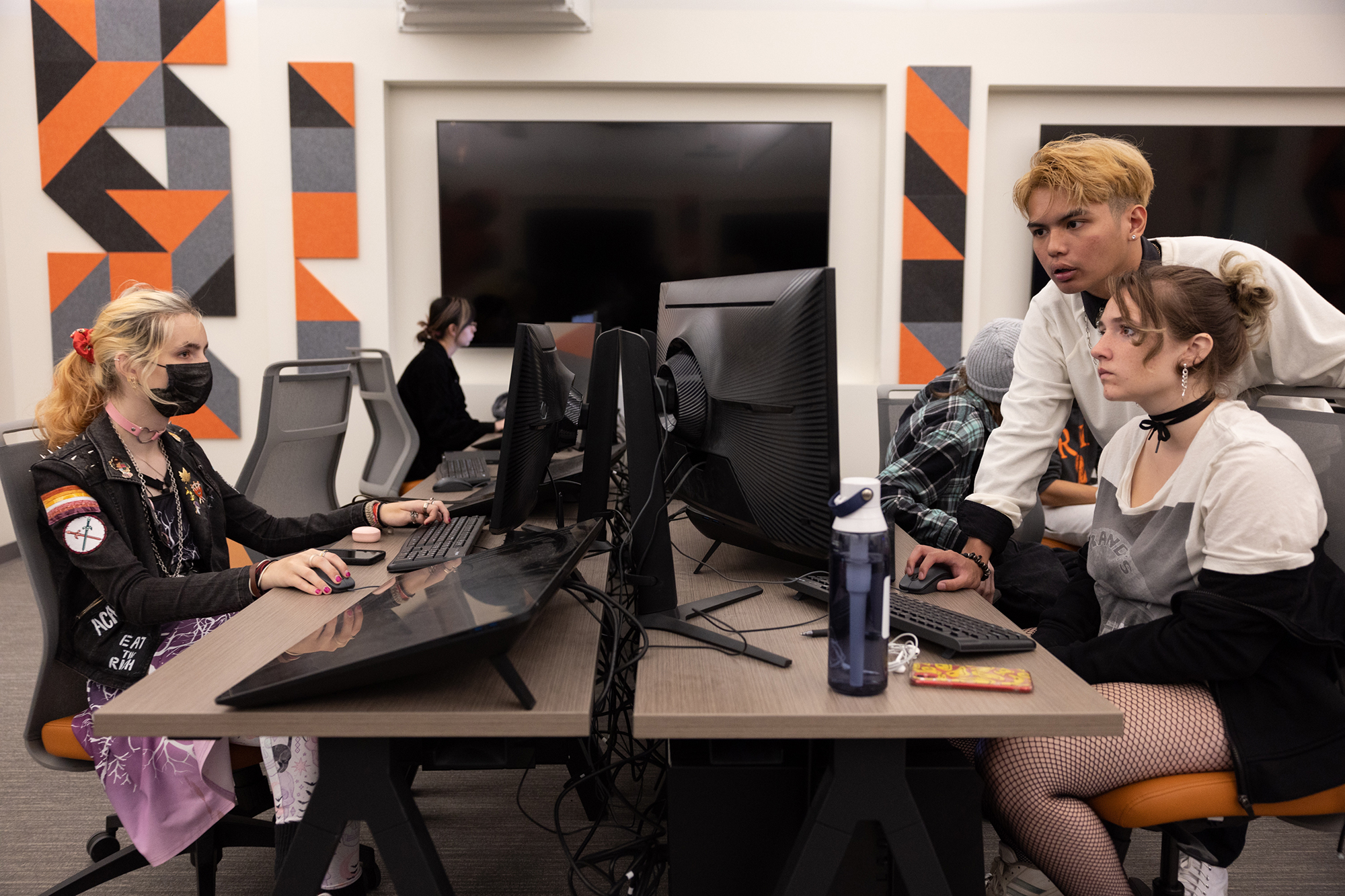 Quinn Freidenburg '24
RIT offers an animation option within the film and animation BFA program and a film and animation MFA program.
"This renovation creates a great space to build our community, specifically for animators, but also the School of Film and Animation as a whole," said Associate Professor Brian Larson, undergraduate program director of animation. "Such great care was taken to encourage sharing concepts, showing progress, and seeing what any class or year level is up to. Networking is so important in the creative fields and this space will get students comfortable with the type of interactions that can literally be life-changing."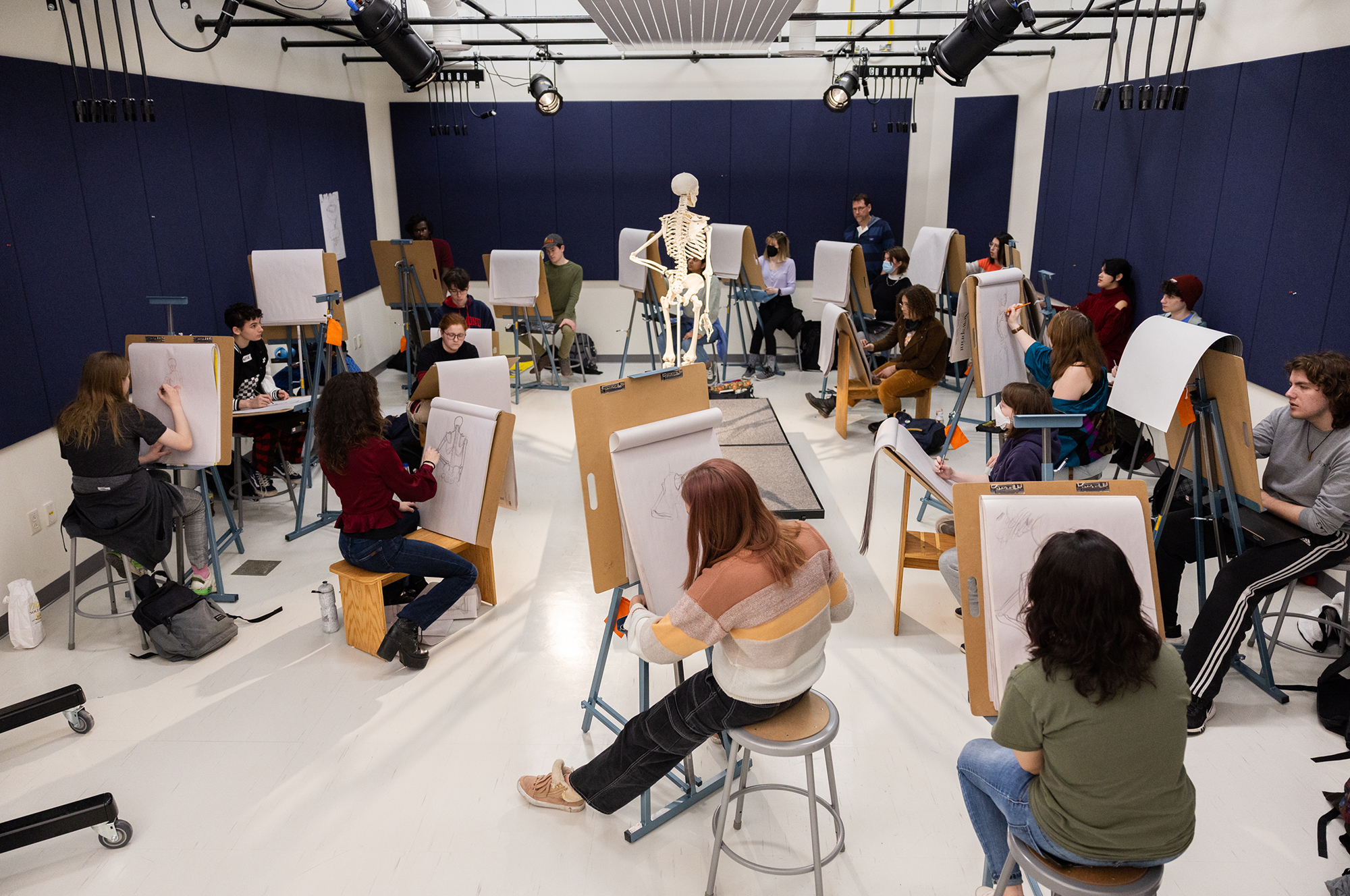 Quinn Freidenburg '24
The $4 million project included the following additions and upgrades: 
Large LED displays across all spaces.
An animation classroom with light tables and a connected 18-station down-shooter lab.
Animation drawing studio with easels and digital multiplex lighting.
Undergraduate animation lab with 20 desktop computers, Cintiqs, and monitors. The space was specifically designed for animators with variable indirect lighting and bowtie work surface tables. It also includes a lounge area and a large LED screen to pre-visualize work or show work to peers. 
New 2D and 3D animation labs.
Graduate animation lab with new desktop computers and Cintiqs.
Upgraded stop-motion studios.
Lounge with LED screens displaying student and alumni work.
"Upgrading and renovating our impressive facilities is just one area in which we continue on this incredible upward trajectory," said Todd Jokl, dean of RIT's College of Art and Design. "From our new animation facilities to our tremendous faculty to our stellar academic programs, the College of Art and Design is proud to be a leader at the intersection of technology, the arts, and design — central pillars to what makes RIT a world-class university."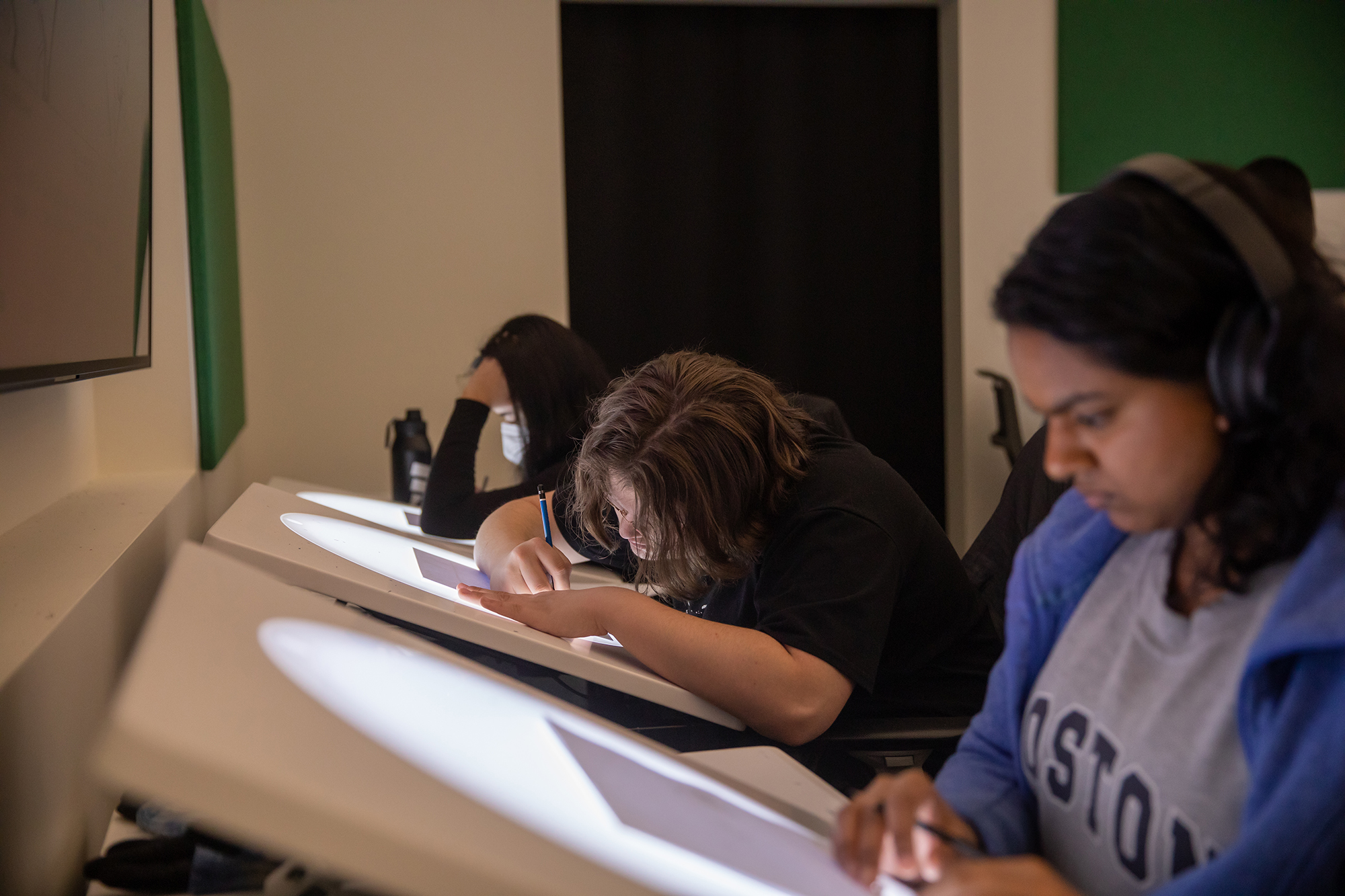 Sophie Proe '24
Senior Lecturer Kevin Bauer, graduate program director of film and animation (MFA), fondly views the School of Film and Animation as a place where professional relationships form and continue after graduation. He said the renovation can further bolster that support system.
"Having this new space offers students more access to dedicated labs and lounges, giving them an opportunity to talk to and collaborate with people who are maybe not normally in their classes," he said. "I can't wait to see what types of ideas are sparked during these conversations and look forward to the impact the renovation will have on our program in the coming years."
Quinn Freidenburg '24
The new animation complex suits a program that has grown into one of the best in the country. RIT is consistently ranked among the top 10-15 animation schools by Animation Career Review and other rankings. The School of Film and Animation receives high marks for its academic reputation, admission selectivity, world-renowned faculty, geographic location, and facilities — which are now an even stronger defining characteristic. 
The upgrades complement the access students already have to the adjacent MAGIC Spell Studios, a premier media publishing facility where a community of animators, filmmakers, game designers, and programmers collaborate.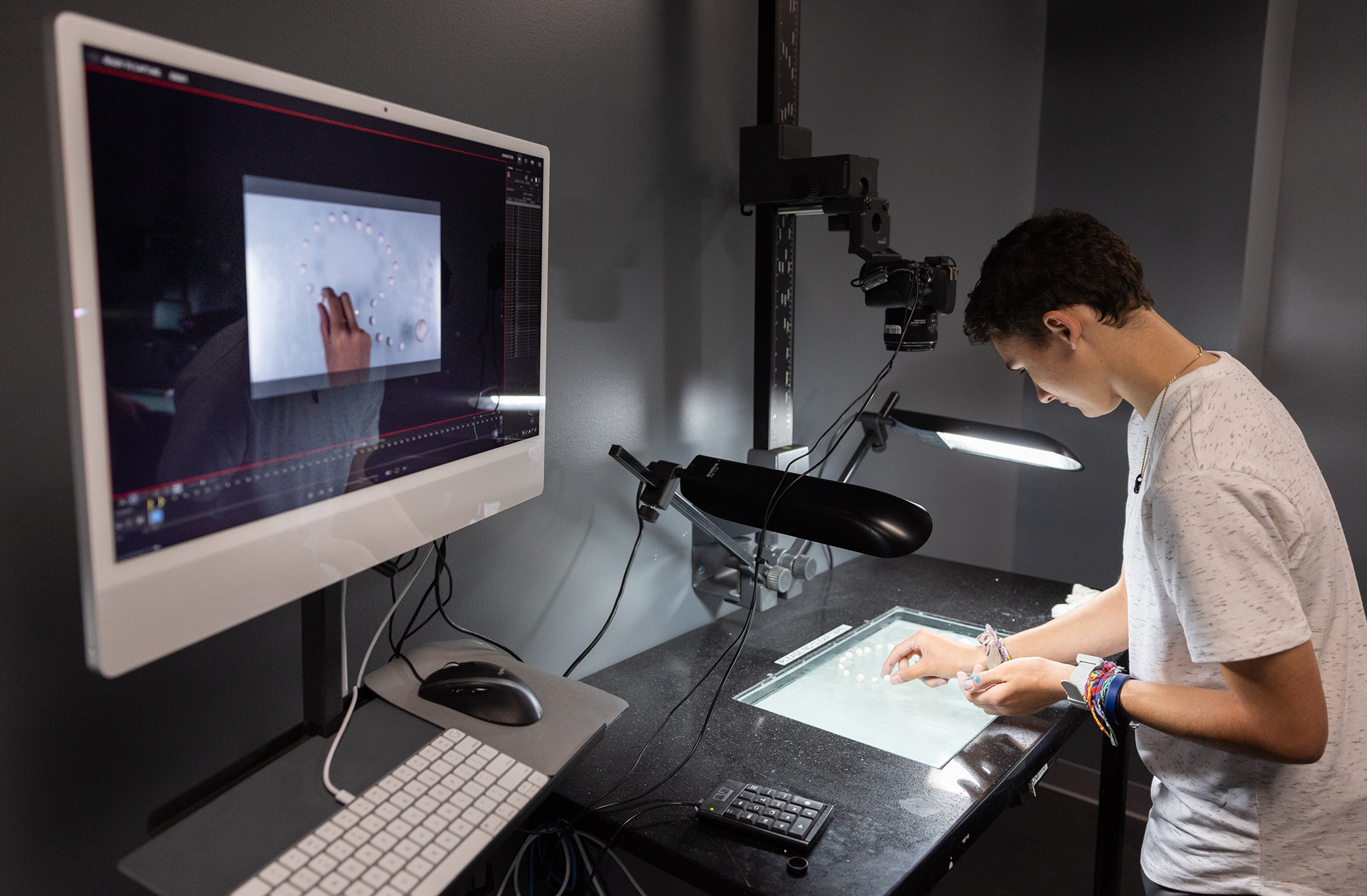 Quinn Freidenburg '24
Members of the College of Art and Design's facilities staff were integral in identifying the areas of need and the execution of the project's logistics, including the School of Film and Animation team of Chief Engineer Bill Landers, Facilities Coordinator Laura Blank, and Operations Manager Brandi Patten, and College of Art and Design Director of Operations Mike Dear.
To make room for the School of Film and Animation footprint expansion, School of Art painting studios were renovated and relocated from the A level of Gannett Hall to the third floor. The new painting studios include new lighting fixtures, flexible, large personal work areas, a ceiling grid, epoxy floor, and the long-term possibility of installing north-light windows to allow natural light into the space.
Those projects, along with a $3.5 million upgrade of the School of Photographic Arts and Sciences' facilities and other planned work, are all part of a five-year master plan for the College of Art and Design. The master plan's vision centers on renovating, rejuvenating, and transforming spaces to meet the college's growing demands and bolster its place as RIT's creative hub at the intersection of technology, the arts, and design.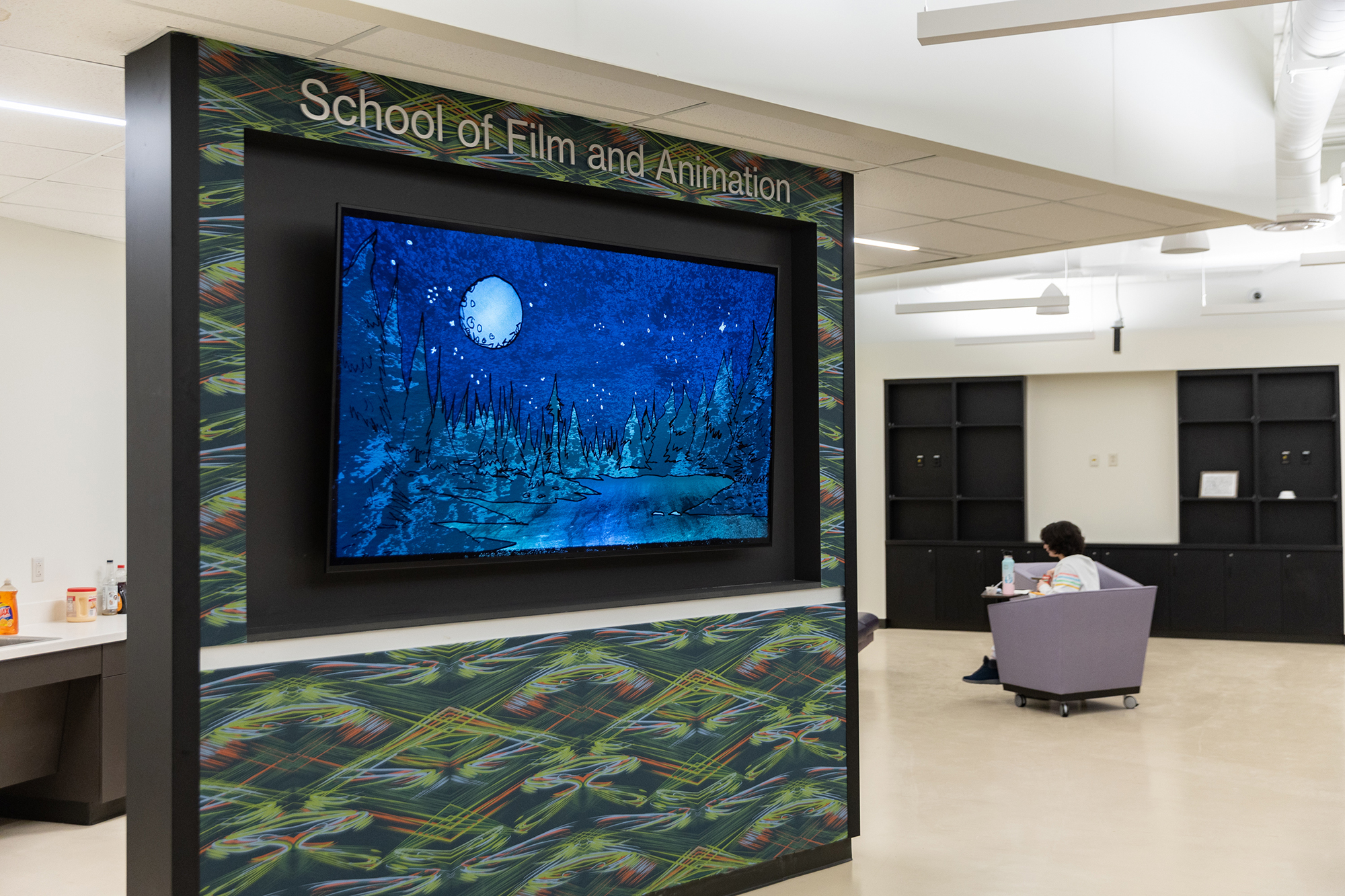 Quinn Freidenburg '24
Topics