Science for the Arts
The BS and MS programs and research entities in RIT's College of Art and Design share a common mission as the sciences for the arts. Together, our science-based programs, as well as the Image Permanence Institute, engage in science and art to advance communication, promote innovation and engineer potential solutions.
Photographic Sciences
Photographic Sciences is unique to RIT as a BS degree program that gives students the opportunity to study both photography for the sciences (medicine, forensics, biology, physics) as well as the science of photography as a technology.
Students learn the tools and techniques to provide unique imaging solutions to practical problems, in addition to ensuring that the imaging outcome is what is needed in a particular application. The background and education span photography, video, optics, programming, science and math, as well as specialized, one-of-a-kind electives in color measurement, ophthalmic imaging, photomicrography, high-speed photography, and photographic instrumentation.
Graduates of the program go on to a wide variety of imaging and photographic applications positions — such as medical and scientific photography, image quality, analysis and optimization — and include fields as specific as automotive imaging, ophthalmic imaging, high-speed photography for the aerospace industry, or photomicrography.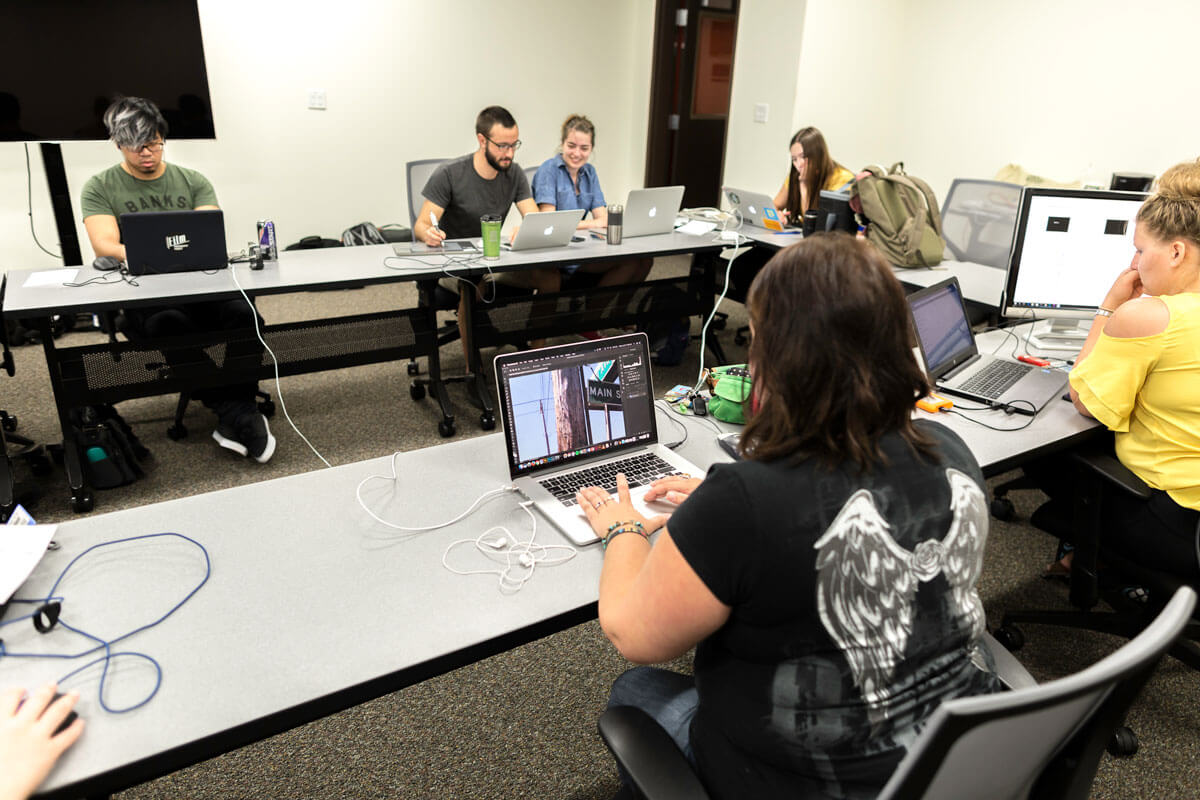 Fact and Fiction of Images
RIT was part of a select group of world-class researchers studying the fact and fiction of imagery in today's digital culture. The findings were used by government and forensic agencies to combat issues that question the credibility of image and video content. Led by Professor and Program Director of Photographic Sciences Christye Sisson, a team of faculty and students — from Photographic Sciences, Motion Picture Science, Imaging Science and Media Arts and Technology — helped develop an algorithmic-based platform that allows government and law-enforcement officials to precisely detect image manipulation. Sisson was RIT's principal investigator for Project Medisphere, a three-year project funded by the U.S. government.
RIT's research goal was to automate the detection of image manipulations, provide detailed information about how the manipulations were performed and determine the overall integrity of visual media. The RIT team created photo manipulations — based on what real-life "fake news" creators might attempt — for other groups around the world to test their detection algorithms on.
The students' main responsibilities included capturing high provenance (HP) data — photography or video recording guided by stringent capture guidelines — and chronicling the source of image manipulations. The School of Photographic Arts and Sciences' well-stocked Cage allowed students to work from a wide range of capture parameters. They then performed the manipulations using different editing tools and benchmarked them against standard algorithms of detection.
Capstone Research
The RIT Photographic Sciences capstone is the culmination of students' academic careers — of four years of hard work, and most importantly, the product of their experiences in the program. Students choose their own project or topic in the fall of their senior year and work with faculty advisors to achieve project goals over the course of two semesters.
Below are examples of capstone research completed by the Photographic Sciences Class of 2021. See more work on the program's capstone website.
Motion Picture Science
RIT's one-of-a-kind Motion Picture Science program combines science and engineering with imaging technologies used in the motion picture industry. It's a collaborative clash of the left and right brain that prepares students for research engineering roles at technology and entertainment giants. With access to industry standard resources in MAGIC Spell Studios, students engage in forward-thinking research projects that help drive industry forward.
Student Highlights
Motion Picture Science students engage in research projects that span the full spectrum of their professors' work, as well as most areas of the motion picture industry. Working closely with faculty and industry leaders and having access to the state-of-the-art MAGIC Spell Studios, students are equipped to help drive industry forward. Their research is routinely recognized at the Annual Technical Conference & Exhibition of the Society of Motion Picture and Television Engineers (SMPTE), which celebrates innovation and contributions to cinema technology. 
Technological Solutions
From day one in the Motion Picture Science program, students are treated like professionals. In their first year, they collaborate with Imaging Science students to combine their talents to solve a presented problem in the project-based Innovative Freshmen Experience course. Students experience the creation of a system to address a contemporary technological need. 
Past Projects
2020
Students developed an imaging system that reveals information hidden in historical documents. With on-campus classes shifting to online due to the COVID-19 pandemic in the middle of the spring semester, students shifted their workflow as they finalized the device. Students broke into four groups focused on creating supplemental materials for the system: a technical manual, an end-user guide, a research paper and a video documentary about the project.
2019
Students presented their "Virtual Bugs" exhibit at Imagine RIT in 2019. The multidisciplinary class partnered with the Seneca Park Zoo to design a device that creates detailed 3D computer models of rare insects from Madagascar. Students built a dome-shaped imaging system that uses advanced multi-camera imaging techniques to produce intricate models of the bugs.
RIT and the Seneca Park Zoo Society collaborate on a variety of multidisciplinary projects on topics ranging from environmental science to new media and game design. This project was intended to be used by zoo researchers to create virtual reality simulations of the insects' natural habitat, allowing zoo visitors to have a one-of-a-kind immersive experience that will help them learn about these exotic creatures. But the students who worked on the project could see systems like the one they created having an even broader impact on wildlife research and conservation efforts.