Distinguished alumni named for 2022-2023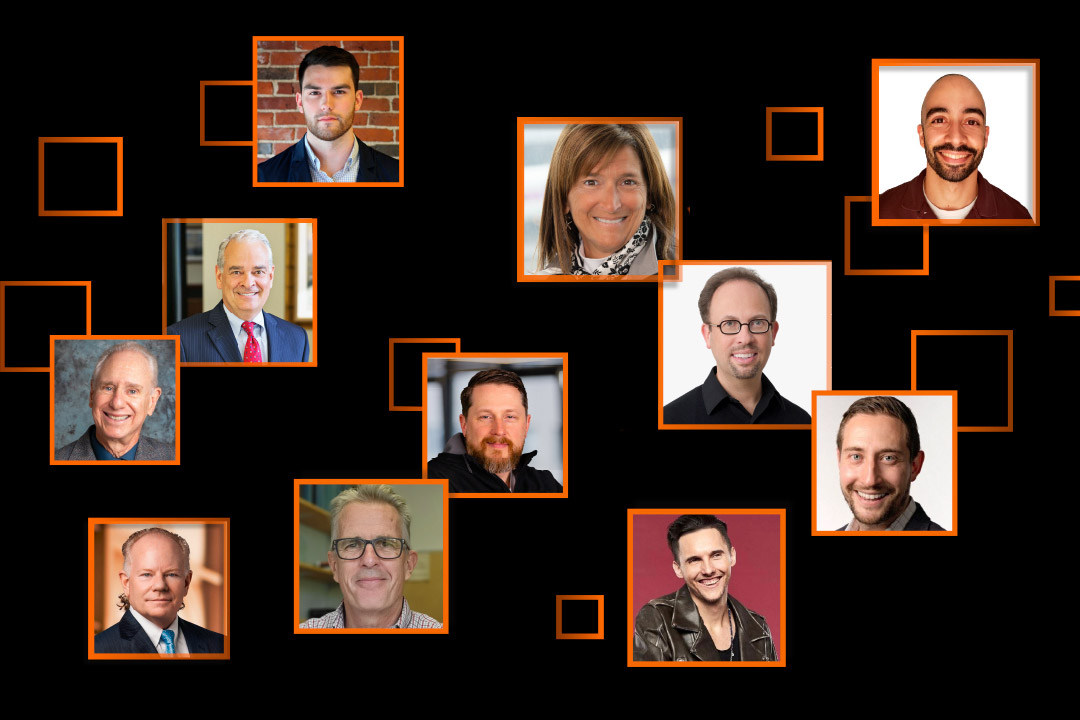 Eleven Rochester Institute of Technology alumni have been awarded Distinguished Alumni Awards for the 2022-2023 year.
The Distinguished Alumni Awards are presented annually by each of RIT's nine colleges, the School of Individualized Study, and the Graduate School to alumni who have performed at the highest levels of their profession or who have contributed to the advancement and leadership of civic, philanthropic, or service organizations.
It is the highest award an RIT college can bestow upon its alumni. The 2022-2023 recipients will be honored during presentations throughout the academic year.
Here are the honorees:
College of Art and Design: John Traver '10 (motion picture science) is the co‐founder/senior principal scientist at Frame.io. Frame.io is a video review and collaboration platform designed to unify media assets and creative conversations in a user‐friendly environment. Today, the company supports nearly 1 million media professionals at enterprises including Netflix, Buzzfeed, Turner, Nasa & Vice Media, and are backed by leading investors such as Firstmark, Accel Partners, Signal Fire and Jared Leto. Frame.io was acquired by Adobe in November of 2021.
College of Engineering Technology: William J. Collins III '83 (electrical engineering technology) is president of airframe services at HAECO, a global, commercial aircraft maintenance, repair, overhaul, and modification company. He has more than 30 years of experience in the aviation industry, leading large manufacturing and service companies that support commercial and military aircraft and the space industry.
College of Health Sciences and Technology: Anna Sack Cameron '84 (medical technology) is global market access and pricing breast cancer and early asset lead for Sanofi-Genzyme. She joined Sanofi-Genzyme in March of 2020 with more than 30 years of diverse commercial experience. Prior to Sanofi-Genzyme, she worked at Mallinckrodt Pharmaceuticals, GSK, and Kantar Health.
College of Liberal Arts: Luiz Freitas '07 (economics) is vice president of experience personalization at Fidelity Investments. Prior to this role, he held analytics and leadership positions at Google, Amazon, and Digitas. He has remained involved with RIT, speaking at events for accepted students in the Boston area and mentoring students.
College of Science: Jonathan Phillips '99 MS (color science) is vice president of imaging science at Imatest, a leading company in image quality testing that supports camera development for companies across industries, including automotive, mobile electronics, security, aerospace, and medical imaging. Prior to joining Imatest, he was the leader of image quality in Google's Android organization from 2015 to 2021, particularly focused on the Google Pixel camera and display image quality.
Golisano College of Computing and Information Sciences: Gleb Reznik '03 (information technology) is the chief information security officer for Consumer and Community Banking at JPMorgan Chase. Previously, he was global chief information security officer at Synchrony and at Capital One for the Shared Technology division.
Kate Gleason College of Engineering: Michael Oshetski '03 (electrical engineering) is founder and CEO of Micatu Inc. Micatu's innovative technology enables decarbonization of the power grid and provides real-time information for predictive and reactive information, enabling a safer and cleaner power grid of the future.
National Technical Institute for the Deaf: Robert Sidansky '77 (social work) retired as an administrator at the National Center on Deafness, California State University. In that role, he supervised the student services division with more than 200 employees, overseeing interpreting, captioning, notetaking, counseling, academic advisement, student development, orientation, and tutoring services for more than 200 Deaf and hard of hearing students annually.
Saunders College of Business: James G. Gould '85 MS (business administration accounting) is the co-founder and president of Alesco Advisors. In addition to his leadership responsibilities, he is actively involved in business development and client service and is a member of the firm's investment committee. Prior to founding the firm, he was president of Clover Capital Management.
School of Individualized Study: Nicholas Lemieux '13 (applied arts and sciences) is the founder and CEO of Athletic Studio, an eCommerce and Web3 platform for pro athletes. After graduating, he worked for Datto and Jebbit before founding Athlete Studio in 2016. Athlete Studio is a RIT Venture Fund portfolio company and was acquired by Dapper Labs in 2021.
Graduate School: Bruce Smith '89, '89 MS, '95 Ph.D. (imaging science) has been a member of the RIT engineering faculty in the Kate Gleason College of Engineering since joining the microelectronic engineering program in 1988. He has developed courses in semiconductor lithography, materials and processing that have been used as the basis for classes at universities worldwide.
Topics