RIT offerings at this year's Rochester Fringe Festival
More than 500 eclectic performances and displays planned Sept. 13-24 in Rochester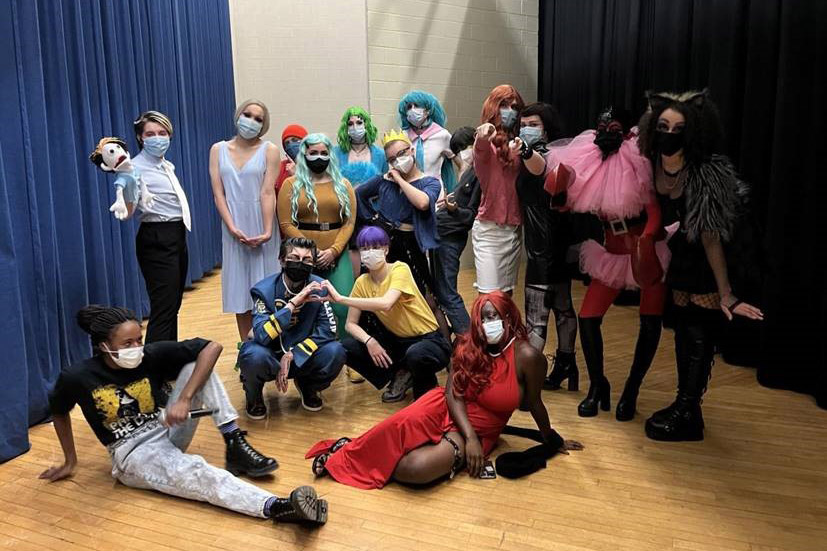 Rochester Institute of Technology students, faculty, and staff will contribute music, dance, comedy, poetry, photojournalism, and more during the 11th annual Rochester Fringe Festival, which begins Tuesday, Sept. 13, and continues through Sept. 24 in downtown Rochester.
More than 500 eclectic performances, are planned during the 12-day festival. And 125 events are free, including all of the 37 RIT performances and exhibits, most of which will be held at Little Theatre #1, 240 East Ave.
Free shuttlebus service to and from campus is being provided for RIT students wanting to attend the weekend events at the festival.
RIT also is a major educational sponsor of the community collaborative event. The festival will take place in more than 30 venues in and around downtown Rochester, featuring world-renowned performers as well as up-and-comers.
Rochester's Fringe Festival is the largest multi-genre arts festival in New York state and is renowned among the world's more than 200 fringe festivals for its large-scale, outdoor, free-to-the-public performances.
"Nancy and I look forward to seeing the creative talents found in our campus community shared with the greater Rochester community," said RIT President David Munson. "This festival, which embraces creativity in all forms, helps us showcase the variety of talent we have at RIT. We're proud RIT has supported Rochester's Fringe Festival since its inception."
"For more than a decade now, RIT students, faculty, staff, and alumni have been able to share their talents with the Rochester community," said Lynn Rowoth, associate vice president for community relations and special events. "We're grateful the Fringe Festival provides the opportunity to bring people together to enjoy the arts in a wide range of venues."
Show details for all of the RIT offerings at this year's Fringe Festival are available online.
The following will be presented at the Little Theatre, 240 East Ave. (* denotes interpreted; CC denotes captioned):
Friday, Sept. 16:
Brick by Brick Community Building Experience: A film and interactive discussion by Tina Chapman DaCosta, RIT's director of Diversity Theatre, tells the true story of her father, Elza "Buddy" Cannaday, the first licensed, bonded, African-American contractor in Cleveland. Cannaday was a brick mason and farmer who tries to rebuild his relationship with the father he thought he knew. Winner of Best Short Film at the San Diego Black Film Festival 2020 and nominated for Best USA Diaspora Short by the Africa Movie Academy Awards 2020. CC 5:30 to 6:15 p.m.
Arkhé: In simple terms, Arkhé utilizes its viewers as direct participants in creative coding. A camera will interpret audience positions within a given, unseen grid. Through the power of functional programming, each participant will become a specific piece of code that will be captured individually through digital display. From this — and based on the participants' position, shirt color, and relative location to other participants — a unique combination of code will be generated and populated visually via projection. Created by Travis Stodter, lecturer, and Jake Adams, visiting lecturer, both from the School of Interactive Games and Media, and RIT students. 5:30 to 10 p.m. in the Little Theatre #1 Lobby.
The Mid-Century Modern Jazz Quartet: The Mid-Century Modern Jazz Quartet plays straight-up jazz from the period known in design circles as mid-century modern. The group features RIT Professor Emeritus Al Biles on trumpet and flugelhorn, Steve Gates on drums and jaw bone, Chuck Dye on 7-string guitar, and Bruce Goldman on upright bass. The band's repertoire includes Miles, Monk, Gershwin, Golson, Porter, Shorter, Silver, Rollins, Ellington, and many others. 7 to 7:45 p.m.
Moko Jumbie: A film directed by Vashti Anderson, assistant professor in the School of Film and Animation, Moko Jumbie depicts a gothic punk Caribbean love story that arises in the ruins of a coconut plantation in rural Trinidad, West Indies. Asha is drawn to Roger, a local fisherman. Their taboo attraction grows despite family disapproval, political turmoil, and mysterious hauntings by unnaturally tall ancestral spirits. The screening will be followed by a Q&A. CC 8:30 to 10 p.m.
Saturday, Sept. 17:
Out of Sync: Permutations: Out of Sync is a live audio and video performance from RIT alumnus Chuck Miller, combining elements of abstract art, avant-garde film, and experimental music. 10 to 10:30 a.m.
Arkhé: 10 a.m. to 10 p.m., Little Theatre #1 Lobby.
Latin Rhythm Dance Club: A Latin Dance Showcase: RIT's Latin Rhythm Dance Club has been teaching and performing Latin dance for more than 10 years. Beyond offering weekly lessons on Latin dance and culture, the club also has a performance team whose goal is to show audiences what Latin dance is all about. Join performers for a showcase of their diverse Latin rhythms, such as salsa, bachata, and more. Noon to 12:15 p.m.
The Deuce of Ukes: Stephen Jacobs, a professor in RIT's School of Interactive Games and Media, and Randall Pollack, two members of the Rochester Ukulele Orchestra, deliver their own versions of popular music from the last 200 years or so. 12:30 to 1:15 p.m.
A Cappella Hour with RIT Surround Sound and Kaminari: Two RIT a cappella groups join forces for an hour of fun vocal music. Surround Sound, RIT's premiere barber shop a cappella group, will kick things off, followed by Kaminari, an all-gender a cappella group that performs all genres of Japanese music. 1:30 to 2:30 p.m.
Mysterium - A Cappella Works Around Pacific Rim: Mysterium, a new project chamber choral ensemble, presents a cappella works by composers from around the Pacific Rim. The program will include pieces in a variety of languages, including Mandarin, Japanese, Korean, and aboriginal Taiwanese. Members of Mysterium are Rochester-based professional singers, and the ensemble is co-founded and co-directed by Yunn-Shan Ma, assistant professor in the School of Performing Arts. 3 to 3:30 p.m.
*Sunshine 2.0: 1001 Black Inventions: The show, which looks at inventions of Black men and women, will be performed by Sunshine 2.0 members. It drives home the realization that Black ingenuity is an integral part of everyday life. 4 to 4:30 p.m.
*RIT Improv: RIT Improv Club is a club dedicated to the teaching, study, and performance of improvised theatre, wacky scenes, and comedy. 5 to 5:30 p.m.
RIT Performing Arts Showcase at Fringe: Experience the best of RIT's student performing arts community through movement, music, and theater. 7 to 7:45 p.m.
Performing Arts Cabaret: A series of musical theatre vignettes by RIT's performing arts community. 8:30 to 9:15 p.m.
*Chickens Are Still Loose in the Little Theatre: RIT's Fowl Play comedians have been set free in The Little Theatre, and they want you to laugh during this performance of three original comedy skits. 9:45 to 10:15 p.m.
Sunday, Sept. 18:
The Art of Storytelling through Sand Animation: RIT student Pinaki Babar uses sand as a visual medium of storytelling, live on stage. Babar will create art on a glass frame residing on a table with a light source from the bottom, and the frames are created by using lights and shadows through the sand on the glass frame. These are then captured by a camera on top of the frame and projected on a screen for the audience. Noon to 12:15 p.m.
Arkhé: Noon to 5:30 p.m., Little Theatre #1 Lobby.
RIT Philharmonic Orchestra Chamber Music Showcase: The RIT Philharmonic Orchestra, directed by Yunn-Shan Ma, will showcase chamber works with varied instrumentation, including string quartet, woodwind quintet, and brass trios. The program will feature works from the standard repertoire as well as contemporary arrangements of folk tunes and film soundtracks. 1 to 1:40 p.m.
*Thomas Warfield - A 60th Birthday Celebration with Music and Movement and the Metaverse: International performing artist Thomas Warfield's career spans 50 years in theater, music, and dance. This year's show represents the variety and breadth of his multi-arts and human rights advocacy work, while integrating new technologies like video projection mapping to create immersive environments for the audience. 2:30 to 4 p.m.
Bill Dresnack: Greatest Original Hits, 2024-2039: Bill Dresnack, associate professor in the Department of Finance and Accounting at Saunders College of Business, has been called a troubadour, raconteur, musician, singer, and songwriter. He will perform original hits of the future on guitars and harmonicas. 4:45 to 5:30 p.m.
Tuesday, Sept. 20:
RIT School of Film and Animation Honors Show: Students from RIT's  School of Film and Animation produce more than 300 works each year, and some works are included in film festivals and go on to win awards. The films and animations presented here have been selected to represent both graduate and undergraduate work as well as every genre of film. 6 to 10 p.m.
Friday, Sept. 23:
*Dangerous Signs: Here and Now: "Here and Now" is a developing piece of theater by Dangerous Signs, an original American Sign Language poetry, song, and dance performance group that explores current events using the performers' own personal, poignant poetic responses to the absurdities, surprises, and tears of the world in which we all find ourselves living. Ideally, the audience will leave feeling hopeful that through love, perhaps people can find their way back to each other as a community. 6 to 6:50 p.m.
Arkhé: 6 to 10 p.m., Little Theatre #1 Lobby
A Cappella Hour with Eight Beat Measure and RIT's Encore: Eight Beat Measure is an a cappella group that raises the heat with exciting performances and powerful tunes, while Encore is an a cappella group that entertains audiences with lively energy and a fun-loving stage presence. 7:15 to 8 p.m.
*Fortune/Storytelling: Poetry and Self Reflection in Tarot: Tarot cards have been used for centuries to both tell fortunes and self-reflect, the intersection of good storytelling. During this experience, RIT alumnus and Adjunct Professor Sean Watson '21 (human resource development) will use tarot cards to inspire poetry, collective storytelling, and human connection. 8:30 to 9:15 p.m.
RIT Photojournalism: Documentary Shorts: A faculty-selected program of cinematic documentary short stories created by photojournalism students from RIT's School of Photographic Arts and Sciences. CC 9:30 to 10:15 p.m.
Saturday, Sept. 24:
'Basuri' - The musical love of two divine souls: By student Namrata Nagar, this Kathak piece is choreographed to present a snippet of Shri Radha (worshipped as the goddess of love, tenderness, compassion, and devotion in India) and Lord Krishna's legendary love story. Radha and Krishna are remembered as two divine physical forms that were one in mind and spirit. This classical performance visually presents fascinating, transcendental sweet talks between the divine couple, followed by a musical dance prayer to Lord Krishna for collective well-being. 10 to 10:15 a.m.
Arkhé: 10 a.m. to 9:30 p.m., Little Theatre #1 Lobby
RIT Dancesport Team Showcase: The RIT Dancesport Team will show off their competitive ballroom dancing. Dancers train in all four styles of ballroom, with a focus on the International Standard and Latin styles. 10:45 to 11:05 a.m.
RIT Steel Band Ensemble: The RIT Steelband Ensemble will perform a concert of music from Trinidad, West Indies, on real steel "pans" from Trinidad. 11:30 a.m. to noon.
Brick City Boppers: See RIT's swing dance club perform a mix of choreographed and social dances. 12:30 to 12:55 p.m.
WADAIKO - Traditional Japanese Drumming Performance: Taiko is the art of traditional Japanese performance drumming. WADAIKO, Rochester's only Taiko group, will be performing a high energy set of traditional and modern songs. 1:30 to 1:45 p.m.
RIT Velocity Performance: Velocity is a student-run, urban dance team at RIT that aims to foster a positive, supportive environment so members can freely express themselves. They share their collective passion for dance with the community in hopes more people will be inspired to live out their passions as well. 2 to 2:15 p.m.
A Cappella Hour with The Brick City Singers, Vocal Accent, and RIT's Proof of Purchase: Three of RIT's a cappella groups join forces for an hour of fun vocal music. The Brick City Singers boldly goes where other a cappella groups don't; Vocal Accent is the most recent soprano-alto a cappella group; and Proof of Purchase is RIT's original all-gender a cappella group. 3 to 4 p.m.
Desert Rhythms Belly Dance Troupe: This whirlwind journey with seven belly dancers, including RIT staff member Marilyn Schleyer and graduate Bridget George, will dazzle with swirling veils and dueling swords, and amaze with sinuous movements and breathtaking choreography. Desert Rhythms has developed a unique style, fusing Turkish and American belly dance, the culmination of its 35-year history. A memorable performance sure to thrill and excite all ages. 4:15 to 5 p.m.
*RIT Players: "Check Please": Presented by the RIT Players, "Check Please" follows a series of blind dinner dates that couldn't get any worse – until they do. 5:30 to 6:05 p.m.
Howling with Howie's Hound Dawgs + Kazoo Forum: Escape the mundane with music and story from around the world. Climb the beanstalk with retired faculty member Howie Lester (a two-time winner at the International Folk Music Film Festival). Fall off the beanstalk with the Intergalactic Kazoo Orchestra (please bring your own). 7:15 to 8 p.m.
 *RIT Drag Club: HOE-DOWN: Students from the RIT Drag Club, RIT's largest queer-affiliated performance group, will lip sync to country and folk songs. 8:45 to 9:30 p.m.
Ongoing at RIT City Art Space, 280 E. Main St., in the Sibley Building:
Sp(arrows): Annalisa Barron & Taylor Kennedy: City Art Space presents a two-person exhibition by faculty members Annalisa Barron and Taylor Kennedy, whose combined recent works explore the cathartic relationship of domesticity and surrealism through drawing, painting, sculpture, and installation. 1 to 5 p.m. Thursday, Sept. 15 and 22; 1 to 9 p.m. Friday, Sept. 16 and 23, and Saturday, Sept. 17 and 24; and 1 to 5 p.m. Sunday, Sept. 18.
Amplifying Feedback Loop - Vanessa Sweet: On view at RIT City Art Space's big screen (in the window facing Liberty Pole Plaza), this short film by  Vanessa Sweet, assistant professor in RIT's School of Film and Animation, features looped, metamorphic 2D-animated vignettes that inform the magnifying "domino effects" of climate change and community-led solutions. 1 to 5 p.m. Thursday, Sept. 15 and 22; 1 to 9 p.m. Friday, Sept. 16 and 23, and Saturday, Sept. 17 and 24; and 1 to 5 p.m. Sunday, Sept. 18.
Been Set Free: A Virtual Theatre Dance Performance: Realized on a virtual stage and recorded live at RIT's MAGIC Spell Studios in January 2022, this 8-minute performance involves a dancing avatar whose motions are defined by a live dancer using motion capture technology. This experience will allow visitors to experience the performance as it was presented through an immersive VR head mounted display. The exhibit will run continuously from 5 to 7:30 p.m. on Friday, Sept. 16 and 23; and 1 to 4 p.m. on Saturday, Sept. 17 and 24.
For a complete schedule of RIT Fringe events (and notations on interpreted performances), as well as the shuttle schedule and map to and from RIT, go to the Fringe Festival website or contact Rowoth at 585-475-7408 or lynn.rowoth@rit.edu.
Topics