Antonietta Alfano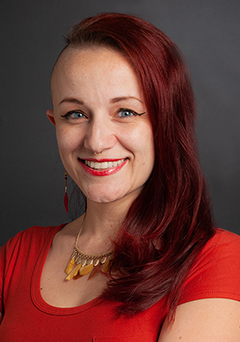 Position
Admissions Counselor for RIT/NTID
Phone
585-475-6700 (V/VRS), 585-270-0411 (VP)
Email
Antonietta.Alfano@rit.edu
Pronouns: She/They
Welcome, I am so happy you're here!
I am a proud RIT alumna, having earned a bachelor's degree in hospitality and service management in 2014.
Growing up I was not accepting of my Deaf identity, but used spoken and sign languages to best fit my needs. When I started at RIT/NTID I became involved in the NTID Performing Arts and multiple clubs. I was also one of the founding E-board members for the National Society of Leadership and Success student group. During my time at RIT/NTID, I was amazed to be around so many Deaf and hard-of-hearing individuals and it made me feel less alone. Being active in the Deaf community has helped me embrace who I am. The community and cultural events at RIT/NTID broadened my understanding of my Deaf identity, and allowed me to enjoy school and social endeavors. RIT/NTID has much to offer, and it is located in a wonderful and quaint town that is special in its very own way, with many things to do and be a part of.
I truly enjoyed my experience at RIT/NTID and now I am "back home" as your admissions counselor! I absolutely understand that applying to college can be an overwhelming and exciting time for students and their families. While I can confirm the enthusiasm of this journey, it is my passion to empower students to simultaneously exercise effective communication and organizational techniques to gain control of their college search and application process.
In my free time as a single mom, I am a motivational speaker, consultant, and coach educating others about the importance of accessibility in the diversity and inclusion discussion. I also absolutely love performing as the only Deaf rope aerialist in the world! Finally, being a part of the LGBTQA+ community, I motivate scholars to be authentically themselves through the process of attending a school that is the best fit for them.
I am here as your admissions counselor to help you answer any questions you may have along the path to becoming an RIT/NTID tiger. I hope to meet you, soon (and so does "RITchie" - our mascot)!
Alaska
Arizona
California
Hawaii
Idaho
Illinois
Indiana
Nevada
Oregon
Utah
Washington