National Technical Institute for the Deaf 2020-2021 Distinguished Alumna: Pamela Lloyd-Ogoke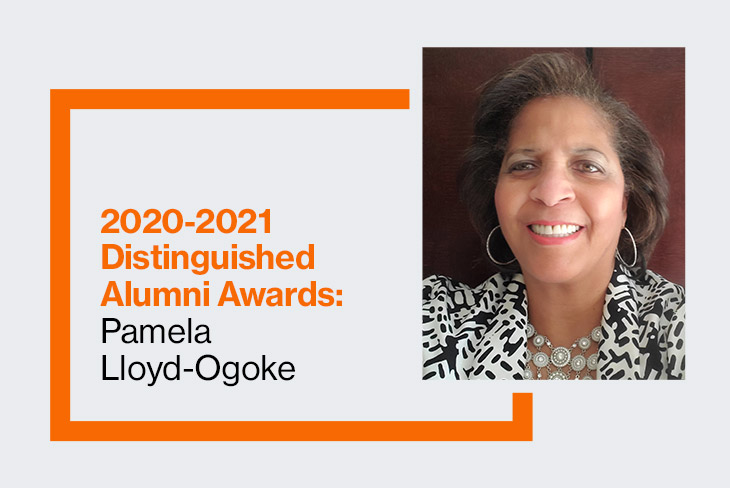 The Distinguished Alumni Awards are presented annually by each of RIT's nine colleges and the School of Individualized Study to alumni who have performed at the highest levels of their profession or who have contributed to the advancement and leadership of civic, philanthropic, or service organizations. It is the highest award an RIT college can bestow upon its alumni.
The 2020-2021 recipients will be honored during a virtual ceremony on April 29. Learn more and register for the event.
Pamela Lloyd-Ogoke '81 (social work)
Chief, Division of Vocational Rehabilitation, Community Integration Services and Supports and an RIT Trustee
What is your career highlight to date?
"Serving on the North Carolina Division of Vocational Rehabilitation Executive Leadership team where my role of being a leader of several statewide programs for all people with disabilities has enabled me to witness positive outcomes for individuals successfully integrating into their communities. As a person who is Deaf, I enjoy dispelling the myth that Deaf people are limited in their ability to supervise and manage others."
How did RIT help to prepare you for success?
"Arriving to NTID newly Deaf and extremely shy was a challenge. Entering the social work program where there was an expectation for students to interact, engage, and do presentations was out of my comfort zone. Through support of staff and peers, I began to develop confidence and also became a proud Deaf individual with a desire to break barriers—especially for the marginalized Black Deaf community."
Topics