NTID Career Fair helps deaf, hard-of-hearing students and alumni find co-ops, full-time jobs
Recruiting companies have a long history of hiring talented deaf and hard-of-hearing people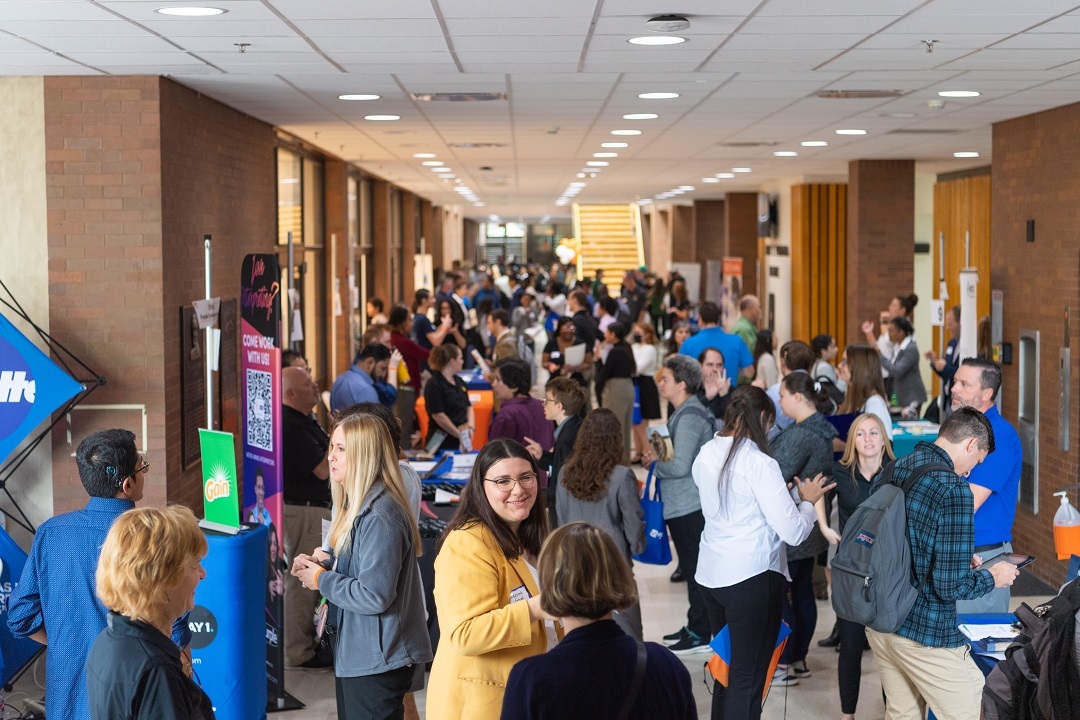 More than 30 employers returned to the RIT/NTID campus since the start of the pandemic to recruit a new cohort of talented deaf and hard-of-hearing students and alumni for open co-op or full-time positions.
The NTID Career Fair, held Oct. 6 in Lyndon Baines Johnson Hall, featured local, regional, and national employers including Merck, PNC Financial Services, General Dynamics, Procter & Gamble, Pfizer, FEMA, CooperVision, and Naval Research Laboratory, among others.
Shadirah Griggs, a third-year applied computer technology major from Philadelphia, is searching for a summer co-op that fulfills her desire to enhance her technical skills in a real-world environment as she works toward becoming a web developer. She is also looking for the opportunity to travel. She spoke with representatives from several companies, including Procter & Gamble.
"When I first came to NTID, I wasn't really sure what I wanted to do for my career," Griggs said. "But, now I have discovered my love for coding and creating websites, so a computer related position is what I'm looking for. I really liked what I saw at the career fair, and I will definitely be applying for some positions."
More than 20 RIT/NTID alumni returned to the career fair as corporate recruiters.
Graduates Jacob Mayer '21 (computing security) and Adam Brodack '19 (networking and systems administration), both originally from St. Louis, work for Dow. For Brodack, returning to campus for the career fair is like "walking down memory lane."
"I remember what it's like to be in their shoes," said Brodack. "We do our best to help the students feel comfortable such as learn more about the classes they're taking, and what their interests are. I also really like to know about any side projects that they're working on, which really gives me some insight into their personalities."
This is Mayer's first time returning as a recruiter. "There are a lot of great candidates so far, and I'm looking forward to meeting many more."
This is the 20th anniversary of the in-person career fair, and John Macko, director of NTID's Co-op and Career Center, is celebrating the return of many quality employers who have a long history of hiring deaf and hard-of-hearing people.
"We are so happy to have our students, alumni, and employers back in person again," said Macko. "A career fair of this size provides the opportunity for more one-to-one interaction between our students and the employers, which is so important. Creating connections between students and these employers is vital to their success. And adding our alumni recruiters to the mix gives the students the opportunity to talk with them about their career paths as deaf or hard-of-hearing professionals, and how they have become successful in their fields. That interaction is just priceless."
Topics