RIT program helps minority prospective faculty springboard their career searches
Scholars from across the U.S. participating in the Future Faculty Career Exploration Program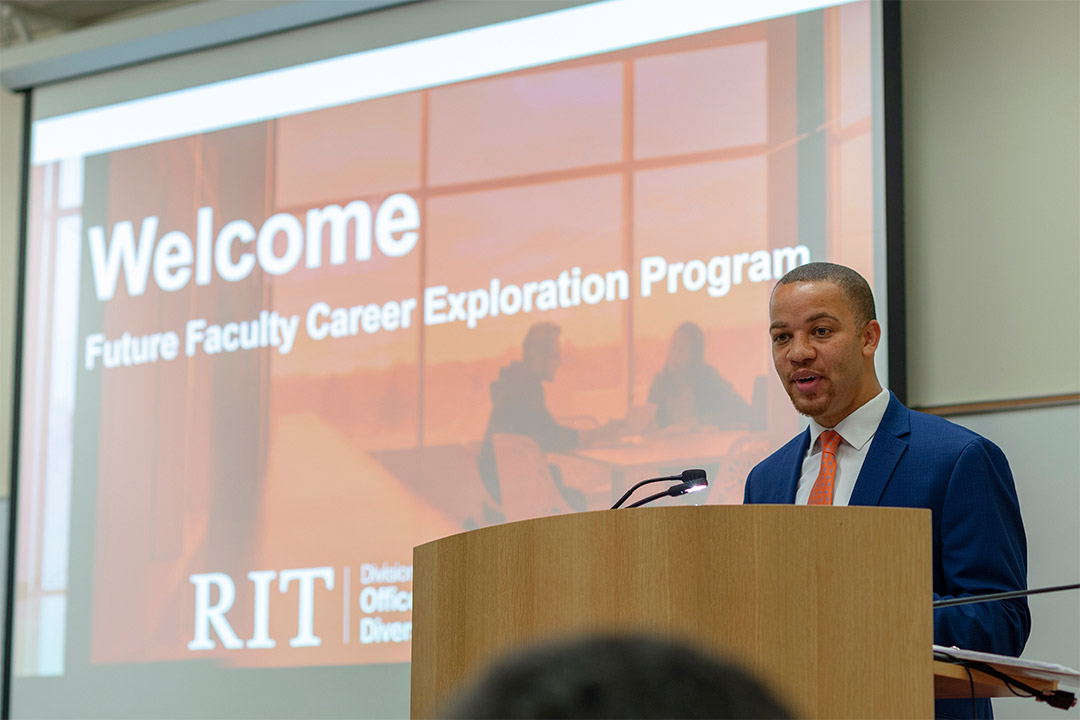 Elizabeth Lamark
Rochester Institute of Technology is hosting a two-day virtual program to help African American, Latino American, and Native American scholars and artists successfully navigate the career search process. RIT's Future Faculty Career Exploration Program (FFCEP) will welcome its 17th cohort, inviting 16 scholars from Ivy League, HBCU, public, and private universities across the nation.
The program will be held virtually for the first time due to the coronavirus pandemic, but it will continue to offer attendees time to learn from and network with RIT administration, faculty, and students. Participants will practice their interview and presentation skills as well as explore the research, teaching, and service expectations RIT has of its faculty. The program is designed for scholars and artists nearing the completion of the highest academic degree in their field, as well as junior faculty and those on post-doctoral assignments.
"Even in a virtual modality, this long-running program provides our participants with important opportunities to engage with deans and faculty, present their research, and participate in professional development," said Donathan Brown, assistant provost and assistant vice president for faculty diversity and recruitment. "This program not only helps to prepare outstanding and dedicated scholars for the job market, but it is also an opportunity to cultivate lasting relationships with future collaborators."
More than 350 scholars have attended the program over the last 17 years, and RIT has hired 23 participants to faculty positions. One of last year's participants, Nnaemeka Nnamani, joined the National Technical Institute for the Deaf's Department of Science and Mathematics this fall as a visiting assistant professor.
This competitive program draws more than 100 applicants each year. Brown noted that before the pandemic, RIT's Office of Faculty Diversity and Recruitment had increased its in-person engagement with prospective faculty by visiting universities that produce that highest number of women and AALANA Ph.D. students in America. Because of these efforts, more than 30% of this year's FFCEP cohort comes from those college visits.
Below is a list of participants this year, including the university their terminal degree is or will be from and their discipline:
Hiba Ali, MFA, Queens University (cultural studies)
Abdelkareem Bedri, Carnegie Mellon University (computer science/human computer interaction)
Felipe da Silva, The University of Texas at El Paso (electrical and computer engineering)
Janne Hall, Jackson State University (electrical engineering)
Edwin Hernandez, Ph.D., University of Florida (computer engineering)
Earl Huff, Clemson University (human-centered computing)
Javier Jaimes, DVM, Ph.D., Cornell University (microbiology)
Aziza Jones, Rutgers University (management, marketing and entrepreneurship)
Chartese Jones, Ph.D., Mississippi State University, (mathematical sciences)
J. Leah Jones, Arizona State University (sustainability)
Valentina Nino, Montana State University (industrial and management engineering)
Ruth Pobee, Ph.D., Penn State (nutritional science)
Cordero Roche, University of Nevada, Las Vegas (biomechanics)
Arnaldo Rodriguez-Gonzalez, Cornell University (theoretical and applied mechanics)
Alexis Salas, Ph.D., University of Texas (art history)
Kelly Vazquez, University of Wisconsin-Madison (mechanical engineering)
To learn more about FFCEP, visit RIT's Division of Diversity and Inclusion website.
Topics