RIT's new Disability Services Office director says disability should be embraced
Disability can bring assets of creativity and innovation to help navigate the world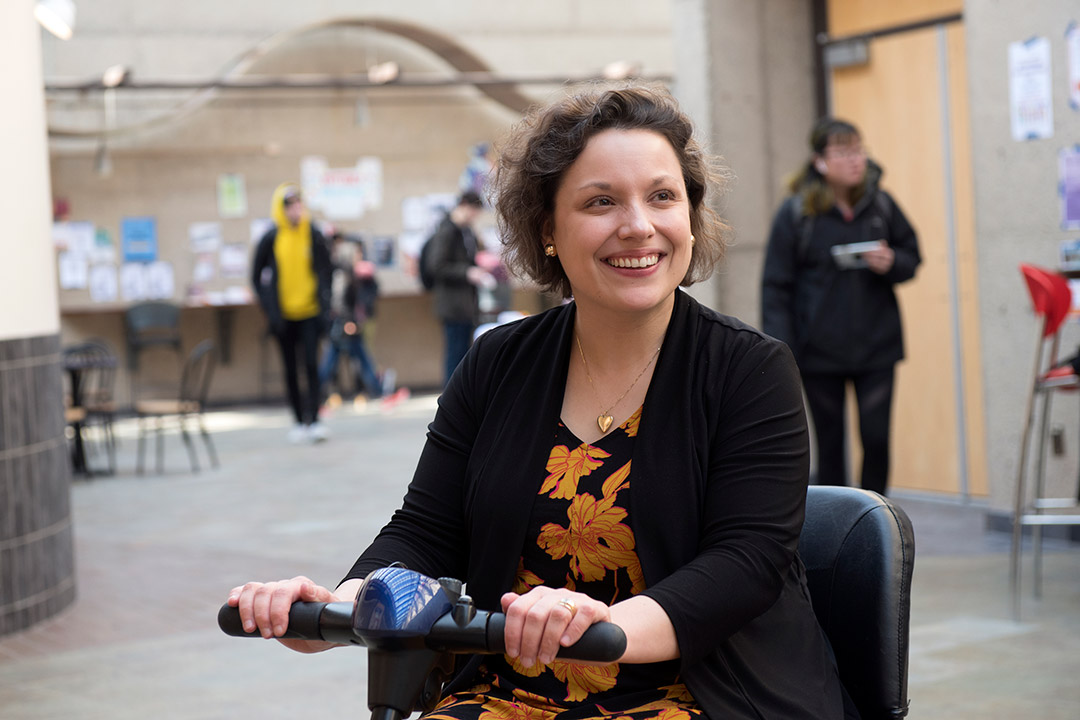 A. Sue Weisler
Disability is an identity, not a deficit.
That's the message Catherine Lewis, director of Rochester Institute of Technology's Disability Services Office, hopes people will remember.
Lewis, who came to RIT in December, was born with cerebral palsy, which impacts her balance and mobility. She navigates using a motorized scooter or a walker and considers disability a valuable facet of her identity.
"I'm a woman who has cerebral palsy, who is a wife and a mom who is navigating new parenthood," she said. "And I'm super passionate about equity and disability."
Lewis wants students who may have a disability to advocate for accessibility, and she hopes to help destigmatize disability by encouraging people to note the possibility, creativity and power in disability.
"I want to get folks excited about disability, not scared of it," she said.
More than 1,400 RIT students with a disability have registered with the Disability Services Office, which facilitates equitable access to the full RIT experience for any RIT student with a disability. There are more than 1,100 deaf and hard-of-hearing students at RIT's National Technical Institute for the Deaf, but only those students who have additional accommodations other than what Access Services provides – interpreting, captioning and notetaking – are included in that 1,400 number.
"The process for requesting disability accommodations should be empowering and student-centered. We want to understand how your disability manifests for you and what barriers you're facing here at RIT. And that's what accommodations are for, to mitigate barriers in the academic and co-curricular environment," Lewis said.
"Many students who request and use accommodations in college don't have disabilities that are readily apparent," she said. "Invisible disabilities are no less valid, no less important. And it's our job to educate, reduce stigma, and make students with all kinds of disabilities feel welcome and anticipated here. This can include students with chronic illness, students with learning disabilities, deaf and hard-of-hearing students with disabilities, students who identify as neuro-diverse, veterans who have service-related injuries or post-traumatic stress disorder, and students with food allergies."
She said even pregnancy or an athlete with an injury could be viewed as having a disability. "If students are facing disability-related barriers here at RIT, we can provide you with accommodations. Yes. Absolutely."
Lewis hopes students with disabilities recognize that they are "part of the fabric of diversity. They are welcome here and shape this place in meaningful ways. To disclose disability, request accommodations, or ask questions about accessibility barriers might feel daunting. But our team is committed to mitigating barriers in the RIT environment. We look forward to supporting you."
A native of rural Wisconsin, Lewis attended Rice University in Houston, where she studied flute performance and literature. There, she began grappling with the perception of disability as deficit, as opposed to her understanding of disability as "necessary creativity." She was awarded an international fellowship to study the connection between disability, social justice and the arts, and immersed herself in the international disability arts community.
"I found these really rich enclaves of disability theater, disability poetry and disability art where artists were actively exploring their identities through creative media," she said.
During that time, she founded a concert series dedicated to reframing disability and had the opportunity to commission and perform a piece of music that's based on her walking rhythm.
"I worked with a composer, Robert J. Bradshaw, who used video software to plot all the parts of my body which moved," she said. "There's a video of me walking and driving my scooter up and down the hall in the Sydney Conservatorium of Music, which Bradshaw transcribed and translated into musical rhythm. My concerts became conversation spaces to discuss disability in new and creative ways."
After her fellowship ended, Lewis enrolled in Eastman School of Music where she received her master's and doctorate degrees in flute performance. And she continues to teach a course on music and disability at Harvard University.
Lewis is appreciative that New York state in 2014 became the first state to legally mandate that the word "handicapped" no longer be used, and the new, more empowered "accessible icon" be displayed on new signage. She bristles at the notion people feel they should "overcome" adversities. "I don't see any need to overcome disability. I see disability as an integral part of who I am," she said. The only things that need fixing are attitudes and environments that presents barriers to people with disabilities.
"I am so proud to work at RIT," she said. "Already, due in no small part to my colleagues in the Disability Services Office, and our partners in the NTID community and the Spectrum Support Program, this place is already really receptive to what it means to build an inclusive environment. That doesn't mean we don't have a whole lot of work to do."
And Lewis is ready to help make those changes.
"I am passionate about helping to shift perspectives about disability," she said. "Disability is a part of life. Build on a foundation of respect, presume competence and see the value in the disability experience."
And the fact that anybody could acquire a disability at any time makes understanding even more important.
"The general population sees disability as something to regret, that we should want to change if we could," she said. "It doesn't mean that it's not challenging to navigate a world that's not designed for you. But just like any life experience, disability shapes you in really meaningful ways. Disability is to be seen as a fund of knowledge, a resource in your life. If you have a body or in a mind or a way of being in a world that's atypical, you learn to be creative, to be innovative in terms of how you navigate the world because you have to. And I think that's a real asset."