World renowned deafness researcher, author Marc Marschark to retire
RIT/NTID's Marschark authored dozens of books and hundreds of articles on deafness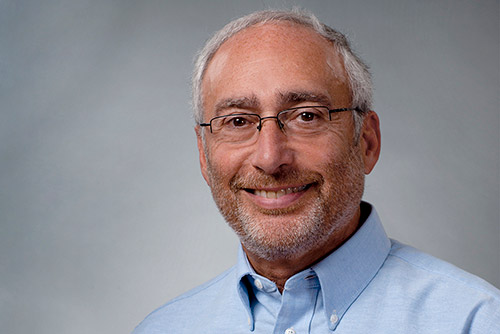 Marc Marschark, who dedicated his career to research and analysis of the education and development of deaf children, will retire from Rochester Institute of Technology's National Technical Institute for the Deaf after 23 years.
Marschark leads RIT/NTID's Center for Education Research Partnerships, which focuses on establishing and joining research partnerships relevant to the development and learning among deaf and hard-of-hearing students in various educational settings. Some of the center's main activities include promoting collaboration among individuals, educational institutions, and organizations, both nationally and internationally.
Throughout his career at RIT/NTID, Marschark received grants and other funding to continue his research and create new projects to improve the quality of education for deaf children. Funding from the National Science Foundation helped study what influences deaf students' learning, and explored alternative options for communicating STEM in the classroom. He also received federal funding from the National Institutes of Health to investigate the characteristics of American Sign Language interpreters that affect the academic success of deaf students, as well as the cognitive and linguistic changes that happen when people become sign language interpreters.
Marschark has published more than 100 journal articles and 32 books on deafness and education.
He is also the founder and editor of the Journal of Deaf Studies and Deaf Education and has created resources to better inform parents, teachers, and other stakeholders in deaf education about raising and educating deaf children, including the website Raising and Educating Deaf Children.
Marschark has collected a number of awards, including the Superintendent's Award from the Western Pennsylvania School for the Deaf and the Lyon Founder's Award from the Rochester School for the Deaf. In 2002, he was awarded the Edward Allen Fay Award by the Conference of Educational Administrators of Schools and Programs for the Deaf. He also was named an Honorary Professor of Psychology at the University of Aberdeen in Scotland.
He also holds board positions on the National Advisory Council of the Willie Ross School for the Deaf, the advisory board of the Center for Deafness, Cognition, and Language at the University College London, and is a member of the scientific committee for the Master's Program for Interpreting/Teaching at Hogeschool Utrecht in The Netherlands.
"Marc's work distinguishing fact, myth, and misunderstanding in the education of deaf and hard-of-hearing students has contributed to significant improvements in academic opportunities and a better understanding of the strengths and needs of deaf learners," said RIT/NTID President Gerry Buckley. "We are grateful for his many contributions, and wish him well in his retirement."
Topics