RIT/NTID Diversity Spotlight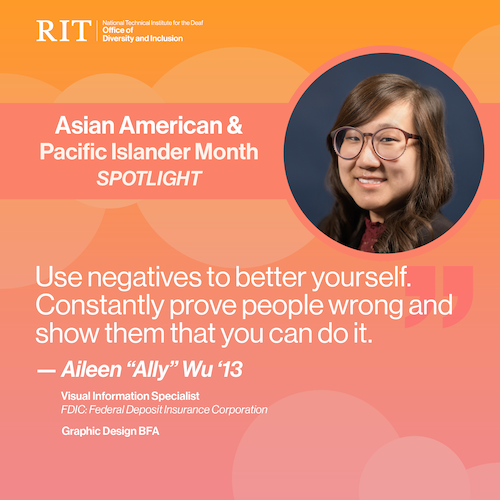 [ID: RIT National Technical Institute for the Deaf. Office of Diversity and Inclusion. AAPI Month Spotlight. Background is a gradient of pink to orange. Pictured in a pink circle is Aileen Wu, an Asian woman with brown curly hair and a burgundy blouse. "Use negatives to better yourself. Constantly prove people wrong and show them that you can do it." - Aileen "Ally" Wu. Visual Information Specialist.FDIC: Federal Deposit Insurance Corporation. Graphic Design BFA." Multiple white circles of different opacities are posted throughout the image.]
Aileen Wu '13
(She/Her/Hers)
Visual Information Specialist
FDIC
Aileen graduated with a BFA in Graphic Design and is now working for the government in Arlington, VA.
What is your ethnicity? Give me a background on where you've been.
Born Queens, New York. Grew up in Jackson Heights and relocated to Flushing, Queens. I identify as a Taiwanese American. I want to visit Taiwan someday.
What does AAPI Heritage Month mean to you?
I think it's all about culture, tradition and values. The main value is family. I was born hearing but got sick at 1 ½ with cancer, so chemotherapy impacted my hearing. I recovered well. I have a scar on my left arm from the surgeries I got. I struggled with my identity because my parents covered up my arm and my scar. They were afraid of me being bullied and sure enough, I did experience some bullying.
It wasn't until 22 that I felt comfortable. I'm now 33 and I'm alive, doing well! Growing up wasn't easy because my parents didn't speak English. They spoke Mandarin and communicated through their actions: cooking delicious food. As I got older, I realized how much our Asian culture values family and love.
Name someone who inspires you and why?
If I look back at high school, there were two people who helped me. My social worker and high school counselor. Gina Moore who was my social worker and Karen Solomon, who was my school counselor. They really saw something in me and encouraged me to be the best person I could be.
When I came into RIT/NTID, it hit me—I was able to look up to Asian role models. One was Tao Eng, who was our Asian Deaf Club advisor, and my academic advisor Cathy Chou. Those four people really have had a strong impact on my life.
I grew up and couldn't afford much, but they pushed me and encouraged me to join programs that exposed me to education. It boosted my confidence and I was able to push through and get to where I am today. Karen is a tough woman—she shows you things that you can't see in yourself.
Tao taught me what different colors meant in Asian culture. He exposed me to new foods, cultures and traditions. This led me to want to start a new Asian tradition with my husband. We've started practicing things that give us good luck. 
It's important to note that in general, Asian people have high expectations. There is a negative stigma towards disabled people in Asian communities, but I proved them wrong and made my dreams happen. I pulled up my sleeves, navigated my journey and found my identity as an Asian woman. 
Share your experience as a deaf Asian woman working at FDIC.
My roommate encouraged me to apply. I was hesitant to apply because I didn't think I'd want to work for the government. I thought I'd be at a creative agency. When I got the email to be selected for an internship, they called me via videophone. I was amazed.
I just hit my eight year mark of working there. I do a lot of interaction with clients and it's a lot of great work. My manager pushes me to be a better designer.
While I learned a lot about graphic design, my major never prepared me to work with people.  This role helped my skills with communicating with people across different teams. I do a lot of reporting, conferences, business cards, really A-Z things.
I'm the only deaf person there, as well as the only Asian person. During my time with the FDIC, they've learned a lot about accessibility and they do not miss a beat with providing me with interpreters for meetings. They treat me fairly and are very accommodating. 
What accomplishments are you most proud of?
I just bought our first home. I grew up poor, thinking that I wouldn't be able to enjoy this kind of privilege. It's a huge accomplishment for my husband and I. It's important to have patience and know that it's achievable.
What can the world do to better support the development and enrichment of the AAPI community? 
We will always struggle with intersectionality. Be open minded. Offer solidarity with different groups of people. There are so many different types of Asians. Listen to their stories. Don't assume anything. Have one-on-one conversations. Be open minded. Listen to one another… we all need that.
I'm in a biracial marriage, so we navigate our struggles with support and open-mindedness. In our household, we're advocates of the sayings "Stop Asian Hate," and "Black Lives Matter." 
Share a quote that you resonate with.
One quote that I like is. "I wear my scar proudly and I'm not afraid."
"For every wound, there is a scar and every scar has a story."
I'm not a perfect woman or person. It took me 22 years to wear my scar out in public and it empowered me. People would look at me and make assumptions about it. I prefer when people ask me directly about it. People think it was from a car accident, but this scar is representative of who I am because I struggled with my identity. Now I value it, I value my identity. Embrace yourself. These scars are part of who I am.
How has RIT/NTID aided you in your professional or academic journey?
Three key things: my graphic design program, ADC and the NTID Co-op and Career Center (NCCC). ADC really impacted my life. The NCCC really helped me find my way through with interviewing and applying to jobs.
Like I mentioned before, I struggled with my identity. But having a community at RIT will help you navigate that. You can be heavily involved in both the hearing world and the deaf world. 
Word of advice to others: people will always pull you down someway, somehow. Use negatives to better yourself. Constantly prove people wrong and show them that you can do it. If you're curious, ask. Networking is key too. Meet people. You never know if those people will impact your life. Don't be afraid to speak up. Push yourself. Better yourself. 
Share a fun fact about yourself.
I used to own seven guinea pigs! I don't remember their names by heart, but I have a list somewhere. I wish I had known that they don't live long. Their lives span from five to seven years. I had one, then I felt like she needed a buddy. I adopted a boy without knowing. I didn't realize that they would end up mating, so I ended up with seven. That's a wild story.