RIT/NTID Diversity Spotlight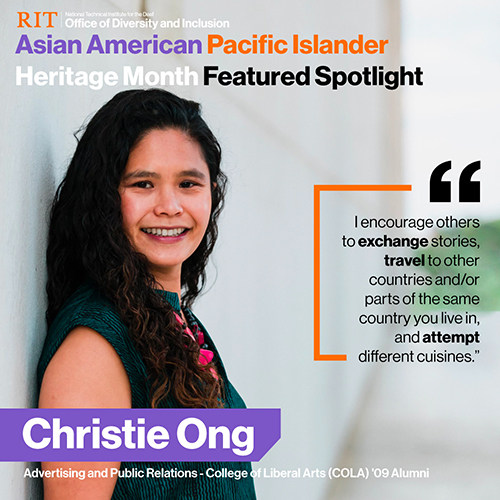 [ID: Christie has light skin, long, wavy dark hair and wears a sleeveless teal top and a bright pink necklace. She is leaning against a white background. The top of the image has a black background with the NTID Office of Diversity & Inclusion logo, and lettering in purple, orange, and white: Asian American Pacific Islander Heritage Month Featured Spotlight. The right side of the image contains Christie's quote: "I encourage others to exchange stories, travel to other countries and/or parts of the same country you live in, and attempt different cuisines." The bottom of the image has a purple background with white lettering: Christie Ong. Advertising and Public Relations-College of Liberal Arts (COLA) '09 Alumni. Photo Credit: King Winarta/@Ultimux (Instagram handle)]
Christie Ong '09
NTID Alumni Association Board Member and NTIDAA Liaison
RIT/NTID
Christie is an '09 College of Liberal Arts graduate and is an NTID Alumni Association Board Member, Diversity & Governance Chair (2021), and NTIDAA Liaison to NTID.
What is your nationality/how do you identify?
I am Chinese-Indonesian American. My parents emigrated from Indonesia.
What or who has been your biggest cultural influence?
My dear family is one of my biggest cultural influences.
What is your favorite cultural dish?
I love food. Some of my favorite dishes from my upbringing are: rendang (meat dish originating in West Sumatra, Indonesia); nasi goreng (fried rice originating in Maritime Southeast Asia); kway teow (Chinese-inspired stir-fried flat rice noodles originating in Maritime Southeast Asia); satay/sate (seasoned, skewered and grilled meat served with sauce originating in Java, Indonesia), and perkedel (fritter originating in Indonesia).
What would you like people to know about your culture?
The Asian and Pacific Islander community does not share one culture. Asia is so diverse with regard to ethnic groups, cultures, historical ties, languages, environments, and government systems. A couple of facts about Indonesia include: Indonesia is the most populous Muslim-majority country, and Indonesia has 17,508 islands in the Indian and Pacific Oceans, which makes up one of the top ten largest archipelagos in the world.
Do you have any resources to share with someone who would like to learn more about your culture?
There are many ways to learn more about each other and our culture. In general, I encourage others to exchange stories, travel to other countries and/or parts of the same country you live in, and attempt different cuisines. When you have a direct and first-hand interaction with someone of a different culture, it creates a more meaningful understanding and respect of their customs and traditions. In my case, I recommend checking out any of the following places to try Indonesian cuisine:
At this point in time, it is hard to come by an Indonesian restaurant, so alternatively - one can look for Malaysian cuisine as they may have Indonesian influenced dishes. Keep in mind that there are different culinary influences and styles for various reasons, a couple including colonization and assimilation. For instance, Chinese Indonesian have been influenced by native Indonesian cuisine, and vice versa native Indonesian have been influenced by Chinese cuisine. The cuisine also varies with locations in Indonesia (e.g., Sumatra, west/central/east Java). Also, because Indonesia is a Muslim majority country, pork would be replaced with chicken or beef to make it halal. I hope you are inspired to learn more! Selamat makan! This is 'enjoy your meal' in Indonesian.
What is a fun fact about yourself?
After I graduated from RIT, I conducted my own research in Italy as a Fulbright Scholar. I enjoy stand-up paddling, biking, and hiking.