RIT/NTID Diversity Spotlight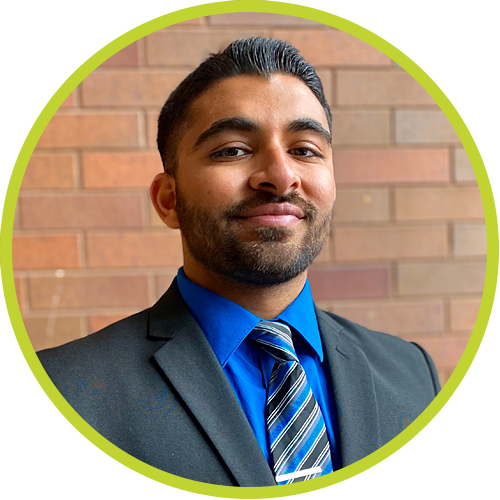 [ID: Portrait of Dhruvesh Patel]
Dhruvesh Patel '22
(He/Him/His)
Business Administration MBA
RIT/NTID
Graduating in May 2022 with a Bachelor of Science Degree in Business Administration–Management, Dhruvesh is working on obtaining his MBA from RIT in 2024 with aspirations of being successful in the business field.
Dhruvesh Patel on Being a Deaf M.O.C.H.A. Man
When Dhruvesh walks into a room full of hearing peers, he ensures that people know of the deaf community's ambitious abilities and what they bring to the table. Being one of 20 members of M.O.C.H.A.'s eighth cohort (Men of Color, Honor and Ambition), Dhruvesh spoke with us and shared his experience with the cohort during the 2021-2022 academic year.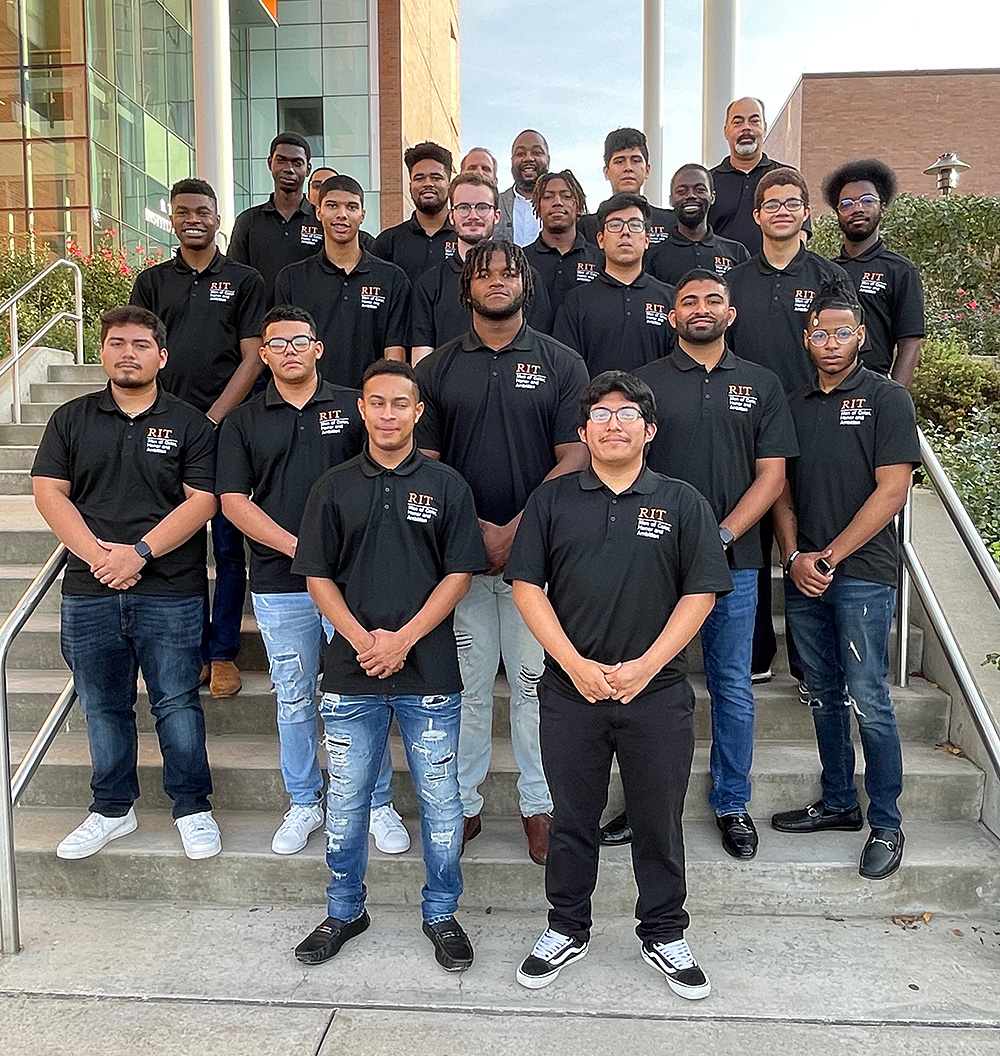 Born in India and raised in Georgia, USA, Dhruvesh found a home in RIT and has no plans on leaving soon. Graduating in May 2022 with a Bachelor of Science Degree in Business Administration–Management, Dhruvesh is working on obtaining his MBA from RIT in 2024 with aspirations of being successful in the business field. He acknowledges how competitive the business industry is and believes that studying for his MBA will offer an in-depth structural curriculum to mirror real life.
Dhruvesh plans on working at the National Association of the Deaf's Youth Leadership Camp in Slayton, Oregon this summer teaching young students how to set up a good foundation for their future and how to obtain opportunities to further improve their leadership skills.
Share a little bit about your experience in M.O.C.H.A.
I was honored to be a part of the M.O.C.H.A. cohort this year as it's very competitive. In order to qualify, we have to have good leadership qualities, good grades and be willing to commit to community service activities, health and wellness activities, and social gatherings during the academic year. I was a part of different clubs and organizations, but once I joined M.O.C.H.A., I was blown away. I was able to analyze myself and learn why diversity is significant. I learned how to become a better leader and well-rounded man through its many workshops.
Dale Carnegie workshops helped a lot with opening up, getting out of my comfort zone and presenting in front of new people. That experience alone helped all of my fellow M.O.C.H.A. brothers show who they really are and display to the world their best abilities. I remember encountering some shy M.O.C.H.A. members and after the training, they opened and mingled a lot more—it was helpful.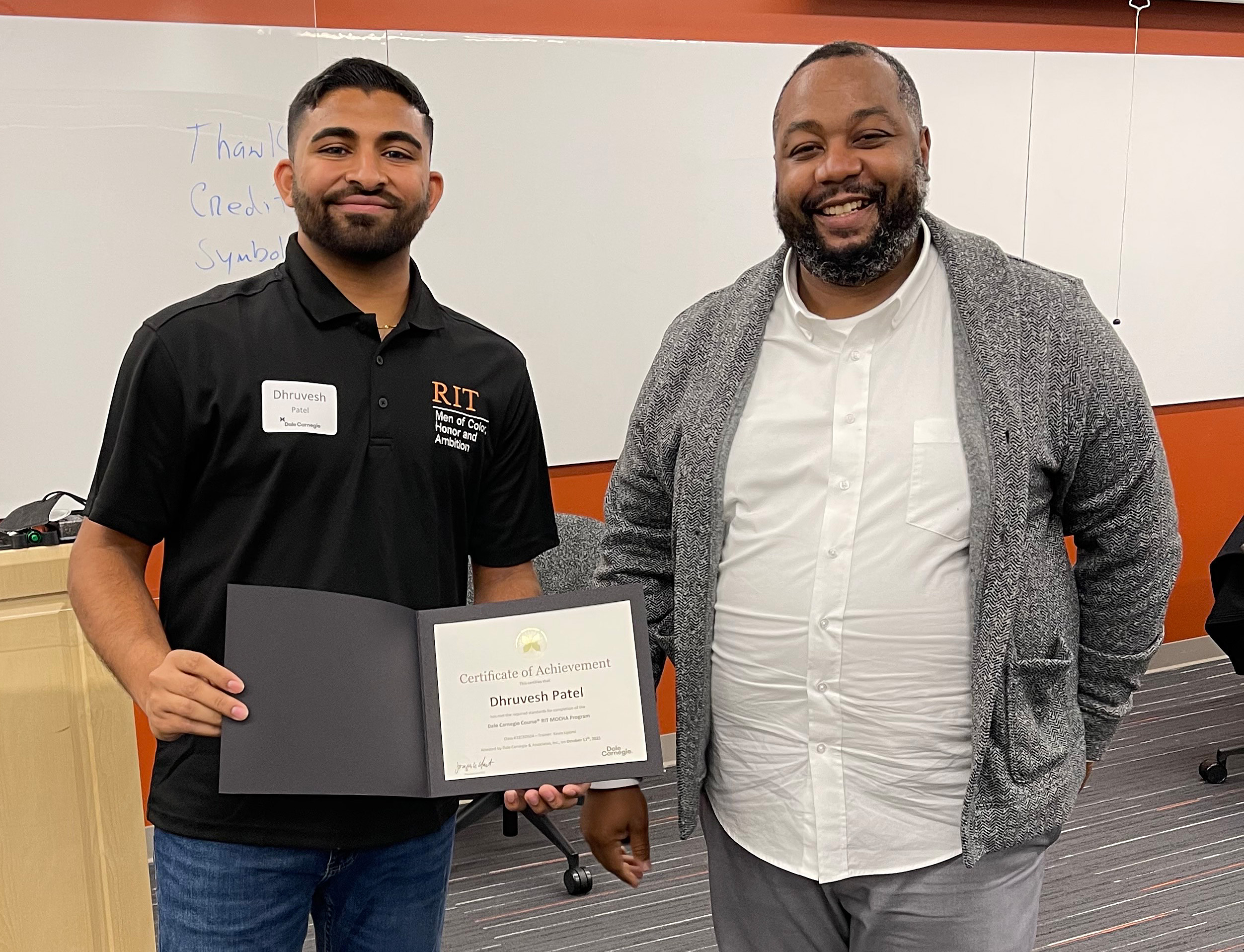 Due to COVID, we didn't really have a lot of social gatherings, but we really bonded through basketball. Although we all come from different backgrounds, we have similar interests. A lot of the work we did in M.O.C.H.A. was professional, but we were able to unite through fun activities in our personal time. I really enjoyed meeting other students from different diverse backgrounds, learning about their cultures and networking with people I can stay connected with.
The five foundational pillars in M.O.C.H.A. are ambition, achievement, integrity, service and health & wellness. Which pillar do you feel you gained more knowledge on?
I really enjoyed learning more about financial planning. When I go out into the real world, I can bring the skills I learned through the workshops offered. Word of advice: time is important in building wealth. Save early, so you can be wealthy later. One workshop we attended was at an actual banking office, where the president taught us the benefits and risks of investing. We learned different ways to maximize our savings. Our majors vary so it's nice that we all got to learn these things.
As a deaf member of M.O.C.H.A., you should be super proud! How do you feel M.O.C.H.A. benefits deaf students like yourself, and how can we get more deaf students involved?
From what I know, there have been a total of six deaf people in M.O.C.H.A. since it was established, which is nice, but we need more deaf eyes on M.O.C.H.A. I want to see more deaf people involved in programs like this. I hope to inspire my deaf peers and be a role model to them. RIT has a big deaf community so everyone by default is encouraged to apply and gain insightful experiences from it. Yes, it's competitive, but it's possible. If I can do it, so can they.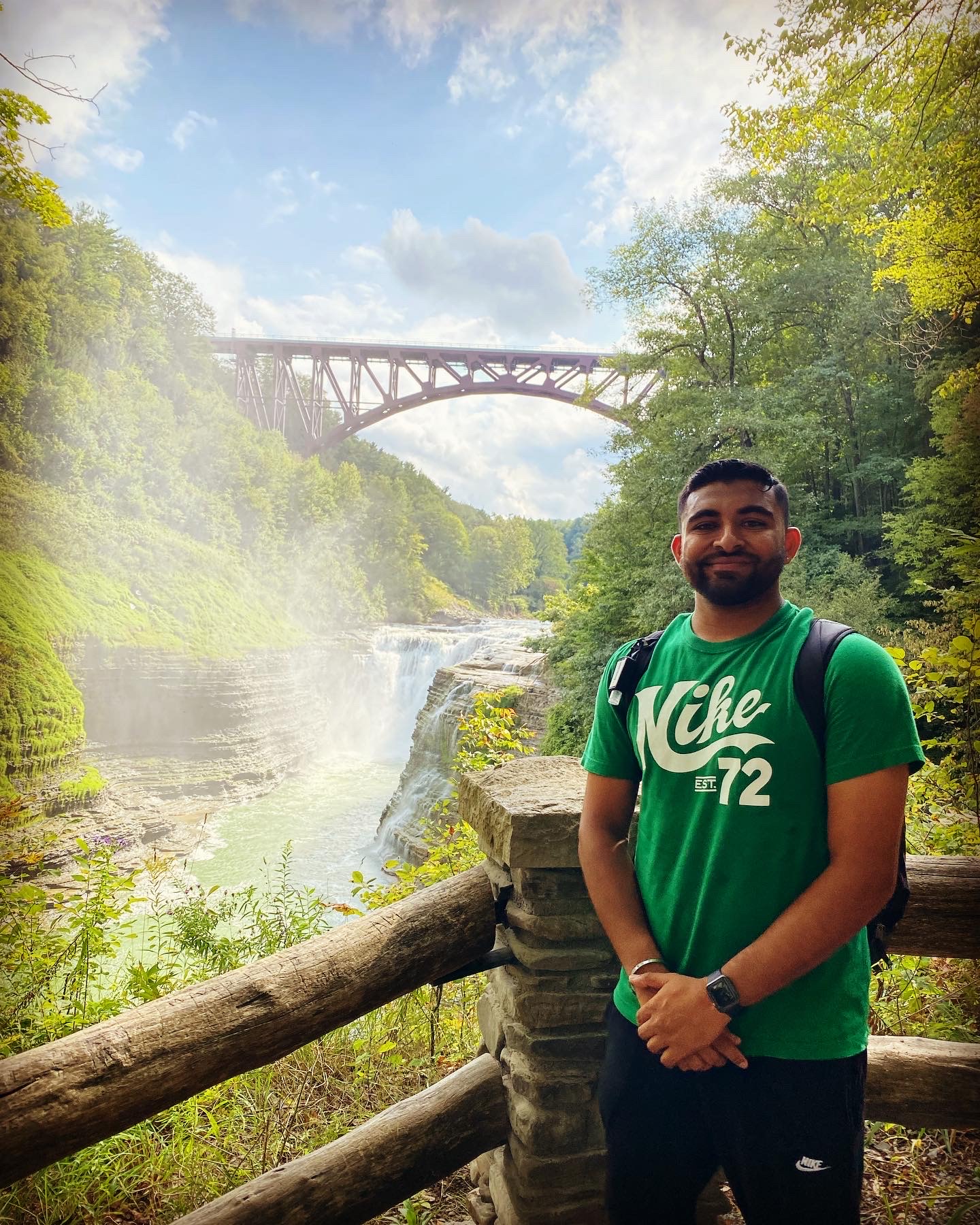 What are some benefits of being a M.O.C.H.A. man?
It was great having two mentors assigned to me throughout the year. I work as a resident advisor, so I was able to have my boss, Harold Fields, as my mentor. We also got suits.
Share a fun fact about yourself—we saw that you were a part of the RIT Car Club.
I am! I really love cars. I spend my free time learning about them. Also, I love to travel. I love visiting new places with California being my most recent state. I went there for spring break and it was my first time on the west coast. The culture is different there. I love Los Angeles because it has the best of all worlds; a beach, a city and staple neighborhoods. I got lucky because people tend to complain about the traffic there, but there was barely any traffic.
Students are encouraged to apply to the ninth cohort during the 2022-2023 academic year. The deadline is on May 20, 2022. Apply here.