RIT/NTID Diversity Spotlight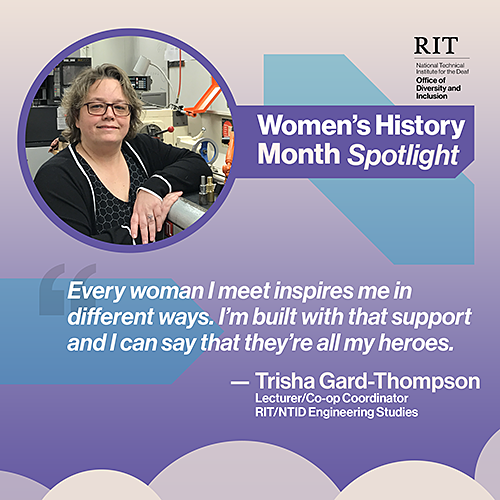 [ID: RIT National Technical Institute for the Deaf. Office of Diversity and Inclusion. Women's History Month Spotlight. Background is a gradient of gray to purple. Baby blue triangular vectors are placed on the image. Pictured in a purple circle is Trisha Gard-Thompson, a white woman with brown hair with blonde highlights leaning on mechanical items, with a black jacket with white lining. Quoted is "Every woman I meet inspires me in different ways. I'm built with that support and I can say that they're all my heroes. Lecturer/Co-op Coordinator. RIT/NTID Engineering Studies." Multiple white circles of different opacities are found on the photo's bottom border.]
Trisha Gard-Thompson
(She/Her/Hers)
Lecturer/Co-op Coordinator
NTID Department of Engineering Studies
Trisha is a lecturer and Co-op Coordinator in the Department of Engineering Studies.
If you could describe being a woman in one word, what would it be? No explanation needed.
You should have sent these questions before! Just kidding. It would be trusting.
What does Women's History Month mean to you?
What does it mean to me? Hmm, it means that we can show the ability of how we can run the world. We faced so many challenges in the past and have overcome them. It feels like walls have been taken down and women can be equal to men.
Name a woman or heroine who inspires you and why?
I think women, the community, as a whole are who inspires me. Every woman I meet has a story to share and they inspire me in different ways. I'm built with that support and I can say that they're all my heroes. There would be way too many people to name.
What assumptions about women would you like to see change?
As I work in the manufacturing  world, there is an assumption that we become distressed too easily. This is why we shouldn't be in management. That assumption needs to be thrown out. People think we are too sensitive, but the truth is that some people show their emotions a little more than others.
What accomplishments are you most proud of?
I was able to get a bachelor's degree. I was able to get a job and become a supervisor. The people who hired me had faith in me and I succeeded in that role. I was the first one in my family to get a bachelor's degree. I have to thank RIT/NTID for that accomplishment. 
What can our community do to better support women?
Give them opportunities to show that they can do their assignments and their projects just as well as their peers because when that support is there, it makes a difference.
What advice would you give your younger self?
Don't give up. When someone tells you no, keep going. I was told "No," so many times, but I kept pushing and people realized what I was capable of. Just be persistent.
How has RIT/NTID aided you in your professional or academic journey?
The nice thing about our community is that our peers are willing to support one another.  The NTID side of campus can collaborate with the RIT side of campus and it's nice to see. We can teach our deaf students to communicate effectively. Right now, I'm taking courses towards my master's degree, thanks to someone who encouraged me to apply—it's nice to have that support.
Share a fun fact about yourself.
I love fixing cars and I do my own house renovations!
My husband and I recently finished renovating our kitchen. I do all of the rough work: electrical, all of that stuff. I'm good at inspecting houses too. I can check building codes. I do that kind of work on the side.
Another thing: I love teaching young drivers to drive too. As for mechanical  work, that's why I still have a 2004 GMC truck.