NCCC Success Story
Mechanical Engineering Technology - BS
Manufacturing Operations Co-op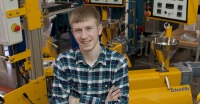 Hometown
Enfield, Connecticut
Degree programs
B.S. in Mechanical Engineering Technology
Year of graduation
2014
Place of employment
UTC Aerospace in Westford, Massachusetts
Job Title
Manufacturing Operations Co-op
Work Responsibilities
I was involved in new idea development and the design of optics used in military planes for image capture, especially for maps. I used Pro-E and SolidWorks software that I learned at RIT for the projects. I really liked that I would get an airplane part, analyze it and work on the design to create a better part to take its place, or share my thoughts on how to make improvements. And, I was able to work on the manufacturing floor with the part that I designed.
How my career relates to my degree from RIT/NTID
In my classes at RIT/NTID, I learned the software needed in my field and I worked in labs and got experience that allowed me to develop my design skills and strategies for coming up with new ideas. I also learned how to be an effective member of a team, and the importance of communication.
Advice
Don't be afraid to show off your skills. Be proactive and communicate with others. And don't be afraid to ask questions!