RIT/NTID encourages community-wide participation in April 2023 NEA Big Read project
Ilya Kaminsky's 'Deaf Republic' explores connection between language and community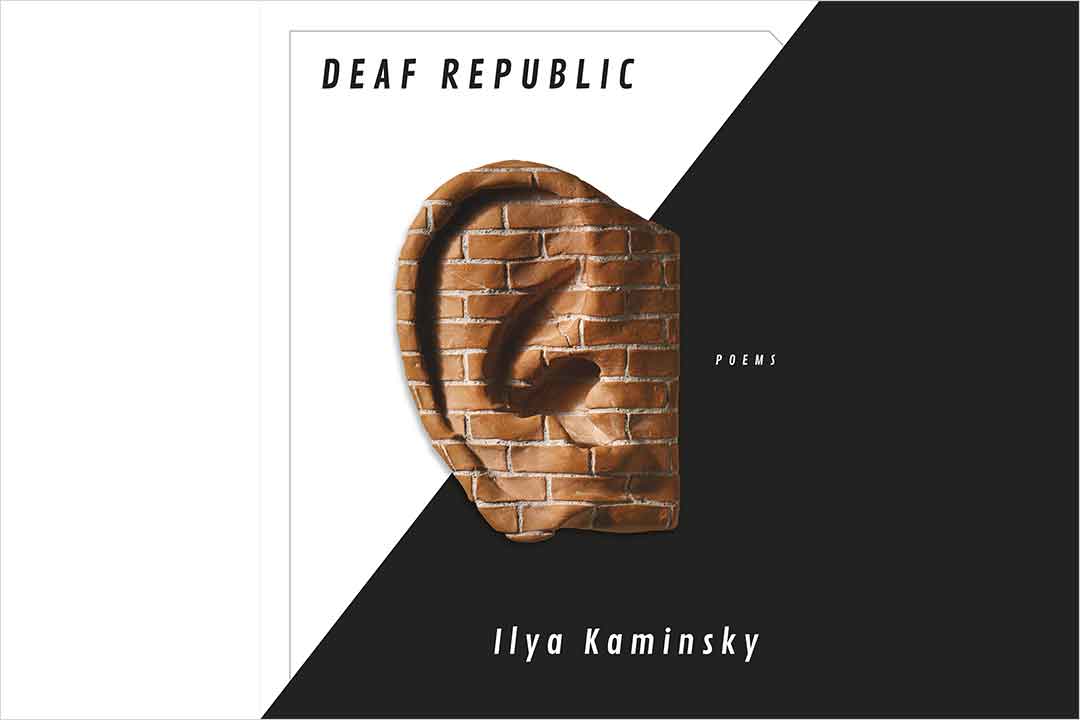 For villagers in poet Ilya Kaminsky's book Deaf Republic, deafness becomes an act of revolt against a totalitarian government and their use of sign language unites them as a community. These themes, along with others throughout the book, resonate with the contemporary experience of deafness in the United States.
Kaminsky's Deaf Republic is the subject of the NEA Big Read project during National Deaf History Month in April 2023, hosted by the National Technical Institute for the Deaf at Rochester Institute of Technology. According to the National Endowment for the Arts, "Big Read—a partnership with Arts Midwest—broadens our understanding of our world, our neighbors, and ourselves through the power of a shared reading experience. Showcasing a diverse range of themes, voices, and perspectives, the NEA Big Read aims to inspire meaningful conversations, artistic responses, and new discoveries and connections in each community." NTID was selected to host the program locally through a competitive application process.
Jill Bradbury, chair of NTID's Department of Performing Arts, is spearheading the Big Read for the college.
"We are thrilled to present Ilya Kaminsky's work to the hearing, deaf, and hard-of-hearing communities through the Big Read project," said Bradbury. "The themes of language, power, and community in the context of political violence are so significant in light of the current situation in Ukraine.
During the project, NTID's Department of Performing Arts will reach out to the hearing and deaf communities, on and off campus, through in-person and virtual events, including book giveaways, book discussions, panel discussions, poetry readings and workshops, gallery exhibits, and American Sign Language performances of poems in Deaf Republic. In addition to book discussions at NTID and throughout the Monroe County Library System, Kaminsky will give a reading and presentation at NTID. Rochester Public Library and Monroe County Library Services are partner organizations. All events will be free with the exception of staged readings or performances.
"The Monroe County Library System is thrilled to be invited to participate in the NEA Big Read," said Patricia Uttaro, director of the Rochester Public Library and Monroe County Library System. "The concept of a whole community diving into the same book at the same time has proven to be a successful way of sparking conversation among people who might never have the opportunity in any other setting. Our libraries are committed to using literature to open minds and hearts, and we are grateful for the opportunity to work with NTID on this project."
Satellite programming will also take place in deaf communities across the country.
Kaminsky, a hard-of-hearing Ukrainian-American poet, critic, translator, and professor, is best known for his poetry collections including Deaf Republic, Traveling Musicians, and Dancing in Odessa, which have earned him several awards. In 2019, the BBC named him among "12 artists who changed the world," with Deaf Republic named a finalist for the National Book Association's National Book Award for Poetry. At age 4, he lost most of his hearing after a doctor misdiagnosed mumps as a cold. His family was granted political asylum by the United States in 1993 and settled in Rochester.
He went on to earn a bachelor's degree in political science from Georgetown University and a juris doctor at the University of California's Hastings College of the Law. He is also co-founder of Poets for Peace, which sponsors poetry readings around the world to support relief work. Kaminsky's honors include a Whiting Writers' Award, the Milton Center's Award for Excellence in Writing, the Florence Kahn Memorial Award, Poetry magazine's Levinson Prize and Ruth Lilly Fellowship, Philips Exeter Academy's George Bennett Fellowship, a Lannan Foundation fellowship, and an Academy of American Poets fellowship.
Details and schedules of NTID's Big Read events are forthcoming.
Topics