RIT/NTID exhibit 'Shaped by the American Dream' celebrates 100 years of Deaf American experience
Programs in cybersecurity, environmental engineering, game design, and computer graphics recognized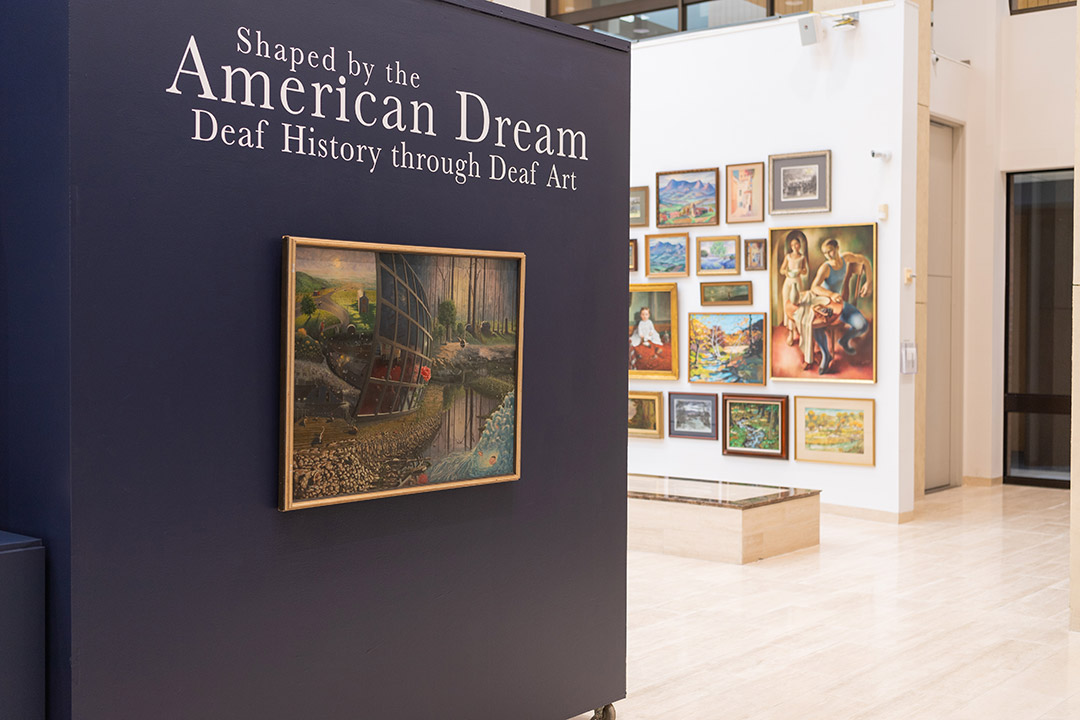 "Shaped by the American Dream: Deaf History through Deaf Art," featuring more than 140 works celebrating the Deaf American experience, is on display through April 21, 2023, in the Joseph F. and Helen C. Dyer Arts Center at Rochester Institute of Technology's National Technical Institute for the Deaf.
The exhibit celebrates Deaf American identity, citizenship, sociality, education, and movements for equality.
Made possible by a grant from the Terra Foundation of American Art, the exhibit features artworks by 30 U.S.-born and immigrant deaf and hard-of-hearing artists practicing in a variety of media. It predominately features works from Dyer's permanent collection, as well as selected loans from the late 19th century. The artwork juxtaposed in a variety of subject matter highlights the Deaf American experience from 1889 through 1989.
"Collectively, the exhibition explores contrasting themes that broaden our understanding of how the American Dream impacted the Deaf experience, and vice versa," said Mackenzie Robbins, Dyer's coordinator of exhibitions and collections.
Themes include transnationalism's impact on the Deaf community as it developed from localized communities to a heavily interconnected network of Deaf communities across the U.S.; pressure on deaf Americans to embrace nationalized identity; sociality in the community's need to gather in groups and its evolution to more specific social groups over time; significant changes in education policies and employment opportunities for deaf people; and civil and disability rights movements that have liberated deaf and hard-of-hearing people to create art from their experiences.
Some of the artists represented are Betty G. Miller (Pennsylvania, 1934); Cadwallader Lincoln Washburn (Minnesota, 1866); Chuck Baird (Missouri, 1947); David Ludwig Bloch (Germany, 1910); David Mudgett (Wisconsin, 1909), Elizabeth Wargell Williams (Ohio, 1929); Felix Kowalewski (Brooklyn, 1913); Florence Ohringer (Massachusetts, 1914); Frances Carlberg King (Florida, 1913); Frederick LaMonto (New York, 1921); Guy Wonder (Washington, 1945); Harry Williams (Ohio, 1948); and Helen Dyer (Florida, 1911).
Curating the exhibit are Erin Moriarty Harrelson, program director of the master's program in Deaf Studies at Gallaudet University; Octavian Robinson, associate professor of Deaf Studies at Gallaudet University; and Brenda Jo Brueggemann, professor of English and the Aetna Chair of Writing at the University of Connecticut.
"The anxiety of identity that perhaps over-narrates the story of Deaf art and artists in America is no small thing to set aside," said Brueggemann. "Such anxiety can leave deaf artists and their art work in the shadows, absent. Instead of shadows and absence, this exhibit carries out arts education scholar John Derby's five proposed ways: it helps bring out the shape of American deaf identities; it shows the transdisciplinary potential of deaf art; it explores the visual-cultural-narrative in that art; and it demonstrates the dual performance of being deaf, being American in social, cultural, and critical spaces. Sometimes that shape is spotlighted, and sometimes it is only shadowed in the art exhibited here."
Tours are available for RIT and NTID classes, area schools, and the general public.
Additional exhibits in the center will include deaf fashion designer Justin LeBlanc, through April 2023, and works by artist Harry Williams.
For more information, email Dyer Arts Center. 
Topics