2017 Distinguished Alumni: Meet Barbara Ray and Samuel Holcomb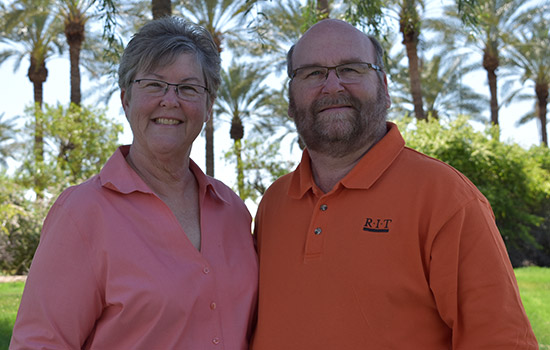 Even though retired NTID faculty members and alumni Barbara Ray '74, '84 and Samuel '77 Holcomb now live across the country in Arizona, it does not mean RIT and NTID are far from their hearts.
"Our favorite color is orange, our golf cart is orange, and our house has different colored orange paint," said Samuel. "It keeps our minds on RIT every day."
The couple, with a combined 75 years of service to the university, is also keeping their connection to NTID alive in another important way by helping to preserve NTID's history. Both are involved in efforts for an NTID Alumni Museum.
"Since celebrating 50 years of NTID, we've been thinking about establishing a museum for our future generations so the deaf can appreciate and learn about NTID," said Barbara Ray. "It's important to preserve the unique culture here at RIT."
Throughout their long careers with RIT and NTID, the Holcombs amassed a trove of memorabilia, from old textbooks to video phones, which they hope will be featured in the museum one day. Many items from their collection are already featured in the Deaf Studies Archive in The Wallace Center, which they were instrumental in helping to create.
For these efforts, Barbara Ray and Samuel will be honored as the NTID 2017 Distinguished Alumni on Oct. 13 at the RIT Presidents' Alumni Ball.
Along with their work to preserve NTID's historic materials, the former instructors have brought another of their passions from RIT to their new community—teaching. They conduct workshops for their local deaf community on subjects like technology and teach American Sign Language to the senior citizens in their area.
"We'll always have the itch to teach," said Samuel. "And RIT is always in our hearts, until we are buried."
The Distinguished Alumni Award is presented to a certified alumnus/a who has performed with distinction at the highest levels of his or her chosen profession or who has contributed significantly to the advancement and leadership of noteworthy civic, philanthropic or service organizations over the course of many years. Those honored have brought distinction to their colleges and RIT through their professional, community and/or philanthropic achievements.
Related stories:
Meet SOIS Distinguished Alumna Barbara-Ann Mattle
Meet CIAS Distinguished Alumnus Gerald J. Hace
Meet SCB Distinguished Alumnus Gerald McCue
Meet COLA Distinguished Alumnus Michael Ciminelli
Meet KGCOE Distinguished Alumnus Paul Kayser
Meet CHST Distinguished Alumna Penny Kris-Etherton
Meet GCCIS Distinguished Alumnus Ralph Derrickson
Meet CAST Distinguished Alumnus Thomas Trytek
Topics