2017 Distinguished Alumni: Meet Venkat "Puru" Purushotham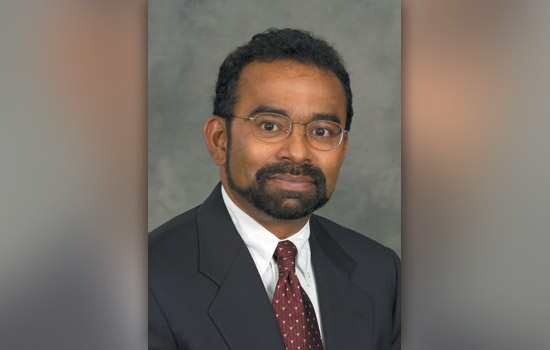 These days RIT is truly a global campus. Not only does the university have five international campuses, it also boasts an international student population of nearly 2,700 hailing from 95 countries. When Venkat "Puru" Purushotham '81, '82 (graphic communications, imaging science), president and owner of Jyoshan Inc., attended, though, there were only about 30 international students on RIT's campus.
"It hit me right off the bat that such a large institution was thin on international students," said Purushotham. "The greater realization was that there was absolutely no support system for international students on campus."
A serial entrepreneur from a young age, Purushotham used this skillset to help grow the international presence at RIT. Over the course of three years, Purushotham joined forces with classmates from China, Switzerland, Indonesia and Iran and created international programming, as well as established the RIT International Student Services Office.
"The key to this coming together was really the incredible interest and supportive nature of the RIT community," said Purushotham. "It was a collection of people with a shared vision who really wanted to give us a platform."
After RIT, Purushotham applied the learnings he gained building the university's international programs to Eastman Kodak. While there, he created strategic partnerships with businesses in Europe, Israel and Japan. These accomplishments lead Purushotham to found NexPress Solutions in 1997, a joint venture with Kodak and Heidelberg Druckmaschinen, a German company. The result produced world-class digital color printing systems and revenues of over $300 million in just six years.
"The RIT experience gave me the insight that if you believe in something, you have to go for it, even more so if you have a supportive environment," said Purushotham. "That kind of stuck with me, and that's what has shaped my 30-year career in terms of constantly pushing the envelope."
Purushotham will be honored as the College of Science 2017 Distinguished Alumnus on Oct. 13 at the RIT Presidents' Alumni Ball.
The Distinguished Alumni Award is presented to a certified alumnus/a who has performed with distinction at the highest levels of his or her chosen profession or who has contributed significantly to the advancement and leadership of noteworthy civic, philanthropic or service organizations over the course of many years. Those honored have brought distinction to their colleges and RIT through their professional, community and/or philanthropic achievements.
Related stories:
Meet SOIS Distinguished Alumna Barbara-Ann Mattle
Meet CIAS Distinguished Alumnus Gerald J. Hace
Meet SCB Distinguished Alumnus Gerald McCue
Meet NTID Distinguished Alumni Barbara Ray and Samuel Holcomb
Meet COLA Distinguished Alumnus Michael Ciminelli
Meet KGCOE Distinguished Alumnus Paul Kayser
Meet CHST Distinguished Alumna Penny Kris-Etherton
Meet GCCIS Distinguished Alumnus Ralph Derrickson
Topics